Why You Should Use WordPress over other CMS platforms
Aug 15, 2021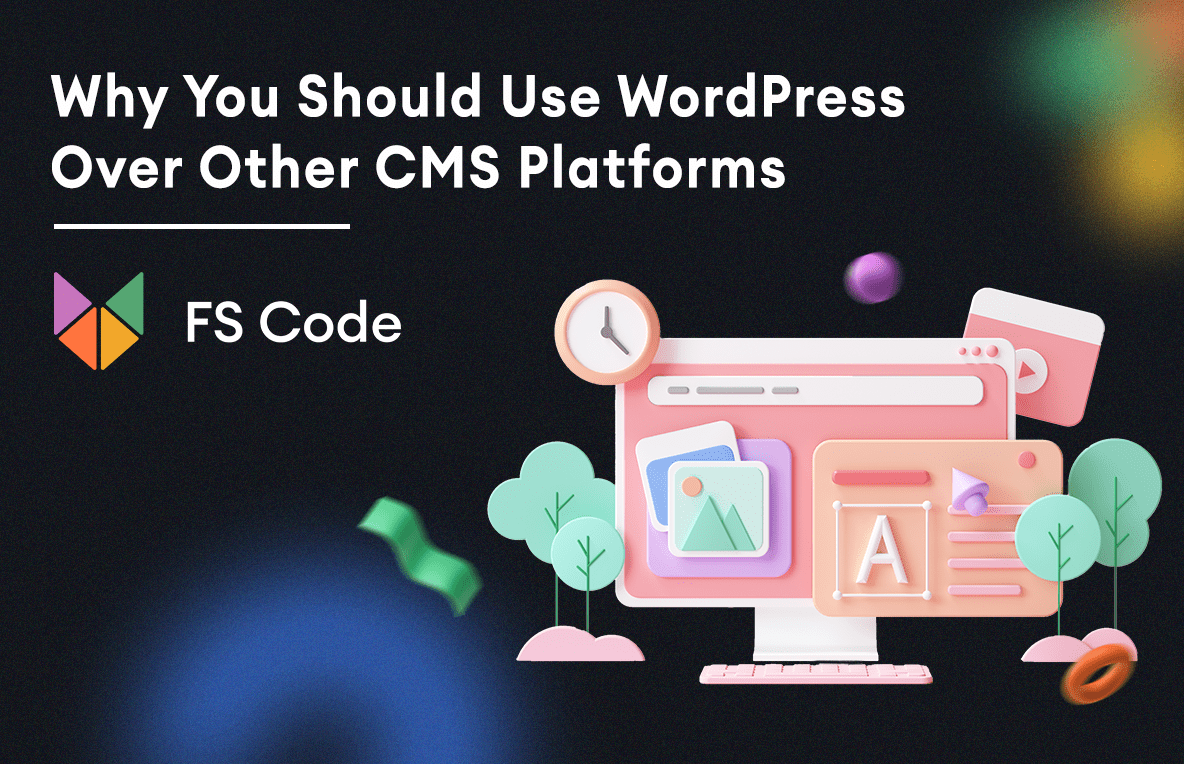 You are reading this article because you have decided to open a website for yourself or your business but are still unsure how to do it or which platform to choose. Let me motivate you with one fact: 10-15 years ago, website designing and coding was a fancy and high-income job. Firstly, it was not easy to get a website whenever you wish; secondly, it was pretty expensive to have a website and operate it; thirdly, not everyone was able to build a website and open to a global world. However, nowadays majority of people have a website. It is straightforward to get a website and start your business or build your professional profile on the web. For this purpose, several platforms offer outstanding services and website templates that can make your website look unique and attractive.
This article will find answers to why you should choose WordPress over its competitors such as Wix, Joomla, Shopify, etc. If you have a website already built in another platform, then you will find an answer to why you should use WordPress, why you need to switch to WordPress, and how WordPress will ease your processes. This article's primary goal is to share five significant reasons you should sign up with WordPress.
Note: Throughout the article, we will refer to Wordpress.org. Please, do not confuse it with Wordpress.com because both are very different and have significant differences in templates, design, and hosting.
The best thing about WordPress is how simple it is to use and how versatile it is to create various types of websites. That is the primary reason behind WordPress's rapid growth. WordPress is used by 32.3 % of all websites on the internet, according to a recent poll. Fun fact: due to its robust features, many top brands, such as Facebook, Sony, The New York Times, and more, benefit from WordPress.
Now it is time to elaborate on why you should use WordPress.
1. Freedom… Freedom… Freedom
People need free choices and tons of customization when it comes to building a website. WordPress is entirely free software to use, where you control more of your site and take advantage of free or premium advanced plugins. It means you are free to download, install, use and modify it to match your needs. You can use it to create any kind of website. However, you only require a domain name and web hosting for installing it.
Whether it's a commercial website or a personal blog, WordPress doesn't charge a cent for its services. WordPress doesn't charge extra costs if your site starts to get more traffic than you anticipated, either. In addition to being free, WordPress is also open-source, meaning that you can alter or improve its source code how you like to customize your website's functionality or look. If you want to make use of the advanced features offered by themes, plugins, and other tools, there are tons of free and low-cost options to choose from.
The platform is frequently updated, easy to customize, and extensively tested – and there's a huge community offering an unrivaled depth of support. When you use WordPress for your website, in other words, you're choosing a flexible and time-tested solution that won't break your budget. You can typically find themes and plugins for free, but the premium (paid) ones often provide better features and quality support.
2. Flexible, Easy to customize, and Massive library of Themes and Plugins
People enjoy when they do what they love without spending too much time and putting in the extra effort. The good news is a large portion of people using WordPress are neither web designers nor programmers. In fact, most people use WordPress without any advanced knowledge of designing websites. WordPress platform offers a number of key features, but many sites require additional functionality. No panic; you don't need to learn coding to activate additional functionality. All you have to do is to search themes and plugins in the library and web-stores that will make it possible to customize your site's design and functionality as you desired to see. There are thousands of options out there that are simple to find, and many are completely free (or surprisingly affordable by being in sale).
Do not think that you have limits over design. This is what makes WordPress better than other CMS platforms. For instance, you can sign up and start building a website using Wix; however, you have limited to only frames of Wix platforms. It means you can change the place of boxes, their sizes, but you will never have infinite customization options to design as you wish. Unlike other platforms, by using the WordPress platform, your site design is only limited by your imagination. You can find themes for specific types of websites, packed with all the design elements that you're looking for. It can include everything; just try to find your niche-specific options that match with photography themes, eCommerce WordPress themes, personal blogs, and just about anything else. WordPress themes are easy to customize because many of them come with their own options panel, allowing you to change colors, design, upload logos, build pages with page-builder functions, create and add amazing sliders, and integrate your social media platforms videos without writing any code at all. Here are some examples of websites that you can build on WordPress:
Blogs;
eCommerce websites;
Social platforms;
Business websites
Portfolios or professional websites for self-promotion;
Forums;
Rating websites;
Media, News, and Publication websites;
Q&A websites;
Databases;
Auction or coupon sites, etc.
Besides themes, WordPress communities offer tons of plugins that can customize your website and make it powerful over others. Despite an infinite number of plugins, you probably only need a few to get your site where you want it. Only install plugins you need and do your best to avoid duplicate functionality. For example, only install WooCommerce if you plan on adding a store to your site. Or, if you want to use a WordPress page builder, choose one and stick with it. According to the official plugin lists and databases, WordPress offers more than 50,000 plugins, whereas its top competitors only offer less than 25,000-30,000 plugins. These plugins are essential for your websites' SEO, Marketing and other related features, affiliate marketing, image galleries, and many more. Installing one plugin takes between several seconds to one or two minutes. All plugins have their own specific info windows where you can find detailed information, size, ratings, reviews, installation guides, and screenshots.
Overall, you can customize everything to meet your business needs as follows:
Privacy: The ability to choose content type as private or public allows you to put how much information you want to share and decide what parts of websites are visible only for clients.
Drafts and Scheduling: Time is the most expensive and valuable asset that we have; you can use the scheduling feature to create content well in advance and schedule it to post on whatever schedule you choose.
Categorizing and Tagging: You can create a number of categories and tags according to your business. They will help you manage and archive your content, ranking in Google, and offer an improved browsing experience for visitors.
Media: Managing photos and videos are straightforward compared with other CMS platforms. All you need is to select media files and upload them. Done.
Plugins and Widgets: Plugins offer various experiences such as SEO tools, affiliate marketing tools, contact forms, image galleries, widgets, etc.
Interactive: WordPress websites are interactive. They are both mobile and desktop friendly. You don't need to worry about how your website will look on smaller or bigger screens.
3. SEO is everything…
This is maybe the fundamental reason that WordPress is superior to other CMS platforms. If you don't know what SEO is, let us give you a piece of brief information about it. According to Google, "SEO - Search engine optimization: the process of making your site better for search engines." WordPress is an open-source platform that uses high-quality code and produces semantic markup. In brief, Google and other search engines love WordPress websites due to their performance. WordPress websites rank higher in search engines quickly compared to other websites if you follow specific rules. Because by design, WordPress is SEO friendly and has less page-load weight. You can further optimize your website by using SEO plugins. (Stay tuned, we will have the ultimate SEO guide for your website!)
In simple terms, when you use SEO tools, your website will rank in higher positions in Google, and your content will be displayed in relevant search results. For instance, website speed and responsiveness for mobile devices are the key elements of SEO, and WordPress has both features that enable your website to be shown on the first several pages. Indeed, you can improve and optimize your website by using several plugins, such as Yoast SEO, SEMrush, All in One SEO, etc. All you need to do is set the basic settings according to your needs and sit back: the plugins handle the rest. Some plugins analyze your content, let you know how effectively you targeted the keywords, and suggest what you can modify and make better. Even if you don't know anything about SEO, you can leave it all to the plugins and their recommendations to give you a considerable checklist that improves your SEO. Your WordPress site will likely get a high rank in search engines with such plugins explicitly developed for this purpose. A better ranking brings in more visitors leading to more clients, which increases your profits.
4. Safety and Security
Besides SEO and functionality, people are in search of security. Although the platform is open-source, WordPress is considered one of the safest and secure platforms to run a website. There are several updates in each period that ensures safety, fix bugs, and patch more security features. But keep in mind that it doesn't mean you are entirely vulnerable to malicious attacks, hackers, and malware. WordPress allows its customers to enhance the site's security through several options by adding or installing plugins and putting password protection for folder contents. Therefore, keeping the website up to date will reduce potential security threats and shake off bugs. We recommend installing the SSL certificate on your WordPress website that allows you to bind a cryptographic key to an organization's details. This activates the HTTPS protocol and establishes secure connections.
One of the handful features of WordPress is the ability to decide what information to share. For instance, you might have a private page for specific reasons and public pages for all people. Installing plugins and add-ons is essential for owners to filter and dispose of unnecessary comments, spam, attacks. WordPress offers various solutions and doesn't make you stick with their security frameworks compared to other platforms. However, other platforms such as Wix, Shopify, or Squarespace are not open-sourced, and you need to accept terms of conditions about security policies controlled by them. It means you give up your freedom to have enhanced security.
One of the most extensive security measures of WordPress is the permission of user roles. Site owners have full privileges over the website, including accessing files, installing plugins, SEO tools, and security measures. However, if the website has more than two collaborators, the administrator can define their role from editor to the subscriber. Each position has its own permissions over the website, but the higher position after the administrator is editor and has limited access to the website content. For instance, editors can edit and publish posts but do not have access to website data, plugin stores, etc. Moreover, WordPress allows the only administrator to have complete control over the website.
5. Community support
This is the shortest argument over the ones mentioned above. WordPress has an extensive list of themes and plugins, which hundreds of WordPress developers have created. Since WordPress is used by many people worldwide, you can find countless tutorials, guides, and resources online that can enhance your knowledge. There are several WordPress forums where you can post your issues and get answers from experts or other users. If you don't like stock themes of WordPress, you can find the most beautiful designs from several theme platforms. For instance, Themeforest is one of the most prominent premium WordPress themes and plugins websites.
Besides that options, you can get help and support directly from the WordPress support team. If you are paid plan subscriber, you have access to live chat support 24 hours a day, Monday to Friday. With that said, if you encounter any problem on your website, you will probably get assisted by someone anytime.
Conclusion
We hope this article answered your question about why you should use WordPress. The best way to truly experience the power of WordPress is by using it.
WordPress grows day by day and attracts a thriving, passionate and experienced community that ensures it stays secure, flexible, functional, and modern.
Above all, the main advantage of WordPress is that it is the most affordable platform with outstanding features. You don't need to pay anything; you are free to create stunning websites.