6 Best WordPress eCommerce Plugins For Your Store in 2022
Aug 9, 2021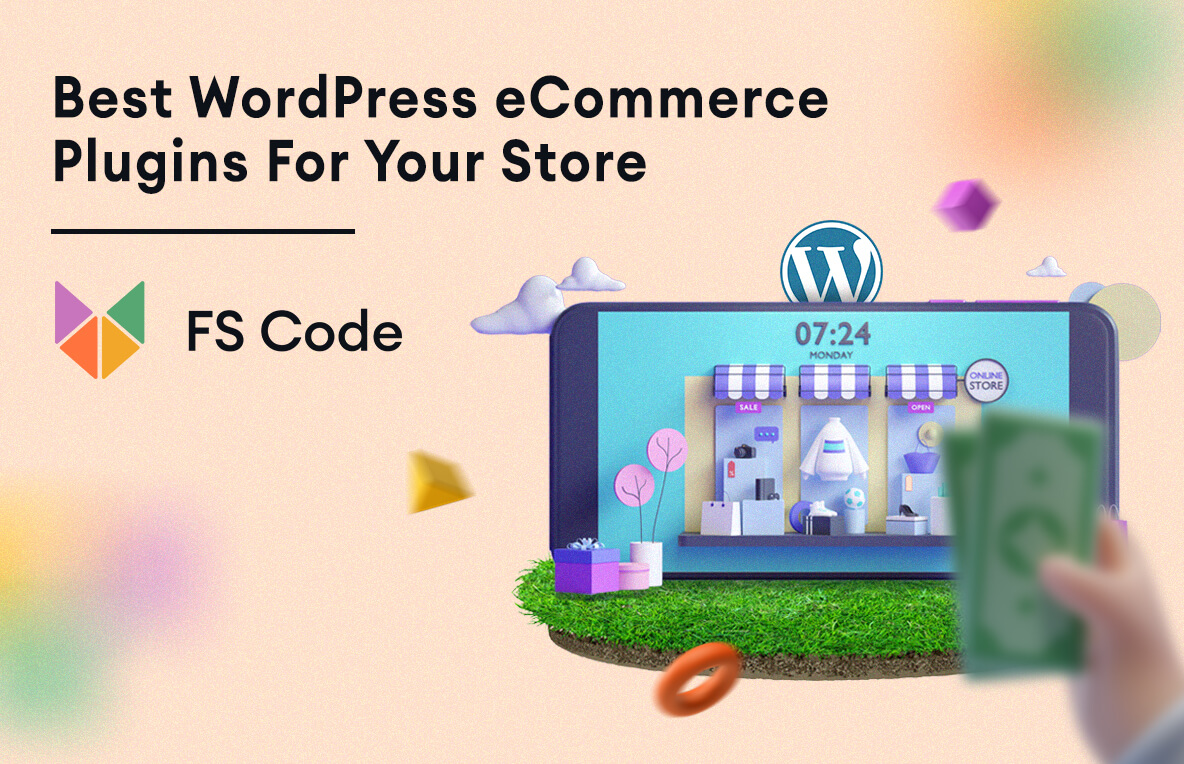 We currently live in a digital world, and almost all products are sold in online stores by the trader. If you also want to carry your products to the online store, this article is for you.
If you have a website or WordPress site, you can quickly turn it into an e-commerce page. It will allow you to sell your products to more customers and earn more revenue. You can easily set up your online store by adding the following plugins to your website without the need for any IT skills.
In this blog, we will illustrate to you the top e-commerce plugins.
We will show you their features and how they will assist you in e-commerce. These features will help you manage your online business comfortably and let you earn more money.
1. WooCommerce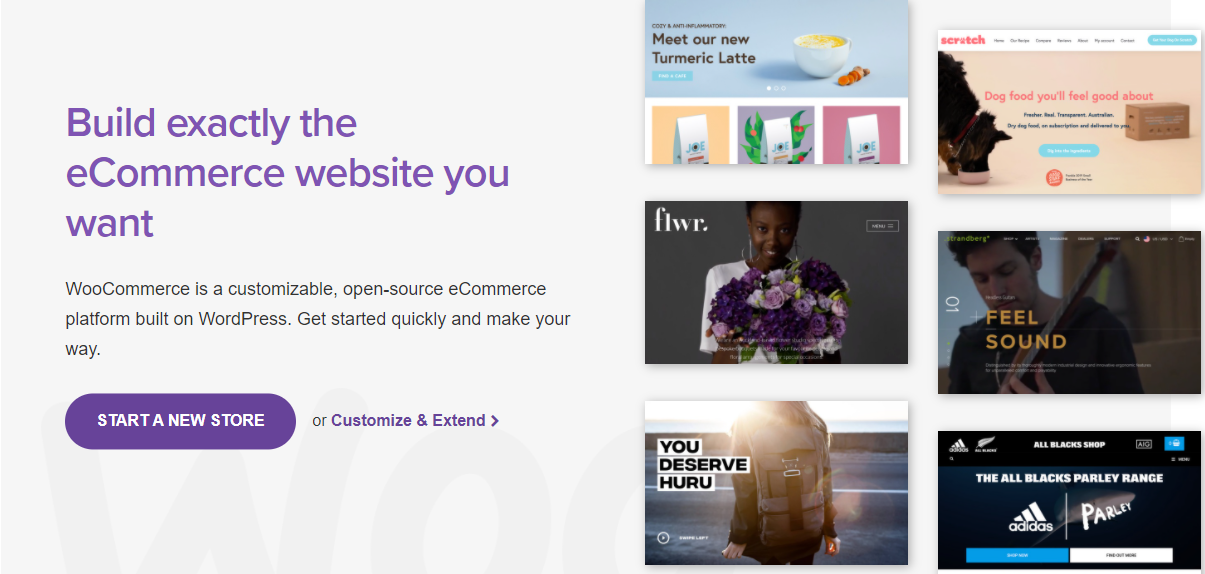 WooCommerce is the widely known free e-commerce plugin in the world. If you have a website or online trading portal, use WooCommerce to develop online commerce. It gives you many advantages. Thus, you can customize your website according to your taste. It is easy to customize.
It also allows you to situate at the forefront of searches using the SEO extension. You can add the most popular extensions from the official site with one click, and this helps to manage operations efficiently and assist in increasing the functionality.
You can also control your website from anywhere with the mobile application. You can monitor your system everywhere.
WooCommerce promises you incredible flexibility in making payments. You can make payments using more than 100 payment portals. You can do it with a mobile wallet, bank transfers, cash, card, or popular payment systems like Stripe and PayPal.
Moreover, the WooCommerce tax application enables you to calculate taxes automatically and simplify your work.
There are several advantages as follows:
Export data - WooCommerce allows you to export all your content and take your site to another platform wherever you want. There are no limitations;
Save time - automated tax calculations, live shipping rates, and mobile apps for iOS and Android prevent wasting time;
Fully customize - It can be completely customized, from WooCommerce subscriptions to luxury cars;
You can add the WooCommerce plugin to any WordPress site and can establish a store;
Manage your store from anywhere by using the WooCommerce Mobile App;
Help center – if you have any questions, you can chat with their particular Support Centre;
Apple and Google Pay, subscriptions and deposits are also supported;
Add extensions - increase the functionality of your store;
It is translated into many languages;
You have the opportunity to sell everything.
2. BigCommerce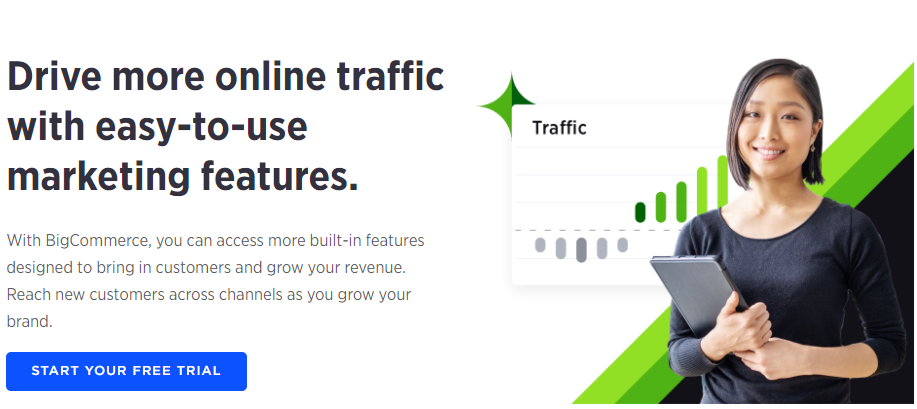 BigCommerce is an e-commerce plugin designed to attract more customers to your e-commerce page and increase your revenue.
BigCommerce is more than just a technology platform. It provides strategies, support teams, and tools to grow and direct your business, and experts support it.
You can fully manage your store and provide customers with an attractive online store. You can access the website from any place and on any mobile device.
Bigcommerce provides SEO-friendly content for your website, and it increases your ranking on the searching result.
In addition, it enables to reach more customers and allow selling to a more significant customer segment.
Users can also create a blog in every BigCommerce store, which is essential in terms of SEO to promote your product.
This platform also allows for selling your products on social media. You can connect with your social media accounts like Facebook, Pinterest, and Instagram.
You can raise traffic to your website with an email marketing instrument. You can sync your data with leading email marketing platforms such as MailChimp, G Suite, and Constant Contact.
You can quickly introduce products based on your purchase history and get feedback from previous buyers with special offers.
Bigcommerce has many additional benefits as follows:
Google Shopping integration - Improve ad conversion, automatically connects to Google Merchant Center, and Optimize your campaigns;
Recover forgotten baskets - sends emails to buyers to motivating them to complete their purchase;
Integration to 65 payment system for simplifying buying;
It is integrating Amazon, eBay, and other marketplaces;
24/7 service support.
3. Shopify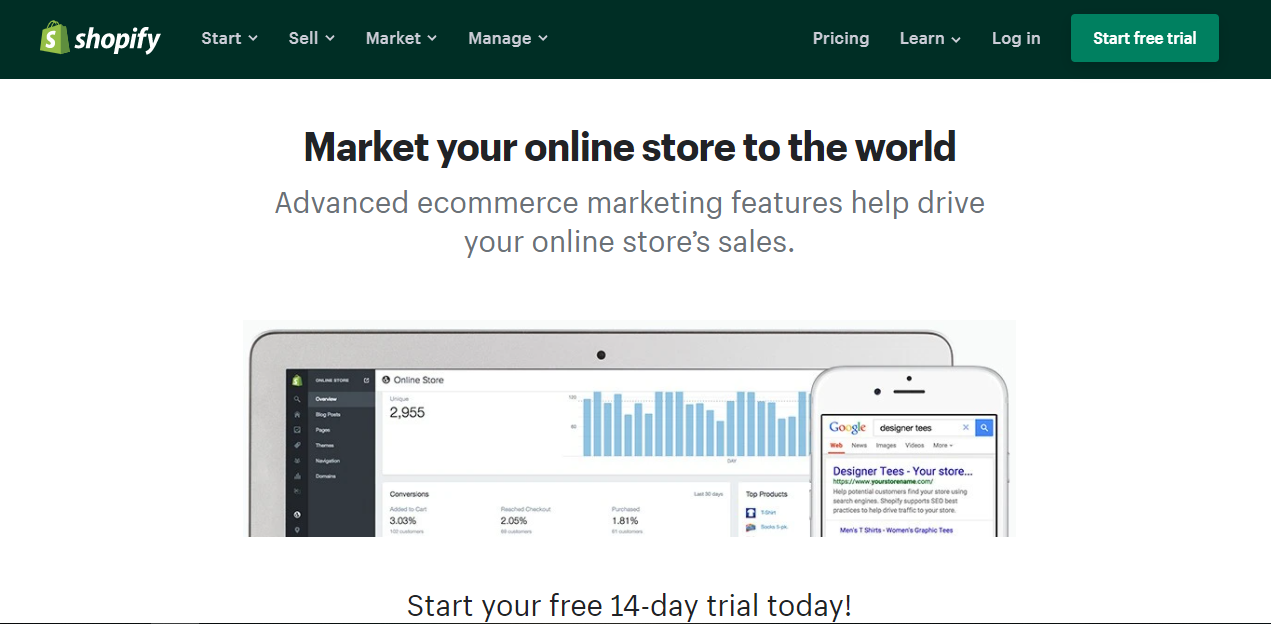 Shopify provides everything you need to build a successful online store. Shopify is used to sell almost everything. Courses, software applications, and any products, from clothing to things, can be sold on the platform.
You do not need to create a new site to use this plugin; thus, it can add to your current website.
Therefore, you can customize Shopify according to your taste without the need for any programming knowledge.
Furthermore, it can be translated into more than 50 languages.
The plugin can allow your customers to comment when purchasing products on your e-commerce website.
In addition, it provides the following orders, which are paid, shipped, or delivered.
You have the opportunity to create discount codes and coupons to promote your products. You can offer your customers discounts such as fixed discounts, interest, or free delivery.
Shopify is integrated into more than 100 payment systems to make payments more manageable.
Additionally, the plugin has been integrated with google analytics to analyze customers.
Google Analytics integration will help you know the following.
How did your customers find you?
In what country are they?
What search engine did they utilize to find you?
Follow customer activities on your website. It will help you compare the performance of your online store and sell more.
Google Ads extension advertises your products to people who are looking for similar products. It is a great way to attract more people to your e-commerce site and find new customers.
Shopify is an advanced e-commerce plugin that has SEO features. These features ensure your site reaches the forefront of search engines such as Google and Yahoo. Consider this article about e-commerce product strategy to increase your chances of success.
4. Ecwid

Ecwid is a plugin that helps you sell your product in an e-commerce system. Ecwid operates in 175 countries, is translated into 45 languages, and is supported by more than 1 million vendors.
With Ecwid, you can access your store on many websites, blogs, and e-commerce sites and sell anywhere.
Ecwid works excellent on WordPress and mobile. Your e-commerce store looks perfect on smartphones and automatically adapts to your customer's screen size. 24/5 support is available, and you can get help immediately if you need it.
You can get help via email, forum, and phone.
You can add your store to Facebook and sell your goods to millions of users. The plugin will automatically synch your products, customers, and orders between WordPress and Facebook.
Ecwid is the number 1 e-commerce application on Facebook.
Ecwid has many additional benefits below.
Allows customers to save their favorite products. It allows them to find the product for purchasing it later quickly;
Promotions and discount coupons - encourage customers to buy more;
Ability to accept payments with more than 40 different payment options;
Ability to automatically export WooCommerce products;
Translation – Ecwid is translated into 45 different languages;
Unlimited store backups;
PCI DSS Level 1 certified payment;
Automatic tax calculation;
Ability to track inventory.
5. Easy Digital download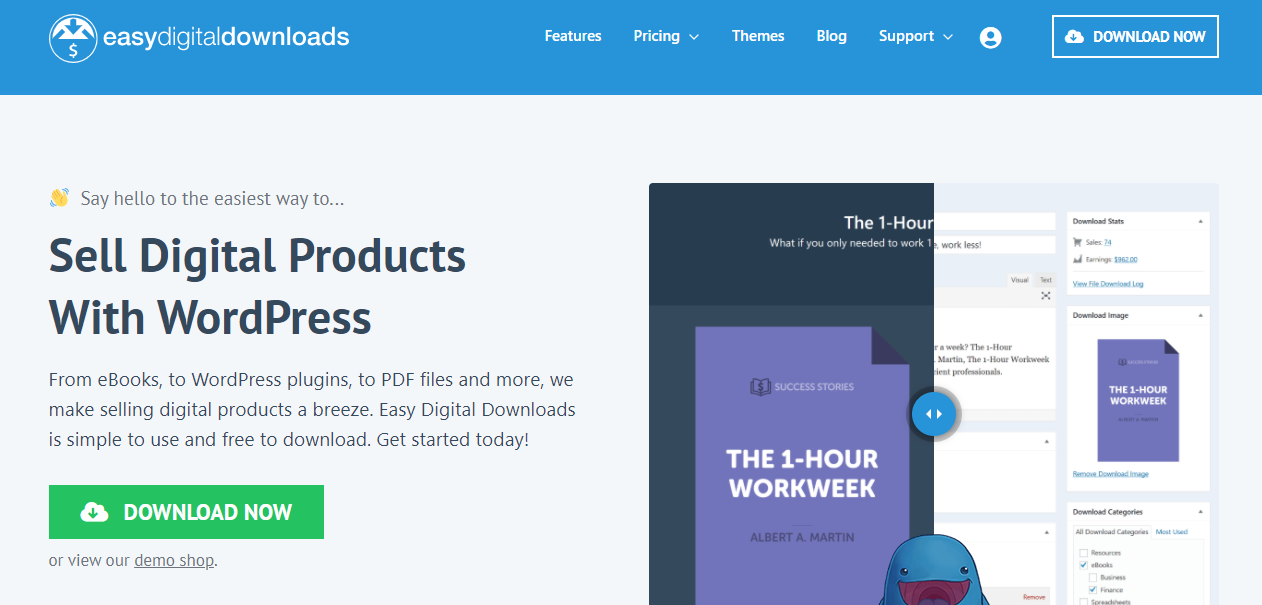 Easy Digital download is an e-commerce plugin to sell your products, and it provides a system for selling. It is a plugin created to make your online trading easier.
Customers can view your catalog and pay when their favorite product is ready. It doesn't matter where you live. This plugin will help you in e-commerce.
The plugin allows you to create discount codes, and you can use these codes to encourage your customers to buy more, and it assists you in increasing sales. Discounts can be in the form of fixed or interest rates.
You can set the timeline for the discount codes. Moreover, users can request a minimum limit for the basket to take advantage of the discount.
You can take advantage of the following:
Following Customer Activities - Users can track products that have been purchased and downloaded by customers. You can easily follow the date, time, and even IP address of products purchased and downloaded;
Reporting - This plugin allows you to create widespread reports about customers based on statistics. You can set the data report according to date range and category and export it to a CSV file;
Customer Management - you can take notes, follow, and adjust individually for each client;
The plugin is translated into more than twenty languages;
You can take an email address list and contact your customers after purchase your product;
Repayment tracking system;
Ease of payment - You can accept credit cards, Apple Pay, and Google Pay payments using Stripe and PayPal. Easy Digital Download is also an approved member of the Stripe affiliate program;
Users can increase the functionality of the website by adding an extension.
6. Ultimate WooCommerce Gift Cards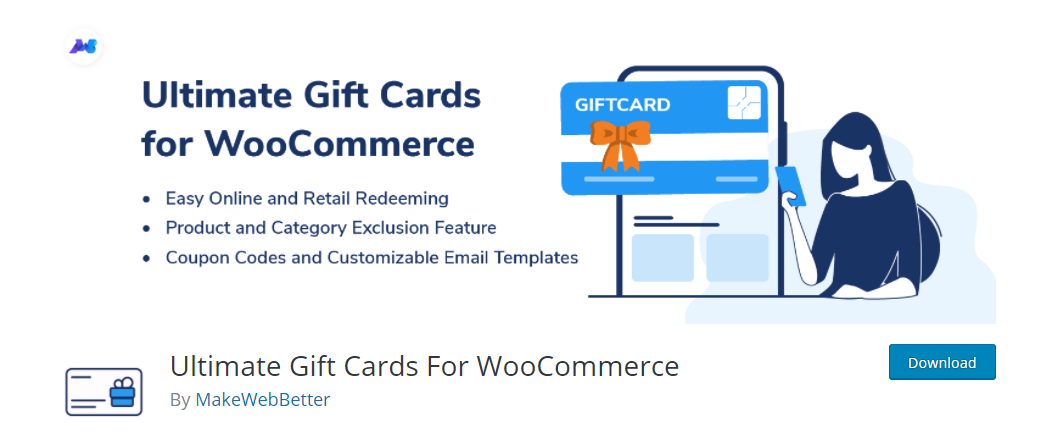 The Ultimate WooCommerce Gift Cards plugin enables retailers to produce, sell, and handle gift cards on the WooCommerce store. These gift cards are available for purchase, and customers can email them to anybody. This card may be used to make purchases at your store and can also be recharged or redeemed at your online or physical location.
WordPress gift cards can be produced and sold in your local language. You may work in your native language using the WPML feature. Moreover, you can use the Loco Translate extension to translate the strings into another language.
With this plugin, the retailer may produce several gift cards for anniversaries, a holiday, or any other celebration. Templates for gift cards are customized based on code length, validity data, prefix, number of usages, minimum and maximum budget limit, and more. In addition, you may set your gift cards for individual users so that buyers can't use any other coupons in conjunction with the gift card.
In your store, you can sell WooCommerce Gift Cards with four different pricing options. Pricing strategies include fixed price, price range, selected price, and user price. In addition, with WooCommerce gift certificates, you can calculate the taxes on your gift card goods in real-time. Allow clients to pay tax on the purchase of gift cards using this functionality. If you don't want them to pay tax, simply disable the feature.
Conclusion
In this blog, we have given you detailed information about the best e-commerce plugins. We mentioned their advantages for your e-commerce site.
These e-commerce plugins have all features you needed for online stores. You can add the most suitable plugin to your online store and quickly expand your business.
SEO features, the availability of many payment methods, the ability to integrate into social media accounts, etc., are the advantages for your site since customers can find your site faster and more conveniently to shop on your page for clients. So, move your store to e-commerce and earn more.