Best Hosting plans for your WordPress website (Compared)
Aug 20, 2021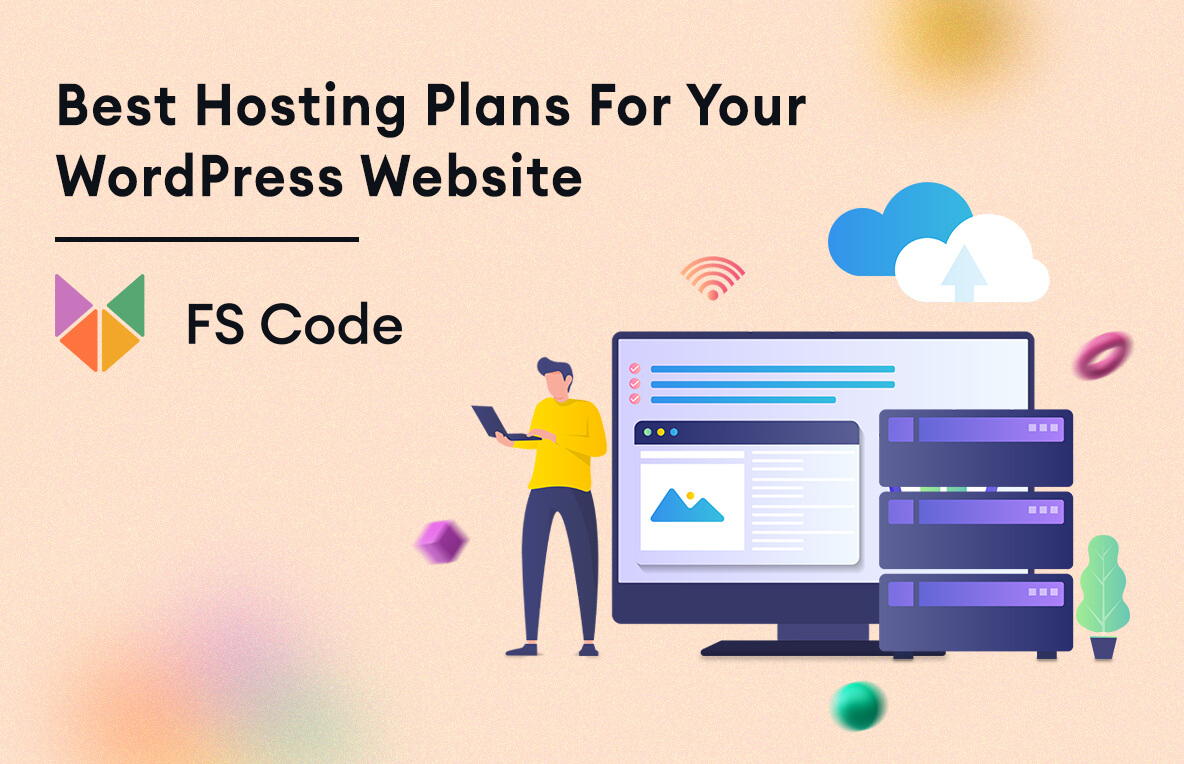 In one of our previous posts, we have talked about why you should choose WordPress and built your website based on WordPress. In this article, we will focus on hosting plans for your WordPress website.
There are several options in the market, and when it comes to the right decision, sometimes it becomes tricky how and which one to choose. Quick fact: more than 75 million websites use the WordPress platform to host their website; it might be challenging to choose between the hundreds of hosting platforms that offer services for your WordPress website.
WordPress is a popular choice whether you run a personal blog, online magazine, or any organization, thanks to its customizability and ease of use. On the other hand, day by day, hosting services are growing and getting overwhelming. In this article, we review some recommended hosting services for your business.
What is WordPress hosting?
Hosting is a service that a hosting provider allocates space on a web server for a website to store its files. Moreover, hosting services makes the files that comprise a website available for viewing online.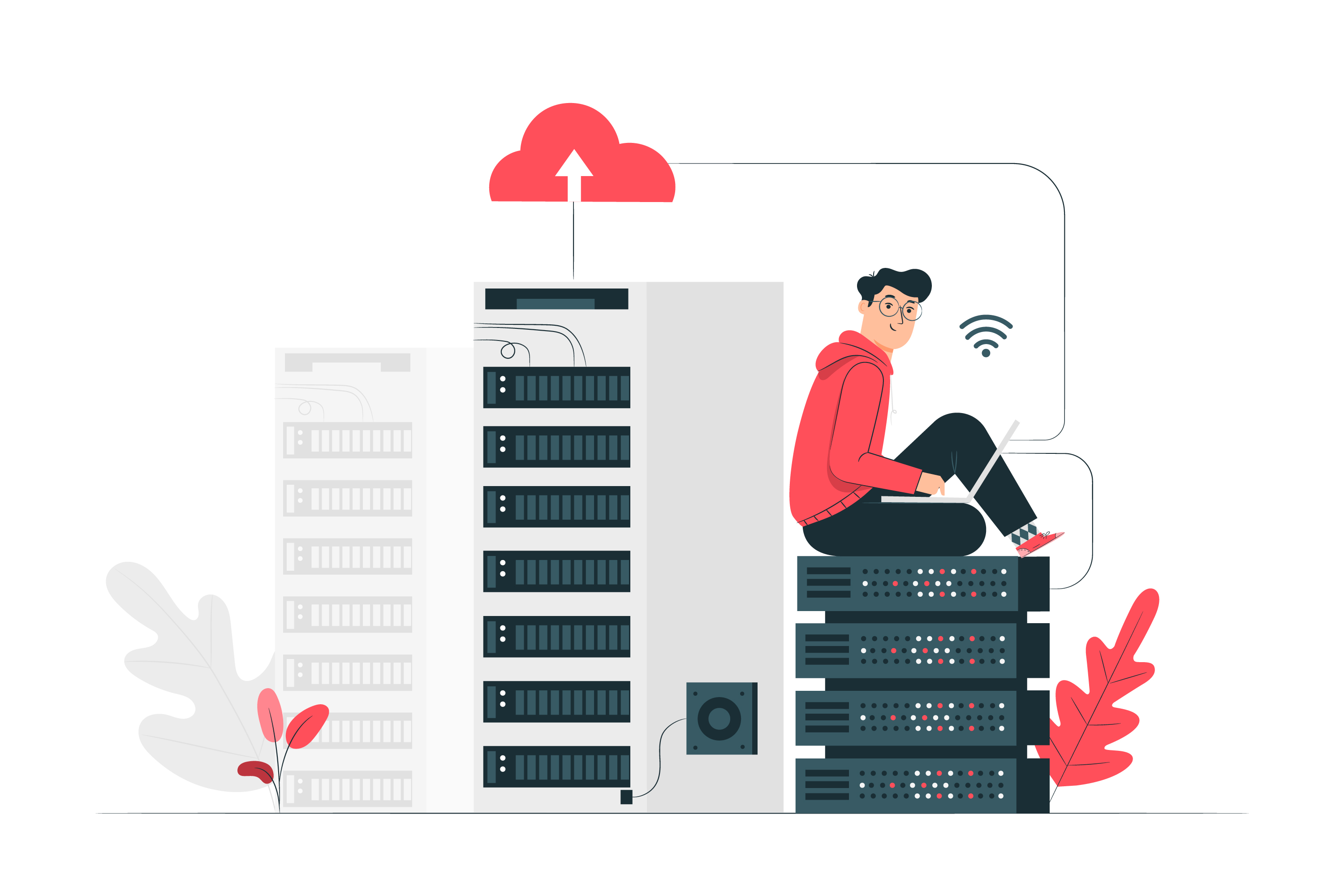 All websites in the world are hosted on different servers. To explain it simply, imagine a hosting server as a PC. PC has shared storage, an internet connection and never shuts down for a long period (except for maintenance). You rent some storage in this PC and put all your website content into it. Due to its online features, your website becomes active on the internet, and anyone can visit your website freely anytime.
In a nutshell, web hosting is the process of renting or buying space to house a website on the World Wide Web. Website content such as HTML, CSS, and images have to be housed on a server to be viewable online.
How to choose the right hosting server?
Choosing the right hosting server depends on the aims and goals you want to implement on the internet. In general, keep in mind the three most important factors of WordPress hosting:
1. Speed – or load time. This is one of the essential features of the hosting server. Many hosting servers promise high load time speeds but checking the reviews before purchasing is better. Less load means enormous traffic on your website.
2. Uptime - Uptime is the amount of time (in days, hours, and minutes) the server, network, or website has been running (up). This is usually listed as a percentage, like 99.9% uptime for a given period of time.
3. Customer Support – available anytime if you encounter any problem with your WordPress website.
We cannot guarantee you will have similar speed and uptime results on your website as it depends on different factors such as installed themes, their elements, plugins, website size, etc. But usually, some shared hosting plans might result in slow speeds depending on the server and visitor your website gets.
1. Kinsta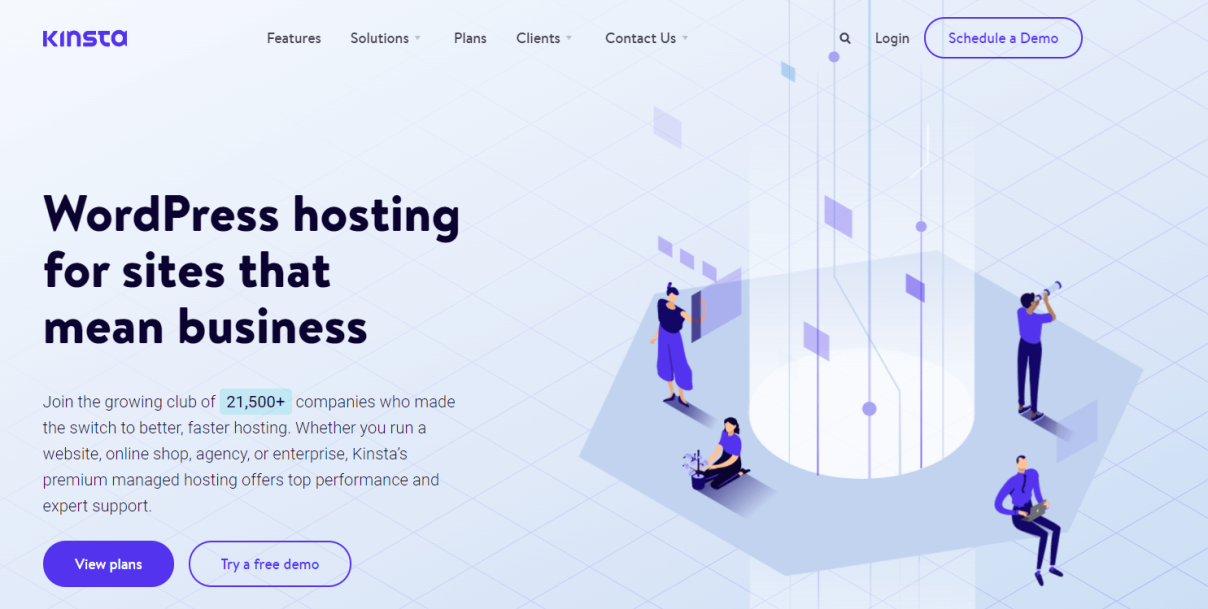 Uptime: 99,99%
Load time: 120 ms
Support: 24\7 customer support
Features: Google cloud servers, global content delivery network, free HTTPS (SSL), free site migration, built-in management.
Kinsta is an upscale WordPress hosting service developed for agencies, enterprises, e-commerce sites, or WordPress multisite. The service is used by over 21K companies who look for a speedy and secure hosting provider.
However, the use of Google Cloud Platform is what differentiates Kinsta from other WordPress hostings. This means that when you use Kinsta, your website will be hosted on the infrastructure created and maintained by Google. This gives you a chance to choose from 28 data centers worldwide to deliver fast pages and cached assets to website visitors' closest locations.
Kinsta has its own management dashboards which give you autonomy on the improvement of the website. MyKinsta allows you to create new websites, keep track of plan usage, manage cache, debug websites, and switch on SDN. Using the analytics, you can keep track of your site response time, bandwidth usage and add colleges or clients to customize your workflow.
It allows users to easily manage websites with a simple dashboard and other managerial tools. Using MyKinsta, you can identify bandwidth usage, caching, or response time, debug your site and organize your workflow by giving granular access to colleges and clients.
Compared to other hosting services, it has a range of pricing plans with different data management capabilities. The cheapest plan starts at $30 per month where you get 10 Gb disk space, 25K website visits for a single website. The higher-tier plans offer more disc space and website visits for multiple websites. All plans have free SSL, CDN, Staging, and migrations.
Pros: fast, secure, free site migrations, variety of pricing plans.
Cons: doesn't fit small-scale websites, better website management, control over operations.
2. BLUEHOST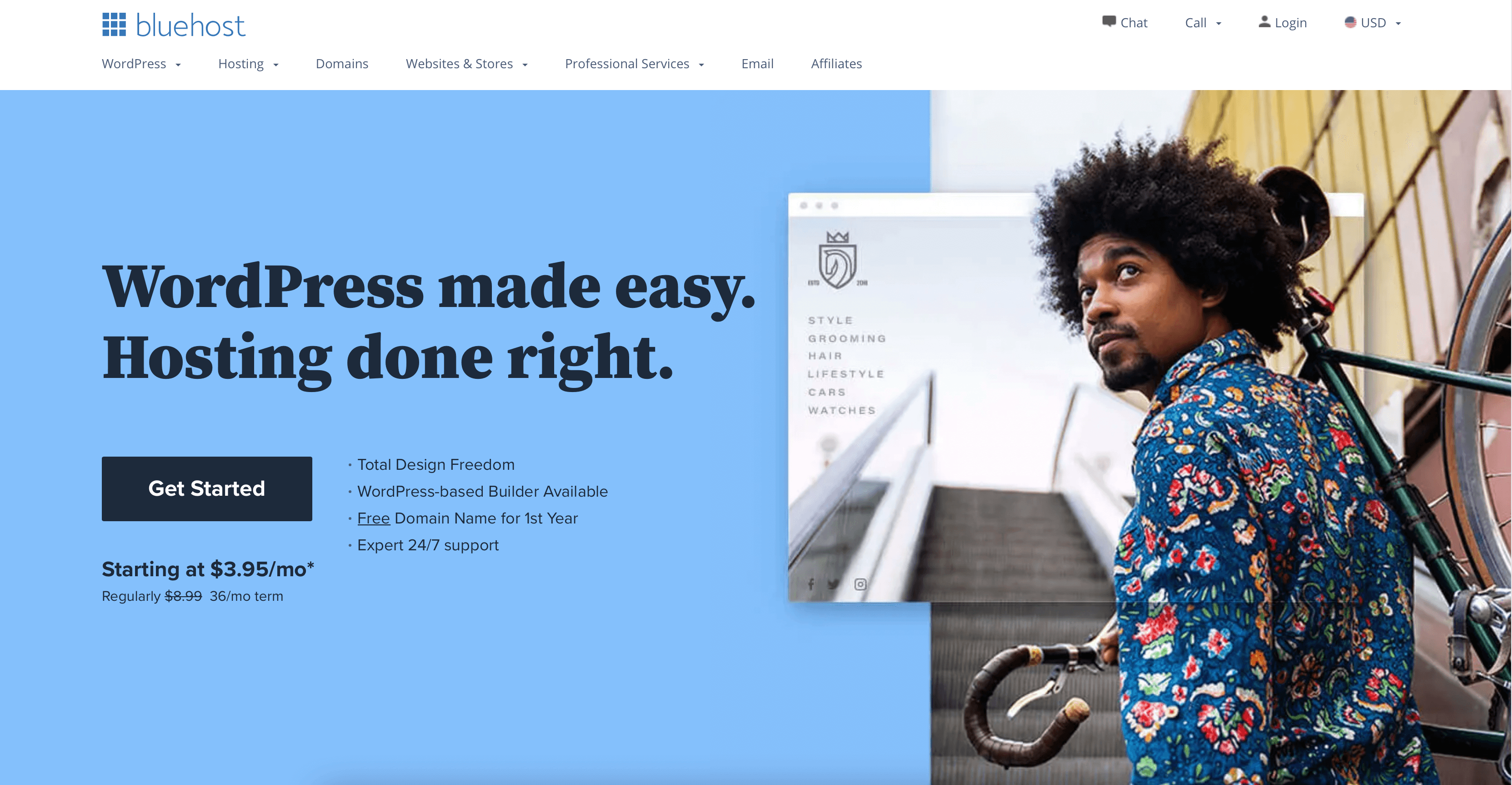 Uptime: 99.95%
Load time: 249 ms
Support: 24/7 live chat, knowledge base, phone
Features: One-click install for WordPress, free SSL, free domain for one year
Bluehost is a popular and well-known website hosting service among many small business owners and bloggers. They offer cheap introductory prices ($ 2.75/mo), and it is extra simple to install for WordPress. Bluehost is considered one of the best hostings in terms of cost/value ratio. They don't have performance issues, and uptime is usually around 99.95%, with an average page loading speed of 249 ms.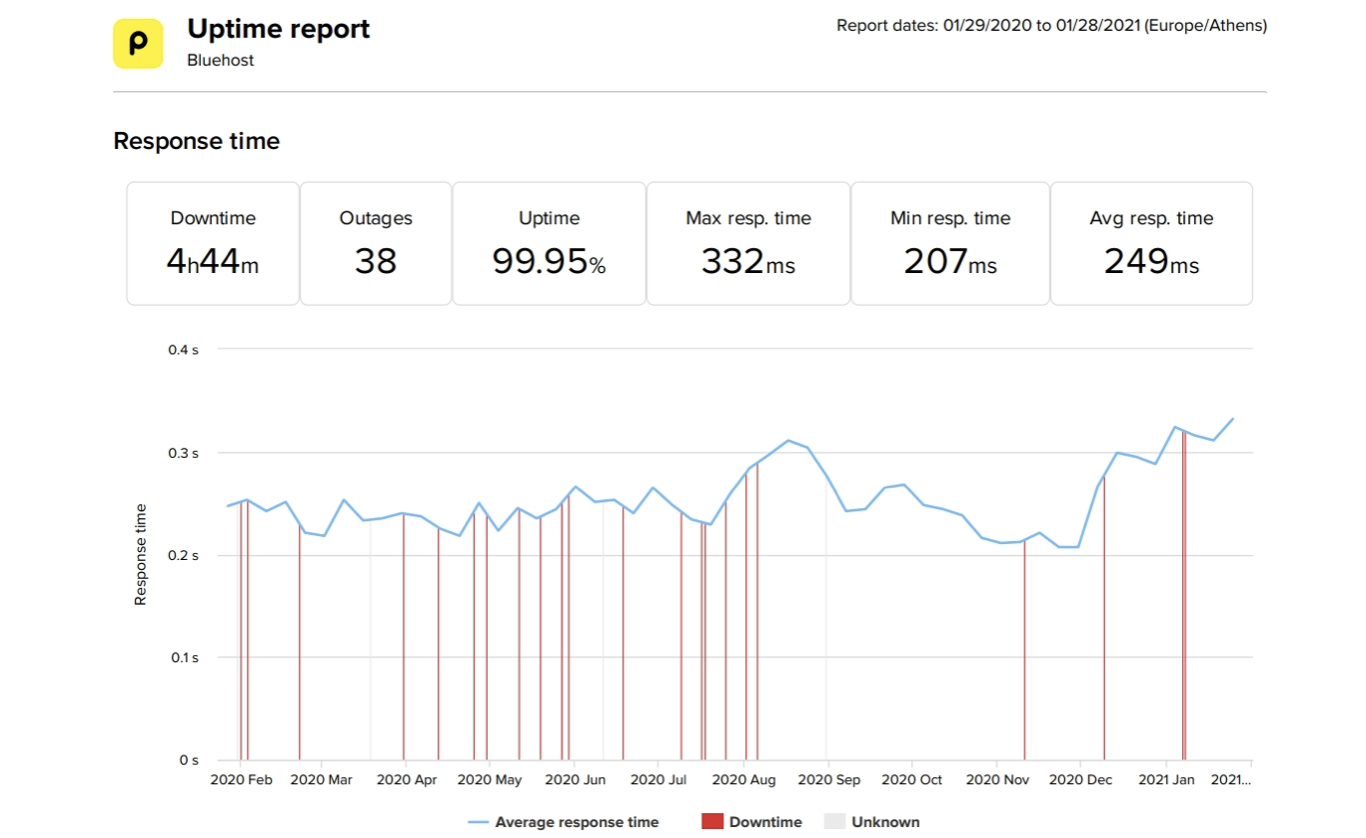 All plans of Bluehost come with a free SSL certificate and an easy WordPress install feature. However, Bluehost does not offer free site migration with its cheapest plans. To do so, you need to pay $150 as a service fee. If you sign up with the Plus plan or above, you will also get a free migration for one website.
Bluehost's prices start at $2.75/month (with a 36-month plan) with a free domain name coming with an SSL certificate for a year. The renewal price is $8.99/month. Bluehost comes with a 30-day money-back guarantee.
PROS: Higher uptime and load time, reasonable prices, free domain, free CDN, and SSL certificate included, recommended by Wordpress.org
CONS: No option to pay monthly, no free site migration with the cheapest plan, support sometimes can be slow.
By using the below link, you get a discount, and we get a small commission from Bluehost.
→ Click here to use the Bluehost discount ←
3. HOSTINGER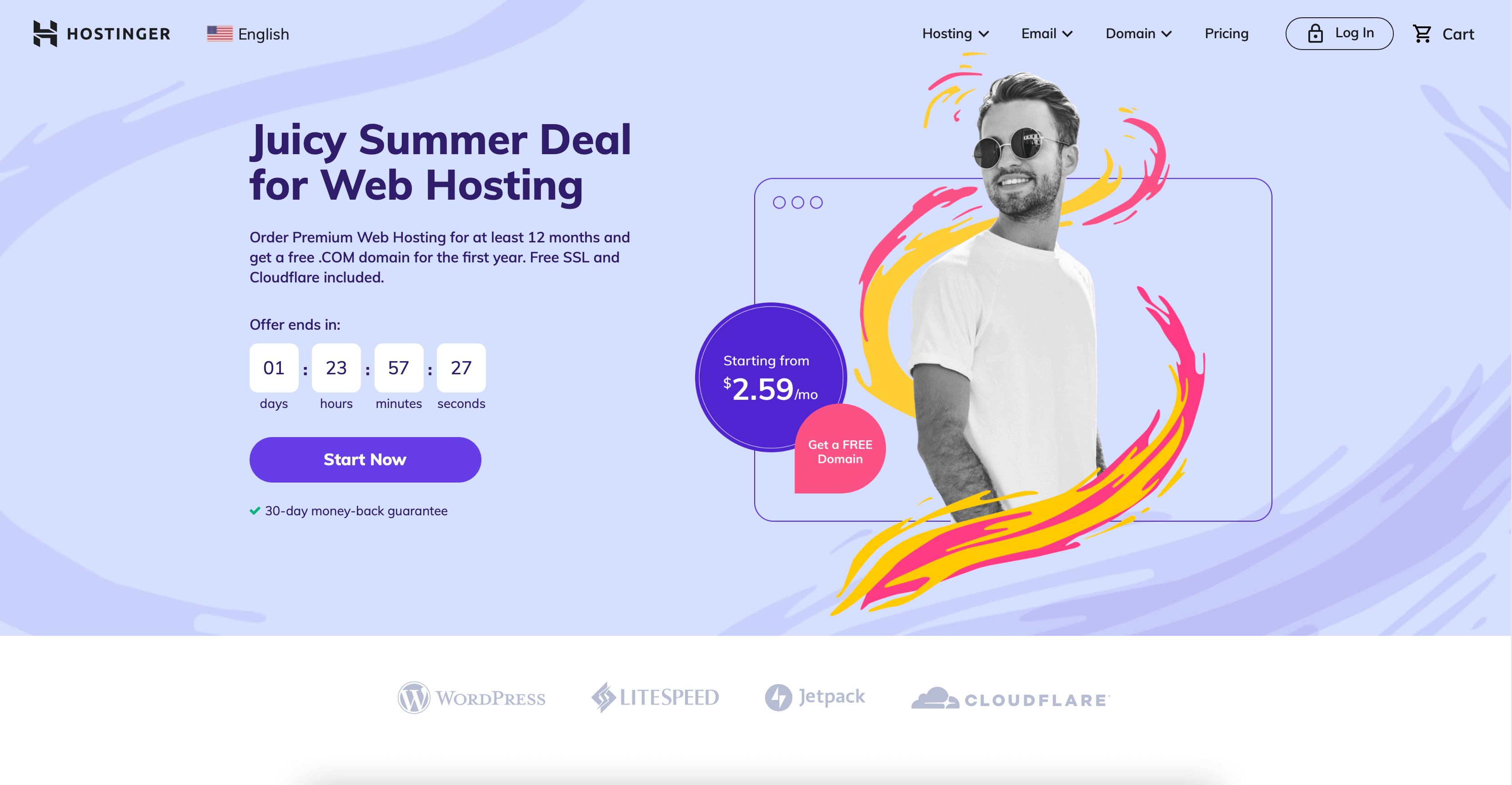 Uptime: 99.74%
Load time: 345 ms
Support: 24/7 live chat, knowledge base
Features: Free email account, free SSL
Hostinger is originally a European company; however, it has data centers in the USA, Asia, and Europe. While selecting the plan and storage, you cannot choose the data center's location; however, the support team can help you change server location from the USA to Asia or Europe.
Hostinger is also an affordable option when it comes to WordPress hosting. The entry-level pricing is 1.99$/mo (if you sign up with a 48-month plan), and you get one website to store with up to 10000 visitors monthly, 30 GB of storage, two databases, and weekly backups. They don't have performance issues, and uptime is usually around 99.74%, with an average page loading speed of 345 ms.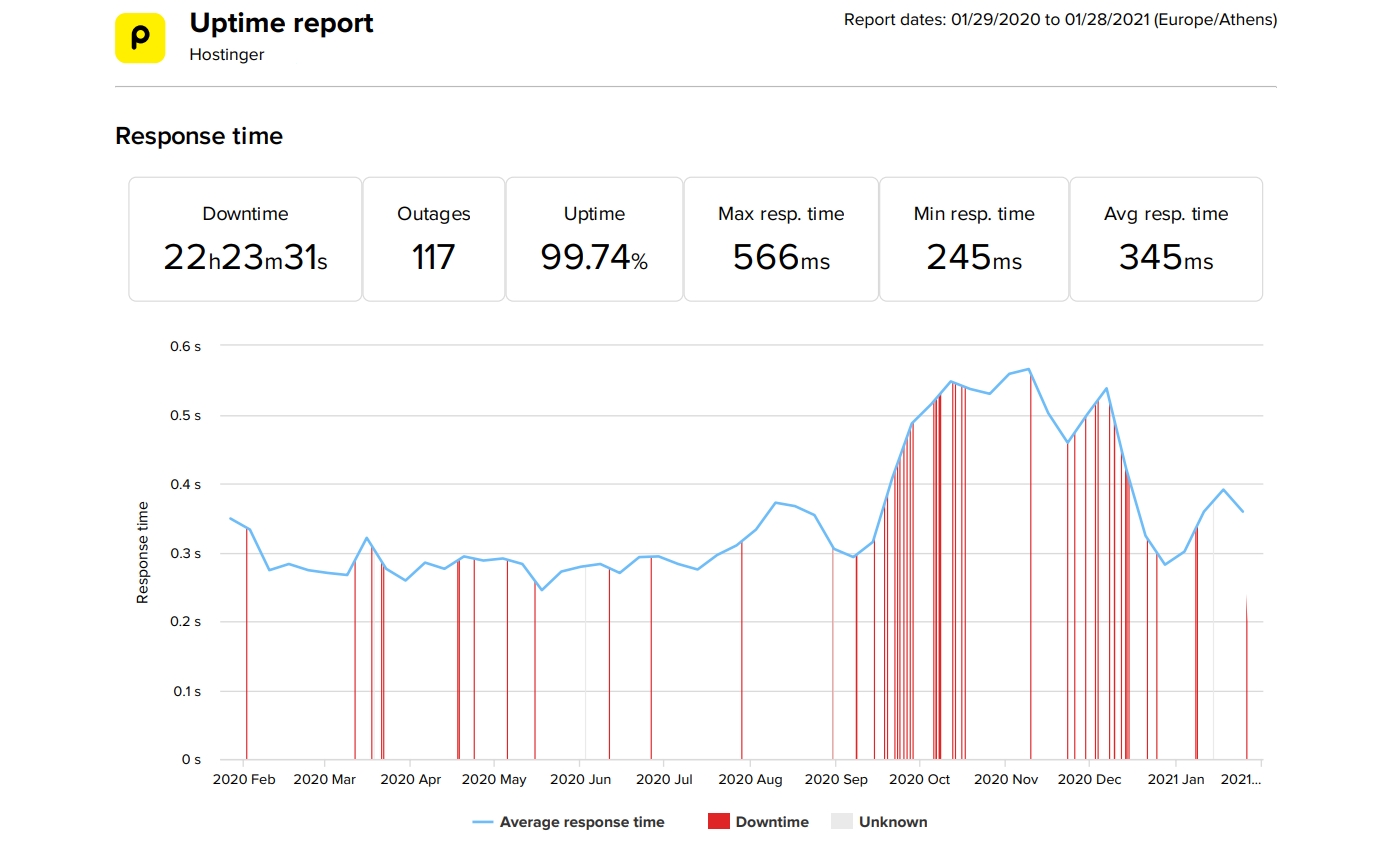 Besides, they offer one email account and free SSL. One of the best features of the Hostinger is a guided installation with a site-building wizard to speed things up. They offer one-click installation and use LiteSpeed Cache to run your website fast. Hostinger offers 24/7 support. The support team is easy to contact, and they will help you with general inquiries (WordPress related and otherwise).
PROS: Cheap pricing, one-click WordPress install, fast speed, free site migration, free SSL, free email, auto-updates built-in
CONS: Average uptime, limited disk space, higher renewal fees.
By using the below link, you get a discount, and we get a small commission from Bluehost.
→ Click here to use the Hostinger discount ←
4. SITEGROUND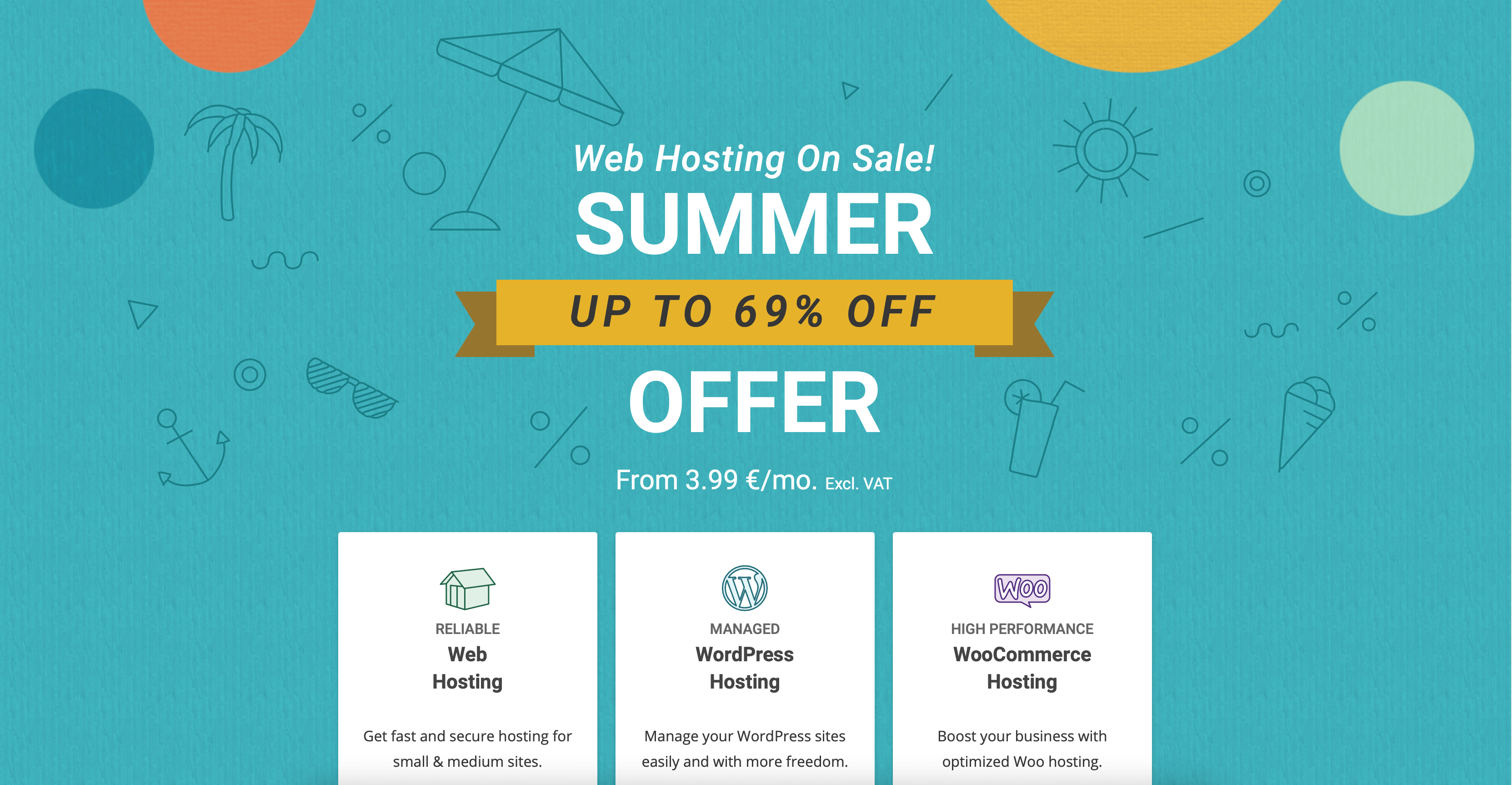 Uptime: 99.99%
Load time: 756 ms
Support: 24/7 live chat
Features: Google cloud servers, free HTTPS (SSL), free email, free site migration
SiteGround is another popular and legitimate WordPress hosting service recommended by the WordPress.org community. According to their statistics, since 2004, over 800000 domain names have been stored in their server.
The most handful feature is the possibility of changing data center locations from Europe to the USA. SiteGround offers free WordPress site transfers, including free CDN and image optimizations.
Comparing to other hosting services, SiteGround is considered a bit expensive. Their cheapest plan starts from $6/mo if you choose a 12-months plan but renews at an even higher cost of $14/mo. Free domain is not included in all plans; you need to purchase it in advance or transfer your own. They don't have performance issues, and uptime is usually around 99.99%, with an average page loading speed of 756 ms.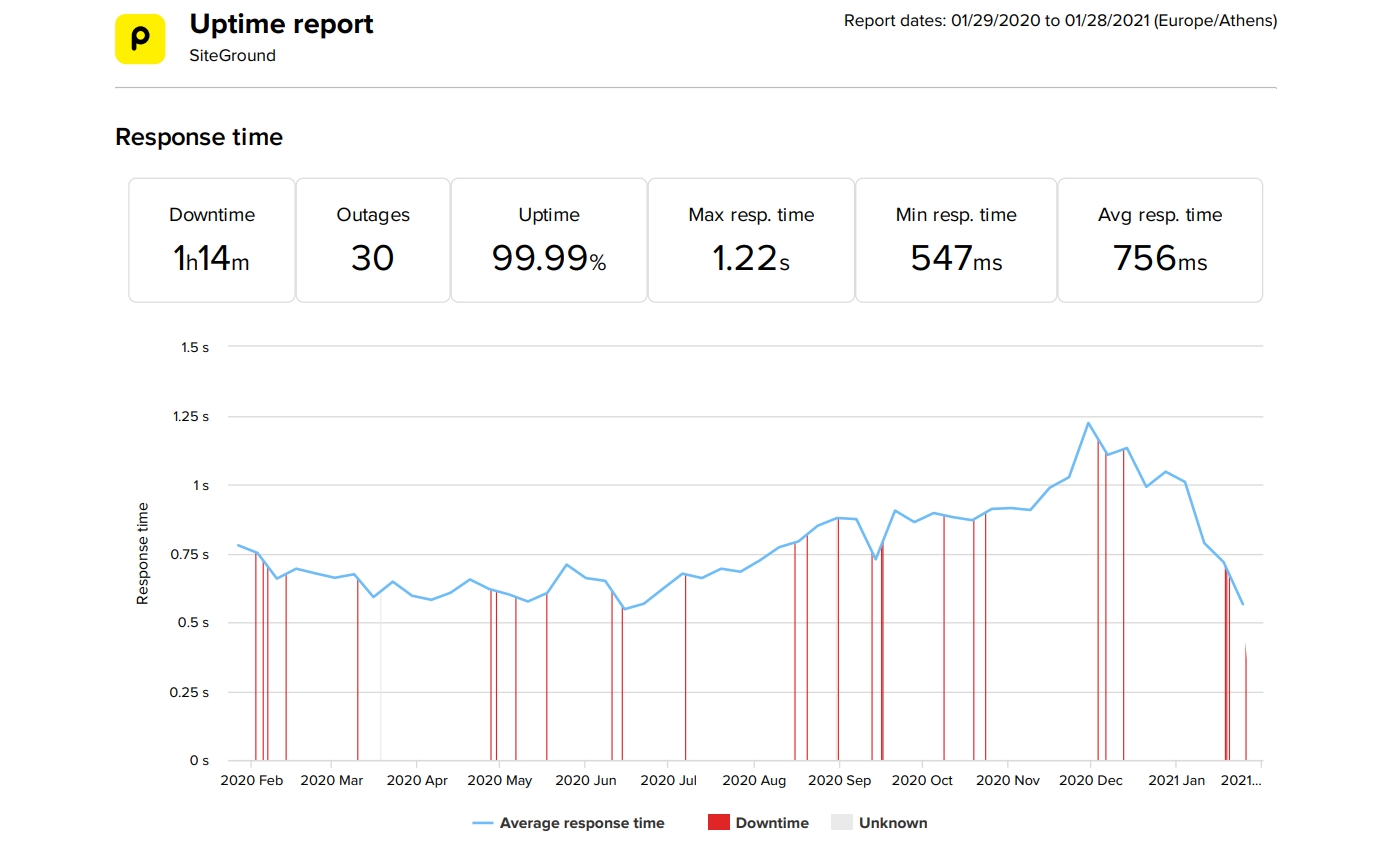 SiteGround is officially recommended by WordPress and has consistently outstanding reviews. All their WordPress hosting solutions come with platform-specific support. From assisting with migrations to troubleshooting plugins, customer service is always available via phone, live chat, and tickets.
PROS: Higher uptime, stable speed, free site transfer, free SSL, automated WordPress installation, free website builder, performance optimized for WordPress sites
CONS: High prices, no free domain
By using the below link, you get a discount, and we get a small commission from Bluehost.
→ Click here to use the Siteground discount ←
5. CLOUDWAYS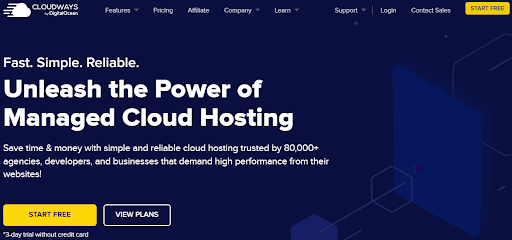 Uptime: 99.99%
Load time: <100 ms
Support: 24/7 Live Chat and Ticket Assistance technical support
Features: Choice of providers, unlimited sites, host multiple applications, Cloudflare Enterprise, one-click staging, Free SSL, and more.
Cloudways Discount Code: FSCODE10 (10% off for 3 months)
Cloudways is a top-notch website hosting service designed to cater to businesses' and bloggers' needs. With access to multiple cloud-based hosting providers such as AWS, Google Cloud, and DigitalOcean, Cloudways offers its users an unparalleled hosting experience.
The company boasts an impressive 99.99% uptime guarantee and fast loading times, making it a dependable and fast web hosting provider.
One-click installs for popular CMS platforms like WordPress, free SSL certificates, and free migrations are just a few examples of the many features Cloudways provides to its users.
The company's focus on customization ensures that users can tailor their hosting experience to their specific needs. Cloudways also provides 24/7 support via live chat, ticket assistance, and a vast knowledge base, making it easy for users to troubleshoot any issues.
Cloudways' pay-as-you-go pricing model allows users to only pay for the resources they use, making it a flexible and cost-effective hosting solution. Its plans start as low as $10/month and include access to a range of cloud hosting providers.
While Cloudways doesn't provide domain and email hosting, it makes up for its high uptime rates, fast load times, and access to multiple cloud hosting providers.
Overall, Cloudways is a reliable and versatile website hosting service that provides its users the absolute freedom to opt for their preferred cloud provider. With its fast loading times, 99.99% uptime rates, and 24/7 support, Cloudways is a great choice for anyone looking for a top-quality hosting solution.
→ Click here to use Cloudways discount ←
5. A2 HOSTING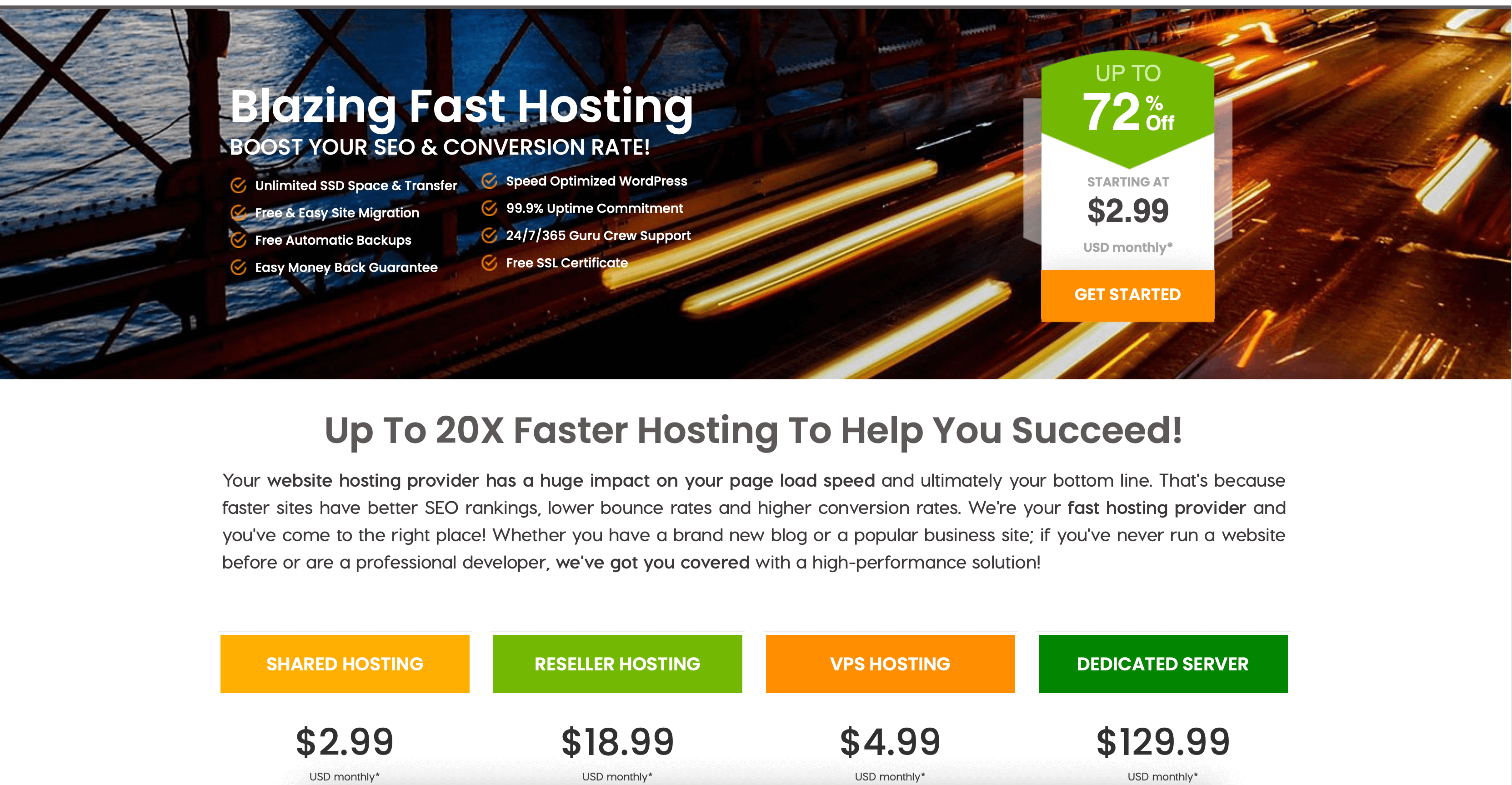 Uptime: 99.97%
Load time: 279 ms
Support: 24/7 live chat, phone, knowledge base, phone
Features: Fast servers, free SSL, free CDN, unlimited bandwidth
A2 Hosting is one of the preferred low-cost WordPress hosting services by the community. According to their statistics, your website will run 20x faster than your current Hosting.
Although A2 Hosting is a relatively new player in the hosting market, they offer affordable prices and excellent performance (compared to other similarly priced hosts). All their plans come with a free SSL certificate, CDN, and unlimited bandwidth with unlimited storage (except the cheapest plan).
You can also have an option to change server locations between the USA, Netherlands, and Singapore. They offer reasonable prices for all their plans; however, the cheapest plan is $2.99 if you sign up with three years contract.
A2 Hosting also offers free site migration in all their plans. You also get unlimited email accounts; however, the renewal prices are higher than others at $10.99 per month. They don't have performance issues, and uptime is usually around 99.97%, with an average page loading speed of 279 ms.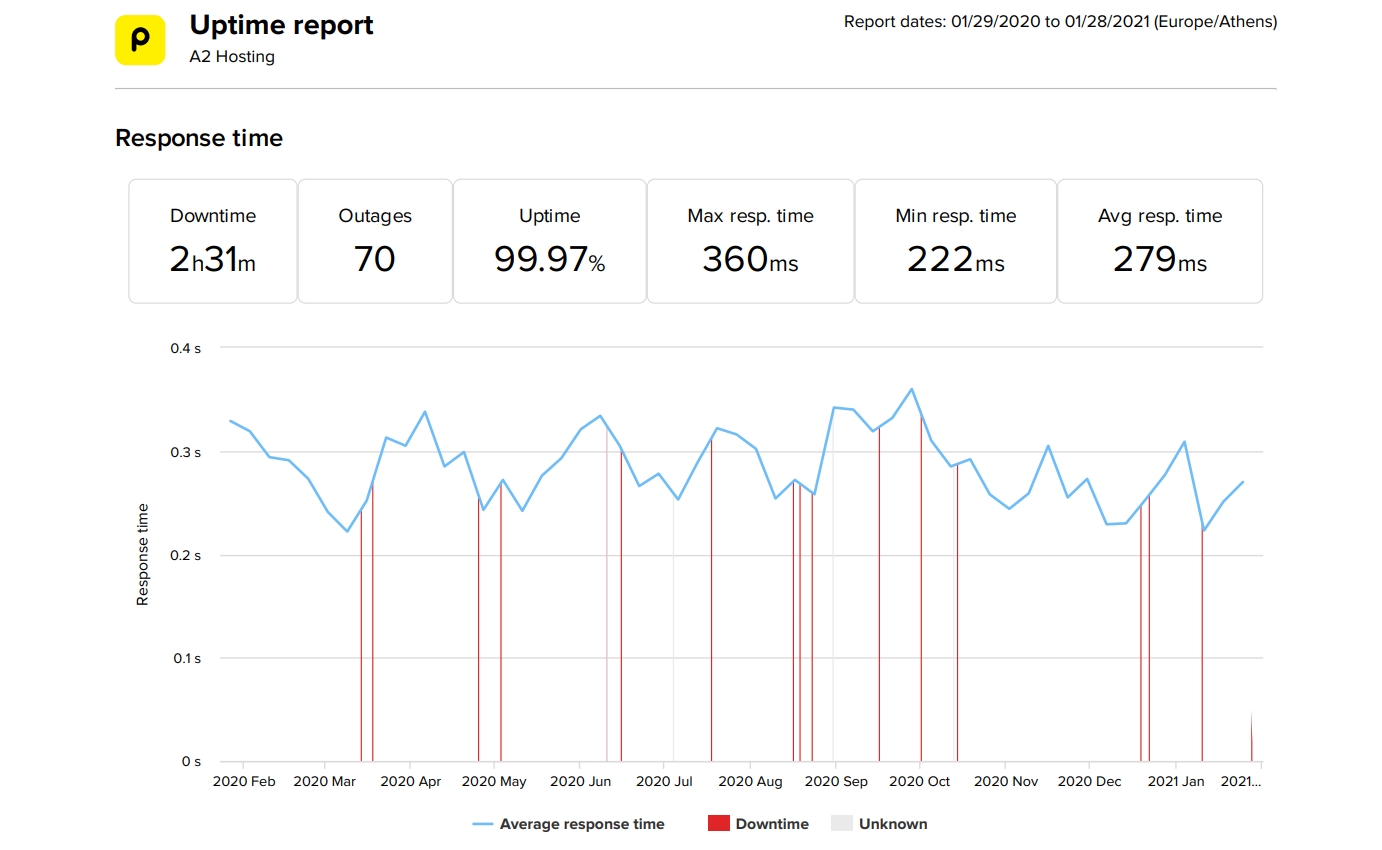 All WordPress hosting accounts with A2 Hosting come with WordPress pre-installed. You can also install new instances of WordPress through the Softaculous one-click installer. When contacting support, you can use live chat, email, or even phone. They are available 24/7.
PROS: Fast, reliable, well-optimized, free site migration, unlimited email accounts, unlimited SSD storage
CONS: High renewal prices
By using the below link, you get a discount, and we get a small commission from Bluehost.
→ Click here to use the A2 Hosting discount ←
6. DreamHost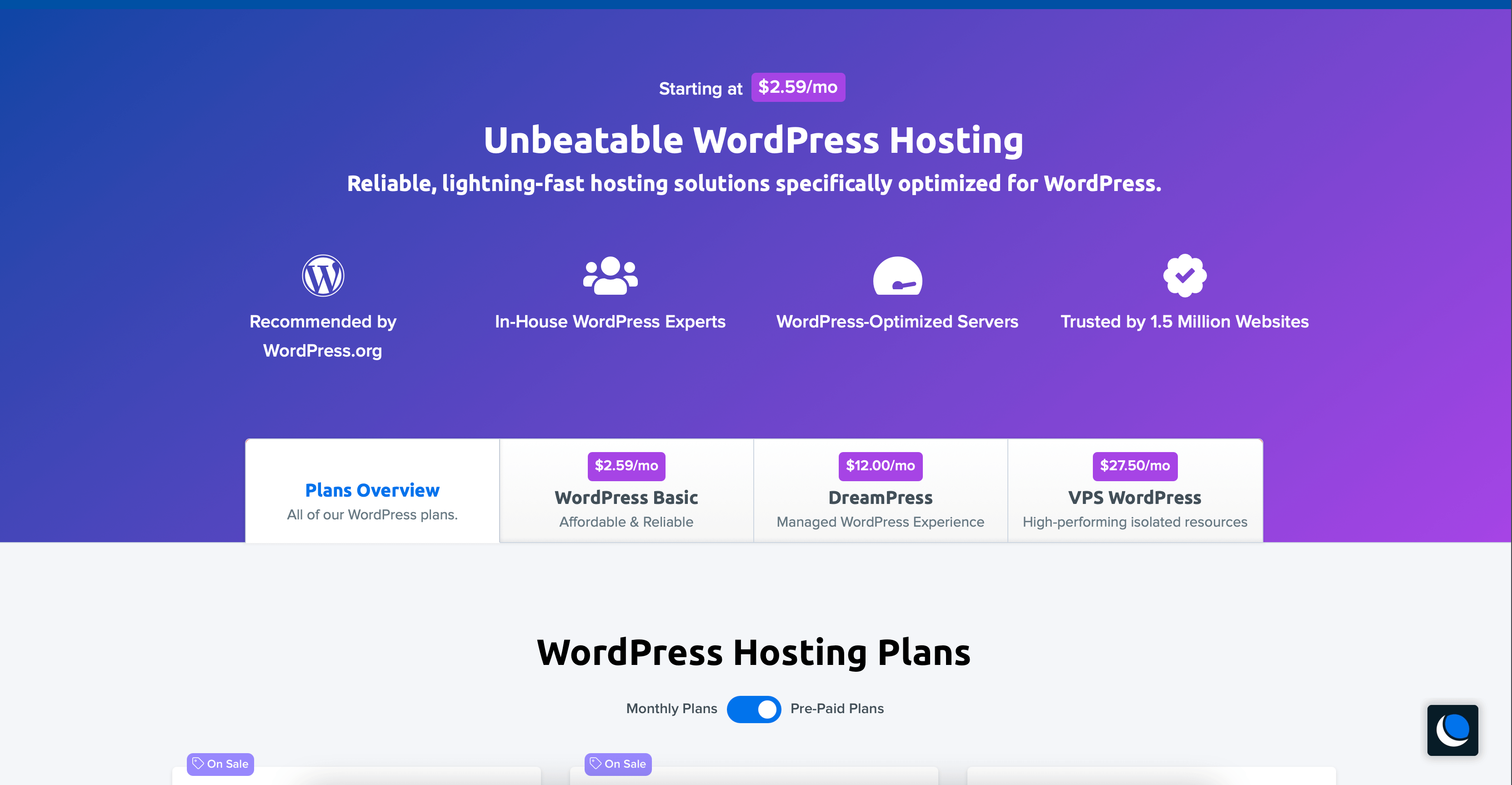 Uptime: 99.62%
Load time: 1190 ms
Support: knowledge base, limited live chat
Features: WordPress is pre-installed, drag and drop builder, unlimited bandwidth/storage
Dreamhost is another popular and well-established USA-based hosting service recommended by the WordPress community. Dreamhost is also considered fast, reliable, and optimized for WordPress users. All their WordPress plans offer a WordPress website builder, free SSL, and SSD storage with unlimited bandwidth.
Their cheapest plan starts at $2.59/month (3-year commitment) or $4.95/monthly. DreamHost has "high performance" managed WordPress plans which are more expensive, priced at $16.95/month. Email accounts cost $19.99/year extra, and the free domain for a year renews $15.99/year.
The one-click install options in the backend worked straight out of the gate, and the interface was generally straightforward to navigate. They don't have performance issues, and uptime is usually around 99.62%, with an average page loading speed of 1190 ms.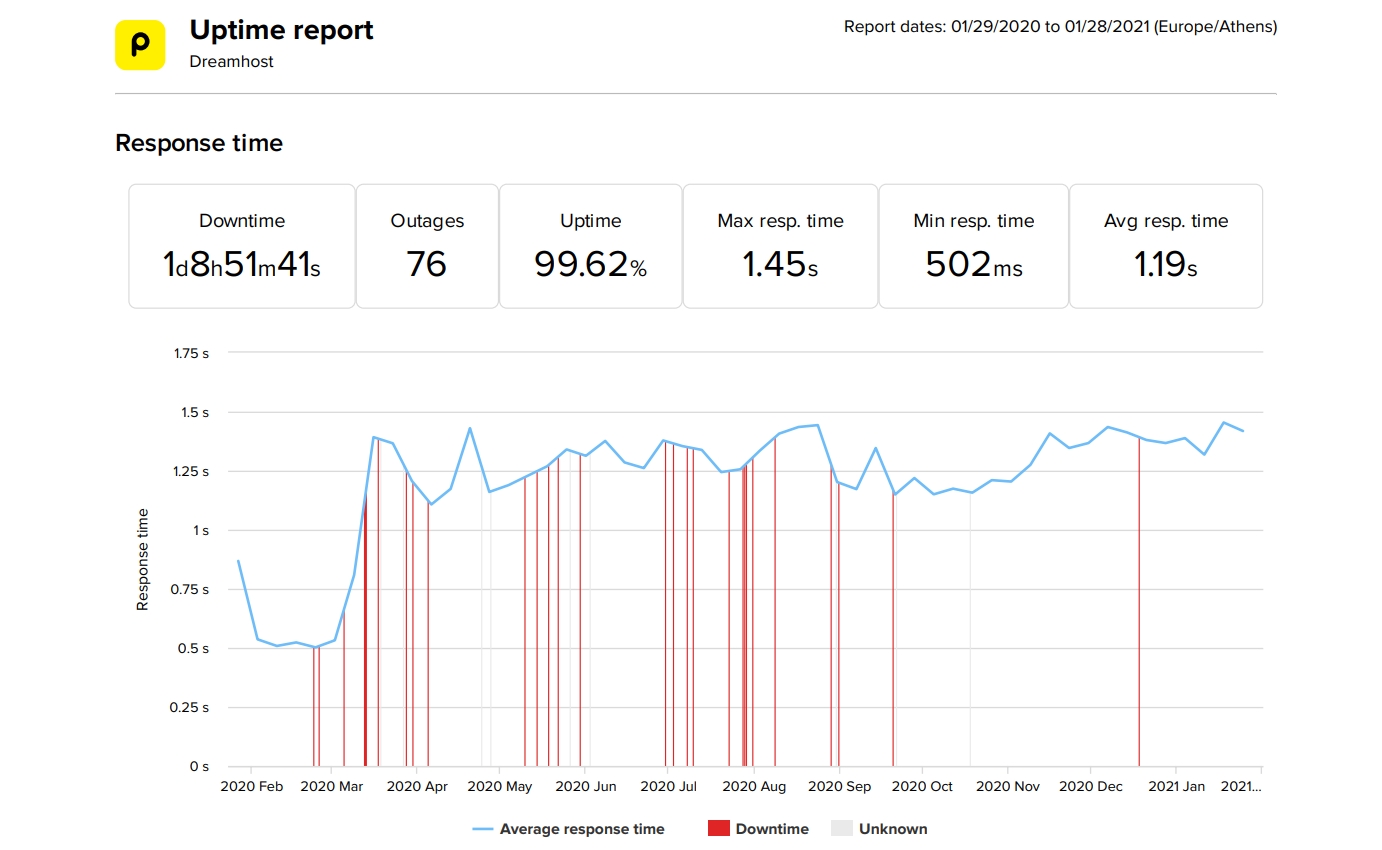 Site transfers are not free, and there is no 24/7 support option. They have live support chat, but it's only available at a certain time every day.
PROS: possibility to pay monthly, one-click installation, auto-updates, good support response.
CONS: slow load times, limited live chat option, low uptime comparing others.
By using the below link, you get a discount, and we get a small commission from Bluehost.
→ Click here to use the Dreamhost discount ←
Conclusion
In this article, we have provided the best options for your WordPress experience. We hope this list helped you find the right choice for you and your website.
While choosing your hosting plan, be careful with plans and their key features. If you have huge traffic or plan to build a big project, we recommend choosing paid premium plans. They are more stable, reliable, and offer the best customer service.
If you are a small business owner or blogger, then free hosting plans are the best choice for you at the first stage. But bear in mind, as soon as you get higher traffic, you must change your hosting plan; otherwise, your website will shut down as it reaches to plans' peaks.
If you want to learn about the best free hosting plans, stay tuned. Our blog article about free hosting plans will be available soon.