8 Top WordPress page builder plugins you have to use in 2022
Jun 8, 2021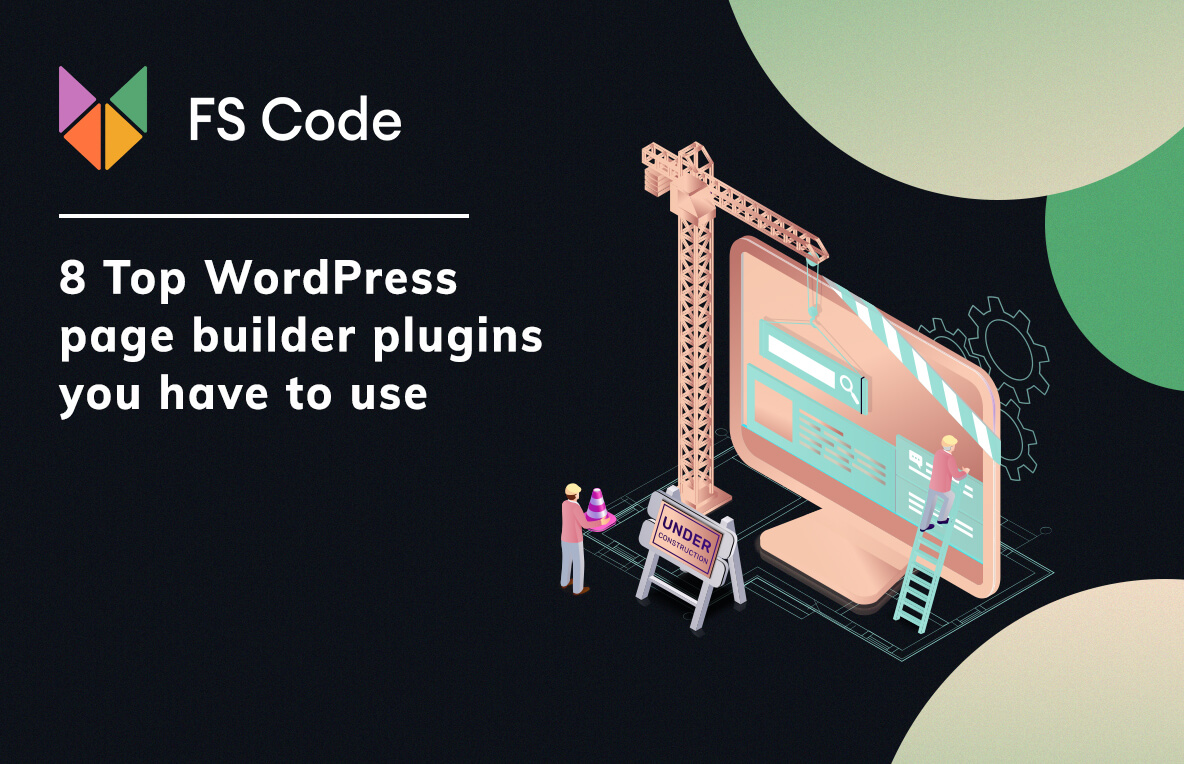 In the last two years, we faced many physical restrictions, but digital platforms are increasing in importance. This is the best time to show up on digital, and for newbies, WordPress is the best. It has millions of themes, plugins, add-ons, and tools.
The handiest tool for site-building is "page builders." What is a page builder? Page builders are essentially just plugins. They help you to make page layouts and design your pages without experience in coding.
With the help of page builders, you can change the structure of your page and add elements and functionalities.
In 1 or 2 hours, you can get used to these tools and make an awesome page for yourself on your own!
Which WordPress page builder should you use?
When considering page builders, you should consider some points:
does this plugin get updates?
Is there good customer support?
Is its user interface easy to use?
Will this installation slow your website's loading speed?
Does this plugin offer enough functionality for your needs?
Is there a large community around this plugin?
For most popular plugins, you can easily find help on the web. Most of the time, it is faster than writing to support.
Let's see major WordPress page builders and examine their abilities
All plugins are new and tested up to the 5.7.2 version of WordPress.
1. Divi
Let's start with Divi. It is not just a plugin. It combines different tools and services like page builder, email opt-in plugin, social media plugin, and themes.
Divi is part of Elegant Themes company. They have been in this business for twelve years. With more than 115 developers and team members, Elegant Themes is doing very well so far, and we are sure that they will improve and keep their customers for many years.
There's no free version of Divi. You have to pay $89 yearly to use it on your site.
If you want to try before you buy, there is a live demo. You can try it out for free and then make a decision.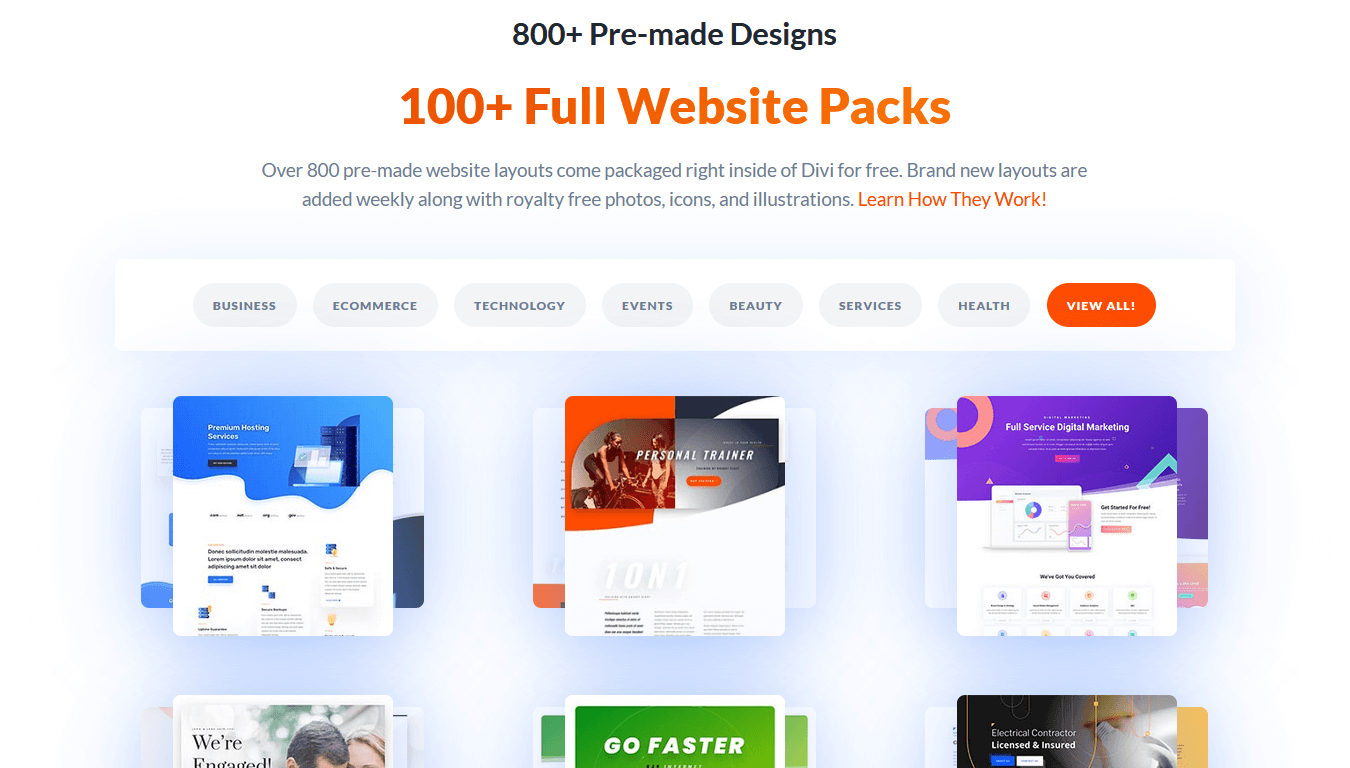 What's awesome about Divi's subscription is you can pay $89 yearly and access Divi's page builder, eMail Opt-In and Lead Generation Plugin, Social Media Sharing Plugin, hundreds of website packs, product updates, and 24/7 customer support.
Most importantly, you can use Divi on an unlimited number of websites and domains. Of course, you can use Divi page builder with all the themes you are currently using and get great results.
If you are happy with your Divi, you can purchase lifetime access for $249. You will pay once, and you will get lifetime updates, lifetime premium support, and of course, you can use your Divi on an unlimited number of websites.
Divi offers many gorgeous themes, layouts and it keeps increasing.
We have to mention that Divi has an incredible community on Facebook and YouTube. They almost every day upload new videos to their YouTube channel.
2. Elementor
Elementor is a very stylish, multifunctional page builder with a fast interface.
Five million active installations in 5th year is a massive success for a plugin. They worked hard for this.
Elementor attracted its users with a well-designed editor page and offering premium features for free.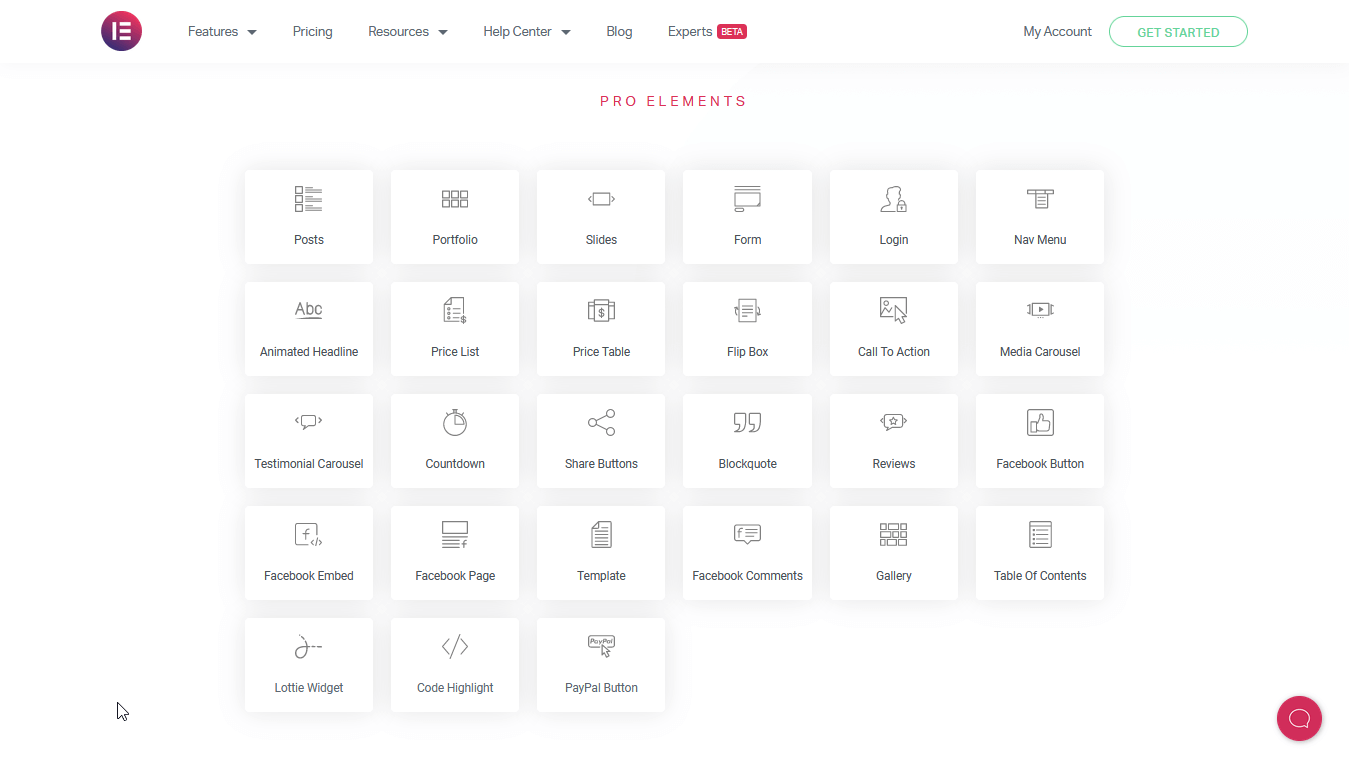 Elementor is free, and you can upgrade to the pro version for more tools and settings.
There are five premium subscription types, which allow you 90+ Basic & Pro Widgets, 300+ Basic & Pro Templates, Theme Builder, and premium support.
This is a very complex page builder. It has a theme builder, pop-up builder, WooCommerce builder, and more. We have to say that there are hard-working developers behind the Elementor plugin, and they constantly make updates and add new functions to the page builder.
You can find a large Elementor community on the internet and get tips from them on how to arrange things, how to make stylish designs, and implement Elementor to your theme.
Also, it is open for developers to contribute and make more advanced changes to their code.
3. Beaver Builder
Beaver Builder is a drag & drop front-end page builder.
You can choose elements like an accordion, pricing table, count down, icons, sliders, call to action section, forms and drop them to your page without touching a single line of code.
You can integrate your form with MailChimp, ActiveCampaign, Aweber, Constant Contact, ConvertKit, Drip, GetResponse, iContact, Infusionsoft.
Editor gives you the ability to make changes to every element, add animations, customize the layout according to device size, and save your elements for later use. You can choose ready-made templates like landing pages and content pages.
There is no free version, the 'Standard' license comes for $99 yearly, and you will get a 40% discount on yearly renewals.
You can visit their website and try a live demo. This is really cool because you can start to use it right away and see if this product suits your needs.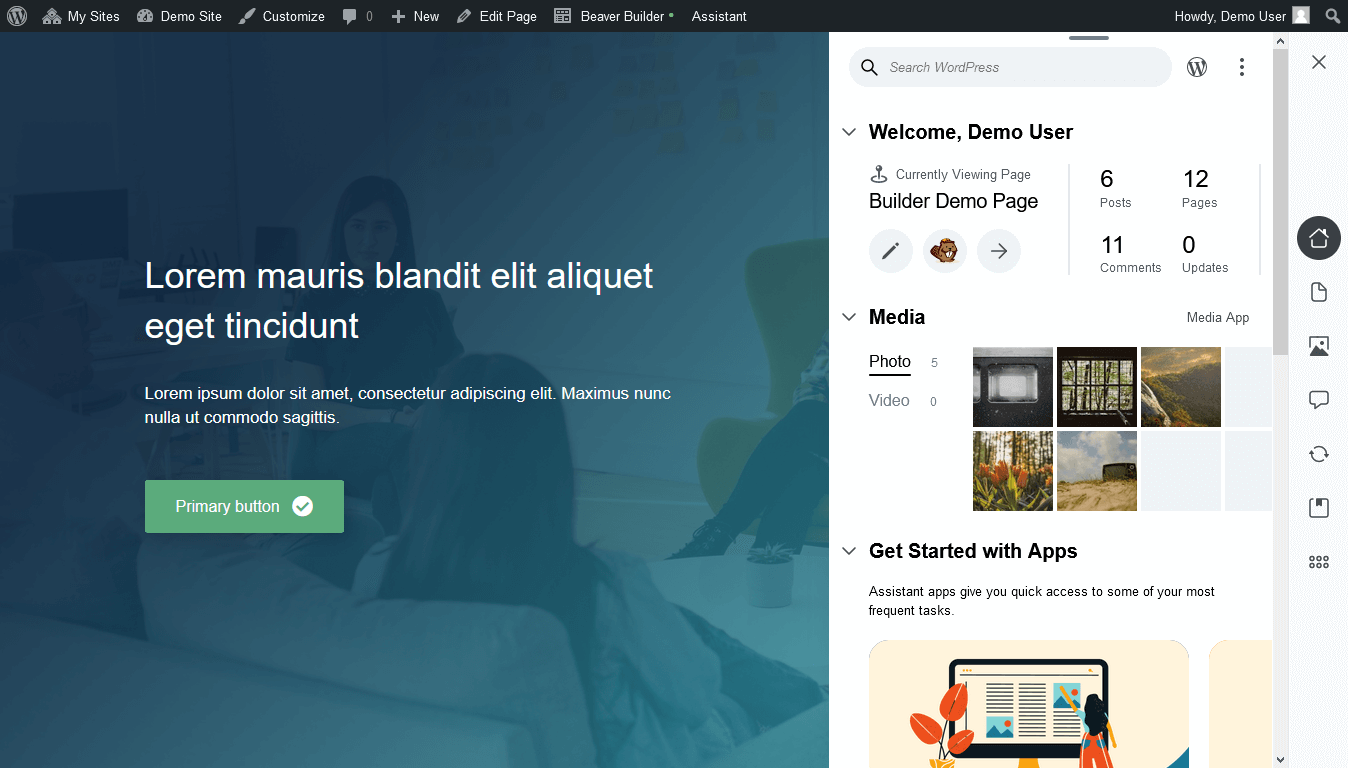 They offer a free Assistant plugin that makes it easy to do everyday work fast and effectively, which can be a real productivity booster.
On Beaver Builder's website's Knowledge Base section, you can find up-to-date documentation. There are video tutorials on YouTube channel on making installation, using editor, making styles, and layouts. Videos are new and relevant with Builder's latest version.
We think there is room for design improvements.
4. Oxygen
Another ambitious page builder offers more power and control choices.
Oxygen has shown better load time speed tests than other major page builders. The most significant advantage of Oxygen is its loading speed. They claim that "Oxygen is 50x leaner than Divi, 25x leaner than Elementor, and 10x leaner than Beaver Builder".
There is a very nicely designed tutorial page where you can find helpful videos. We recommend you to join their 26k+ Facebook group too.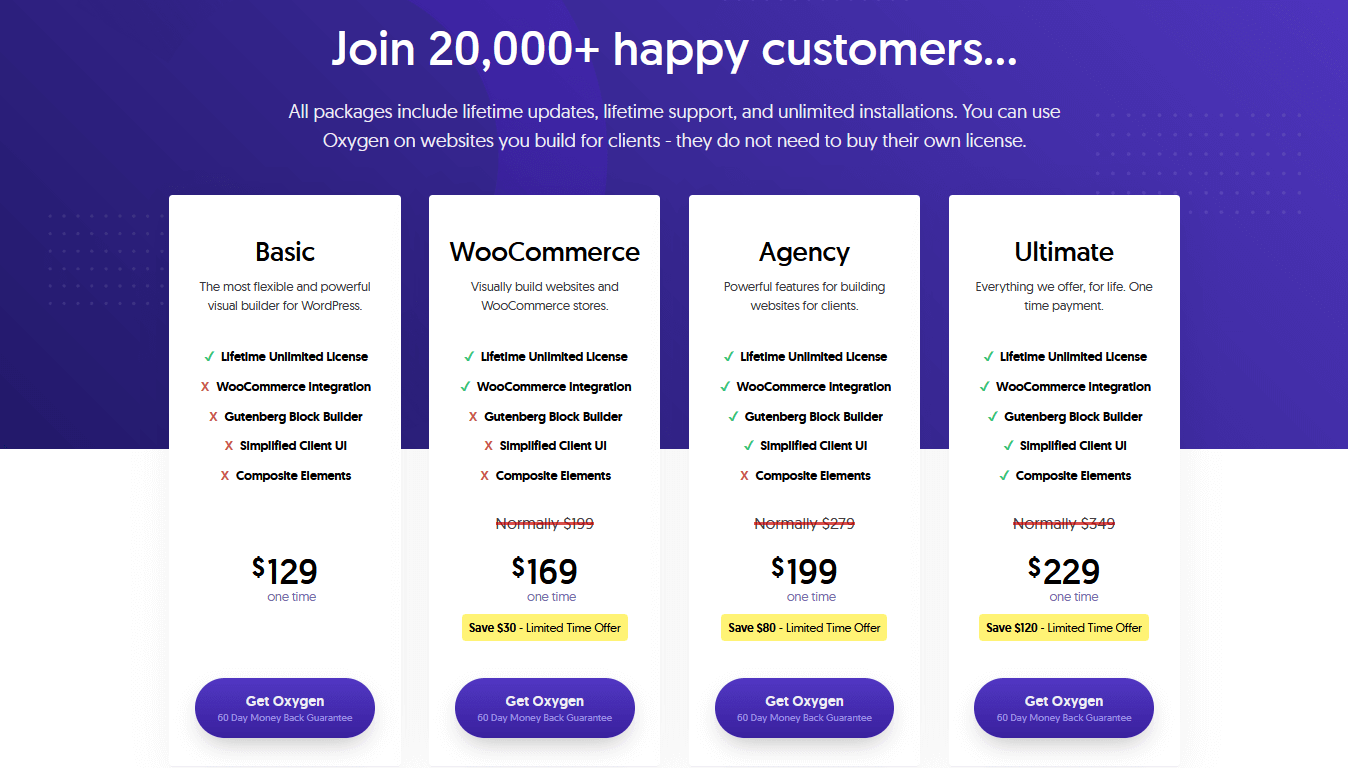 Oxygen follows a different path with pricing. They offer four one-time price tags. The basic plan is $129. The best part is you can use it on an unlimited number of sites, and you will get lifetime updates, lifetime support. Also, they have a 60 days money-back guarantee.
You have to spend some time getting used to the editor section. It has a wide range of possibilities, but we found it a little bit hard for beginners. But if you are a professional developer, you might find yourself in the world of flexibility, customizability.
5. WPBakery Page Builder
WPBakery page builder is among the most downloaded plugins. This plugin was a pioneering drag and drop concept.
WPBakery page builder has both a visual front end and back end editor.
You can drag and drop elements such as image carousel, buttons, post slider, social media widgets, and other useful elements to your website easily.
WPBakery page builder has an extremely large add-ons library. You can find more than 250 add-ons for WPBakery, and these add-ons can sustain all your needs for design, eCommerce, forums, and so on.
These add-ons can add extra functionality to your website. But keep in mind that you have to pay for them separately. They typically cost around $15-25.
Like its competitors, WPBakery offers a pre-made template library. Here you can find more than 80 templates which can save a lot of time.
For a one-time $45 payment, WPBakery offers free updates, support, and access to the template library, but you are limited to use it on a single website. This is a good deal if you want to use this page builder only on a single site. If needed, you can purchase an Extended License for $245.
We have to mention that the WPBakery community isn't big enough.
6. Visual Composer
This is a very convenient and gleaming page builder, which makes the website creation process fun.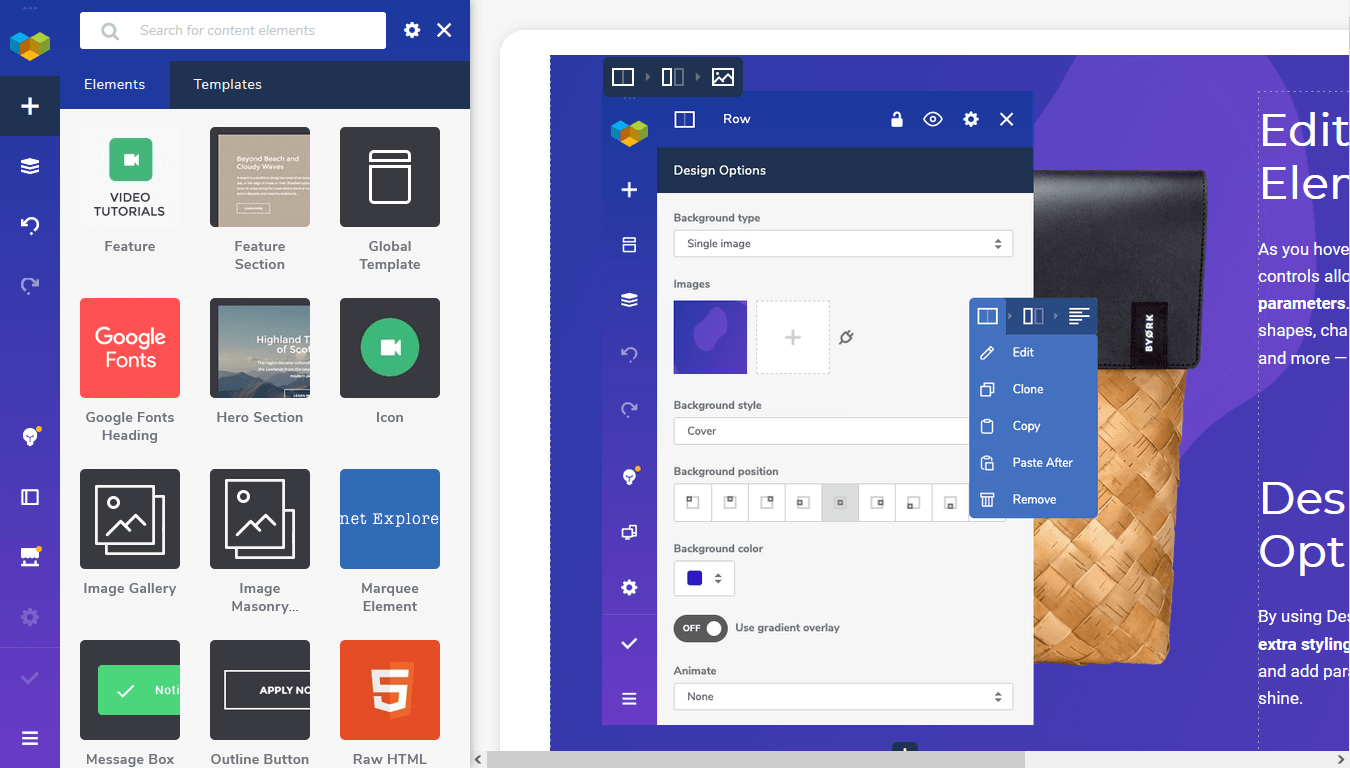 Visual Composer is free to use, but you will get only 30 elements and ten templates for a free version. Free version users can't get Premium Customer and Support too.
For premium subscribers, Visual Composer unlocks Visual Composer Hub. It is a cloud marketplace that contains elements, templates, and extensions which you can download and use on your website.
A single website license that costs $49 yearly will allow you to access more than 300 elements and 200 templates, premium support, and much more.
Just drag and drop elements to your page and see changes instantly. After adding an element to your page, a pop-up window will allow you to make changes to your element, and you can make style changes, position changes, animations, and so on.
Visual Composer Insights is a helpful addition to the editor. It will give you tips on how to do things correctly during the work process.
You can visit Recommended Resources page and find helpful information about hosting, plugins, WordPress blogs, and WordPress services compiled and recommended by developers of Visual Composer.
We think this is a very nice touch. If you choose Visual Composer, visit their Recommended Resources page, and it will help you choose hosting, plugins, and other services compiled with Visual Composer builder.
Your website will normally work after your subscription expires, but you will lose access to the Hub and premium support and face delays for product updates. They offer tons of elements, templates, add-ons, and integrations, but we found prices a little expensive to install Visual Composer. For a license for three websites, you have to pay $99 yearly.
Visual Composer has a huge community on Facebook and other platforms, and its YouTube channel gets new videos weekly.
7. WP Page Builder
WP page builder is a product of the Themeum team. Besides WP page builder, they offer tutors, menu builder, crowdfunding plugins, and themes.
We can say that there is a really experienced developers team behind WP Page Builder. WP Page Builder comes free. You can download and install it on your website.
During the work process, you can add accordion, post grid, pricing tab, pipe progress, and other add-ons to your website with one click, and this is super easy.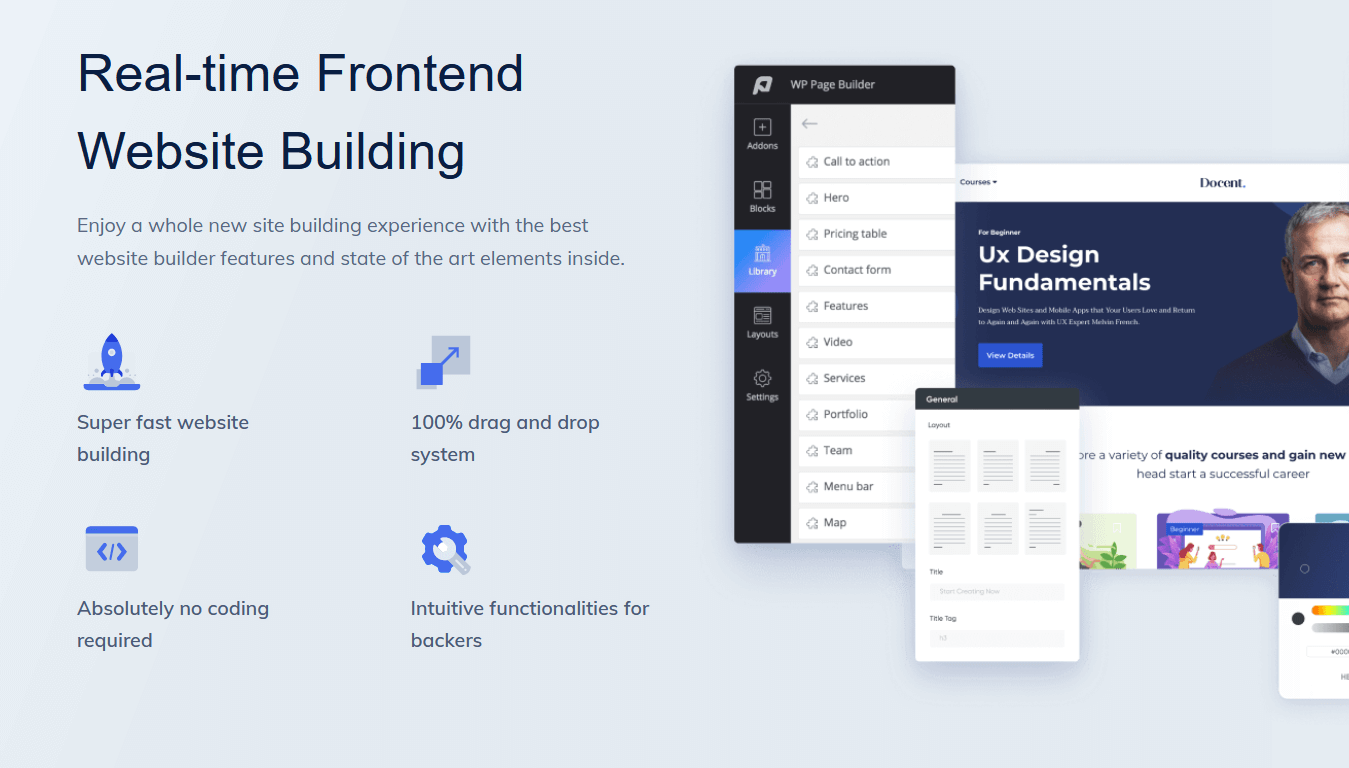 WP Page Builder is a fast drag and drop site building tool. You don't have to be a developer to work with this plugin. No coding experience is required. You can save your layouts and reuse them on different pages as you need, which will save your time.
The good news is they offer support for free version users too. For the 'Individuals' pro version, they have a $39 price tag. This will grant you one site license, and you will get updates and priority email support for one year.
If you want to increase the website number, you have to purchase 'Freelancers' or 'Agencies' package, which costs $59 and 99 accordingly.
Also, they offer a free installation service, but you may wait if there are pending requests. They have a nicely designed documentation page, but we couldn't find any video tutorial on that documentation page.
8. SiteOrigin page builder
The last plugin on our list is SiteOrigin page builder. Fast downloading speed and flexibility are the best parts of SiteOrigin.
The editor section is pretty simple. The most important settings and buttons within your grasp. History browser lets you roll back and see the history of your changes. You can add your custom CSS code if you are professional enough.
SiteOrigin page builder is free to use on unlimited websites. Lifetime updates are included too. If you want more, you can buy SiteOrigin Premium for just $29 yearly, and you will get powerful tools like block animations, contact form, image overlay, call to action, map styles, parallax slider, and social widgets.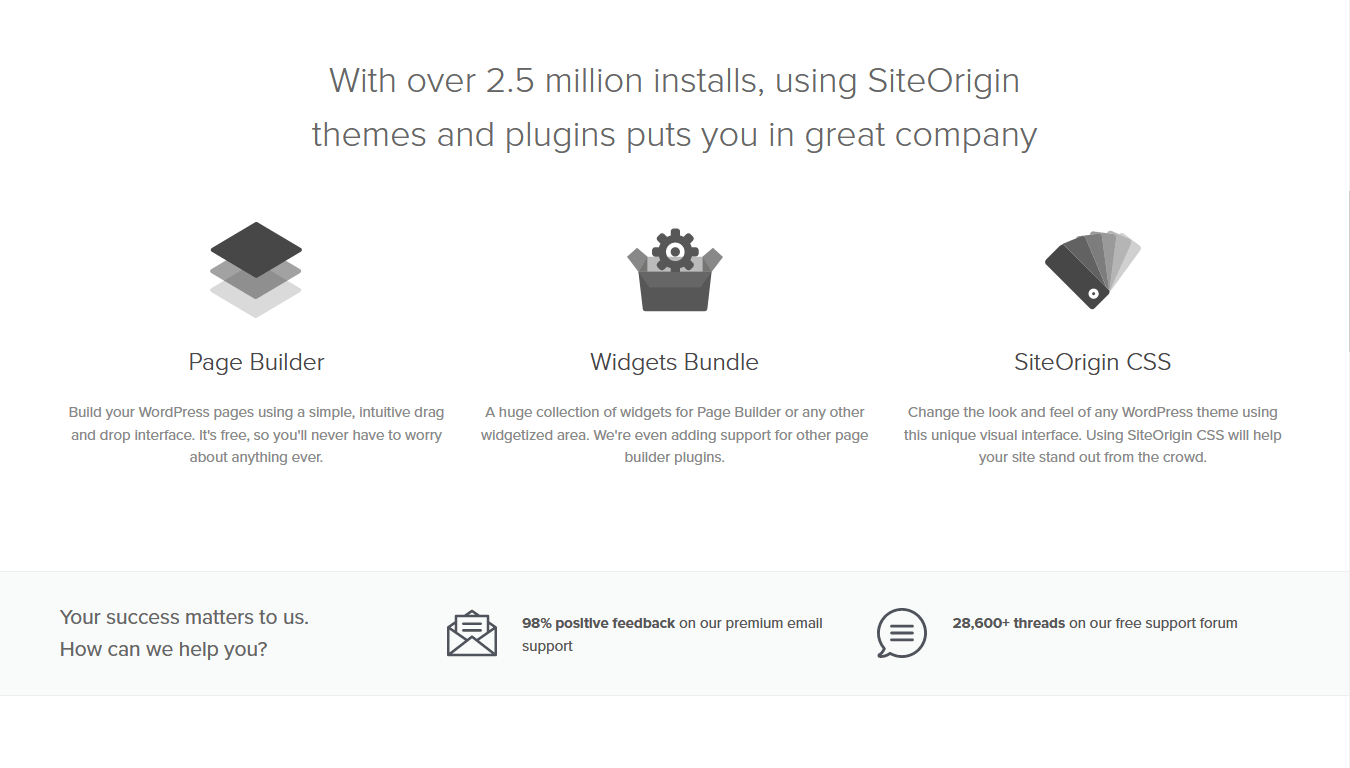 Keep in mind that it is a single website license. You can freely transfer your license from one site to another. For more, you have to purchase 'Business' or 'Developer' plans.
You can get your money back in 60 days if you are not happy with your purchase. The company promises that they will not ask any questions.
In the Themes section, you can find themes developed by SiteOrigin or compatible themes with SiteOrigin page builder from other creators. Here you can find free and paid themes.
Conclusion
Working with page builders is roughly the same. Some page builders have a better user interface or bad.
But at the core, they all have the same experience. What makes a difference is if this page builder allows you to turn your imagination into reality?
Does this plugin have enough functionality?
And most importantly, will this plugin get updates, and will you get support when you need it immediately?
Please keep these things in mind and always choose a plugin that suits your needs.