The Ultimate Guide to Setting up a WooCommerce Store in WordPress – 2023
Apr 20, 2023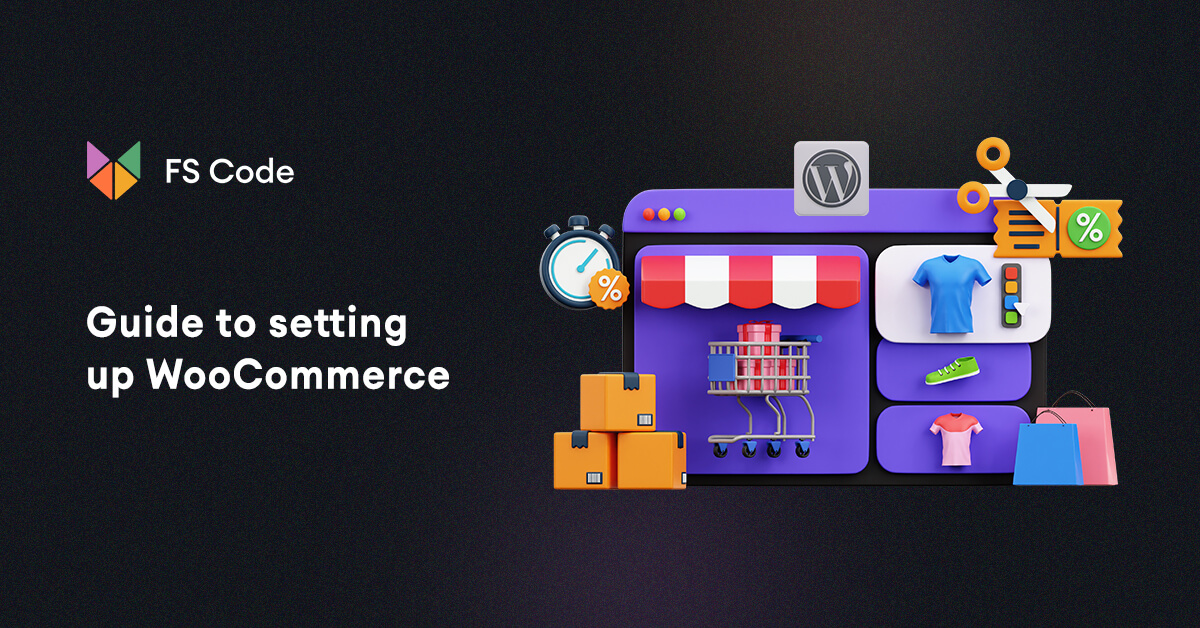 With 6.5 million powered websites and a 36.68% market share, WooCommerce is certainly an eCommerce behemoth. And a whopping 211 million downloads speaks volumes for its popularity among developers and store owners.
WooCommerce is free, flexible, and easy to use. However, many newcomers find the prospect of setting up a WooCommerce store on their own to be a little daunting. The majority of users have trouble figuring out how to set up all the different settings of WooCommerce.
In this article, we will walk you through the steps to setting up a WooCommerce store.
Without further ado, let's dive in.
What is WooCommerce?
WooCommerce is a free WordPress plugin that can turn your website into a fully functional eCommerce store. WooThemes initially developed it, then the creators of WordPress, Automatic, bought it in 2015.
It is a very powerful eCommerce plugin with plenty of useful features and is highly customizable. WooCommerce also has a ton of extensions and third-party plugins, which adds more power and value to the system.
WooCommerce is suitable for anyone who wants to sell products online. From small businesses to giants in eCommerce as well as freelancers, artists, bloggers can use this platform to showcase their products and services.
It is user-friendly and can be easily customized with various themes and plugins. It provides a range of features, such as inventory management, payment gateways, shipping options, tax calculations, and product variations, to help users manage their online stores efficiently.
Additionally, WooCommerce is available in multiple languages and also supports a range of translation plugins, making it a viable option for businesses operating in different countries. It is also easy to integrate with other marketing and analytics tools, making it an excellent choice for businesses looking to streamline their eCommerce operations.
Who can use WooCommerce?
WooCommerce is ideal if you want to set up an online store to sell products, services, or subscriptions. Here are some specific scenarios where WooCommerce can be a good fit:
Sell physical products
If you have a business that sells physical products, WooCommerce can help you set up an online store to showcase your products and manage inventory, payments, shipping, and taxes.
Sell digital products
If you sell digital products such as software, e-books, or music, WooCommerce can handle the delivery of digital files and ensure that they are secure and accessible only to customers who have purchased them.
Sell services
If you offer services such as consulting or coaching, WooCommerce can help you create service packages, set up booking and scheduling systems, and manage payments and customer data.
Sell subscriptions
If you offer subscription-based products or services, WooCommerce can help you set up recurring payments and manage subscription plans, renewals, and cancellations.
Customization
If you want complete control over your online store's design and functionality, WooCommerce provides extensive customization options through themes and plugins.
Overall, WooCommerce is a versatile eCommerce platform suitable for businesses of all sizes and industries.
How to set up online store using WooCommerce
This guide is not just about set up WooCommerce on WordPress or set up WooCommerce shop page. We will walk you through all the steps of setting up a WooCommerce store.
Here's a list of things you need to get started.
A domain name
A web hosting account
SSL certificate
WordPress
The first three things will cost you money. Wait, isn't WooCommerce free?
Yes, the WooCommerce plugin is free to install, but the process of set up a new WooCommerce store isn't.
Choosing a domain name
Your store will have a name and address online, right? You need to register that name. You can register your name from domain registration sites such as Namecheap.
Choosing the perfect domain name for your WooCommerce store is essential for establishing your brand identity and online presence. Here are some quick tips to help you choose the right domain name for your WooCommerce store:
Keep it relevant: Your domain name should reflect your store's niche or industry. Choose a name that clearly conveys what your store sells or offers.
Make it easy to spell and remember: Choose a domain name that is easy to spell, pronounce, and remember. Avoid using complex or obscure words that may confuse visitors.
Include keywords: Including relevant keywords in your domain name can help improve your store's search engine rankings. Use keywords that accurately describe your products or services.
Use .com extension: .com is the most popular and widely recognized domain extension. Choose a .com domain name if it's available, as it can help establish your store's credibility and authority.
Keep it short and simple: Shorter domain names are easier to type and remember. Keep your domain name short and simple, preferably under 15 characters.
Check for availability: Before finalizing your domain name, check for its availability on domain registrars like GoDaddy, Namecheap, or Bluehost. Avoid using domain names that are already taken or infringe on someone else's trademark.
Consider branding: Choose a domain name that is unique, brandable, and memorable. Your domain name should help establish your store's brand identity and stand out from the competition.
Overall, choosing the perfect domain name for your WooCommerce store requires some research, creativity, and careful consideration. Take your time to find a domain name that accurately reflects your store's brand and resonates with your target audience.
Choose a web host to set up a WooCommerce store
After that, you will need to select a good web hosting provider. A hosting account is a place where you will keep your website files, and your audience can access them globally through a browser.
Choosing the right web hosting for your WooCommerce store is crucial for ensuring your website's performance, security, and reliability. Here are some quick tips to help you choose the perfect web hosting for your WooCommerce store:
Choose a reliable hosting provider: Look for a hosting provider with a proven track record of uptime and fast website speeds. Read customer reviews and check their uptime guarantees before signing up.
Check for compatibility: Ensure that the hosting provider supports the latest versions of PHP and MySQL, which are required for WooCommerce to function correctly.
Look for security features: Your web host should offer robust security features like SSL certificates, firewalls, and malware scanning to protect your store from cyber threats.
Consider scalability: Choose a hosting provider that can scale with your store's growth. Look for plans that allow you to upgrade or downgrade easily as your traffic and sales increase or decrease.
Look for WooCommerce-specific features: Some web hosting providers offer WooCommerce-specific features like automatic backups, one-click installations, and optimized server configurations that can help improve your store's performance and user experience.
Check for customer support: Look for a hosting provider that offers 24/7 customer support via phone, email, or live chat. Test their support before signing up to ensure that they can assist you promptly and efficiently if you encounter any issues.
Overall, choosing the perfect web hosting for your WooCommerce store requires some research, careful consideration, and attention to detail. Take your time to find a hosting provider that can meet your store's specific needs and provide the performance, security, and support that your customers expect.
Setting up WordPress
The next step to setting up WooCommerce is installing WordPress. Most modern web hosts offer 1-click WordPress installation. Whichever hosting provider you are using, log in to your Cpanel and install WordPress.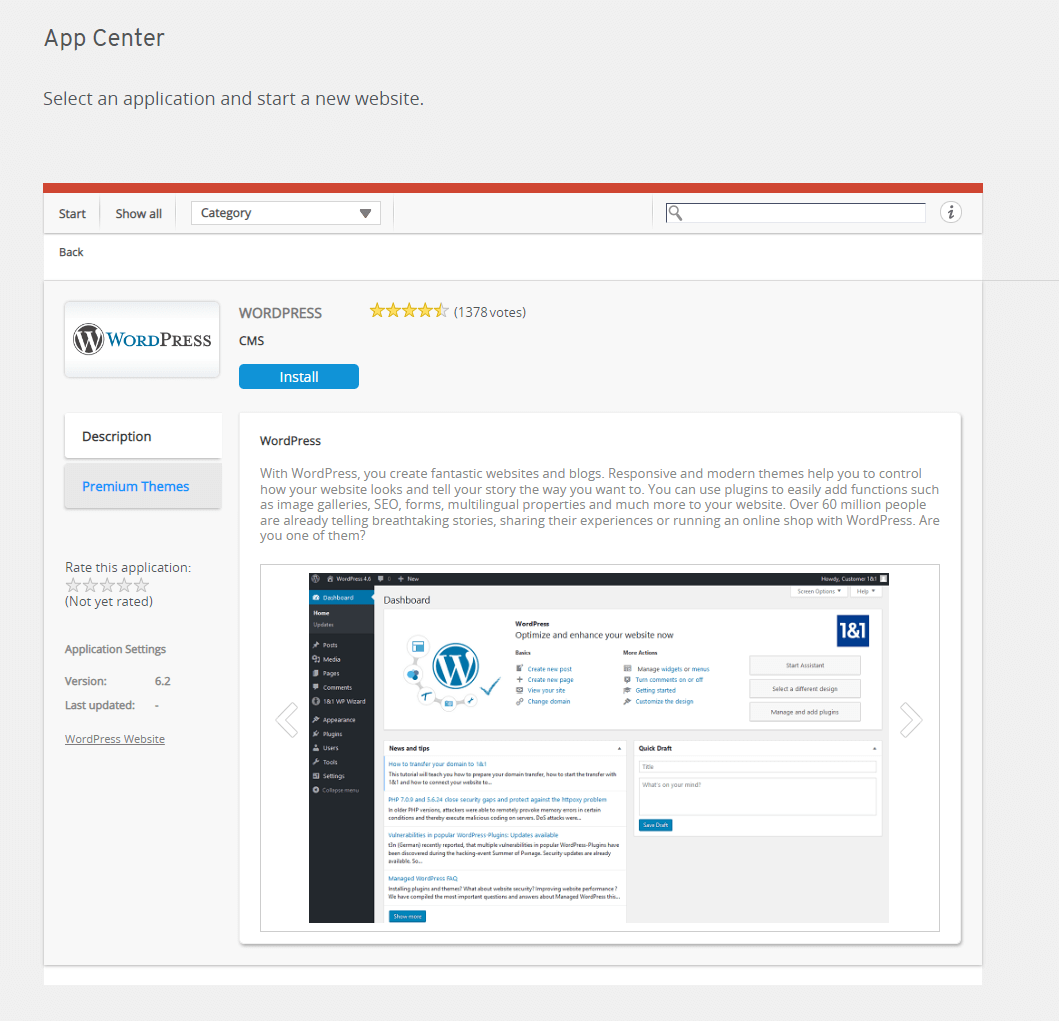 Most hosting provider also provides free SSL with the hosting package. So you won't need to purchase and install any separate SSL.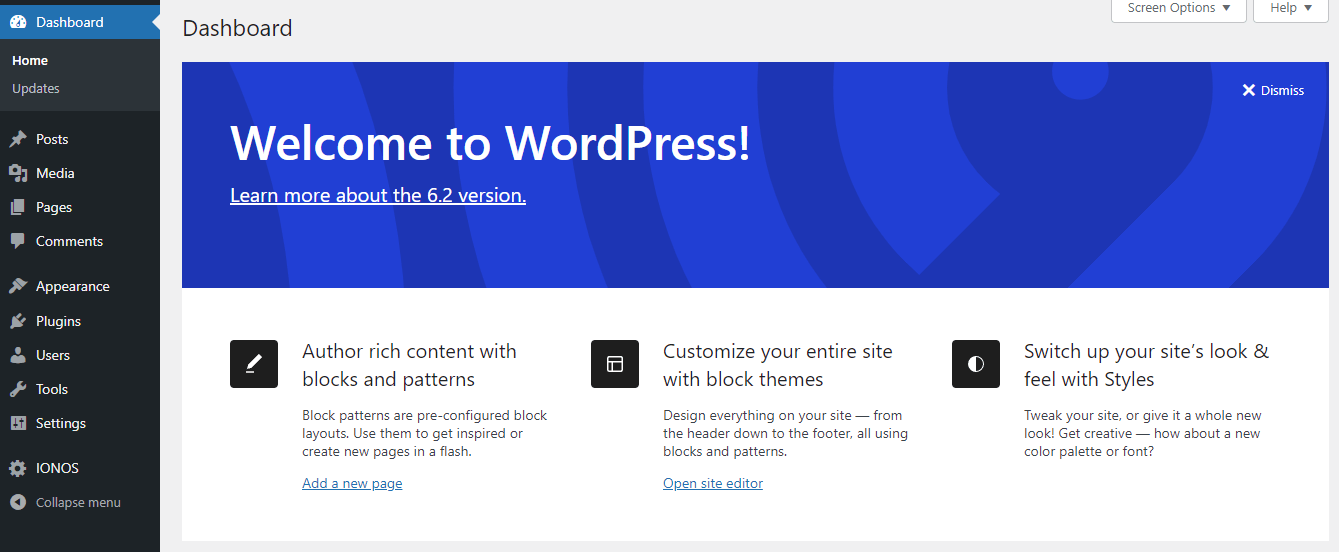 Set up WooCommerce step by step
Now we will learn how to set up WooCommerce on WordPress. As it is a plugin, you can install it just like any other WordPress plugin.
Go to Plugins>>Add New and then search for the plugin.

Install and activate it once you find it. We are showing WooCommerce set up for beginners. Therefore, we will walk you through the WooCommerce setup wizard, which is beginners friendly.
As soon as you activate WooCommerce, it will take you to the setup wizard. The first step is your business location details.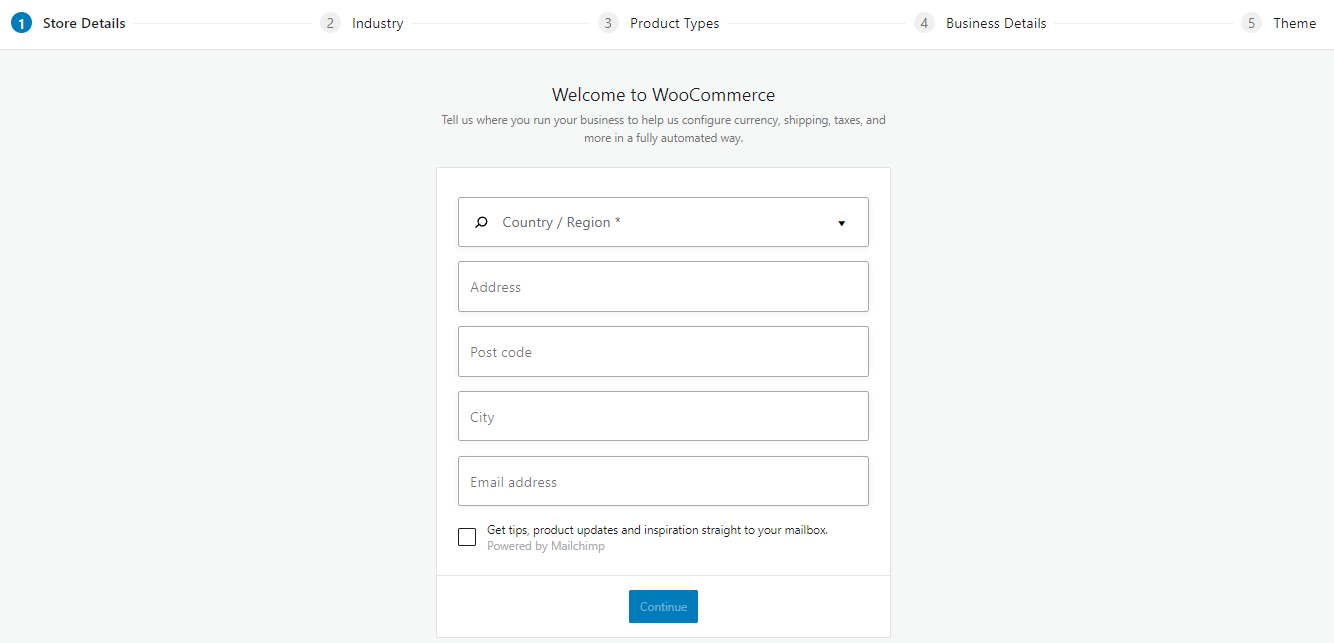 Enter your business email and address.
After you click on continue, it will take you to the Industry window. Here you need to select your niche or product industry.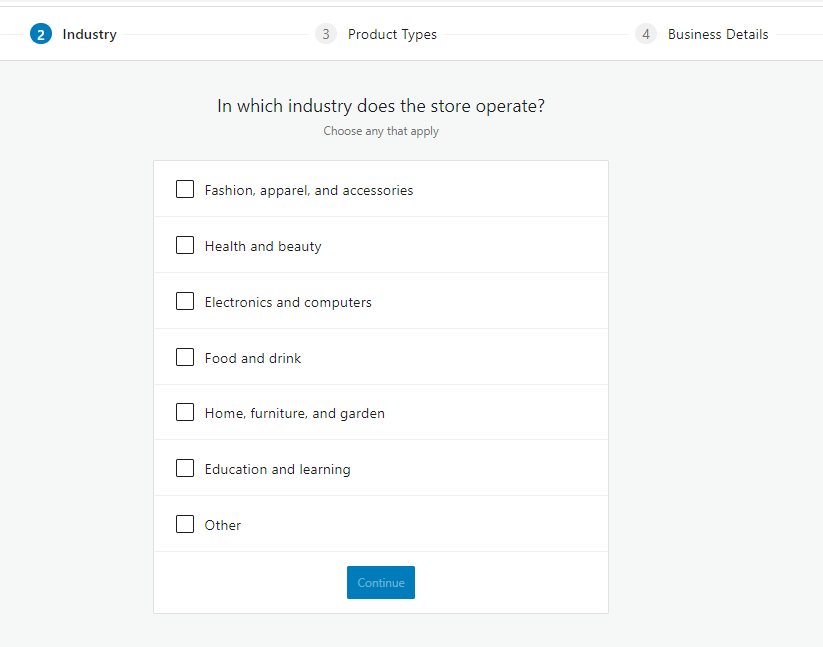 In the Product Type window, you need to select what you are selling. Whether it is a WooCommerce membership website or you sell virtual downloadable products or even booking services. The most common is a physical product.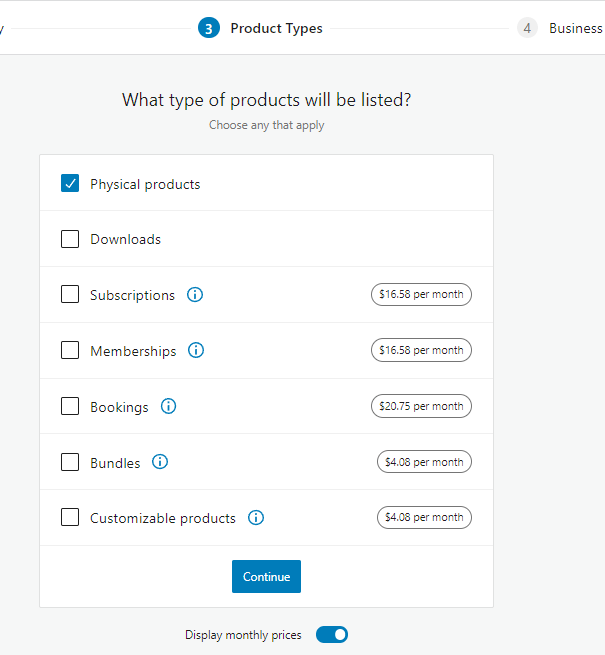 Next, give a probable amount of products you want to display or sell. And also, mention if you also sell on some other platforms as well.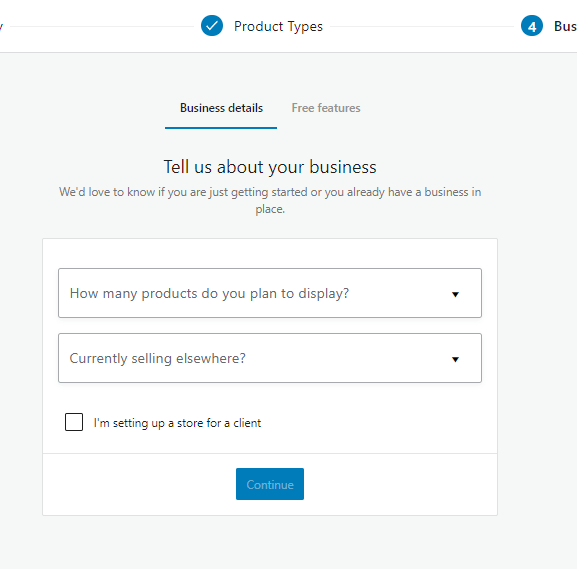 In the following window, WooCommerce will offer you to install some free yet mighty handy extensions. We will discuss those plugins later.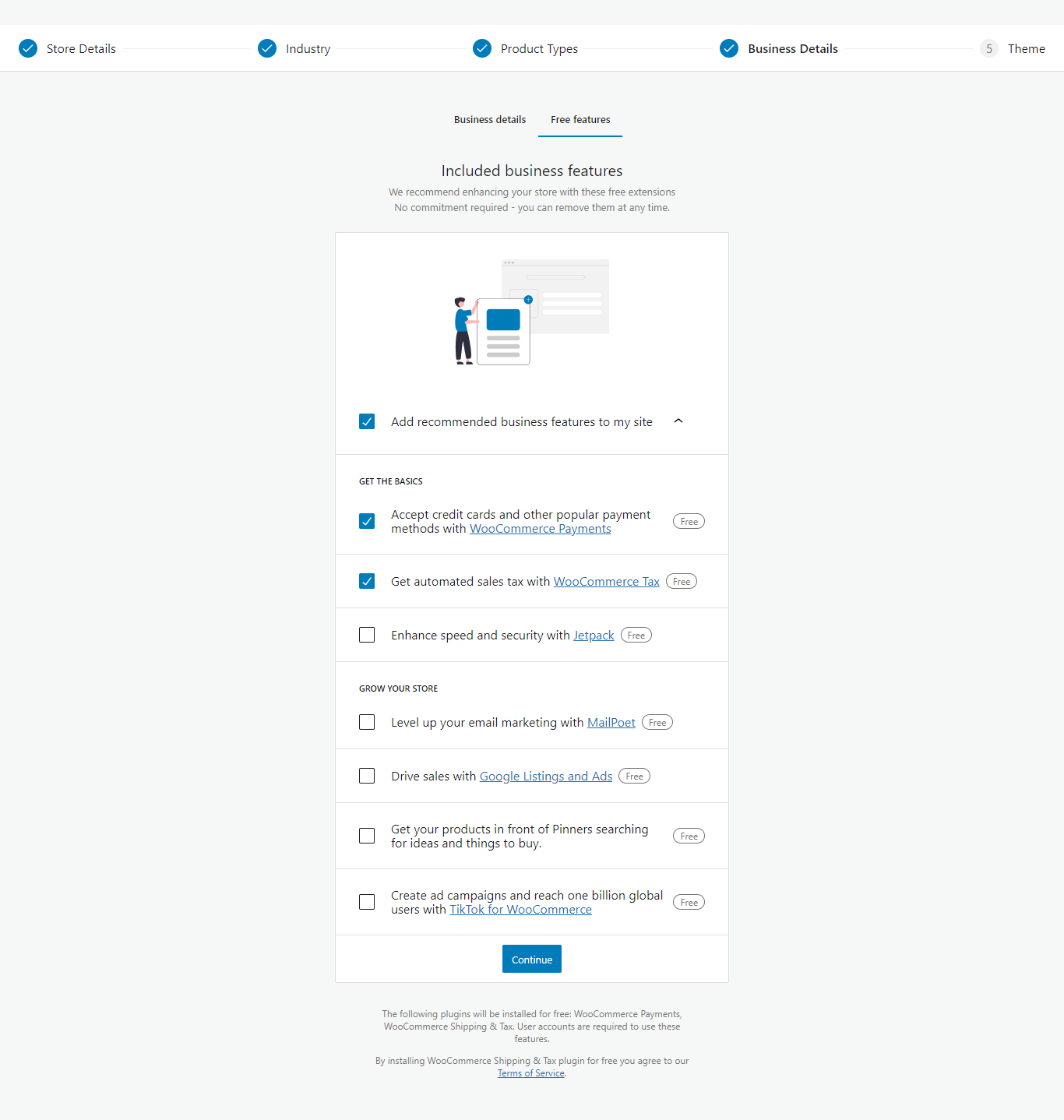 Finally, you need to select a WordPress theme for setting up a WooCommerce store.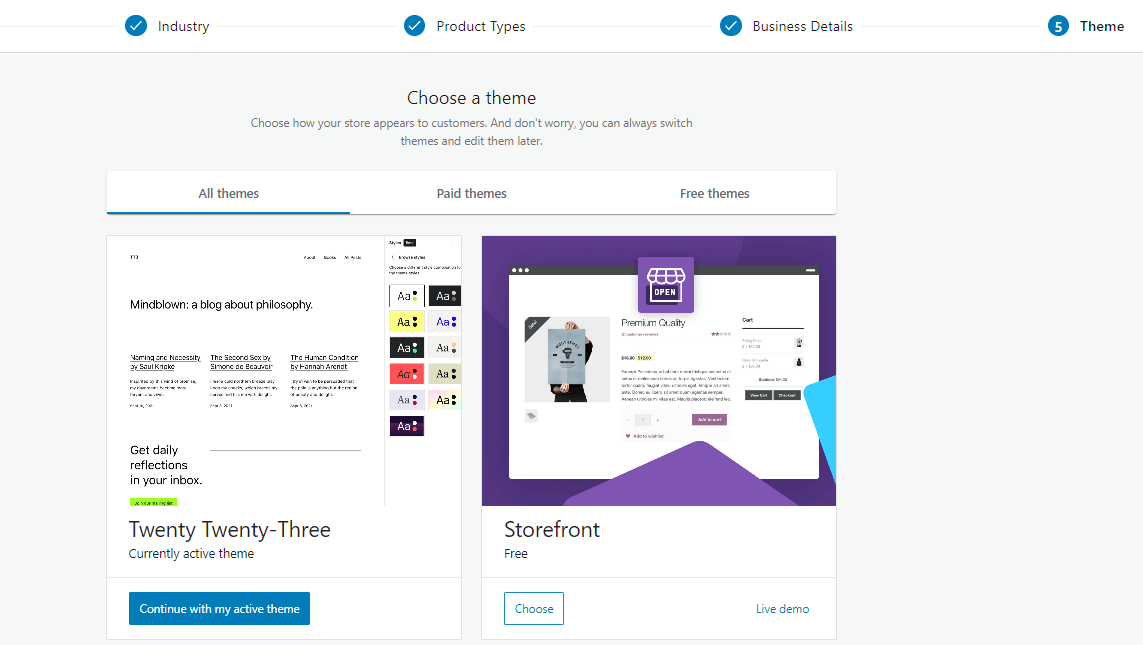 There are a number of free and paid themes for you to choose from. You can also upload your theme as well.
Setting up a WooCommerce store – Adding products to your store
After you complete the setup wizard, you will be taken to this window-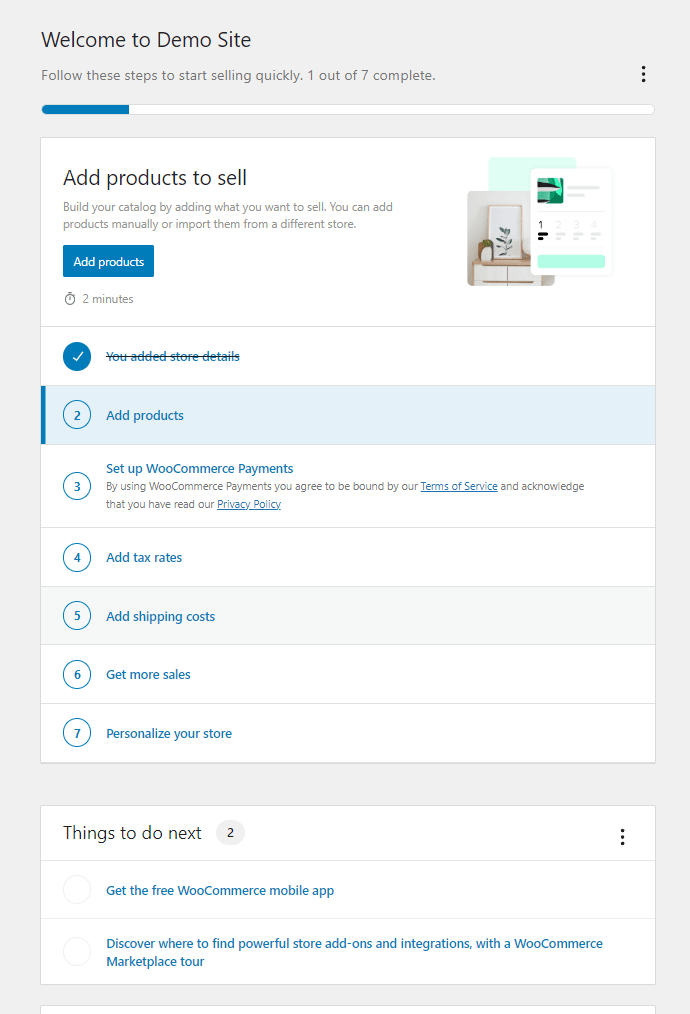 It shows the lists of tasks you need to do for setting up a WooCommerce store. Click on Add Products.
Select your product type.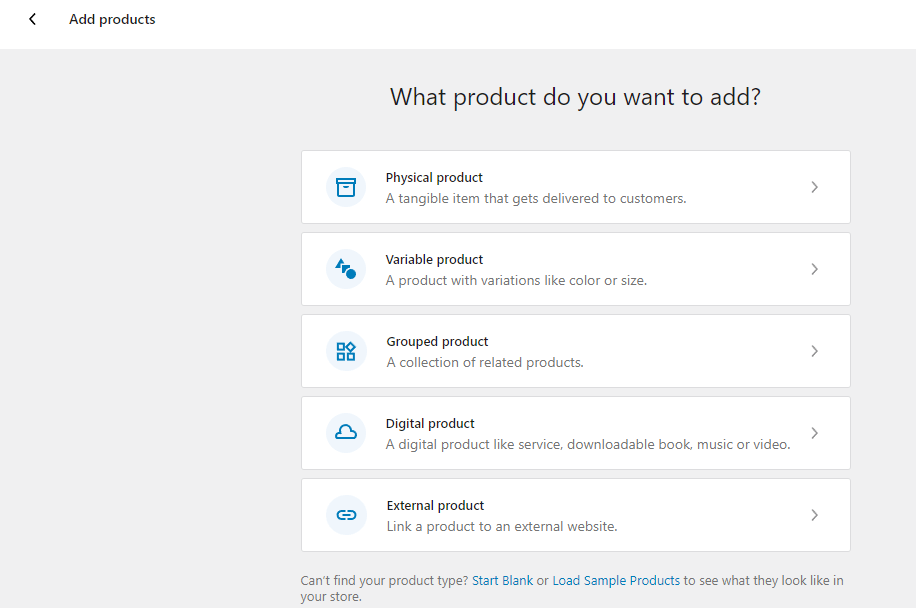 It will take you to a single product window. You can enter your product details and image and publish it to display it on the front page.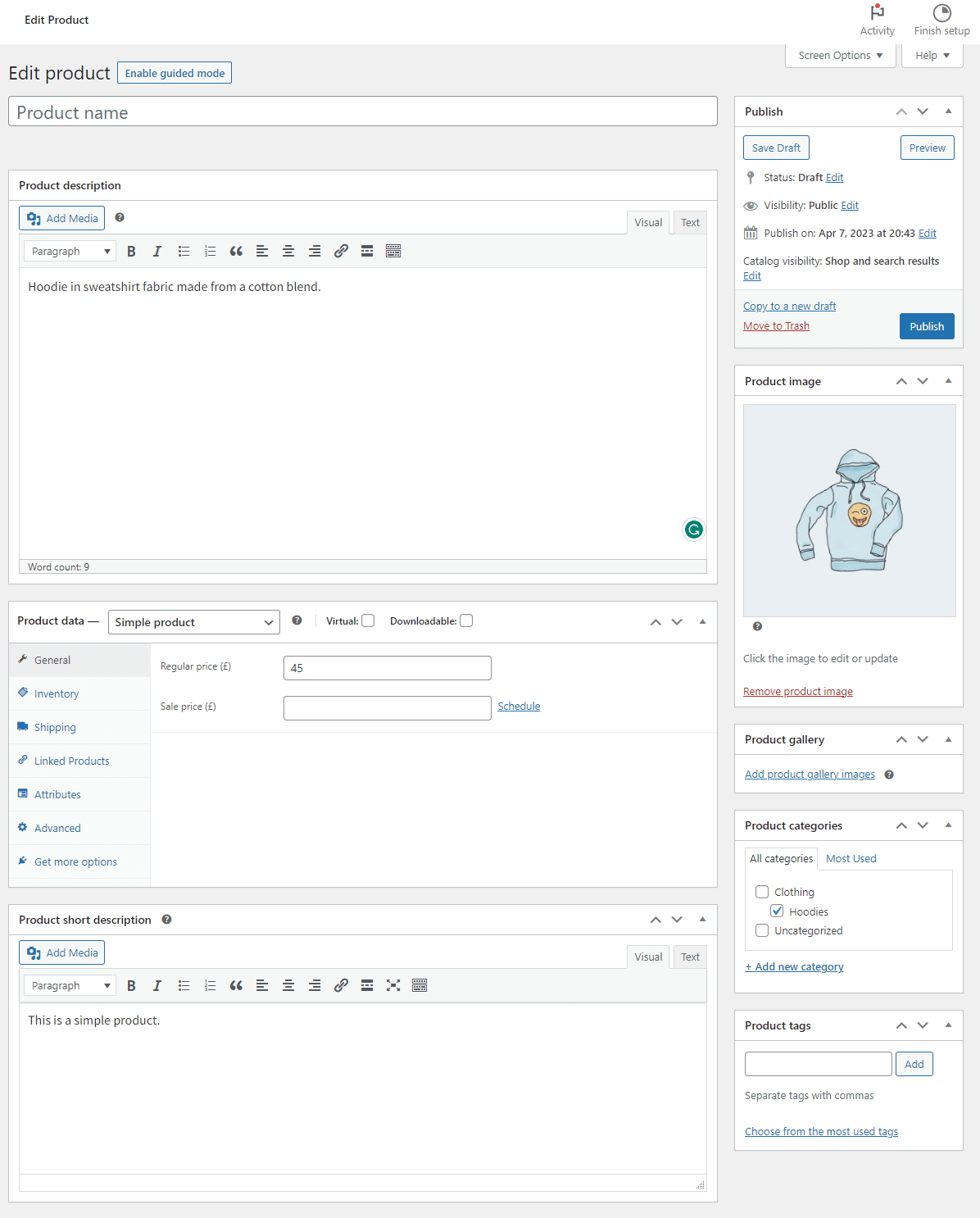 In the Product Data section, you can again select the product type.
Product types
Let's quickly check what is what.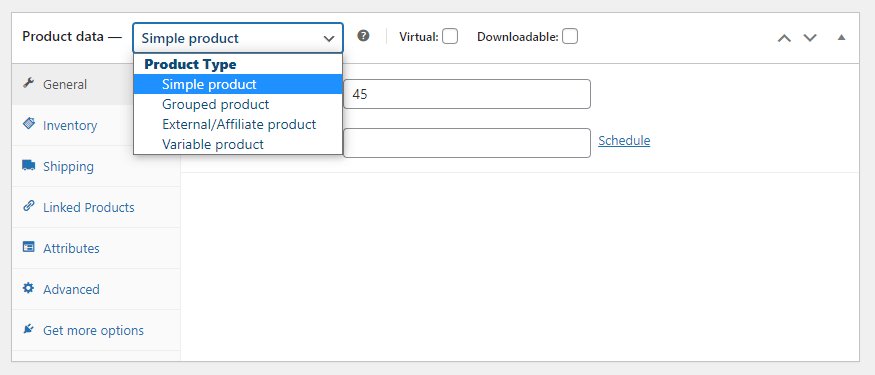 Simple products: These are basic products with a single SKU and no variations in size, color, or other attributes. Simple products can be physical or digital and have a fixed price.
Grouped products: Grouped products are a collection of related simple products sold together as a single product. For example, a computer bundle might include a laptop, a mouse, and a keyboard, all sold as a single unit.
External or affiliate products: These are products that are sold on an external website and are listed on your WooCommerce store as an affiliate or referral link. When a customer clicks on the product, they are directed to the external website to complete the purchase.
Variable products: Variable products have multiple variations with different attributes, such as size, color, or material. Each variation can have a different price, SKU, and stock level. For example, a t-shirt can have multiple sizes and colors, each with its own price and stock level.
The tab settings in the Product Data section will change depending on the product type you choose.
For instance, let's select variable products. Now you need to create different product attributes from the Attributes tab. Let's say we want to create color and size for the product because it comes in different colors and sizes.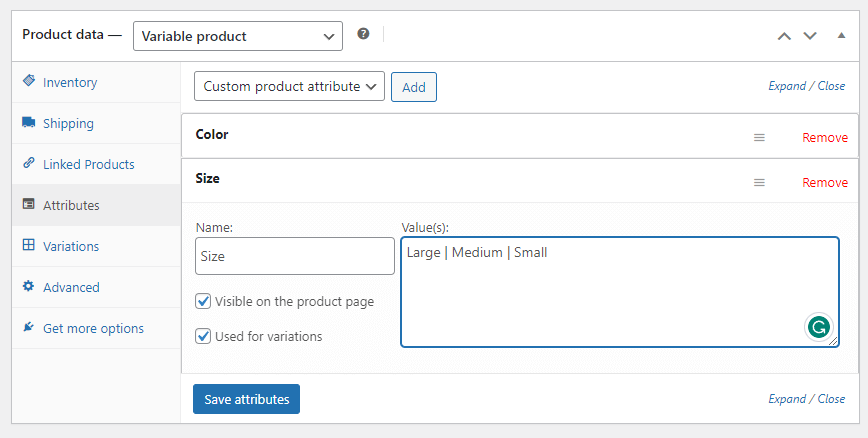 Now jump to the Variations tab and select the following option.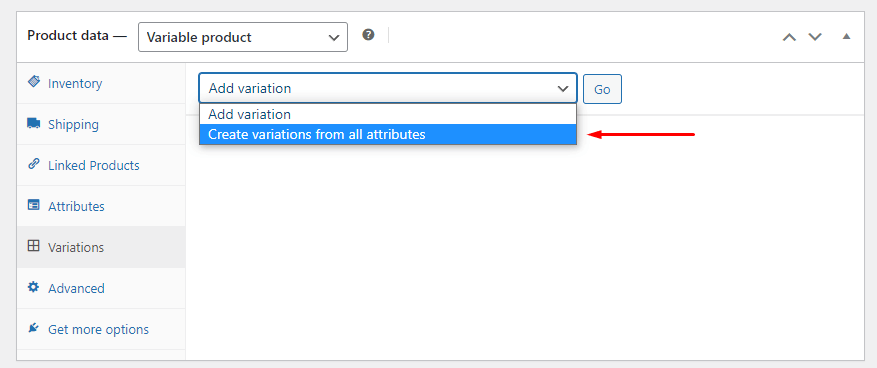 This will create all possible variations.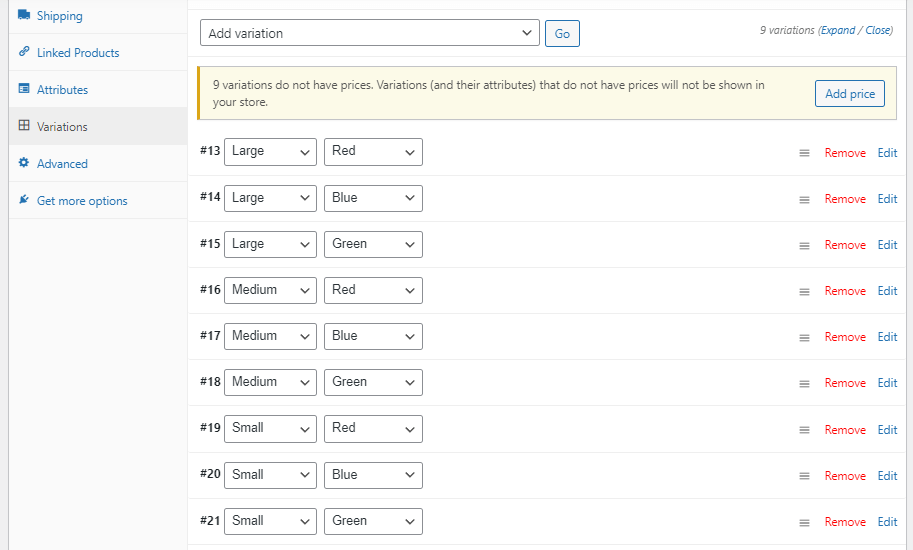 You also need to set prices for different variations. To do that, click on any variation and click edit. Now enter your details and image.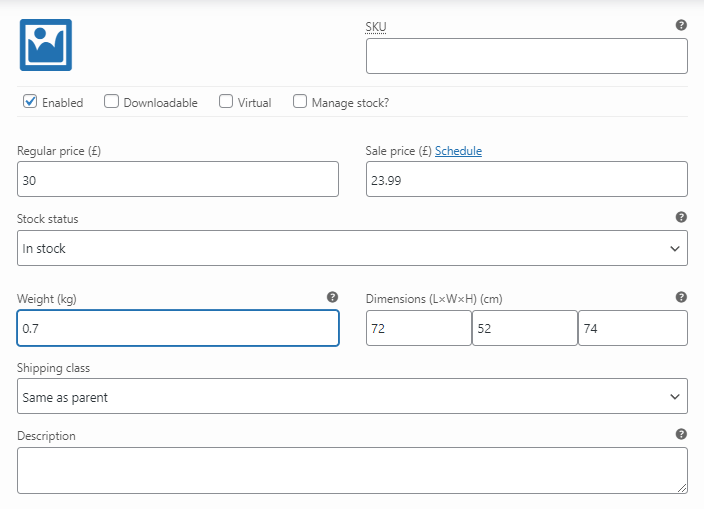 Enter a title and description and publish the product.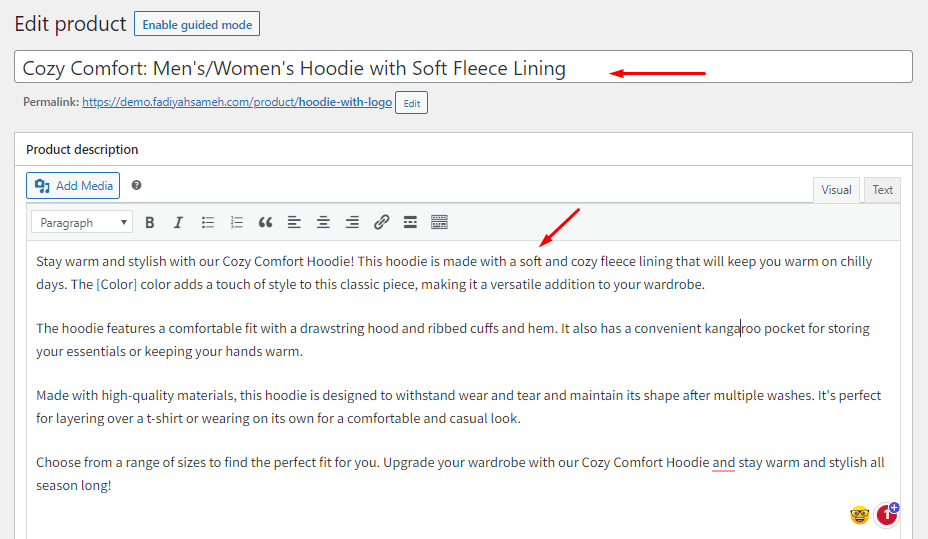 In the front end, you can now see the details.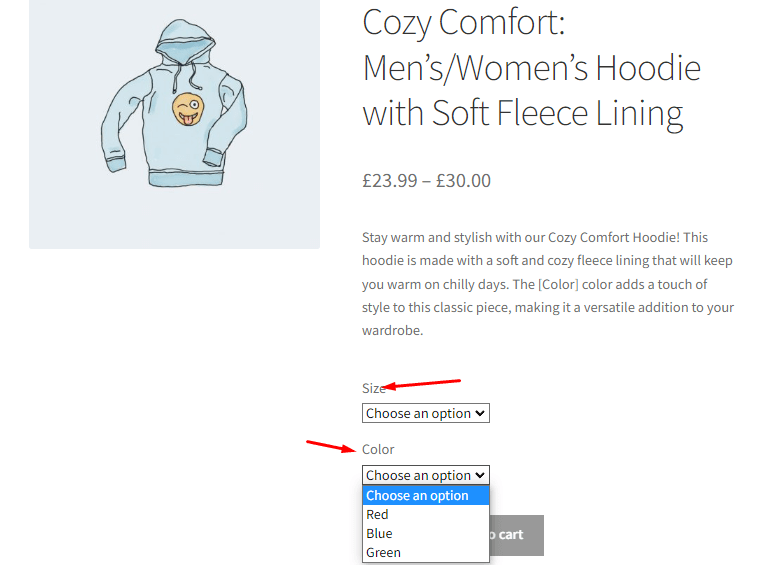 You can also import products in bulk if you have a product feed CSV file.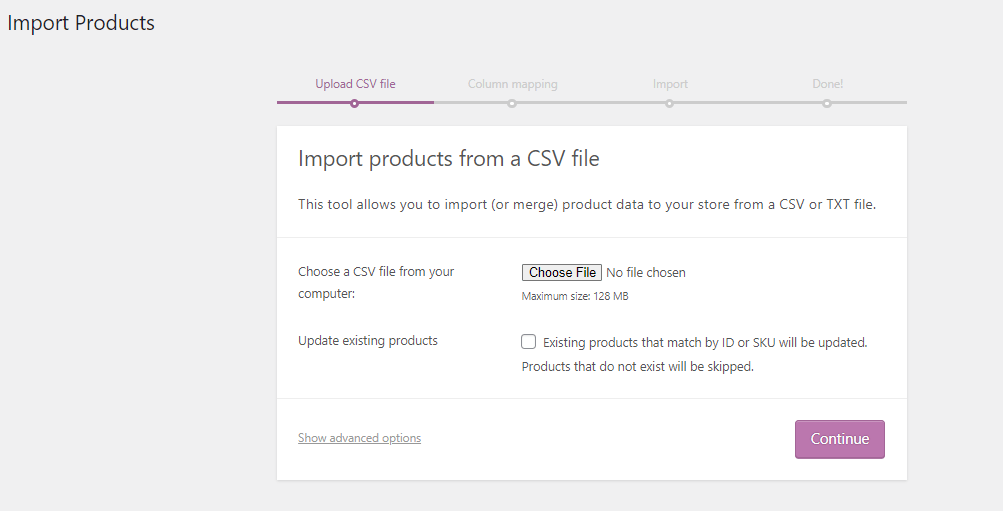 Set up WooCommerce payments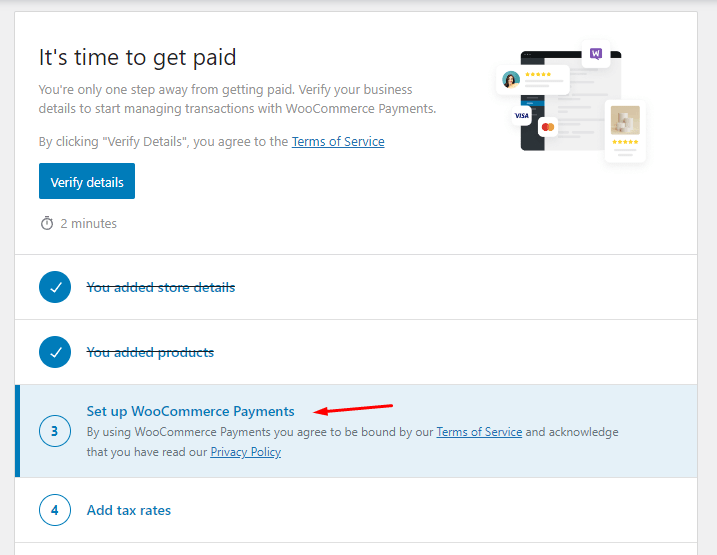 The next step to setting up a WooCommerce store is to set up payments. To see the existing available payment methods, you can go to WooCommerce>>Settings>>Payments.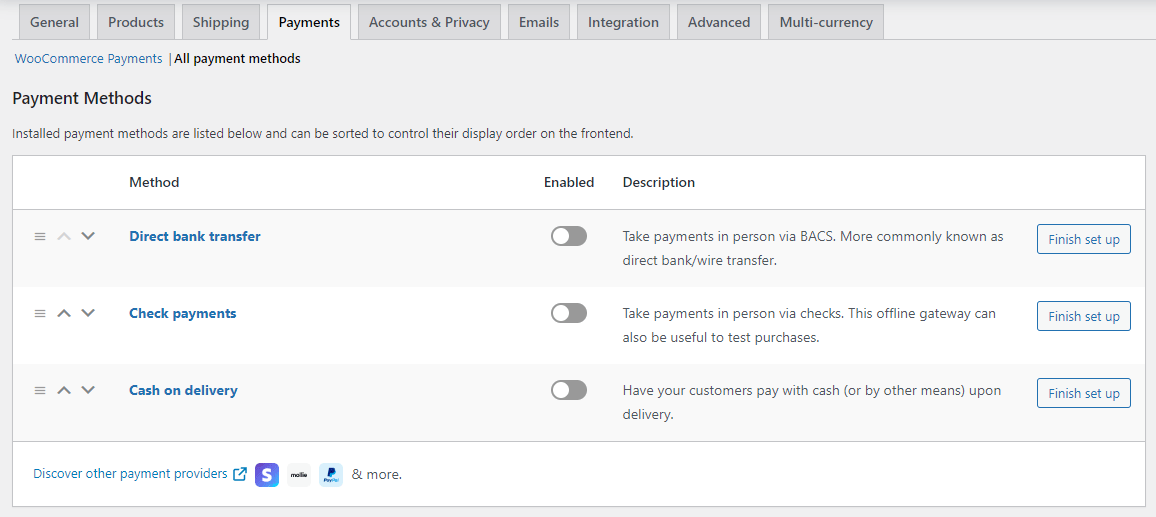 Right of the bet, WooCommerce allows you to accept cash on delivery, bank transfers, and check payments. One of the greatest advantages of WooCommerce is its support for an extensive number of payment gateways which no other platform can match with.
WooCommerce also now has its own payment gateway system called WooCommerce Payments. It's a free plugin, and we installed it when offered in the setup wizard. This payment system supports all the modern payment options, including credit, and debit cards, digital wallets such as Apple Pay or Google Pay, etc.
Once you finish setting up the payment methods, you can toggle to turn them on. Afterward, your customers will see them on the checkout page.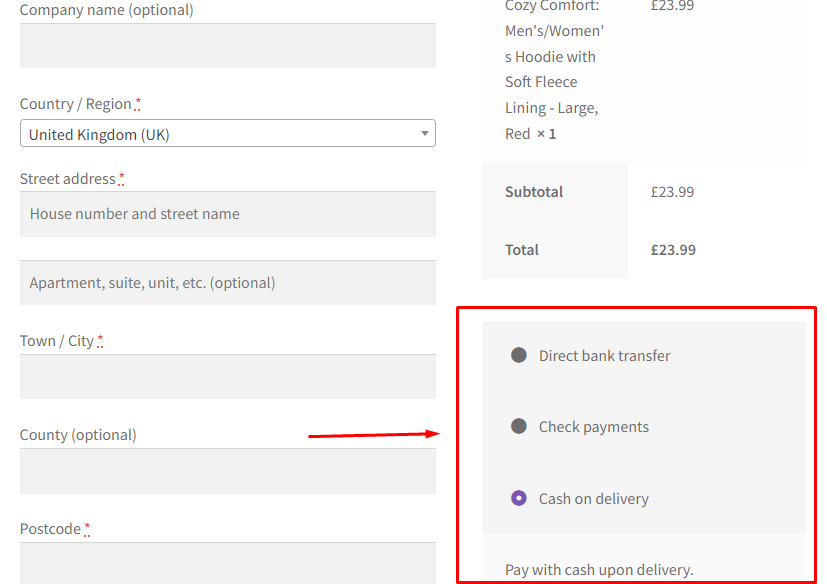 Set up tax in WooCommerce
Overall, tax setting and calculations sound like a complex job. Not with WooCommerce. You can easily set up tax when setting up a WooCommerce store.
Go to WooCommerce>>Settings>>General and checkmark the "Enable taxes" box from the settings.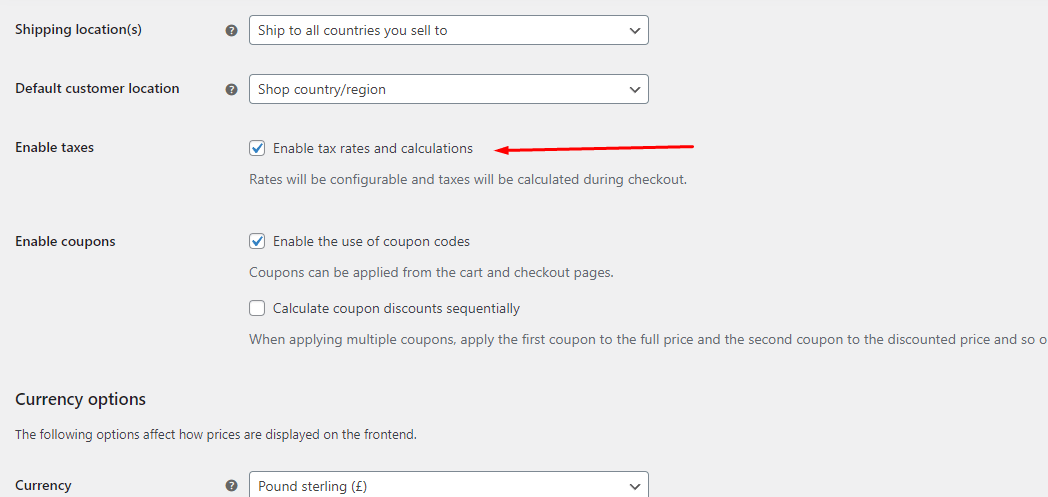 After you enable and save, WooCommerce will create a separate tab for the tax settings. The Tax tab has the following options.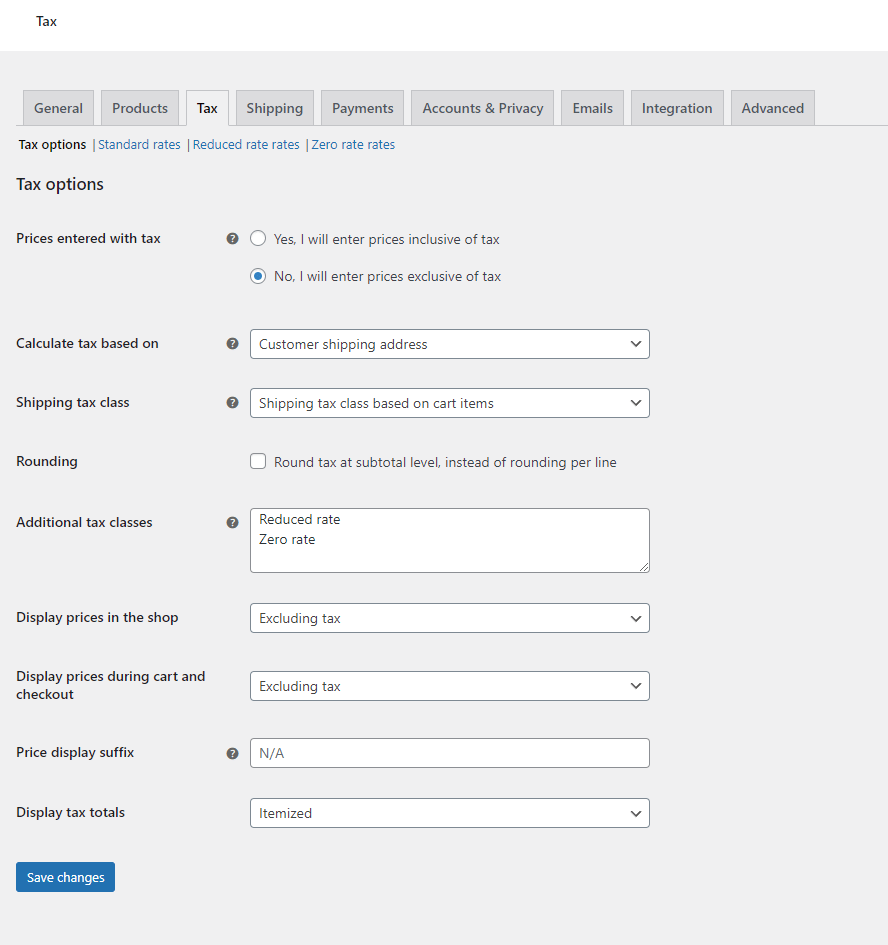 With WooCommerce, you can change just about anything about your online store, from the prices with taxes to the shipping options available to the types of products that can be sold.
WooCommerce allows you to choose from three distinct tax calculation approaches:
Store base address
Customer billing address
Customer shipping address
Product tax totals can be shown not only on the product detail page but also during checkout and in the shopping cart. Furthermore, on WooCommerce's official website, you'll find instructions on how to change the tax rates, including how to add or remove them.
As you probably already know, sales tax is governed by a complex set of rules and regulations that vary from state to state. A company cannot risk making many mistakes in this area because of potential legal repercussions.
Fortunately, there are a plethora of third-party WooCommerce sales tax plugins that can automate the procedure and do away with any necessary manual steps.
Set up shipping for WooCommerce store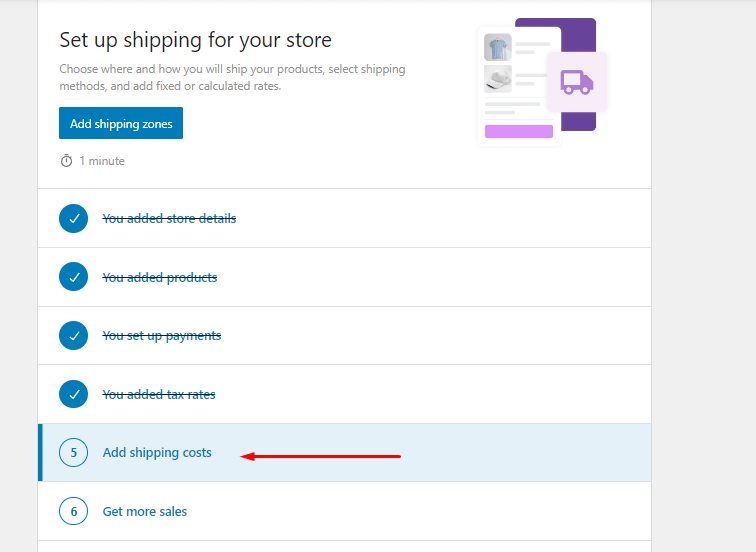 Similar to the tax setting, WooCommerce offers an extensive range of shipping settings. However, we will only have a quick look.
Click on Add Shipping Costs, and it will take you to a quick shipping option adding window.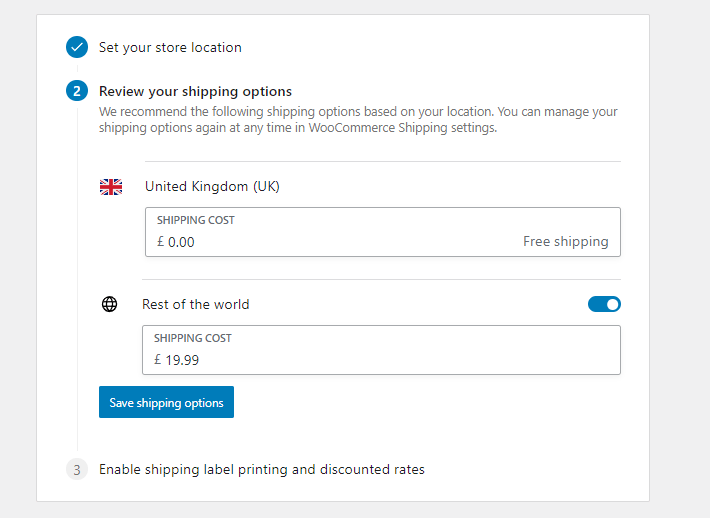 We have set free shipping for local customers and a flat rate of £19.99 for the rest of the world.
You can access all shipping settings from WooCommerce >> Settings >> Shipping.
Now the process of setting up a WooCommerce store is done, and your store is ready to accept orders. Make sure you test and recheck all the settings before you jump to marketing.
Must have WooCommerce WordPress plugins and extensions
Add-ons and extensions are what give WooCommerce its true strength. These plugins function identically to standard WordPress plugins and can be installed in the same way.
Both WooCommerce and WordPress have a sizable plugin community. From securing your WooCommerce store to caching the site to improve speed to installing S for better reach, these plugins can add so much power to so many extents.
You can even do email marketing, and product feed marketing right from your WordPress dashboard. Here are some plugins you must have in your WooCommerce store.
Yoast SEO
This is a widely-used plugin that helps optimize websites for search engines. It provides a range of tools for on-page optimization, such as creating XML sitemaps, adding meta tags, and generating breadcrumbs. Yoast SEO also analyzes your content and suggests ways to improve it for search engines and users.
Jetpack
Jetpack is a popular plugin that provides a suite of tools for website performance, security, and analytics. It includes features such as brute-force attack protection, downtime monitoring, and image optimization. Jetpack also provides website statistics and insights into website traffic and user behavior.
CTX Feed – WooCommerce product feed manager
Did you know you can reach millions of potential customers without even running traditional Google ads?
Yes, it's true. And you can do it by listing your WooCommerce products in multiple channels, such as marketplaces like Amazon, Target, eBay, etc. Also, in price comparison sites like Google Shopping, PriceGrabber, etc., and on social media platforms as well.
You can do this right from your WordPress admin panel with the help of a WooCommerce product feed manager plugin such as CTX Feed. This plugin allows you to create product feeds for 130+ channels with minimum effort.
CTX Feed also has auto-update and URL connection features through which you can connect, update and display accurate information across all your channels. This can increase your conversion and overall sales significantly.
WooCommerce Stripe Gateway
This plugin allows you to accept credit card payments on your store using the Stripe payment gateway. Stripe is a popular payment processor that offers secure and reliable payment processing services. With this plugin, you can easily integrate Stripe into your store and start accepting payments quickly and securely.
WooCommerce Mailchimp
Mailchimp is a popular email marketing platform that allows you to automate email marketing campaigns, create newsletters, and manage subscriber lists. This plugin integrates your store with Mailchimp, making it easy to create targeted marketing campaigns and build relationships with your customers.
W3 Total Cache
Website speed is crucial for user experience and search engine rankings. W3 Total Cache is a plugin that helps improve website speed by caching pages and minifying code. It also provides tools for content delivery network (CDN) integration and browser caching.
WooCommerce Multilingual
If you want to create a multilingual store, this plugin helps you translate products, pages, and other content. It integrates with the popular WPML plugin, making it easy to manage translations and provide a localized shopping experience for your customers.
UpdraftPlus
Data loss can be catastrophic for an online store. UpdraftPlus is a plugin that provides backup and restoration tools, allowing you to back up your website files and database and restore them in case of data loss or website issues. It also offers scheduling and remote storage options, making it easy to set up regular backups and store them securely.
Frequently Asked Questions (FAQs)
How many products can I add to WooCommerce?
There is no hard limit on the number of products you can add to WooCommerce, so you can add as many products as you need for your store. However, the performance of your website may be affected by the number of products you have and the hosting resources available, so it's important to optimize your site for speed and scalability.
What is the difference between WooCommerce and other eCommerce platforms like Shopify or Magento?
WooCommerce is a plugin for WordPress that allows you to add eCommerce functionality to your existing website, while Shopify and Magento are standalone eCommerce platforms. WooCommerce gives you more control over your website and is better suited for smaller businesses or those with a limited budget, while Shopify and Magento are more comprehensive solutions with additional features and support.
Wrap up
Setting up a WooCommerce store may sound like a daunting task. However, with the right guidelines, it is actually pretty straightforward.
We hope this WooCommerce for beginners guide was of help to you. Let us know in the comments if you have any suggestions or questions on the topic.
Author Bio - Fadiyah Sameh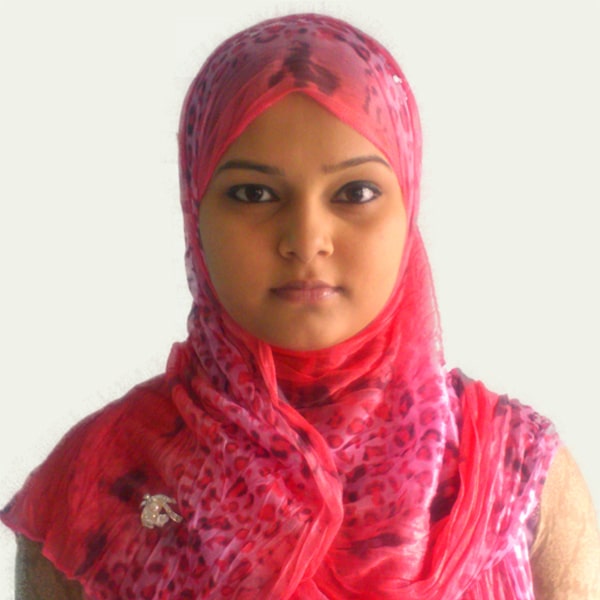 Fadiyah Sameh is an eCommerce researcher and writer at WebAppick – a reputed WordPress plugin development company. As an eCommerce writer with a strong background in SEO, she has a passion for creating compelling and informative content that helps businesses reach their target audience. In addition to her writing skills, she's also well-versed in content marketing and the technical aspects of eCommerce and has a deep understanding of the various strategies and tactics used to optimize online stores for success.