7 Best WordPress Translation plugins
Nov 10, 2022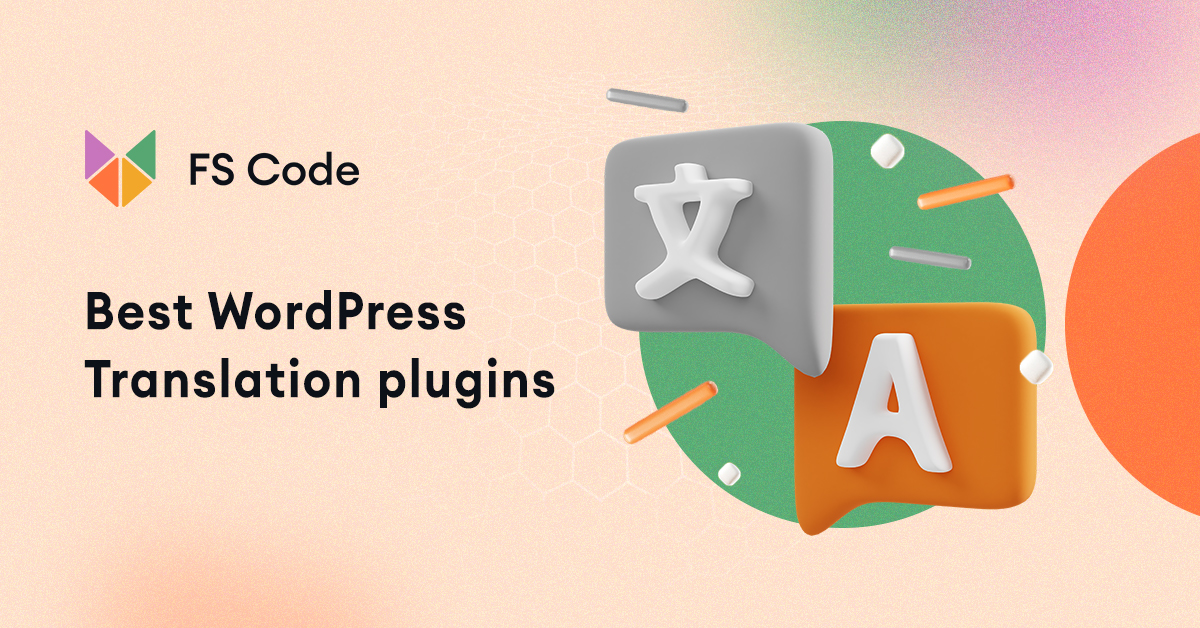 More than half of the websites on the web are in English; however, some websites need to be in your local language if you provide content or sell products for your people.
Unfortunately, most plugins and themes come in English and need to be translated into the language you want if it has not been translated yet. In this case, translation plugins come to our help.
This article will list the best WordPress translation plugins you can use to create multilingual websites or translate your plugins and themes.
1. Loco Translate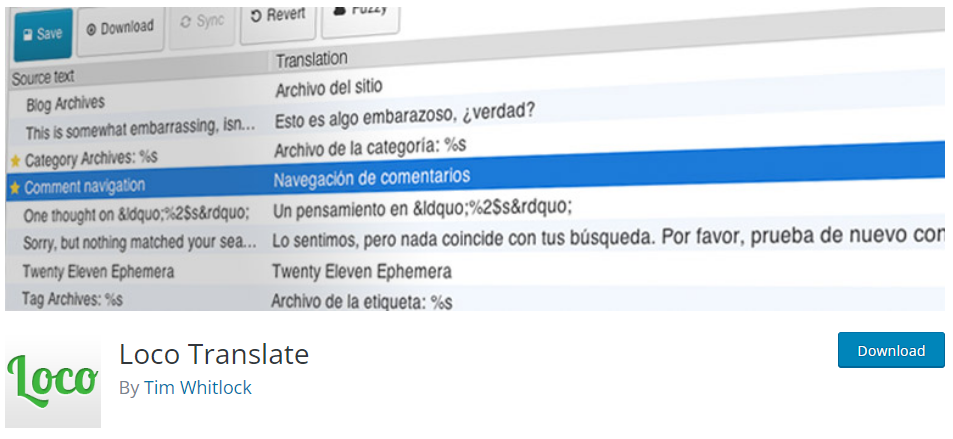 Loco Translate provides in-browser editing of WordPress translation files and integration with automatic translation services.
It also provides Gettext/localization tools for developers, such as extracting strings and generating templates.
Features:
Built-in translation editor within WordPress admin
Integration with translation APIs, including DeepL, Google, Microsoft, and Lecto AI
Create and update language files directly in your theme or plugin
Extraction of translatable strings from your source code
Native MO file compilation without the need for Gettext on your system
Support for PO features, including comments, references, and plural forms
PO source view with clickable source code references
Protected language directory for saving custom translations
Configurable PO file backups with diff and restore capability
Built-in WordPress locale codes
2. Translate WordPress with GTranslate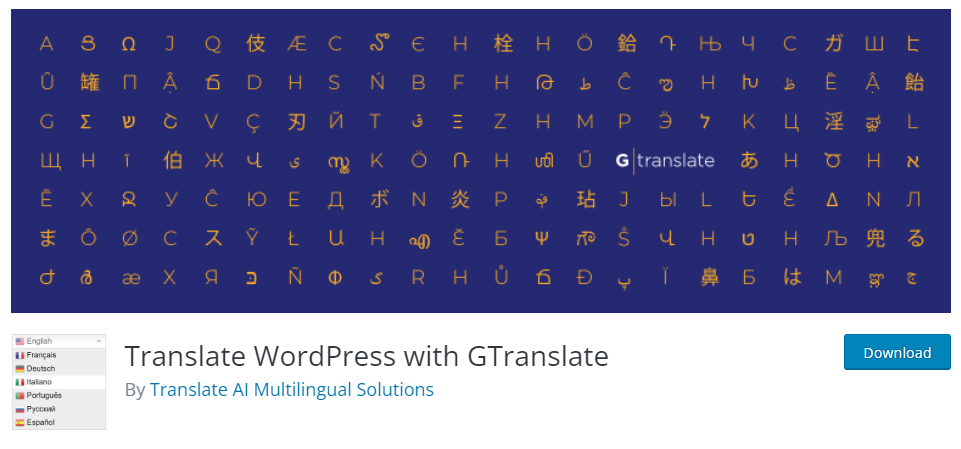 Translate WordPress with GTranslate plugin uses Google Translate automatic translation service to translate WordPress sites with Google power and make them multilingual. With 103 available languages, your site will be available to more than 99% of internet users. Our paid versions are fully SEO compatible which will increase your international traffic and sales. This translate plugin is a budget multilingual WordPress solution that combines automatic and human translations to save money and is easy to implement.
Features:
Free Google automatic machine translation
Hides "Suggest better translation" pop-up
Hides Google top frame after translation
Mouse over effect
Google Analytics integration
Translate website on the fly
Translate posts and pages
Translate categories and tags
Menus and widgets translation
Themes and plugins translation
Right to left language support
Google language translator widget
Auto-switch language based on browser-defined language
Available styles Dropdown, Flags, Flags with dropdown, Nice dropdown with flags, Flags with language names, Flags with language codes, Language names, Language codes, Globe, Popup
Floating language selector
Language bar with flags in the menu
WooCommerce shop translation
Multilanguage
Multilingual language names in the native alphabet
Multilingual interface
Alternative flags for Quebec, Canada, USA, Brazil, Mexico, Argentina, Colombia
Lazy loading for language flags to boost performance
Forum Support
3. TranslatePress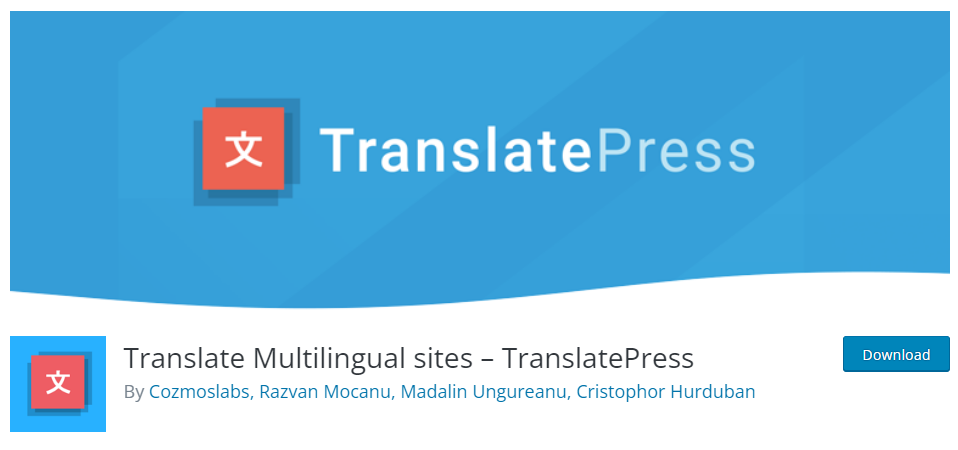 TranslatePress is a WordPress translation plugin that anyone can use.
The interface allows you to easily translate the entire page at once, including output from shortcodes, forms, and page builders. It also works out of the box with WooCommerce.
Built the WordPress way, TranslatePress – Multilingual is a GPL and self-hosted translation plugin, meaning you'll own all your translations forever. It's the fastest way to create a bilingual or multilingual site.
Features:
Translate all your website content directly from the front end in a friendly user interface (translations are displayed in real-time).
Fully compatible with all themes and plugins
Live preview of your translated pages as you edit them.
Image translation support for translating images, sliders, and other media.
Support for both manual and automatic translation
Ability to translate dynamic strings (gettext) added by WordPress, plugins, and themes.
Integrates with Google Translate, allowing you to set up Automatic Translation using your own Google API key.
Translate larger HTML blocks by merging strings into translation blocks.
Place language switchers anywhere using shortcode [language-switcher], WP menu item, or as a floating dropdown.
Editorial control allows you to publish your language only when all your translations are done
Conditional display content shortcode based on language [trp_language language="en_US"] English content only [/trp_language]
Possibility to edit gettext strings from themes and plugins from English to English without adding another language. Basically a string-replace functionality.
Translate only certain paths and exclude content from being translated
Translation Block feature in which you can translate multiple HTML elements together
Native Gutenberg support, so you can easily translate Gutenberg blocks
Out-of-the-box WooCommerce compatibility
Use our FREE Website Translation tool/widget to browse any website in your own language.
4. WooCommerce Multilingual & Multicurrency with WPML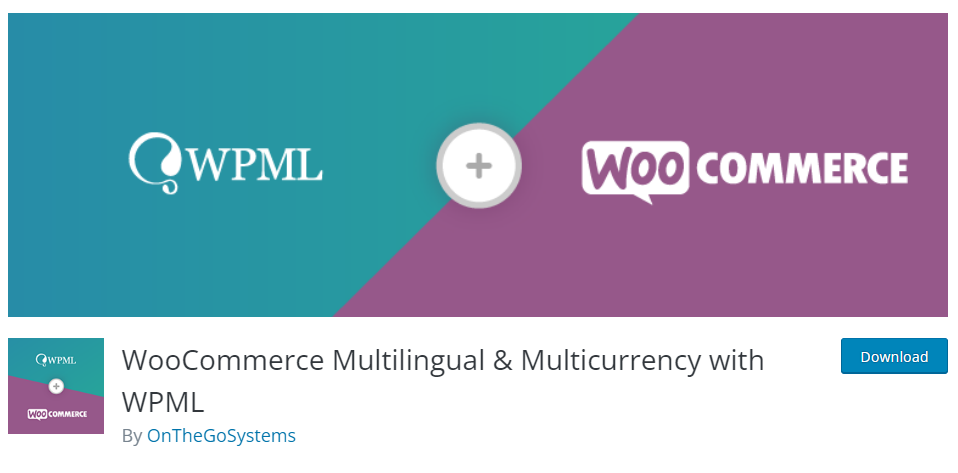 Everything you need to start selling internationally is in this plugin. Easily set up and manage products in multiple currencies, no matter the size of your store or the team running it. Or, upgrade by purchasing WPML and translate your entire store to reach new customers all over the world.
Features:
This is the only free plugin that includes all of the following multicurrency features:
Set up multiple currencies to display based on a customer's location
Add currency switchers to your site
Format your currencies
Set your own exchange rates or connect with an automatic exchange rate service
Set custom prices and shipping rates in your secondary currencies
5. Translate WordPress – Google Language Translator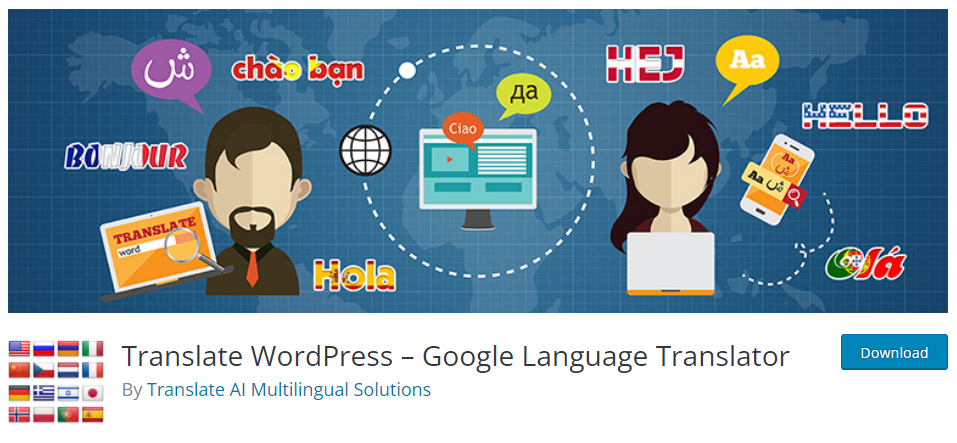 Google Language Translator plugin is now a part of the GTranslate family!
GTranslate has been a leading website translation services provider since 2008 and powers more than 500.000 multilingual websites worldwide.
Features:
Free Google automatic machine translation
Option to hide "Suggest better translation" pop-up
Option to hide Google top frame after translation
Google Analytics integration
Translate the site on the fly
Translate posts and pages
Translate categories and tags
Translate menus and widgets
Translate themes and plugins
Right to left language support
Floating language selector
Language bar with flags in the menu
Translate WooCommerce shop
6. Weglot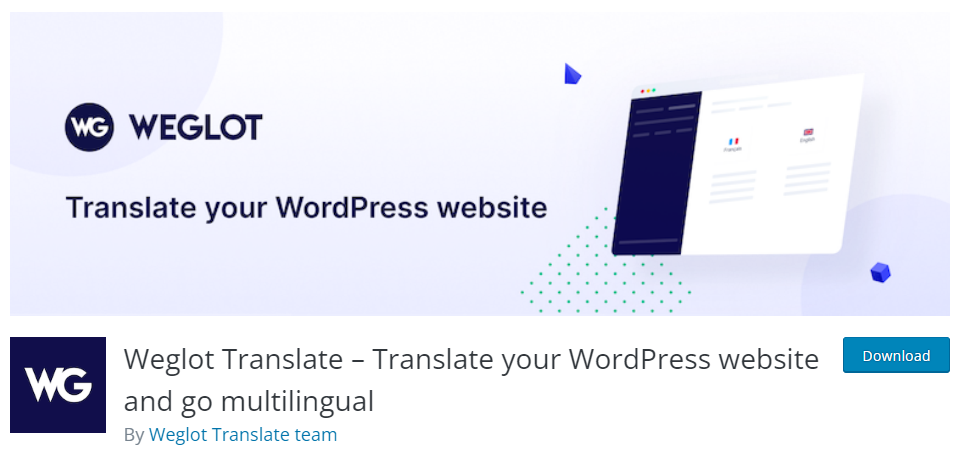 Weglot Translate is the leading WordPress translation plugin, trusted by 60,000+ users worldwide. Translate your WordPress website into 110+ languages and go multilingual within minutes, with no coding required.
Increase visibility and boost conversions with ease by adding multilingual functionality. Weglot Translate is fully optimized for multilingual SEO, with every translated page automatically indexed by Google. Say hello in multiple languages to millions of new visitors.
Features:
Manage and edit all of your translations through a user-friendly interface.
Collaborate with team members and trusted translators to translate together directly inside Weglot.
Is it a title? Is it a link? No more guessing the context of the text. Weglot Translate's in-context editor lets you translate directly within the webpage.
Make it your own. The multilingual language switcher is fully customizable with multiple design choices.
Weglot Translate makes it easy to migrate from other WordPress multilingual plugins like Polylang or WPML. Simply deactivate your existing translation plugin and install Weglot Translate.
7. Google Website Translator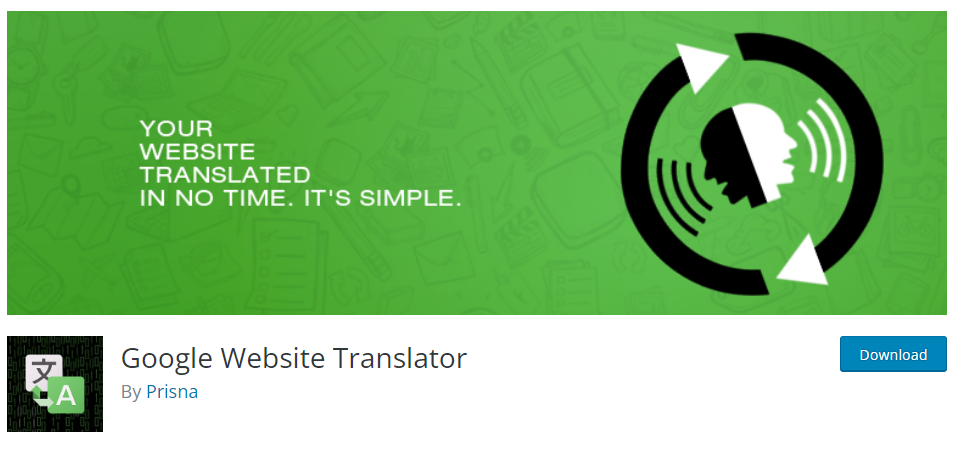 This plugin brings the power of Google's automatic translation service to translate your website into 100+ languages. A simple and complete multilingual solution for WordPress.
Features:
Easy setup, including simple settings with inline help that everybody can understand.
Include all the 3 inline and all 4 tabbed styles.
Select the available languages.
Use it as a widget and as a shortcode.
Practically null impact on page loads.
Import/Export settings to easily transfer configurations.
Conclusion
All of these translation plugins help your WordPress site connect with more users. When your website is translated using one of these plugins, your website will be understood by your people, which will bring more traffic or customers
Let us know in the comments below which plugin you end up choosing.
If you already use a plugin to translate your website, let us know in the comment for other users.