Best Free Hosting Plans For Your WordPress Website
Aug 24, 2021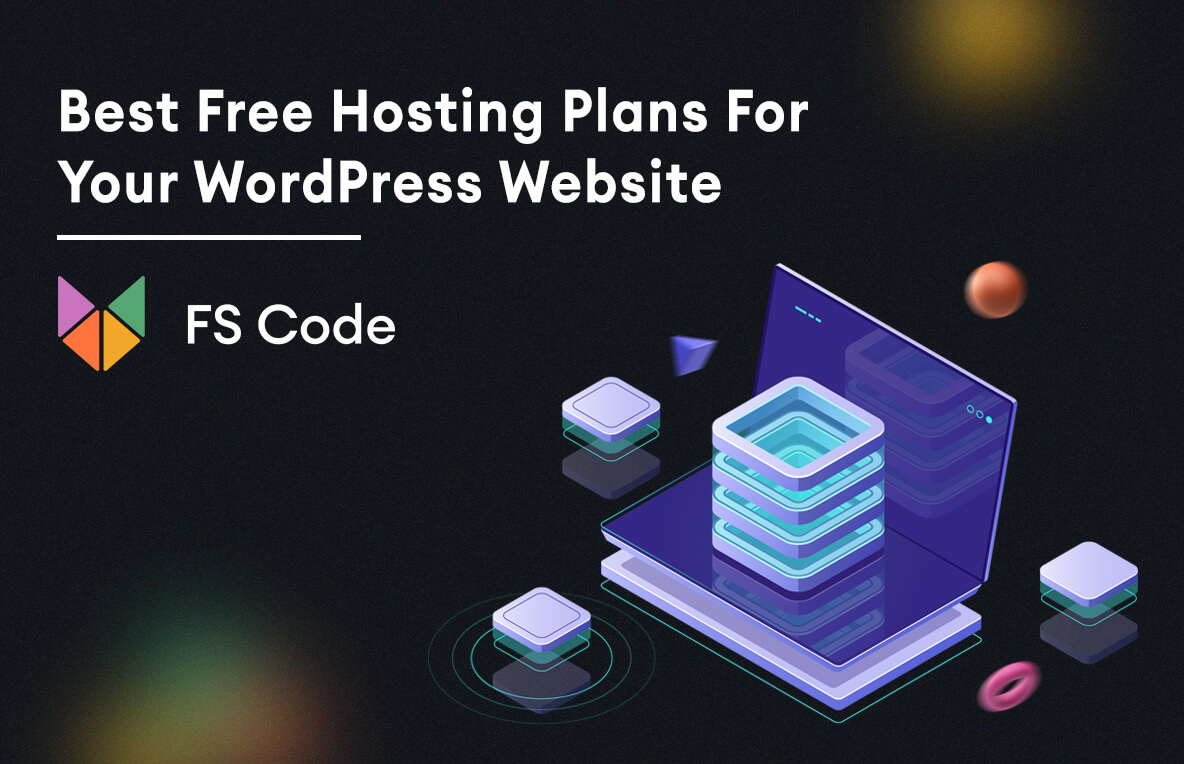 In the previous post, we have talked about the best-paid hosting services for your WordPress website. In this article, we will focus on free hosting services that you can benefit from at any time for your web projects. There are several options in the market, and when it comes to the right decision, sometimes it becomes tricky how and which one to choose. Quick fact: more than 75 million websites use the WordPress platform to host their website; it might be challenging to choose between the hundreds of hosting platforms that offer services for your WordPress website. WordPress is a popular choice whether you run a personal blog, online magazine, or any organization, thanks to its customizability and ease of use. On the other hand, day by day, hosting services are growing and getting overwhelming. In this article, we review some free recommended hosting services for your business.
1. WordPress.com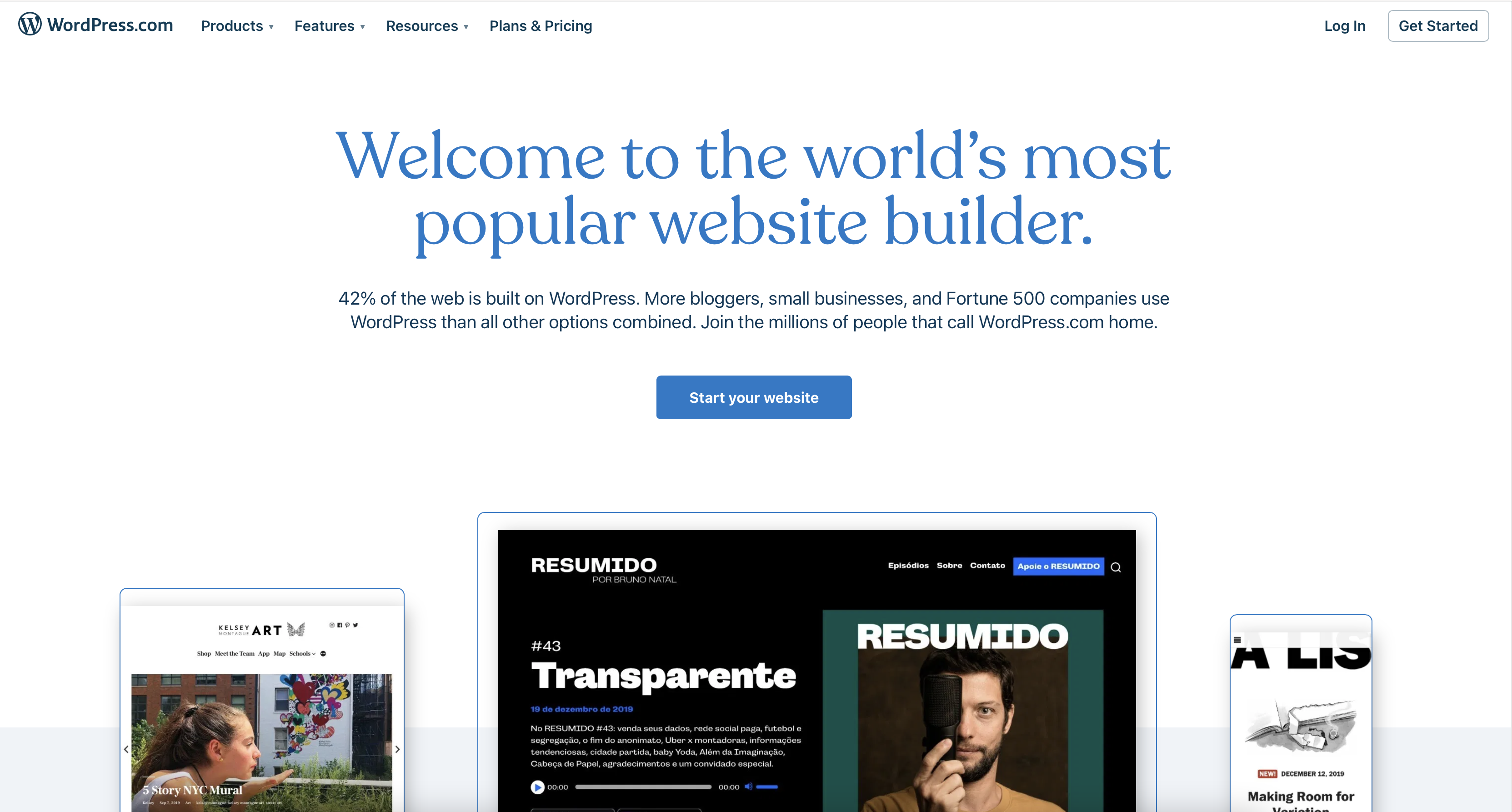 WordPress.com is the best free WordPress platform to host your website. Unlike WordPress.org, here, the platform takes care of all your hosting and domain settings for you. This platform simplifies creating a WordPress site, letting you launch your site by simply registering for a WordPress.com account. However, it also doesn't give you access to the entire WordPress software. On the other hand, you do not have to buy any software or manage a web server. Thus, if you are a beginner or a new starter, WordPress.com is a perfect choice for you.
Moreover, WordPress.com includes premium plans besides free options. In the free plan, you can find and install several themes. All templates are mobile-responsive, fast, and reliable. WordPress.com has mobile and desktop apps, built-in sharing with in-depth stats, SEO optimization and many tutorials.
PROS: free for up to 3 GB disk space, automatic updates and backups, hundreds of customizing themes available, fast, reliable, and decent uptime and load time speed.
CONS: cannot install your own plugins and themes on the free plan, allowed to use only WordPress subdomain, Ads will be placed on your free site without you getting the advantage, can be deleted if you violate their Terms of Service.
2. 000Webhost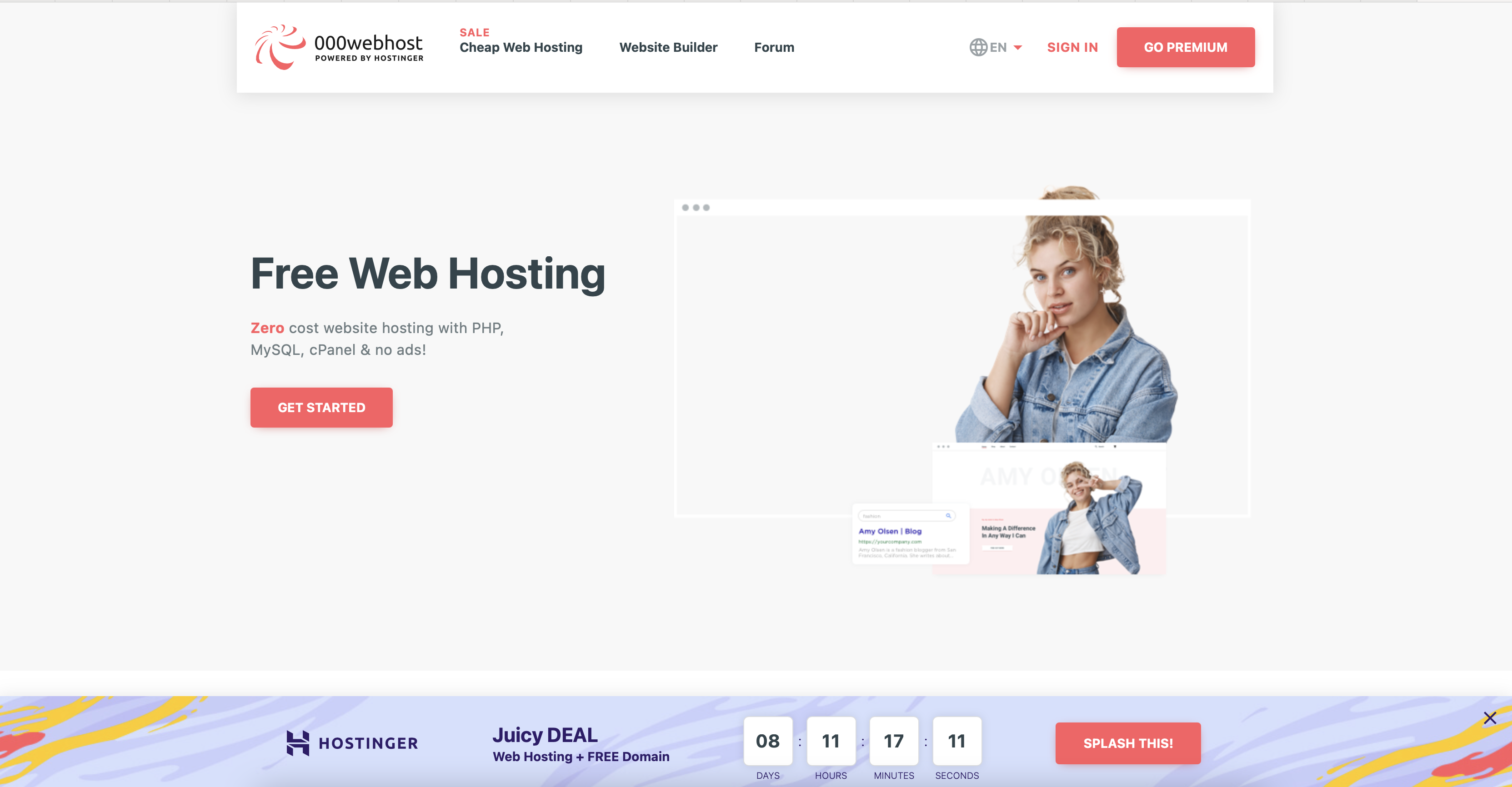 One of the highest-ranked Free WordPress Hosting services, 000Webhost, seemingly chooses millions of active users with zero cost and unlimited features. This hosting server is an excellent deal for starters or medium-level projects. 000webhost is the free WordPress hosting platform from Hostinger, a popular budget host. While this platform is primarily just a marketing strategy to drive you towards Hostinger's premium hosting packages, it still offers a solid plan that you can use to run a functional WordPress site if you don't have massive traffic. There are several critical features of 000Webhost. They guarantee 99% uptime and support PHP and MySQL. They offer large disk space and bandwidth, one-click installation and an in-built website builder.
To sum up, 000webhost is a great option for users who want a full-service hosting experience for free. You need to pay attention to the storage and bandwidth limits. While they are fine for a low-traffic site, a high-traffic site will quickly hit those limits, and 000webhost is aggressive about cutting off sites that exceed its limits.
PROS: Free and reliable, offers tutorial and guides, free 000webhost subdomain, custom hosting dashboard, the possibility of storing two websites.
CONS: Chance of spamming, minimal security, low bandwidth, no support for email hosting, can be suspended any time if you exceed the free plan limits.
3. AccuWeb Hosting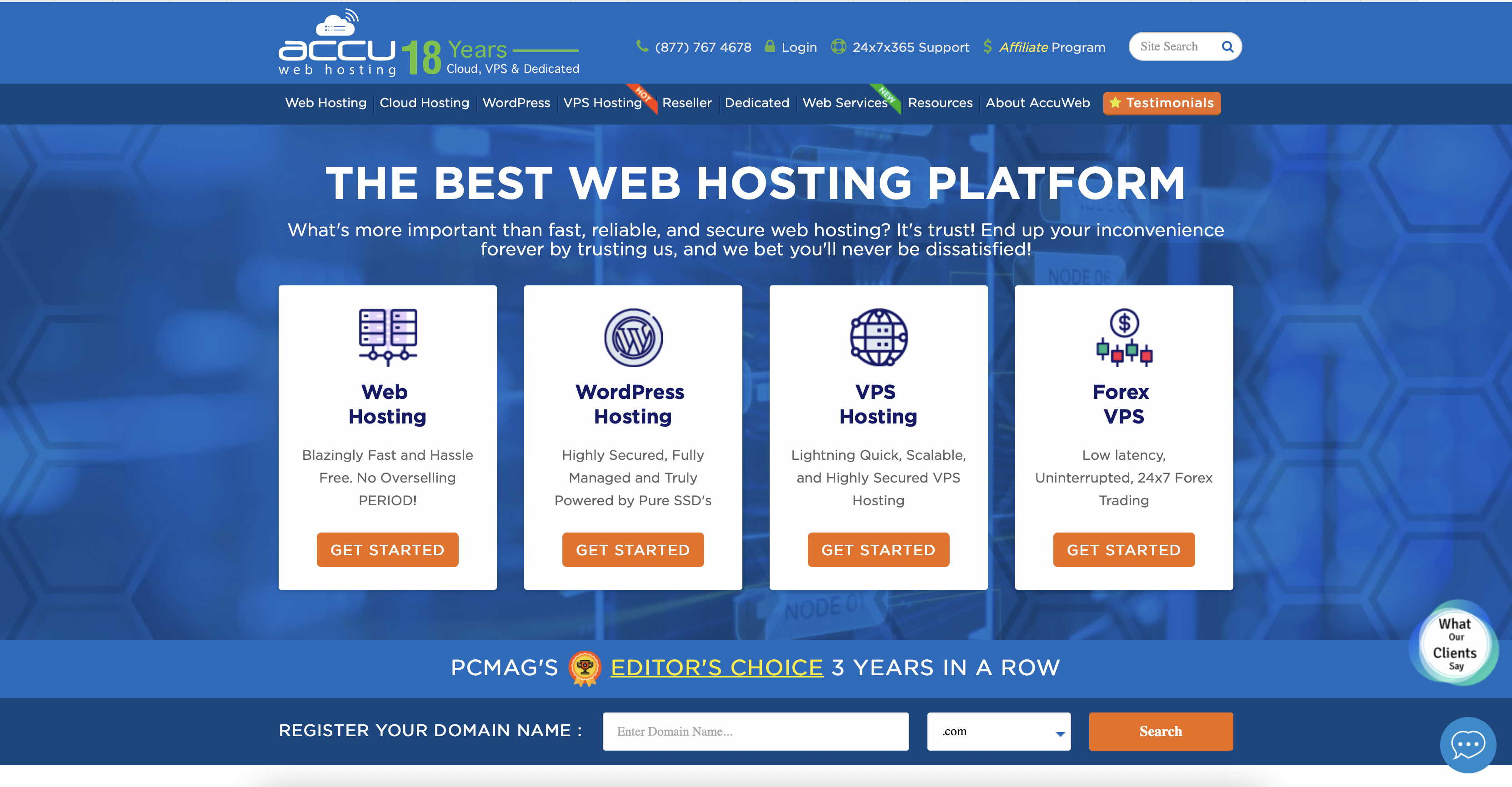 AccuWeb is another free platform that offers both free and premium hosting plans. AccuWeb also offers generous free WordPress hosting plans in terms of storage, bandwidth, and email limits. You also get access to cPanel, the latest versions of PHP, and a guarantee of no ads ever. One of the key features is that this hosting provides you with ten times faster WordPress optimized servers. AccuWeb offers 2 GB storage space and 30 GB monthly bandwidth, which means it is ideal for around 5000 visitors monthly.
Other handful features are one-click WordPress installer, email accounts, basic backup support, SEO optimized plugins and Google Apps integration. You also get access to cPanel, the latest versions of PHP, and a guarantee of no ads ever.
AccuWeb is a good option for people who need to host a single WordPress site with high traffic while maintaining the flexibility of the complete WordPress experience. In fact, it cannot preserve a high-traffic website; however, it offers one of the more generous plans compared to other full-featured free WordPress hosts. Before starting your hosting plans, remember that you'll need to submit your government-issued ID to access your free hosting.
PROS: fast loading speed, high security, no ads, and sponsored links, cPanel access, the possibility of using own domain name.
CONS: one website per account, enforcing to submit a government-issued ID when you register, no free subdomain, limited support for free hosting plans.
4. AwardSpace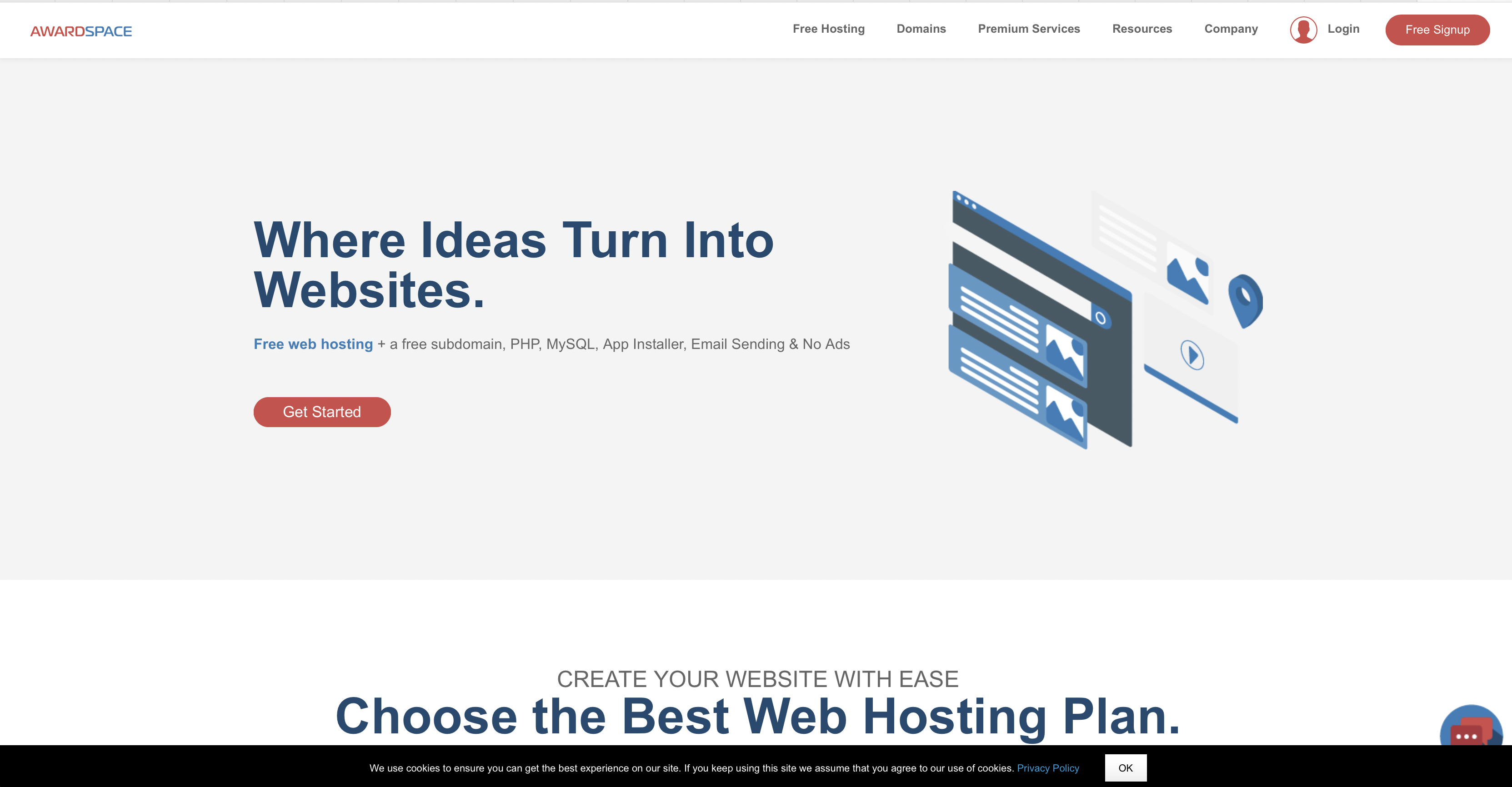 If you are looking for a free and budget web hosting service as well, then AwardSpace might be interesting for you. The company operates since 2003, and with a free plan, you can get 5000 visitors per month as well as an easy and affordable upgrade path as your website grows, with premium hosting plans at just $0,19 monthly. In addition, AwardSpace is a completely ad-free and user-friendly platform. With the one-click installer, it is also easy to install and set up within 5 minutes.
There are several key features of AwardSpace. Firstly, the platform hosts up to 4 websites. You can use your own domain or up to 3 free subdomains that the platform offers. Secondly, they provide a 99.9% guarantee for network uptime which makes this one of the most reliable and speed optimized hosts out there. The free plan also provides one email account with spam protection and 24/7 customer support. You get 1 GB storage with 5 GB bandwidth once you sign up. In general, AwardSpace doesn't have a very generous bandwidth allocation, but it does let you host up to four websites, includes email hosting, and gives you full server access. If you can work within those storage and bandwidth limits, it can be a good free option.
AwardSpace is a good option for those who want to have multiple low-traffic sites and need full server access. The bandwidth and storage limits will limit how many visitors you can have, but you'll be able to have four websites (though three must be on subdomains). However, the hosting server does not feature cPanel; therefore, it may take some time to get used to. In addition, a free plan will not give you the possibility to back up your data, and you may lose all of it if your website goes down.
PROS: one-click WordPress installer, 99.9% uptime, free website builder, spam and virus protected, highly optimized performance
CONS: limited MySQL database, no cPanel, limited disk space, low bandwidth
5. Byet Host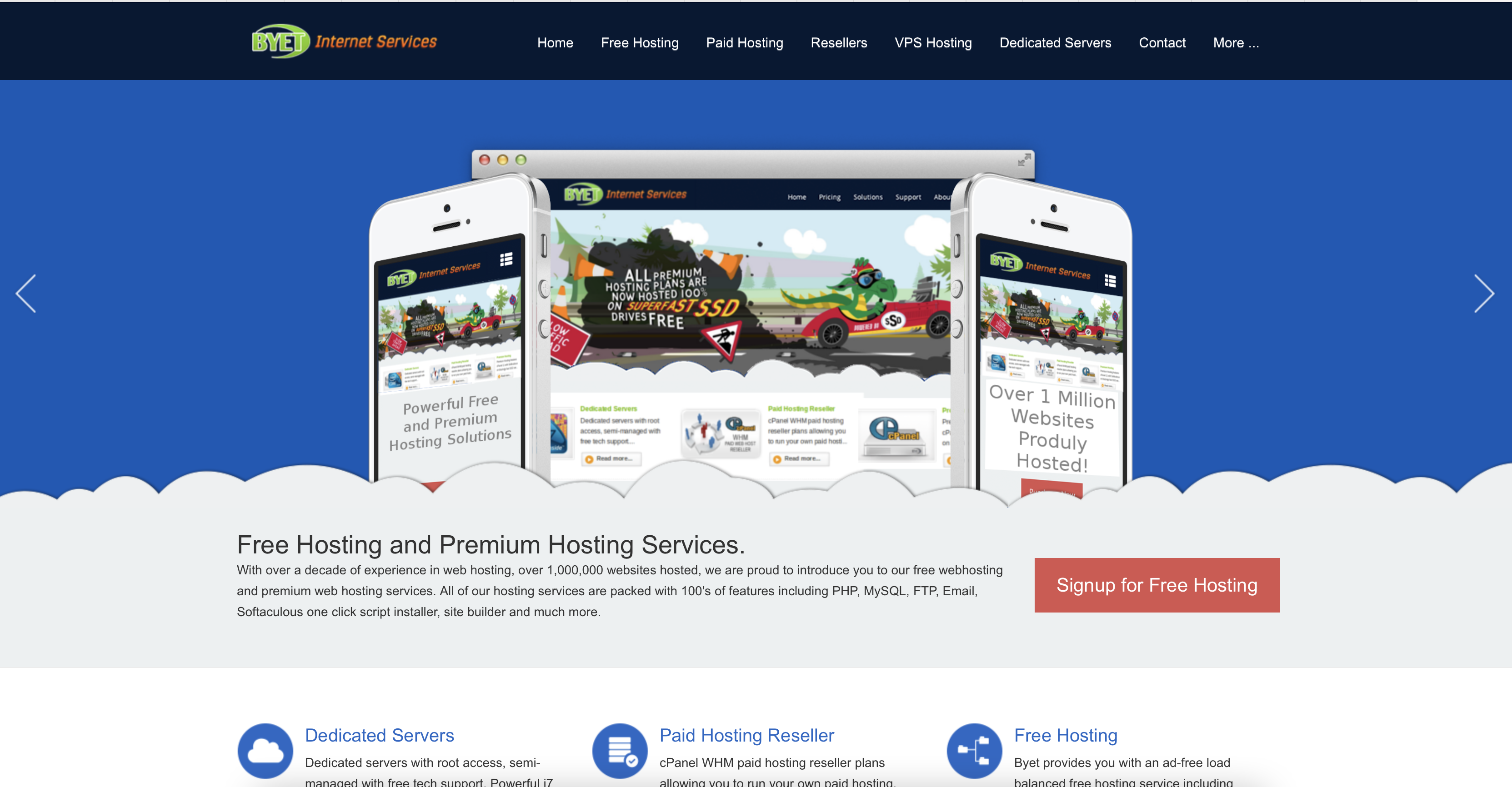 With over a million websites hosted, Byet Host is amongst the top-rated free WordPress hosting services. It is easy to use and offers unlimited disk space. With a high range of reliability and speed, this free WordPress hosting is yet another name we do not hesitate to recommend. Combined with the already great features, this hosting also provides space provisions and excellent sub-domain options. Most hosting providers do not offer customer support with the free plan, and here Byet is different. You can get help from their customer support without paying anything.
Byet offers some of the most generous free hosting plans around when it comes to storage and bandwidth limits. With a free plan, you get unlimited disc space but bear in mind; you can upload files up to 10 MB only. The free plan also comes with unmetered bandwidth and a free subdomain. Byet is one of the few free WordPress hosts to let you create unlimited websites, and it also offers unlimited bandwidth, which makes it a good choice for high-traffic sites. Completely cost-free as well as zero ads, this hosting service is probably the optimal choice if you are looking for great free hosting for your WordPress site.
Byethost will give you one of the best response times for your WordPress website. You can get an average response time of around 200 ms. Byethost's Softaculous Script Installer helps you upload files fast without having to wait a long time. Like other free hosting servers, Byet also has some downsides. Firstly, it is not the best option for you if you plan to have huge traffic because the performance goes down as the number of users increases. Secondly, Customer support with free hosting is provided via a ticketing system, and you would need to upgrade to paid options for live support.
PROS: unlimited disk space, free subdomain, VistaPanel hosting dashboard, up to 5 email accounts, no ads, FTP Account and File Manager, free customer service
CONS: individual files cannot exceed 10 MB, outdated control panel, limited tech support, doesn't support many visitors
Conclusion
In this article, we have elaborated on the best free options for your WordPress experience. To sum up, there several advantages that you can use free hosting servers. Usually, free hosting plans come with ready-made layouts, which enable you to set up your website within minutes. Due to their user-friendly interface, it is easy to adapt and use control panels that free hosting servers provide. It is also a great learning platform where you can test your website and ideas.
With several basic features, you can build your website and optimize its performance according to nowadays standards. However, keep in mind that there is no free stuff at all on digital platforms. They somehow charge you at the expense of your website. For instance, free hosting providers often place ads on your website. Any profit made from these ads will go to the hosting company, while your monetization options will be limited. Free hosting plans limit bandwidth, storage space, and even web pages that restrict your website's growth.
As we mentioned in our previous post, be careful while choosing your hosting service. If you have huge traffic or planning to build global projects that many users will engage in, then we recommend choosing premium hosting plans. But if you are a beginner in the digital world and you want to learn and experience your knowledge, the free hosting plans are the best choice for you at the first stage. Either way, it depends on your plans, goals, and activities to choose the right hosting plan. You can start with free options, but later on, you can change your hosting plans to the most suitable premium servers.