Essential WordPress plugins for business websites
Jul 16, 2021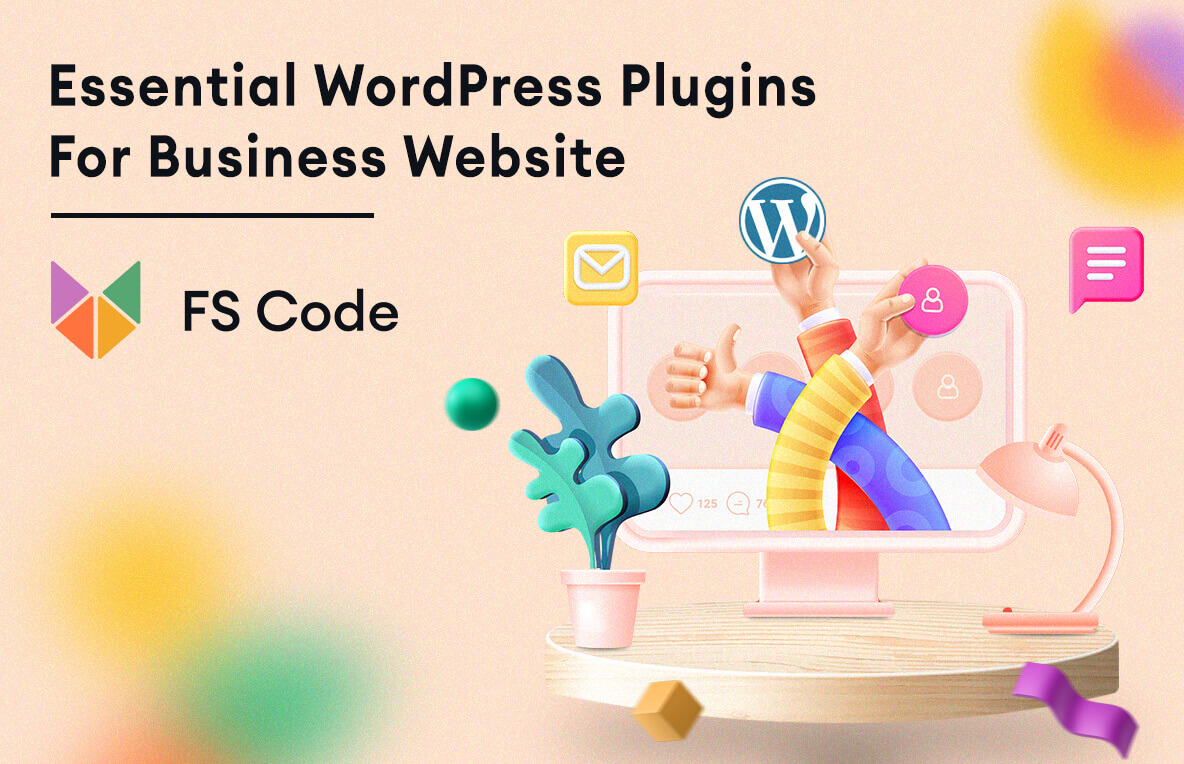 WordPress is the best place to start a business website for beginners and experienced users.
It has tons of useful tools and features that help business owners to boost their website building process.
Plugins are WordPress's superpowers. They can add diverse functionalities and abilities to your website.
Their number exceeds 50 thousand. But it is not wise to add more than 20 plugins to your website. If you are using budget hosting services, this number drops to 5. So you have to choose the right plugins to install on your website.
Here we have collected the essential WordPress plugins for a business website. Depending on your website's needs and niche, you may need additional plugins, too, but these are essentials. Every WordPress business website needs them.
1. Search Engine Optimization - Yoast SEO
Search Engine Optimization is the most crucial step to take.
Without proper SEO, you cannot attract visitors to your website even if you share solutions to climate change.
Yoast SEO can help you to gain more traffic to your website. It is the most popular SEO plugin on the market.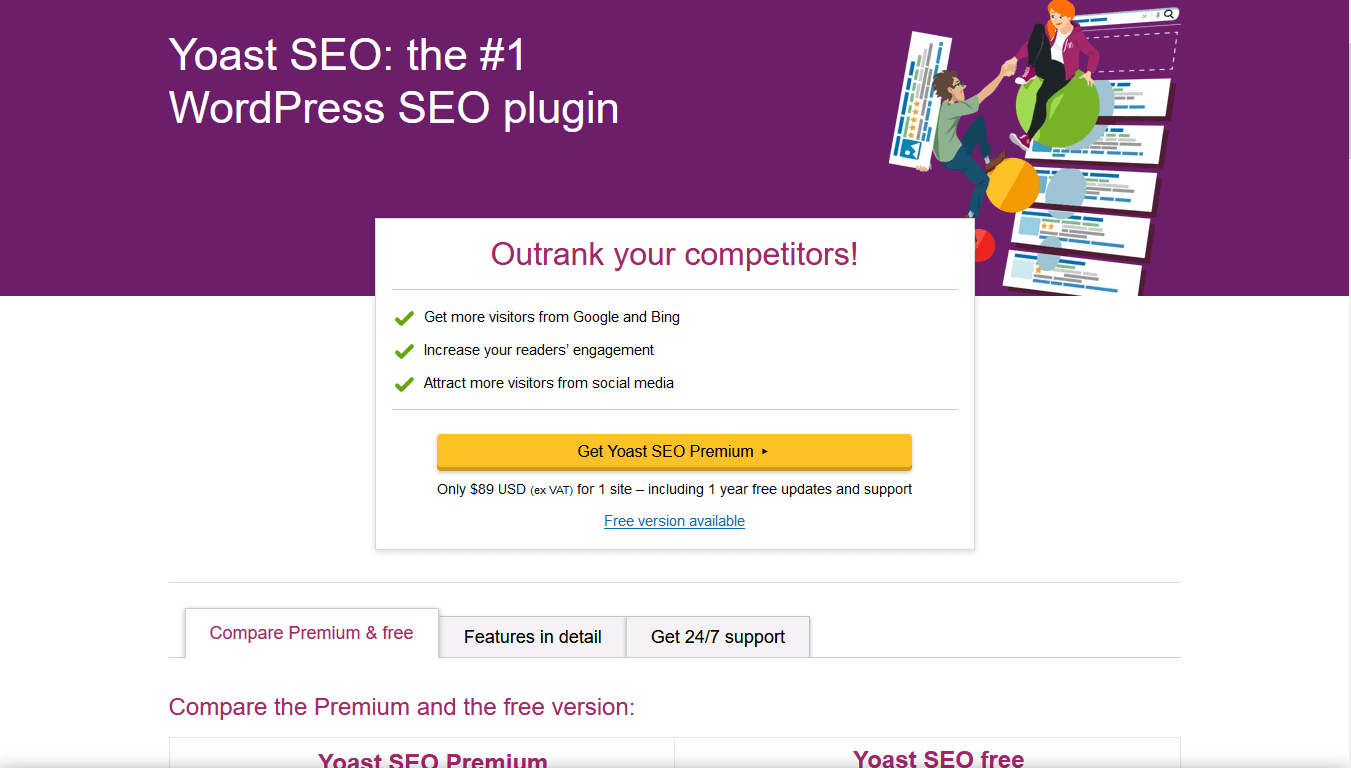 Yoast SEO takes a complex and most important workload and makes life easy for you. It can generate the sitemap, edit robots.txt and .htaccess files in the background, and give you insights about your content.
With the internal linking suggestions, previews of your page in Google and social posts, readability check, keyword optimization, and more functions, Yoast SEO will help you rank better on search engine results.
It has a built-in redirect manager, which will prevent your visitors from ending up on a dead link. You can migrate pages from an old website and avoid dead links and keep the page ranks for the SEO.
Yoast SEO academy courses will teach you everything you need to be a master at SEO. Only premium users can access courses.
2. Contact Forms - WPForms
Another most essential function for a business website is a contact form. Building a contact form can be a hard and time-consuming process.
Designing good looking and fully functional form can be a painful job. It can face integrating problems with your email marketing services, and your website can lack the essential function.
But the WPForms offers an easy solution for these problems.
This is the most popular and most downloaded contact form plugin for WordPress. With this drag and drop form builder, you can create amazing forms in a minute.
It has tons of useful features and functionalities that can boost your form-building process and keep you engaged with your website visitors.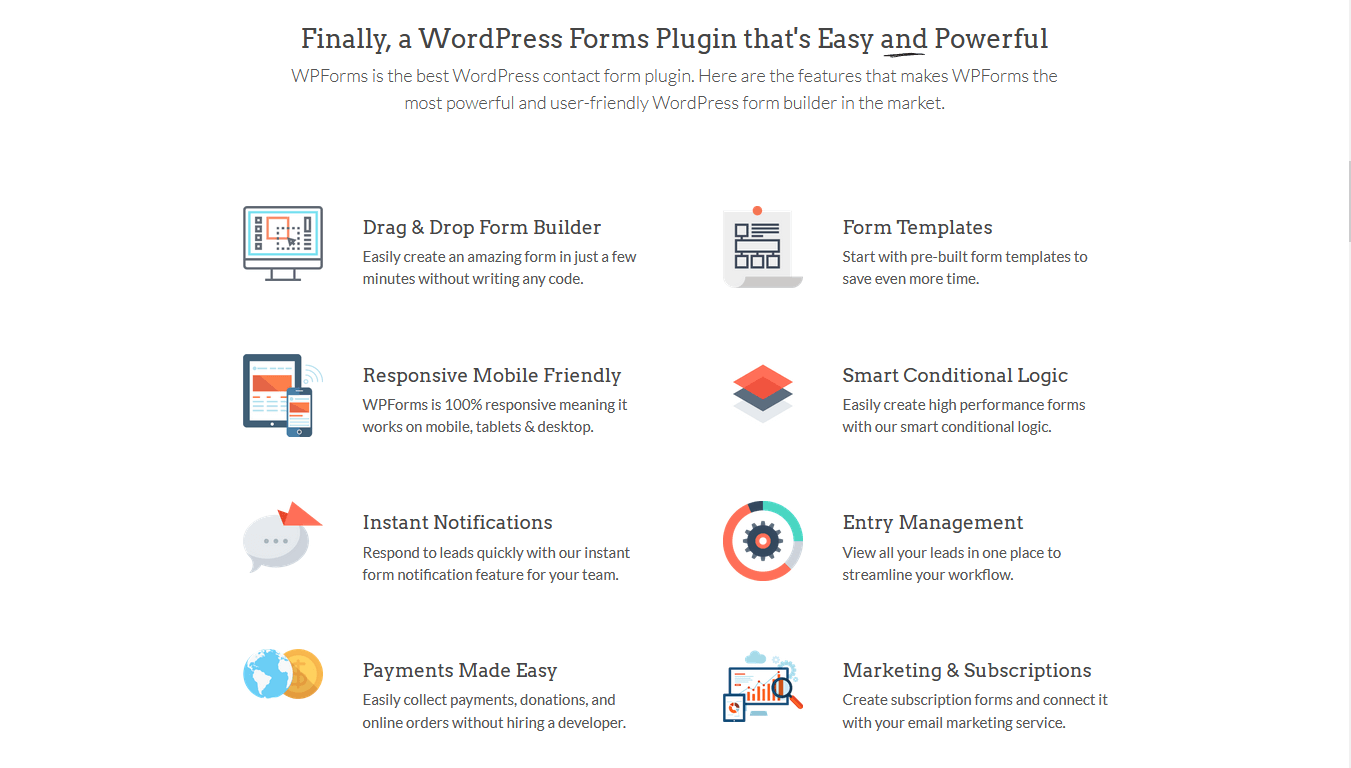 WPForms has many ready-to-use form templates, which will allow you to save even more time. Just pick up the ready template, add your own credentials, and you are ready to go.
Also, it has spam protection options that will keep unwanted robots and spam emails away from your website. You can add custom questions or use random math questions as captcha to reduce spam.
The premium version has even more features like PayPal, Stripe, Authorize.Net add-ons which allow you receive payments.
3. Booking systems - Booknetic
Online booking systems are out of heaven. They can save tons of time for both of you: business owners and users.
Back then, your customers should have to make a phone call, and you have to hire an assistant to manage these calls and buy costly office equipment to keep booking information.
Now there are WordPress booking plugins that can work autonomously. You just have to install these plugins on your website, create profiles if you have multiple workers, and focus on your business.
Booking plugins are essential if you are offering appointment-based services. Add an elegant touch to your website with these plugins. Your customers will appreciate this.
Booknetic is a modern, powerful booking plugin for WordPress. It allows you to set up multiple users and automate your appointment system.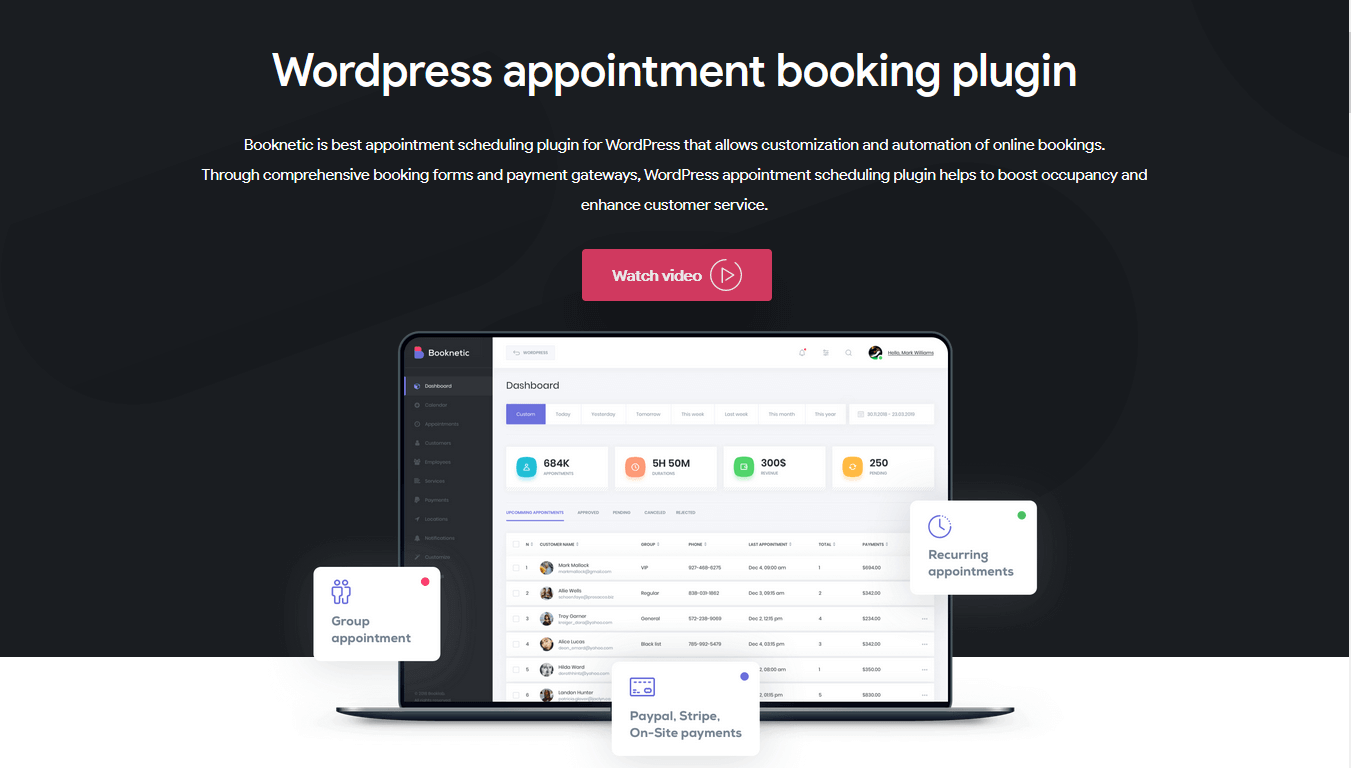 Maybe you are an owner of the medical center, and you have a lot of staff, and every doctor needs a different calendar, schedule and they are offering different services for different price tags. This is a perfect example of using Booknetic.
You can diversify your services, create a customer base, get reports about numbers and revenues and receive payments via this plugin.
It has an amazing admin dashboard with all the necessary tools under your palms.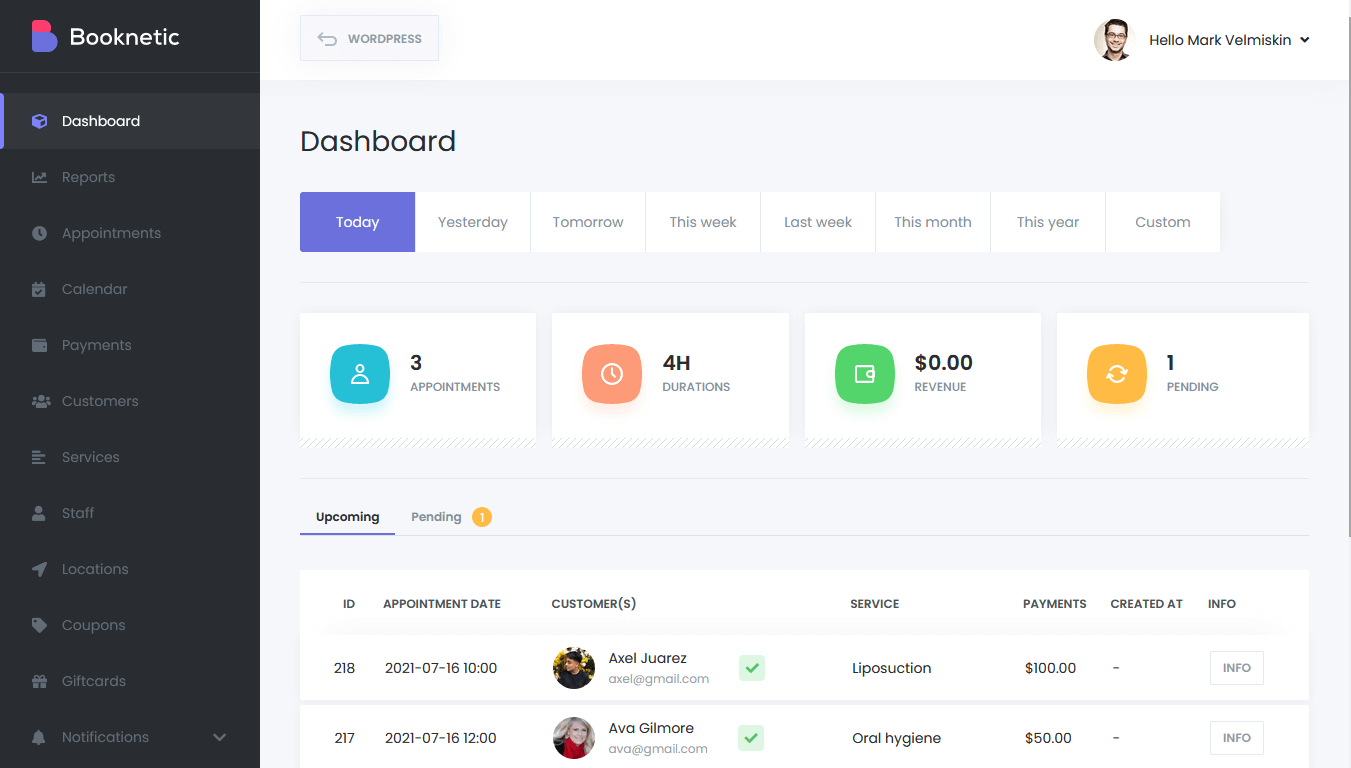 On the demo page, you can try it as a customer or business owner. On the admin dashboard, you can get reports, create new forms and manage your calendar easily.
Booknetic is an amazing plugin with a hard-working developer and friendly support team.
4. Return Refund and Exchange for WooCommerce Pro - WP Swings

Return Refund and Exchange for WooCommerce lets you create a simple refund management system stuffed with the organized refund, exchange, wallet, and cancel order features. It eliminates on-call complaints and helps in managing returned stock. Customers can request full or partial refunds (based on return policy). The whole process goes under a dedicated and streamlined mailing system that keeps both parties on the same note. Ultimately, it leads to high customer satisfaction.
Utilize the WooCommerce RMA plugin and enjoy an easy refund, exchange, and cancel request interface for the purchased product to Customer/guest users that offers smart return ship labels integrated with ShipEngine and ShipStation.
Offers a dedicated and smart notification system via email.
Has a sophisticated e-wallet with a return slip label for RMA tracking.
Provide efficient and accurate product inventory management.
Return ship labels can be easily integrated with ShipEngine and ShipStation.
5. WordPress backup and migration
Can you imagine losing all your WordPress site's data to a server crash, a user error, or anything like that? That's why you always need a backup plugin that can help you keep regular backups of your site's data.
With this WordPress backup plugin, you can schedule regular backups at daily/weekly/monthly intervals and make sure that you have a recent copy of your site in case the unthinkable happens.
With the plugin, you can not only backup but restore your site as well. You can easily backup to Google Drive, Amazon S3, FTP/SFTP, or to your local computer.

The premium version of this WordPress migration plugin supports additional storage options such as one-drive and dropbox, schedules backups at custom intervals, and more.
6. Marketing - HubSpot
Marketing is the main factor that determines success in your business.
Business owners should attach great importance to marketing and carefully choose the tools they will use for this purpose.
HubSpot plugin will help you to do marketing on your WordPress website better way.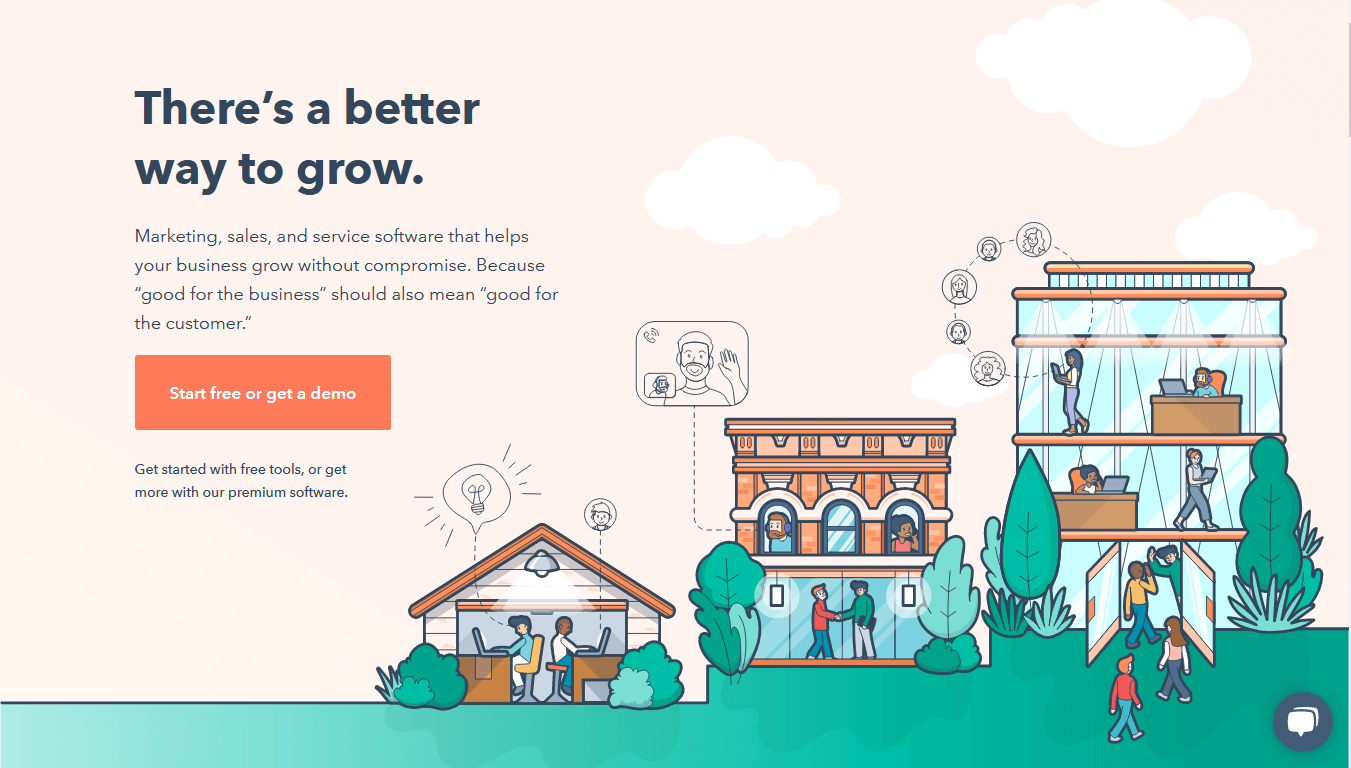 HubSpot isn't just a plugin. It is an entire marketing solution for your website and for your business.
With the help of the HubSpot plugin, you will get a solution for CRM, email marketing, live chat, forms, and analytics.
This is a great all-in-one tool that will help you send marketing emails, create forms, do contact management, create landing pages, integrate live chat to your website, manage Facebook, Instagram, Google, and LinkedIn ads, get traffic, and get traffic conversion analytics.
You can choose five different marketing plans. All plants have different tools, features, and capabilities depending on your website's type and business area. You can choose the best option that suits your needs.
7. Image optimization - ShortPixel
You have to do SEO right to attract visitors, but you need a fast website to keep them on your website.
If you want to improve your website speed, then you should pay attention to image optimization. It is the second main reason which determines your website speed after your hosting provider.
As a business owner, you can upload many high-quality images to your website. Image optimization plugins can reduce their sizes, not their quality.
So you can add amazing photos to your website and still keep your website fast.
There are so many image optimization plugins for WordPress.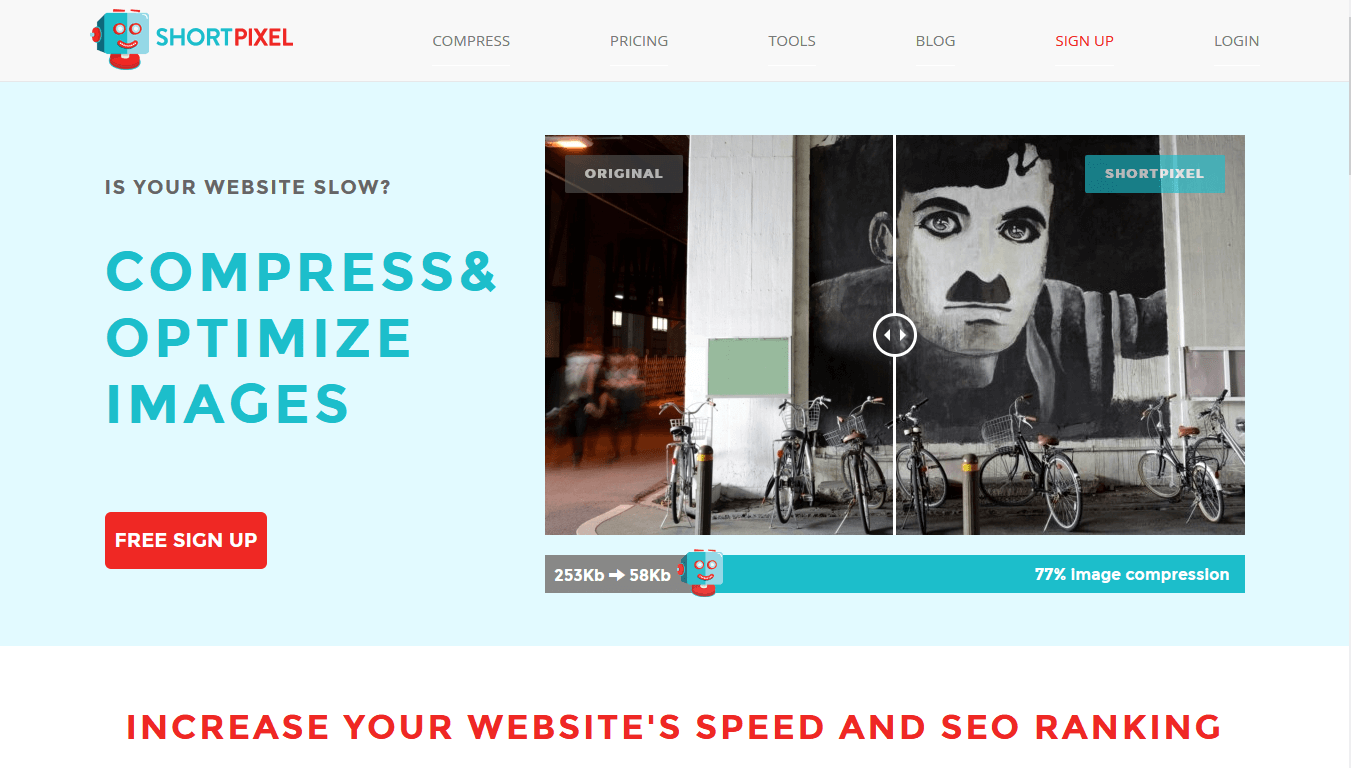 The most popular image optimization plugin is ShortPixel. It has free and paid plans. The free plan allows you to compress up to 200 images per month which are enough for most business websites.
It has amazing features like converting your images to the next generation images like WebP and AVIF, optimizing thumbnails, ability to work with next 10 gallery and other image galleries or sliders, skipping already optimized images, removing exif data (it can be useful for photographers), using ShortPixel plugin on multiple websites with single API key, WooCommerce compatibility and so on.
8. Caching - W3 total cache
Caching is another necessary action you have to take to improve your website speed.
At the core, caching is a process of storing your website data on the user's browser, so when a user revisits your website, most of the files are downloading from the cache.
It will reduce your server's workload, improve user experience, and boost your website traffic.
Caching plugins are essential for business websites.
The best option for caching is WP Total Cache which will help you improve your website performance.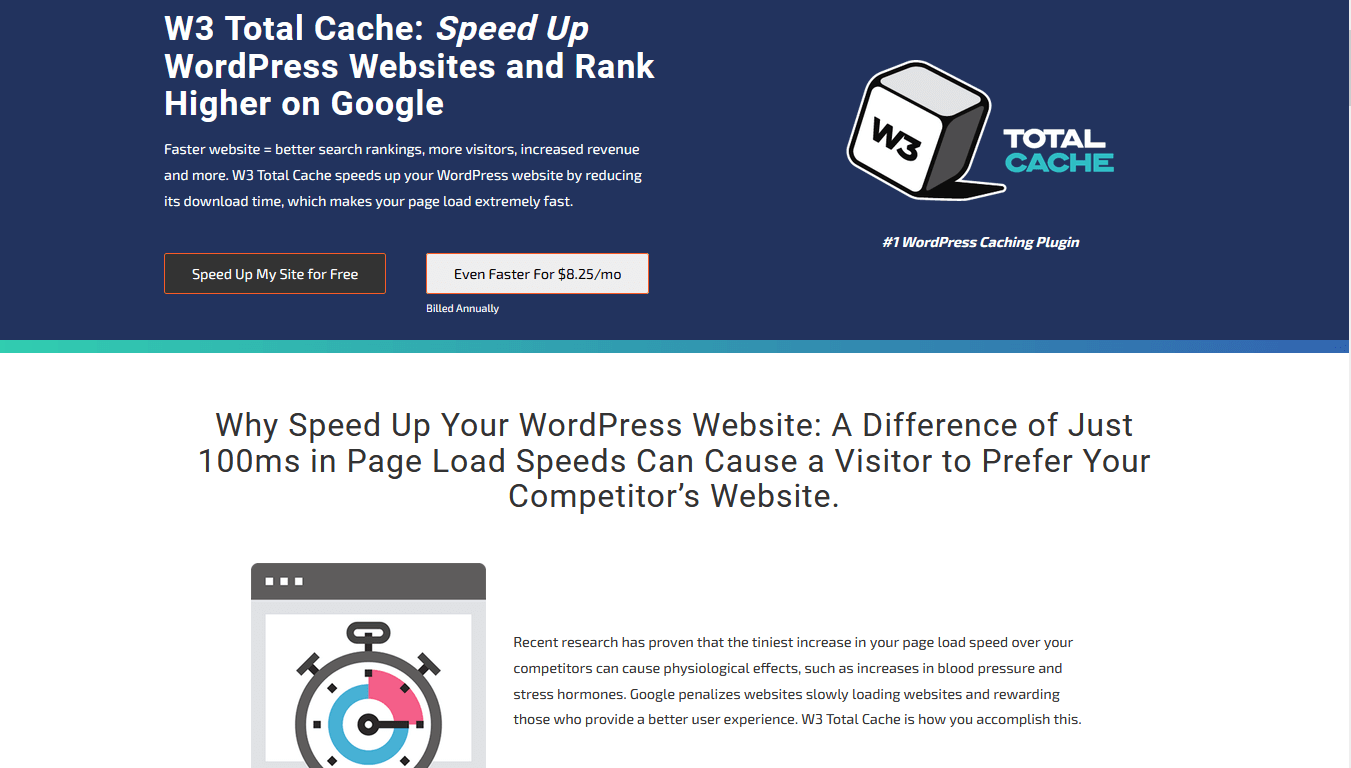 WP Total Cache minify HTML, CSS, and JS files and reduce load time dramatically.
It promises at least 10x improvement in overall site performance.
Keep in mind that some hosting providers have a built-in caching function. If your hosting has this function, then you don't have to install an additional plugin for this purpose.
9. Security - Wordfence
You have created a fantastic website, installed necessary plugins, uploaded your content, and you are receiving significant traffic to your website. Your website is getting popular, and you make more money; everything is fine.
But one day, you see that your website is hacked.
You will lose visitors, and your business can suffer badly. You have to protect your website from hackers.
The most popular plugin for WordPress security is Wordfence. It is a very mighty security plugin that scans your website all the time for malware, back doors, bad URLs, SEO spans, malicious redirects, and bad code injections.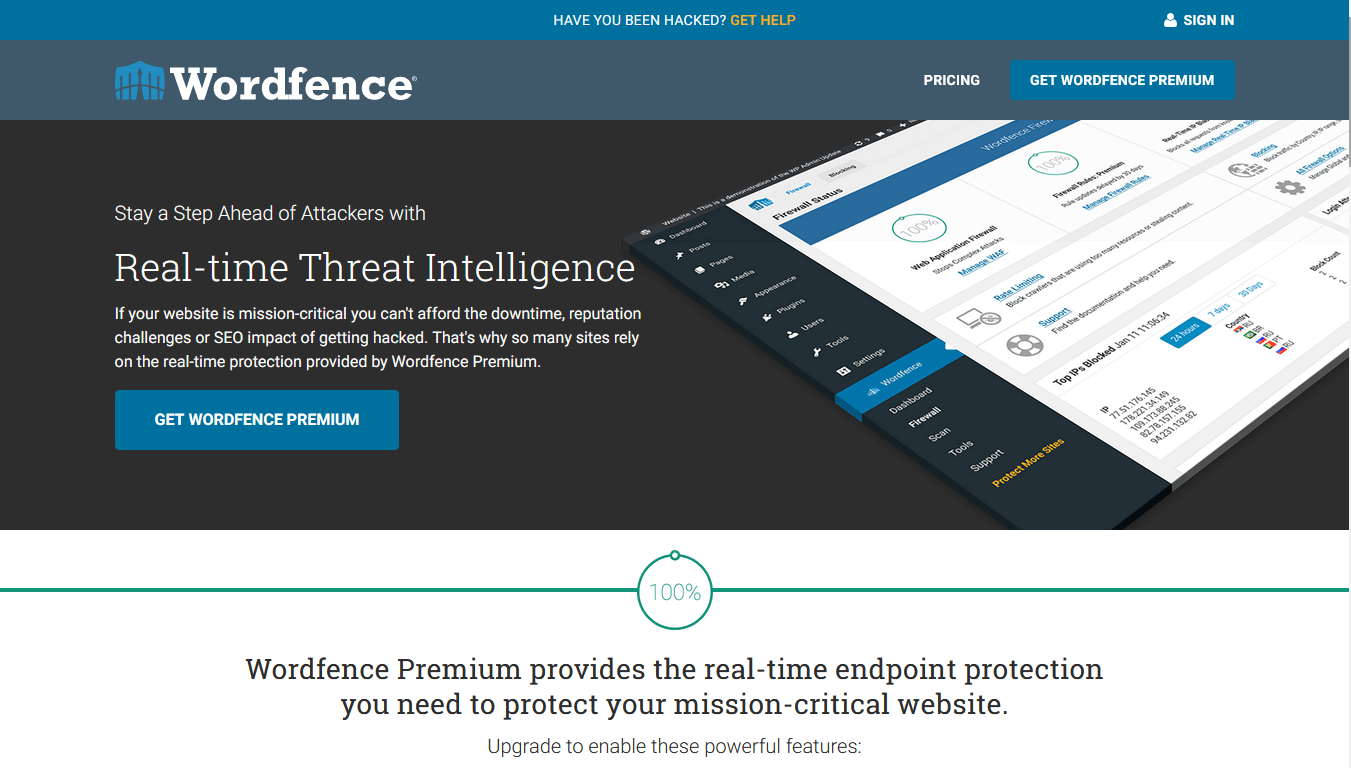 These treats can lead your websites hacked and cost you customers, the website traffic, and even you can lose your business.
Wordfence can help you to protect what you have built. It has core features like leaked password protection which checks the password of your administrations if their passwords information stolen or not.
Premium Wordfence plugin has a country blocking feature where you can block a country clearly engaging in a malicious attack.
Wordfence stores your theme files, core files, and plugin files. If you find corrupted files, Wordfence compares them according to the official WordPress repository so you can see the changes and repair them.
Wordfence is $99 for a year for one website, but it has a free version with restricted functions.
10. Social media posters - FS poster
Social media posters are the final touch to your website. They help you to publish your posts to the different social media platforms, keep your social media accounts updated, increase traffic to your website and improve SEO.
The best WordPress auto poster in the world is the FS poster. This plugin will help you to auto-post your posts to 14 social networks like Facebook, Twitter, Instagram, Reddit, Tumblr and Medium, and so on.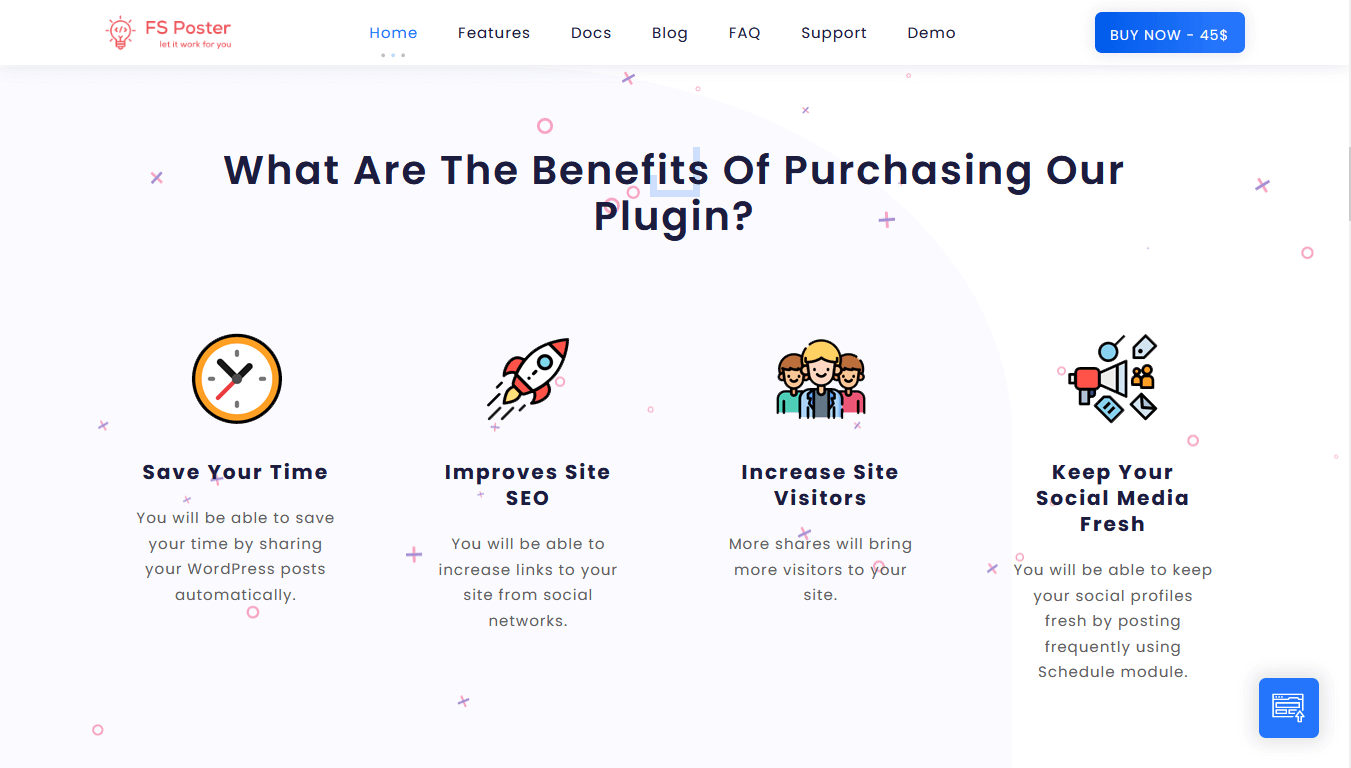 It has many unique, time-saving features like auto-post new blog posts, scheduling posts, posting intervals, URL shortener, and much more.
Insights function will give you information about post visits, allow you to compare social networks by link clicks.
You will get weekly or monthly click reports so you can see which platforms you are improving and lacking.
Use WordPress categories and tags as a social hashtag which will gain you more time and energy.
You can use this amazing plugin on the demo page, test all the functions and make a decision.
Conclusion
All these plugins are tested and trusted by millions of users. We have collected the most powerful, trusted plugins for you. You can choose one of these plugins or go with a different one. Most importantly, we showed you which functions your website needs and which path to follow.
Keep in mind that installing too many plugins can slow down your website and hurt your website SEO score.
Also, outdated plugins can be used as backdoors by hackers. Always keep your plugins updated.