The Best GDPR Compliance WordPress Plugins
Nov 8, 2022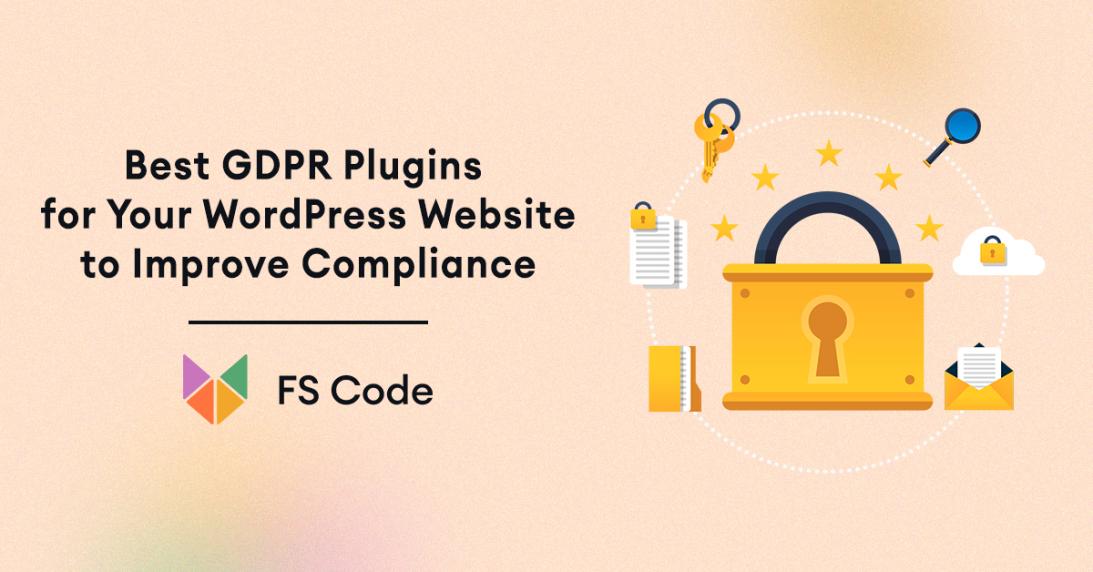 In the past years, we met with the new word - GDPR. So, what is this? And why do we need to make our website compatible with this? In the long name, it is General Data Protection Regulation. This law was enacted in 2018, and if you are collecting user data on your site, you must comply with this rule. Otherwise, a 20M euro fine will be waiting for you. Nobody wants to be punished like that, right? Then you can make your site GDPR compliant by using the following plugins.
We want you to know that WordPress has been updating to be GDRP compliant since version 4.9.6, and WordPress itself is now GDPR compliant. But this does not mean that all plugins in WordPress are GDRP compliant. At the same time, we do not say that you can make your site 100% GDRP compliant by using these plugins. After all, we are not lawyers, and we do not know the laws exactly. That's why if you want to make your site fully GDPR compliant, we think it would be beneficial to consult with a lawyer. However, using the GDPR plugins on your website is highly recommended to avoid fines and make your website safer.
MonsterInsights

If you intend to use Google Analytics on your website, you should also prefer to use this plugin. The main reason for this plugin to use is Google Analytics, as it is a bit harder to set up Google Analytics on WordPress websites properly. But this plugin also has a built-in Google Analytics Dashboard to manage your Google Calendar via your WordPress dashboard. So, you can see all the necessary information about your visitors just in your WordPress dashboard.
Since any plugin cannot guarantee 100% GDPR compliance in WordPress, MonsterInsights has a great length in helping users to make their websites GDPR compliant.
Some of the key features:
IP address anonymization
Geolocation capabilities
Turn off retargeting and ad reporting.
Turn off user ID and author tracking.
Create your own opt-out URLs.
Compatible with cookie plugins
CCPA compliant AMP compatible
Compliant with Google Analytics' opt-out analytics cookie
Complianz

Complianz is one of the best and most user-friendly plugins that help to make your WordPress website GDPR compliant. The compatibility of this plugin is not ending with just GDPR, you can also comply with your website with DSVGO, CCPA, PIPEDA, and COPPA. It has built-in Cookie policy generator functionality.
In the premium version of this plugin, you can improve the cookie acceptance ratio with the A/B testing feature. At the same time, the plugin is compatible with WordPress multisite.
Some of the key features:
Configure cookies for specific regions or worldwide
Conditional cookie notice with customizable templates
Ability to block 3rd party cookies such as Google Maps, Adsense, Instagram, Facebook, etc.
Google Analytics and Tag manager integrations
CookieYes

CookieYes is also a GDPR Cookie Consent plugin that helps you to make your website GDPR (RGPD, DSVGO) compliant. It offers both free and premium features, and one of the most useful features - The cookie banner customization option is available on the free version. With this option, you can easily create a cookie banner with large-scale customization preferences that will fit your website's look.
Some of the key features:
Customize the cookie consent banner according to your website's look
Set cookie scripts and their details
Add shortcodes to display the list of cookies on the website privacy/cookie policy
Add a "Do Not Sell My Personal Information" link on the banner
Banner auto-translation feature
Ultimate GDPR Compliance Toolkit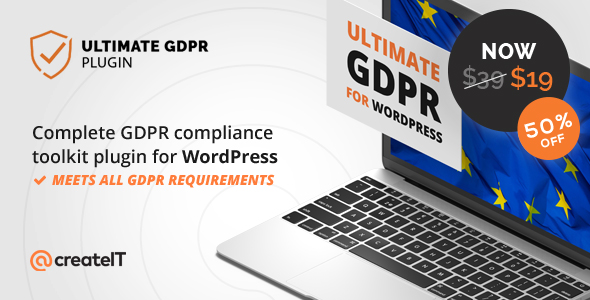 It is the most comprehensive GDPR & CCPA compliance WordPress plugin that covers all aspects of regulations. It does not matter if you were already running a website or building a factory new website, you have a simple yet landing page or a sophisticated WordPress-based e-commerce system; this plugin will work for you in all cases. Ultimate GDPR is compatible with all commonly used plugins. Supporting the many European languages will be icy on the cake.
Some of the key features:
Age verification
Geolocation
CCPA disclaimer
Right to be forgotten
Personal Data Access
Pseudonymization
Privacy by design
Services Consent
Cookies consent
Terms & Conditions pages
Breach notification
Data portability
Iubenda

The iubenda plugin is an AIO solution to comply with your website with GPPR (DSGVO, RGPD), UK-GDPR, ePrivacy, PECR, CCPA, etc. It has built-in scan functionality to auto-configure solutions to match your website's needs. With the iubenda plugin, you can easily generate a fully customizable cookie banner and can store the legally required GDPR consent proof for the cookies. If you have visitors from multiple regions, such as US and EU, then the plugin will auto-detect the user's location and auto-apply the correct data privacy settings for the users. To protect your liability, you can generate professional Terms & Conditions for your website. It supports 9 languages to translate all documents with one click. The iubenda plugin is also compatible with Google's AMP.
Some of the key features:
Scan your website and auto-configure everything according to your website's needs
Fully responsive and WCAG Level AAA Compliant solutions
Auto-detection feature
Easy and guided setup
Google Consent Mode support
The fully customizable cookie banner
Lightning-fast performance
Cookiebot

Cookiebot is a trustworthy and simple cloud-driven GDPR/CCPA Compliant Cookie Consent and Control plugin for WordPress. It has a highly customizable consent banner to give a customer an opportunity to build all kinds of consent forms worldwide. It has automatically generated and updated cookie policy and cookie declaration to categorize your cookies. Also, there is a "Do not sell my personal information" link on the cookie declaration for visitors or customers to ensure that their data will be safe. The plugin monthly scans your website and detects all the cookies and similar trackings on your website. Also, one of the best functionality of this plugin is an automatic cookie-blocking feature. All cookies and trackings will be automatically held back. Cookiebot supports 45 languages in consent banners and cookie declaration.
Some of the key features:
Highly customizable consent banner
Automatically generated cookie policy and cookie declaration
Do not sell my personal data requirement
Monthly website scans
Automatic cookie blocking
Supports 45 languages in the consent banner
Get it here | Play Demo | Free version
GDPR Cookie Compliance

You can prepare your website for cookie consent requirements by using the GDPR Cookie Compliance plugin. This plugin is easy to use, incredibly powerful, and 100% free. Although you can do everything that you need to do with its free version, it also has many premium features that will increase the functionality to a top level. In the free version, there are enough good features to use. Being fully customizable, fully editable, flexible, and SEO friendly is the top functionalities of this plugin. Also, it comes with two unique layouts, and you can select any of these as you wish. This plugin is fully responsive on mobile as well. It supports 16 languages, and the plugin is optimized for PHP 7 and 8.
Some of the key features:
Simple to use
Full control over cookies
Fully customizable and editable
Link to the Privacy policy page
Two unique layouts for the consent banner
Fully responsive on mobile
SEO friendly
WCAG & ADA compliance
Available in 16 languages
Supports many caching servers and plugins
Ultimately,
You have to comply with GDPR on your website if you are collecting user data. All plugins in the list serve the same main purpose: Making your website compatible with GDPR law. There are free and paid options that you can select to use on your website. To avoid legal fines and support cyber law, you can use any of these plugins in the list to comply with GDPR.