9 Best WordPress Menu Plugins
Oct 30, 2022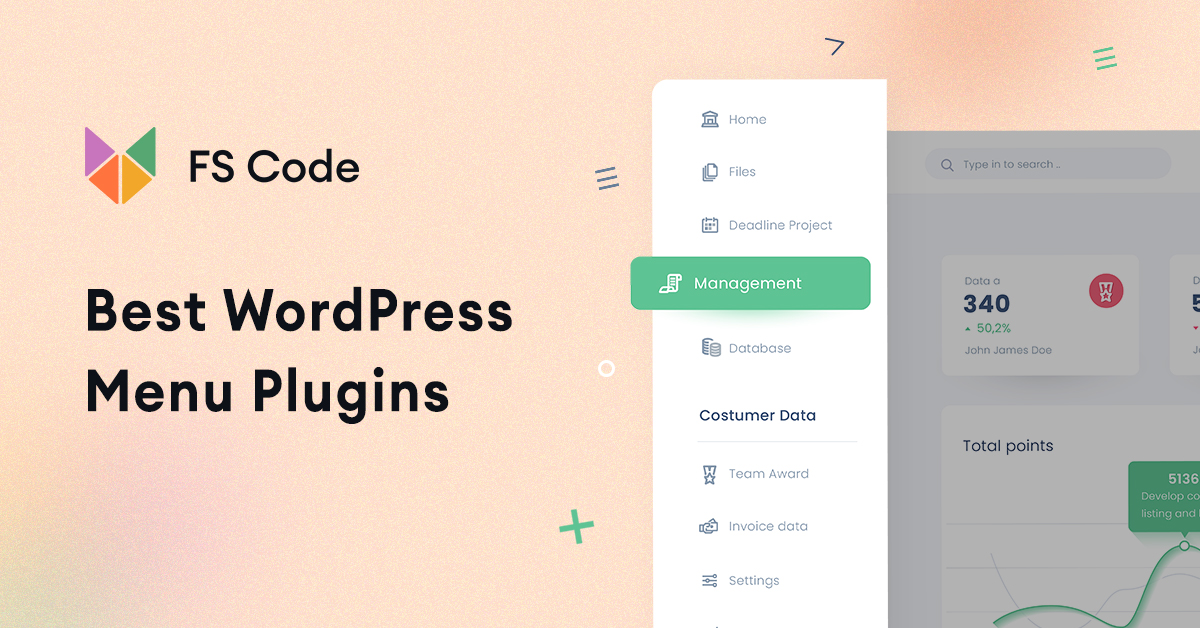 Some WordPress themes only come with a very simple header menu. Depending on the theme, if it's free for example, the menu may just be "rice and beans" to get your site working properly.
It is not mainly because you do not have deeper programming knowledge or want to publish something faster, but you are looking for a more advanced menu to add a different visual to your site, our collection of best free WordPress menu plugins will show the best available for you.
1. Max Mega Menu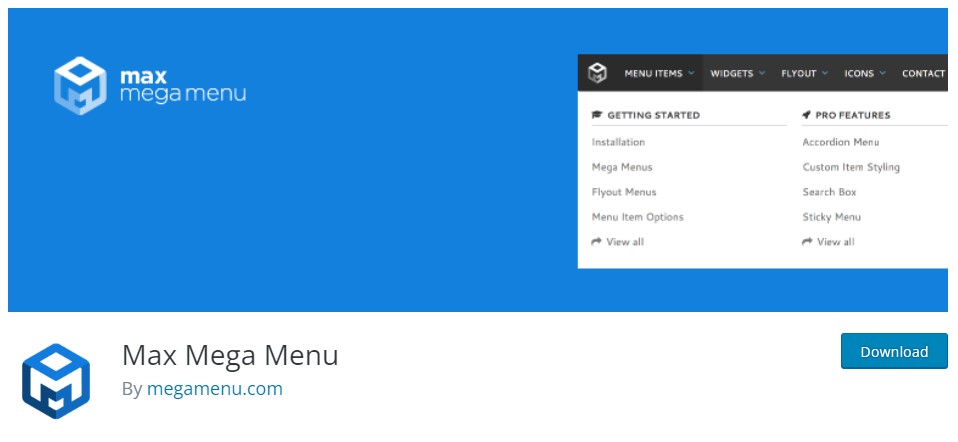 Or Max Mega Menu will automatically convert your existing menu(s) in your theme into a "mega menu". You can then add any WordPress widget to your menu, reshape your menu using the theme editor, and change the behavior of the menu using the built-in settings.
Max Mega Menu is a complete menu management plugin, perfect for taking control of your existing menu and turning it into a more manageable, accessible, and ready-to-use menu with just a few clicks. See it in action in the video above. Mega Menu Pro version has some additional advantages like Search Box, WooCommerce Support, and EDD,
Google Fonts and priority support. But, unless it is very necessary, the free version will work just fine.
2. WP Mobile Menu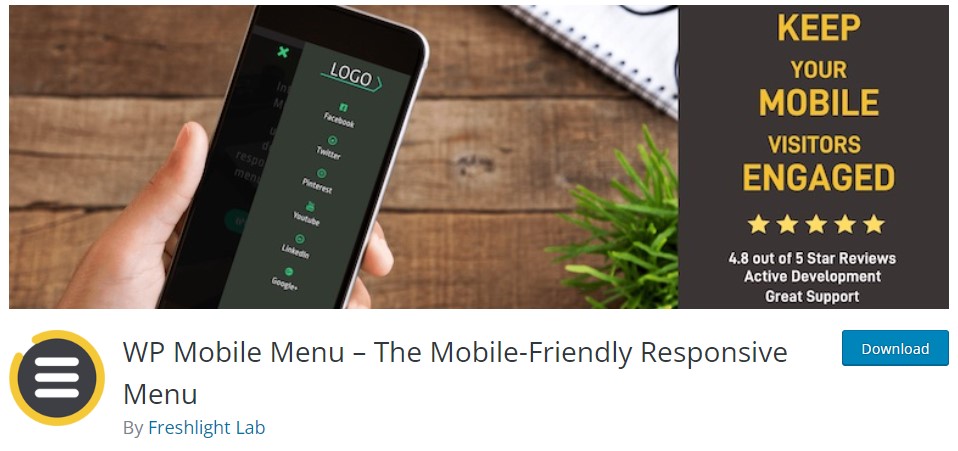 Need help with the mobile site experience? Need a mobile menu plugin that will keep mobile visitors engaged? This is the Mobile WP you need. This is a mobile-friendly responsive menu.
WP Mobile Menu is the most responsive WordPress mobile menu. Give your mobile visitor easy access to your website content using any smartphone/tablet / desktop device. No coding knowledge is required. Works with all responsive WordPress themes. Below is a list of features of what the WordPress WP mobile menu can do.
3 menu levels deep;
Overlay mask when the menu is opened;
Logo/text branding;
Background image for menus;
bare header;
Hide specific elements when the mobile menu is visible (theme menus or any HTML elements);
Google Fonts;
Customize the style of your mobile menus;
Screen Type: Slide Over Content, Slider Push Content.
3. Groovy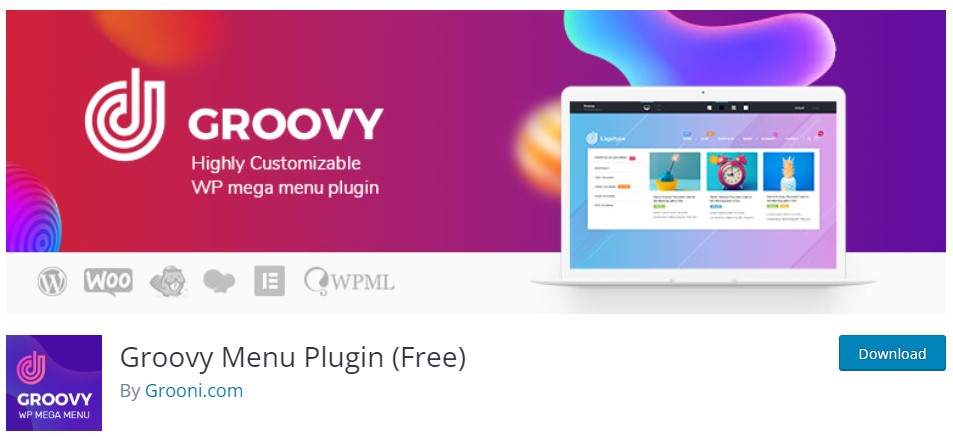 The Groovy Menu is a free and responsive WordPress menu plugin that will allow you to easily add an amazing menu to your website and improve navigation on it. It's easy to customize, just upload your logo and adjust your own colors, fonts, and sizes. The Groovy Menu plugin is perfect for Elementor WordPress themes and easily adds a responsive menu above any header in Elementor.
4. WP Responsive Menu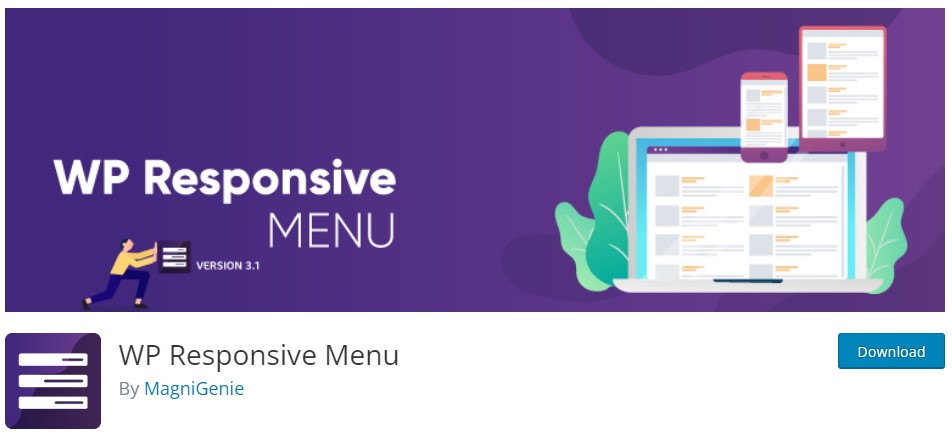 WP Responsive Menu is a simple plugin that allows you to add a highly customizable responsive menu to any WordPress site quickly and customization can be done directly from the settings page, with no coding required. Get a professional slide menu in less than a minute. This plugin makes your website menu work better on mobile devices.
Easy to customize without any coding skills. Allows you to set up/down/left/right menu opening directions to meet your needs. You have the option to change the menu icon animation to match your site, add your logo to the menu bar, and easily specify a link. It comes in two different display options to match your style.
5. ElementsKit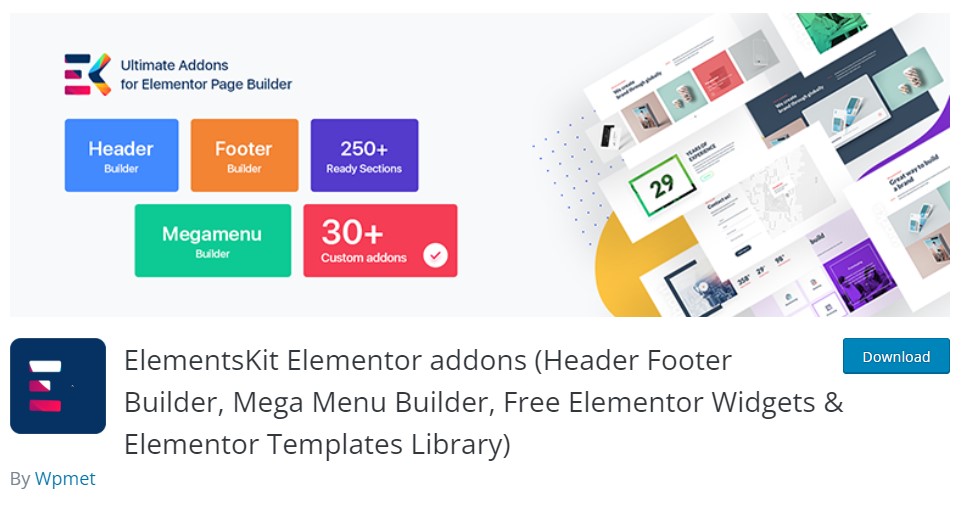 This is the ultimate plugin for the Page Builder element. It includes more complete modules like Header Footer Builder, Mega Menu Builder Layoutkit, etc. It has more than 55 custom widgets to create any website with ease. It has some more unique and powerful custom controls for Elementor like Image Picker, Ajax Select2, Advanced Widget, and many more. And if you need more, there's even a premium version.
The Elementor Addon Element Kit has unique features that impress. Just like our Mega Menu Builder, Header and Footer Builder, One Page Scroll, Sticky Content, and Parallax Effects, you will get tons of Premium features that you never imagined.
6. Advanced Sidebar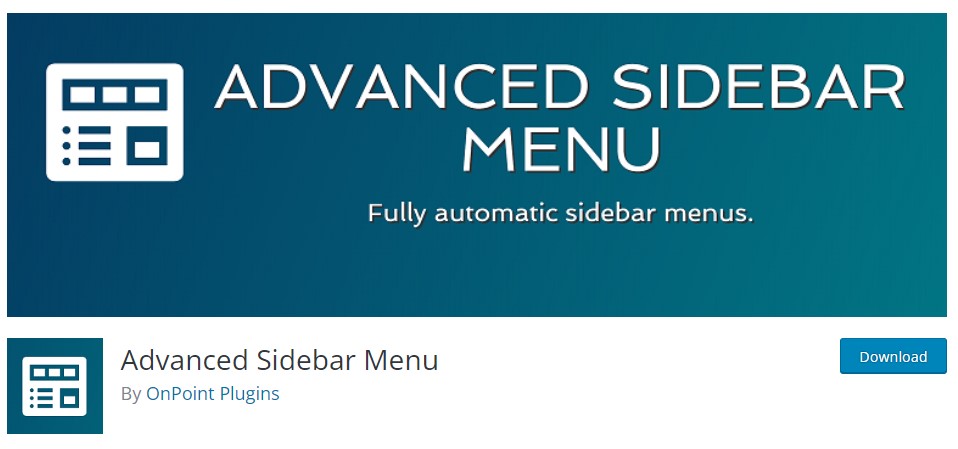 Advanced Sidebar is a smart WordPress menu plugin to improve your site menu. It uses the hierarchical relationship of your pages or categories to generate menus based on the current section of your site. Assign a page or category and the plugin will do the rest for you. Keeps the menu clean and usable. Only related items are displayed, so you don't have to worry about keeping a custom menu up to date or displaying links to items that don't belong.
Professional features include
Ability to customize the text of each page or navigation menu item link;
Click and drag-style navigation menu, category, and page widgets.
Styling options for links, including color, background color, font size, focus, and weight.
Styling options for different levels of links.
Style options for the current page or category.
Style options for the parent of the current page or category.
Locked styling options including borders, width, and border colors.
7. Sticky Menu, Sticky Header (Or Anything!) On Scroll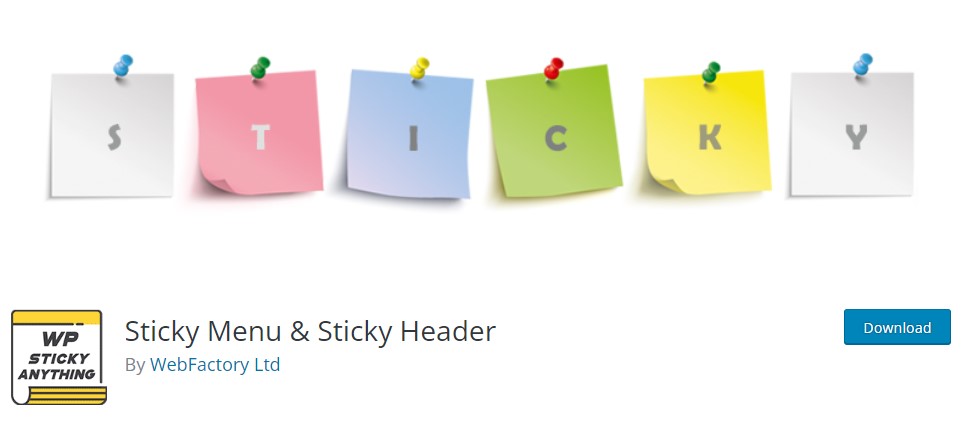 The Sticky Menu (or Sticky Header) On Scroll plugin, in addition to the catchy name, allows you to make any element on your pages "stuck" once it reaches the top of the page when you scroll down. Although commonly used to keep menus at the top of the page to create floating menus, the plugin allows you to make any element sticky. Create a sticky header, sticky menu, sticky widget, sticky logo, sticky call-to-action, or floating menu.
Some basic knowledge of HTML/CSS is required. You just need to know how to choose the correct selector for the element you want to pin and make sure it's a unique selector.
8. Responsive Menu – Create A Mobile Optimized Menu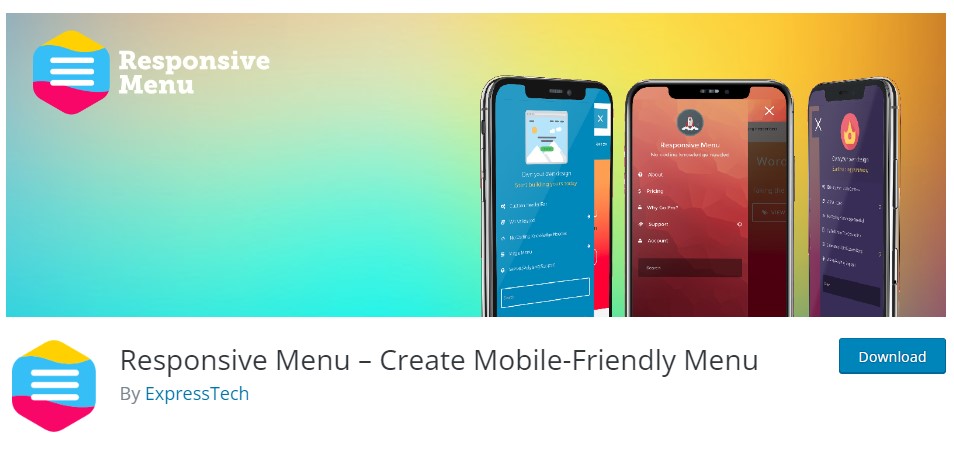 Responsive Menu is a highly customizable responsive menu plugin for WordPress. With over 150 customizable options, you get a combined 22,500 options! You don't need any coding experience or knowledge required with an easy-to-use interface, you can get it exactly how you want it with minimal fuss.
Change every color of text, background, and border;
Set the fonts, font sizes, and text alignment you want to use;
Define which side and where you want the button to appear;
Define which side the menu appears on (left, right, top or bottom);
Use the background image for the menu;
Choose from menu animations (swipe over top or push content);
Choose which menu to use;
Choose the size of the screen on which the menu will be displayed;
Choice of CSS elements to hide when the menu is displayed;
Choose the depth of the submenu to display;
Choice of animation types and speeds for menu and button;
Integrated search (fully customizable);
Possibility to disable and reorder the different components;
Ability to pin the button to the top or let it scroll with the page;
Ability to upload logos, sub-arrow images, etc.;
Possibility to include scripts externally, minimized, and in the footer;
Ability to import and export options with a click of a button;
Ability to add custom HTML components;
Ability to choose custom menu triggers;
Supports WPML / Polylang;
RTL support
And much much more!
9. WP Mega Menu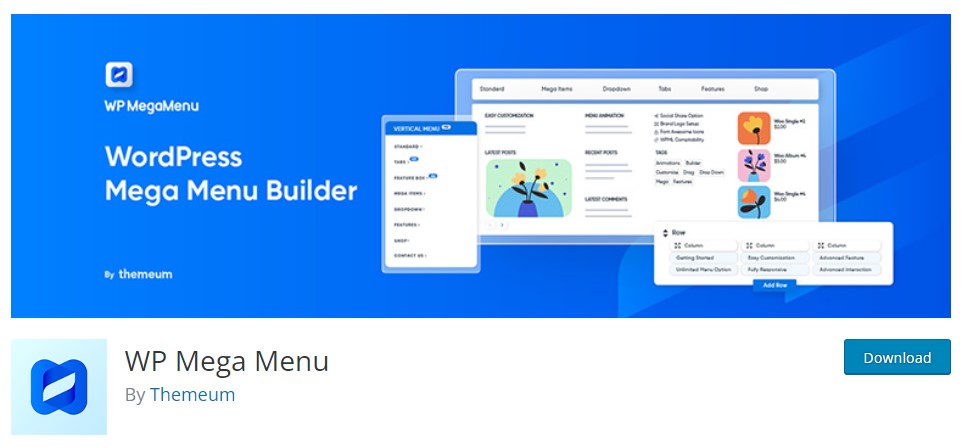 If you dream of creating an amazing mega menu on your WordPress site, WP Mega Menu is one of the best WordPress Menu Plugins for that. You can use Mega Menu for free to create rich and impressive navigation menus for your website. Create menu themes and customize styles using drag-and-drop tools. Beautify menu items with custom colors, fonts, and attributes. Use Mega Menu to create a navigation menu beyond imagination.
These are the most notable features of the WP Mega Menu plugin. If you need more information, do not hesitate to contact us. Below are the best WP Mega Menu deals.
Drag and drop the menu builder panel.
Widgets in the menu.
Option of various themes/skins.
Export/import themes
Brand on the logo.
Social icons.
Search bar in the menu.
Menu labeling/badge, e.g. hot, new, etc.
Support for Dashicons and Font Awesome icons.
Stretch the menu.
Responsive support.
Mobile menu support.
Menu background image.
Unlimited colors.
Google Fonts.
Unlimited options.
Final words
The best WordPress menu plugin choice depends on your website's style and your needs. However, the list that we have created covers a wide range of WordPress menu plugins that can help you achieve the look and experience you want to get.