11 Best WordPress Media Library Plugins
Oct 23, 2022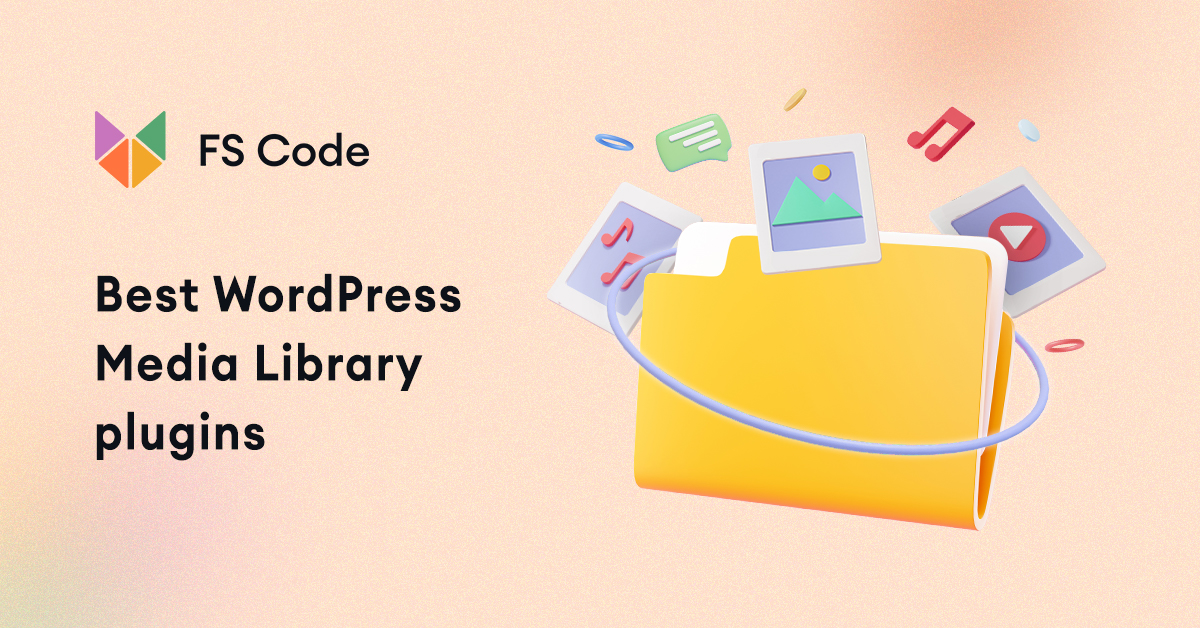 Today's websites tend to take up space to display more images and use less text. A large number of multimedia files such as audio, video, and other multimedia elements are also included to enhance the text content. But here's the thing. Imagine that you are going to upload 10-20 images a day. If we multiply this by tens or hundreds of posts, the number of files in your media library becomes overwhelming!
To be honest, WordPress doesn't offer enough tools to organize your media files. This is where WordPress media library plugins come in handy. These plugins make your life easier when working with files in the WordPress media library. You can add features, select multiple files, and create or delete folders in seconds.
In this post, we have collected 10+ handy plugins that will help you better manage your WordPress media library and keep it neat and organized.
1. FileBird - WordPress Media Library Folders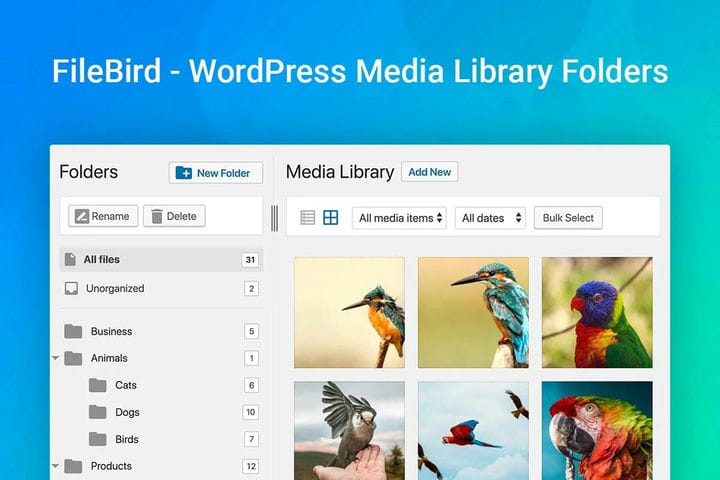 FileBird is a great file manager that will help you organize your WordPress media library in a professional manner. This smart plugin will save you tons of time in your WordPress admin panel.
FileBird comes in free and premium versions. Both are very easy to use and include powerful features. The most notable feature is a smart context menu that lets you quickly right-click to create, edit, or delete folders to organize your media library. In addition, using the drag-and-drop interface, it is very easy to move files or upload files directly from the desktop. Pretty cool, right?
Some of the main features include:
Smart context menu: right click to perform multiple actions
Drag and drop interface: Arrange any files and folders in a razor blade
Full compatibility: with all popular page builders and image optimization plugins
Quick Migration: Import all folders from the extended media library or media library folders
Upload files to a specific folder
Multi-language support
Viewing files in an image block via the FileBird interface
And many many others!
So if you're an avid blogger, photographer, publisher, e-commerce business, or digital agency, the FileBird Library Folder plugin is a must. Check it out now!
2. Real Media Library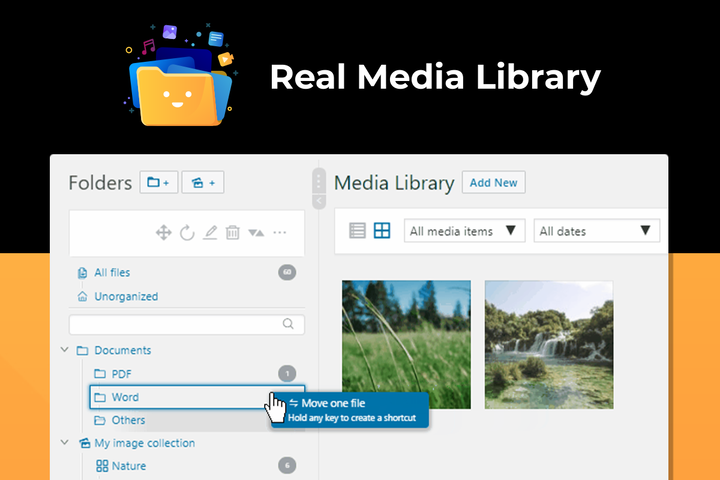 Real Media Library is a very useful WordPress media library plugin that helps you manage your media. You can organize thousands of downloaded files into folders, collections, and galleries. This is a real file manager that allows you to manage a lot of files in WordPress.
But Real Media Library is not the only one. Several free add-ons and a premium add-on Real Physical Media are available. Real Physical Media primarily uses the folder structure you create with the Real Media Library to optimize your downloads and drive additional search engine traffic to your site. This is very useful from many points of view!
Main advantages of Real Media Library:
Folders, collections, and galleries to organize your downloads
Shortcuts to avoid duplication in the media library
Works with great performance even at >10.000 downloads
Automatic change of load order (e.g. AZ by filename)
Integration with popular plugins like FooGallery and Justified Image Grid.
Compatible with all major page builders, themes, and many plugins
Translated into nine languages
SEO Benefits of Physical File Reordering (with Real Physical Media add-on)
Get Real Media Library Free version
3. WP Media Folders

It's time to stop searching for an image in thousands of media files, just like you do in a file browser on your desktop. With WP Media Folder you will be able to upload and drag media files into folders and subfolders.
WP Media Folder is such an easy-to-use real-time saver plugin that helps you manage and organize your files and images by uploading one or more files directly to the desired folder, creating folders, subfolders, etc. In addition, this plugin allows you to filter media files by file size, type, title, etc. Voila, your library display will be clean and tidy the next time you open your WordPress media library.
The list of its features is worth checking out:
Create a gallery from the media folder
Automatically add new media files from a folder to the gallery
Determine gallery image size
Select image size
4 Themes: WordPress Default (Enhanced), Masonry, Slider, Portfolio
4. Library Assistant

Media Library Assistant is another great media library plugin that allows you to manage your media files. In addition, it can also be used to add other media files in addition to images to your posts.
The plugin allows you to add slideshows, thumbnail strips, and special effects to your new galleries without any hassle. Also, it's similar to how you use the default WordPress media library, no need to worry about learning a new process.
5. Media Library Organizer

The name speaks for itself. Media Library Organizer won't let you down with its easy-to-use interface and powerful features. It helps you classify and filter photos, videos, and other types of media in your WordPress media library.
Some of the other interesting and notable features of this plugin are:
Sort files by date or name
Working with all views in the library
Import and export data from a library or WordPress
6. Folders

You are looking for a WordPress media library plugin to keep your media files as organized as possible. So let's try the next plugin, it's called Folders. The plugin allows you to quickly organize all your pages, posts and media into folders.
Folder is an easy-to-use tool that allows you to create subfolders for various content and keep things organized. The great thing about Folders is that you can easily drag and drop files anywhere and change the view of the folder tree as you like. Additional features include:
Bulk-select images and media files and drag them to any folder
Menu to add and remove folders from pages, messages, and media
Collapse the folder area if you need more space
7. WordPress Media Library Folders

The name pretty much explains it all: with WordPress media library folders, you can create folders in your media library to keep your images or other files organized. This plugin is perfect if you want to add categories to your media files.
Functions at a glance:
Add and Create New WordPress Media Library Folders
Move, copy, rename and delete files and folders with a drag-and-drop interface
Restore thumbnails
SEO images to specify ALT and TITLE attributes on upload
8. Organize Media Folders

The name of this plugin speaks for itself. Organize Media Library by Folders is a kind of addition to your WordPress dashboard that allows you to create different folders for your content. Also, it will be much easier for you to know exactly where to find the media elements if you make different maps.
Also, you can use the new URLs you create for your folders in the content and this is very useful for bloggers or online magazine/magazine owners. Additional features include:
Organize files in a specified folder
Can create folders
Can filter searches by folders
9. Media Library categories

This powerful media library plugin allows you to use categories in your WordPress media library more flexibly. You can change, add or remove a category for multiple items at once.
Using this plugin, you can organize media categories through the admin in the same way you manage post categories. It also allows you to filter media files in your WordPress media library using custom taxonomy in both list and grid view.
Functions at a glance:
Change the category of multiple items at once with bulk actions
Classify Parameters and Control in Media Library
Filter by category in the media library
10. WP Media Category Management

WP Media Category Management is a free and easy-to-use WordPress Media Library plugin that takes the worry out of your mind when it comes to media category management, including bulk actions.
You can organize media categories through the administrator the same way you manage post categories. The plugin also allows you to sort media items in your WordPress media library using both list and grid taxonomy. When uploading media files, you can choose a default category. Additional important features include:
Bulk toggle any media taxonomy assignment from the media library via admin
Use new or existing shortcodes to filter media in galleries in posts
Use the default category when uploading
11. Enable Media Replace

The last contributor on our list today is from ShortPixel with a free, lightweight, and very easy-to-use Enable Media Replace plugin. This plugin allows you to easily replace an existing image or file in your media library with a new one. No need to delete old files, rename or re-upload them from today! Simple enough, right?
The plugin works very well if you want to replace or update more photos in your media library. You no longer feel tedious and annoyed when you delete a file and then upload a new one with the same name every time you want to update something. Such a great time saver!
Sum up
Images, videos, and other media take up a huge amount of space on a WordPress website. Organizing your WordPress media library with folders makes image management much easier. This way you can avoid loading the same images twice or find and replace sidebar banners.
The above-mentioned WordPress media library plugins will absolutely help you better manage your WordPress media library and keep it clean and tidy. They help you categorize and add taxonomies to make it much easier for you to search and sort images.