4 Best Social Media Plugins For Your WordPress Website in 2022
Sep 3, 2022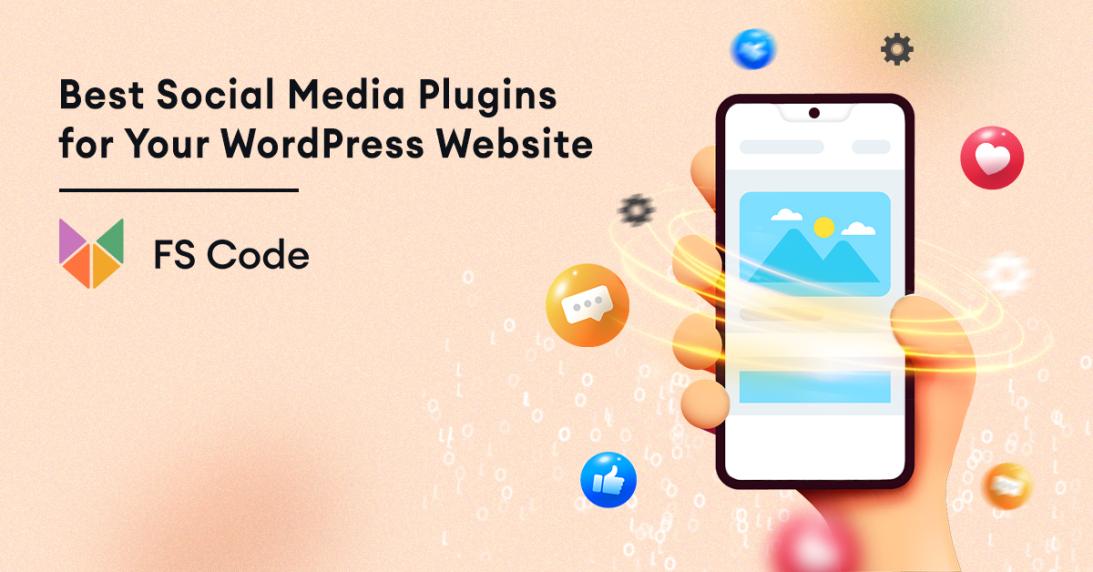 Regardless of your goal, would you like to attract more readers or visitors to the content on your WordPress website? Drive engagement with your site and content by making likes, comments, and shares easier with WordPress social media plugins. These plugins help you link your social networks to create a better audience and make your content easily sharable on different social media platforms.
Nowadays, social media plays a crucial role in content strategies and building a bigger audience. However, the biggest problem is the weight of WordPress plugins. Because these plugins have to load several stylesheets and scripts, it may slow down your website's performance.
Therefore, we do not recommend you install several social media plugins. On the other hand, you should find a balance between the features and performance of your WordPress website.
Many social media plugins allow you to place social icons in the sidebar, below or before articles, headers, and footers. Displaying the number of shares or likes can also encourage others to share it. However, be aware that the share count may increase page loading if it calculates counts by making API requests to external websites.
FS Poster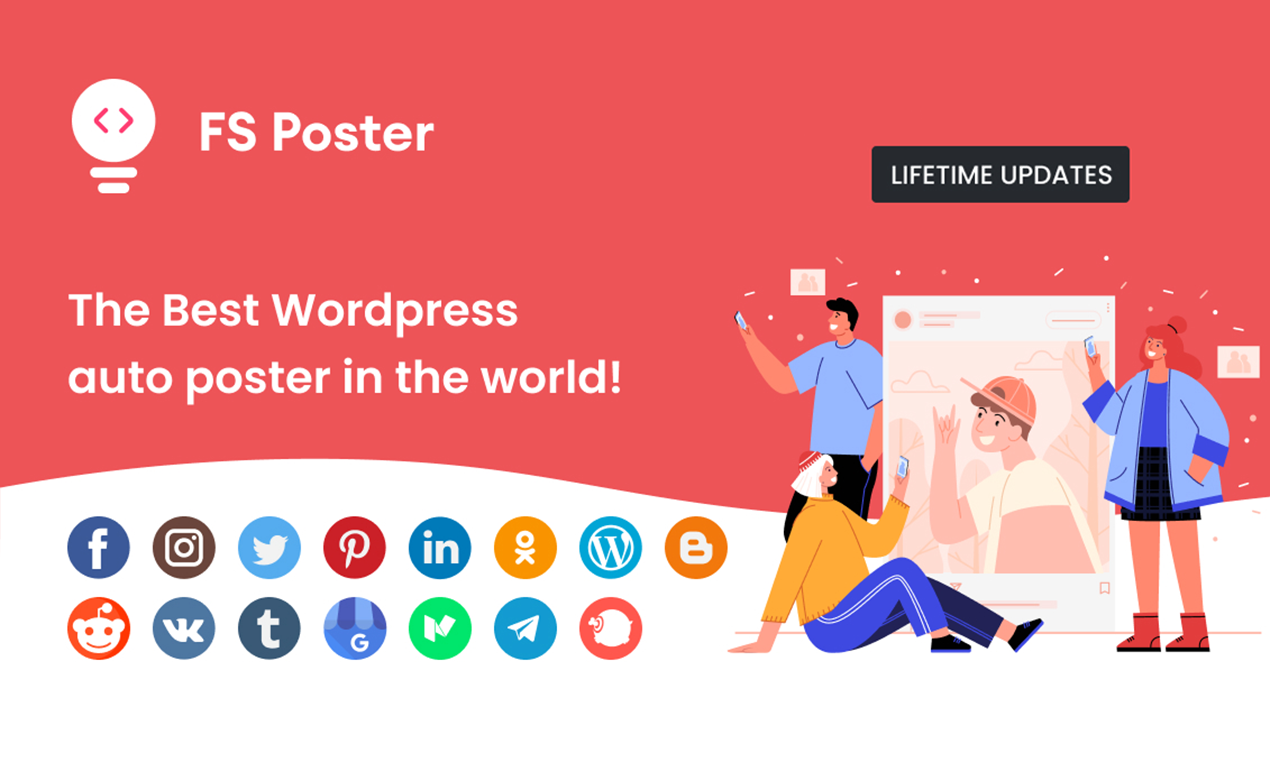 FS Poster gives WordPress bloggers a great opportunity to auto-publish WordPress posts on the most popular social networks automatically. Not only that, but also schedule posts, re-publish previously created posts, and so much more.
The great features that make FS Poster different from the best social media auto poster tools are endless. You will save time by automatically uploading your WordPress entries. As a result, you can increase your website's number of social media connections. More shares would increase the number of people who visit your website. Using the Schedule module, you'll be able to keep your social profiles fresh by posting regularly.
FS Poster supports many different social media platforms such as Medium, Facebook, Instagram, Google, LinkedIn, Reddit, Twitter, and many more. The plugin allows you to save time by automatically sharing your WordPress content.
In addition, it will increase the number of links to your website from social media. Therefore, more shares will increase the number of people who visit your website.
The social media scheduler supports SEO with customized post messages. You can create keyword-based messages for each platform and attach them to the relevant social media posts. The scheduler plugin measures the performance of each added network and accounts through scheduled posts. You can see the engagements, click counts, impressions for each, and total posts of WordPress scheduled posts through analytics.
You can try the free version or the demo before buying.
Key (Pro) features:
Auto-post New Blog Posts
Schedule posts
Supports unlimited accounts
Customize Post Messages
Filter Publications By Post Categories
Tracking Link Clicks
Proxy support
Hashtags
URL shortener services
Logs, Insights
Pricing: $45 lifetime
Get it here | Play Demo | Free version
Smash Balloon

Smash Balloon is one of the best social media plugins for WordPress websites. It consists of several powerful plugins that bring each social media platform onto your WordPress website. The outstanding feature of this plugin is to display multiple social media feeds such as timeline, photo, video, events, etc., without any limitation on your WordPress website.
According to the official website, Smash Balloon is an SEO-friendly plugin and can display social accounts, Facebook groups, Instagram feed, and many more. Even if you are a beginner in the WordPress environment, you can use Smash Balloon without hesitation. With over 1.6 million users and an average rating of 4.8/5 stars, it is a popular option for people who want social media feeds on their websites.
In brief, this plugin allows you:
Share reviews and testimonials to boost your website's engagement
Add relevant social media content to make your website more relevant to your audience
Increase your social media followers using the traffic
Improve your website's SEO by using keyword-rich content and many more.
Key features:
Now automatically powers your Instagram embeds
Super simple to set up
Completely responsive and mobile-ready – layout looks great on any screen size and in any container width
Completely customizable – Customize the width, height, number of photos, number of columns, image size, background color, image spacing, and more!
GDPR Compliance – automatically integrates with many popular GDPR cookie consent plugins and includes a 1-click easy GDPR setting.
Display thumbnail, medium, or full-size photos from your Instagram feed
Use the built-in shortcode options to customize each of your Instagram feeds completely
Add your custom CSS and JavaScript for even deeper customizations
Pro version features:
Display Hashtag feeds
View photos and videos in a popup lightbox directly on your site
Display the number of likes and comments for each post
Use "Masonry" or "Highlight" layouts for your feeds
Display captions for photos and videos
Filter posts based on hashtag/word
Advanced moderation system for hiding/showing specific posts
Create "shoppable" Instagram feeds and more.
Shared Counts

If you are looking for a lightweight social media plugin, Shared Counts would perfectly fit your needs. This plugin does not use website resources to function. It shows the number of shares of your content on different social media platforms.
The plugin is fast and easy to use. Shared Counts supports several social media platforms such as Facebook, Twitter, Pinterest, Yummly, and LinkedIn.
The plugin has several button styles and allows you to choose the social media icons on your website. You can automatically insert the share buttons before or after the post content.
One of the great features of the plugins is that it provides a one-click option to retrieve both HTTP and HTTPS share counts to make sure that you don't lose any share counts if you decide to upgrade your website HTTPS.
Moreover, it complies with GDPR by not using cookies or tracking scripts to store the user data. Therefore, the plugin is one of the safest plugins in the WordPress environment.
Shared Counts has unique caching methods that have a minimal effect on on-site overhead. Thus, the plugin can retrieve all share counts in a single request.
Key features:
Lightweight plugin
Easy to use
Developer friendly
GDPR friendly
Custom post types
Several types of buttons
Social Warfare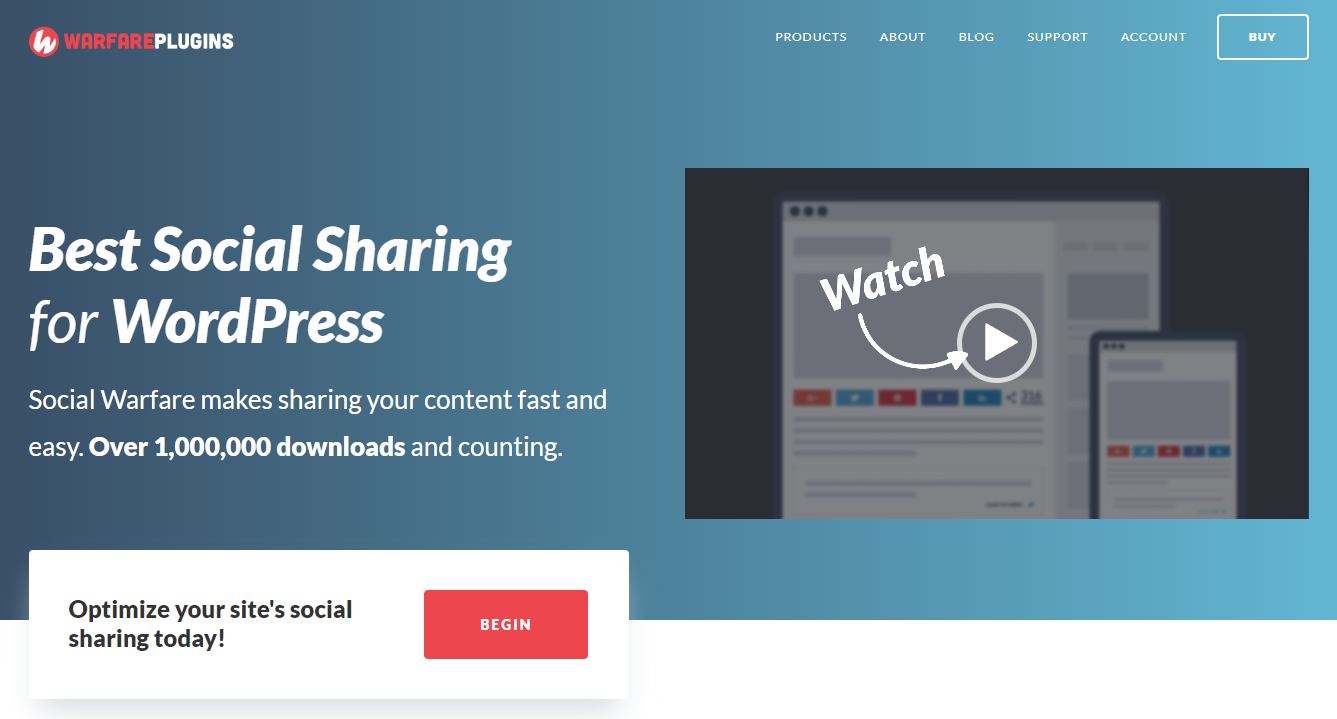 If you are looking for a feature-heavy social media plugin, Social Warfare is a perfect option for your WordPress website. The plugin lets you control what and how people share on social media. According to their website, Social Warfare adds beautiful, lightning-fast social share buttons to your website or blog.
Social Warfare has different styles of social media icons. Depending on your preference, you can put them below or before the content. It is easy to use and lightweight. Despite its heavy-loaded features, Social Warfare does not decrease your website's performance.
Moreover, with Share Recovery features, your share counts always will be safe. You will not lose previous share counts if you upgrade your website to HTTPS or change your domain name. Social Warfare works with several well-known social media platforms such as Facebook, Twitter, LinkedIn, Reddit, and many more.
Key features:
Attractive
Lightning fast
Social optimizer
Social Analytics
Follow widget
Customizable
Pinterest images
Custom tweets
Sharable quotes
Social proof
Popular posts
Content protection
Share recovery
Conclusion
Social media platforms are essential to growing small businesses, and connecting them to the WordPress website is smart for explosive growth. So, we hope this video helped you find the best WordPress social media plugin for you.
You may also want to check out other posts dedicated to the best plugins in the WordPress environment to find other great tools to boost your WordPress website.
If you want more like this, stay tuned!