Best Live Support Plugins for WordPress in 2022
Aug 2, 2021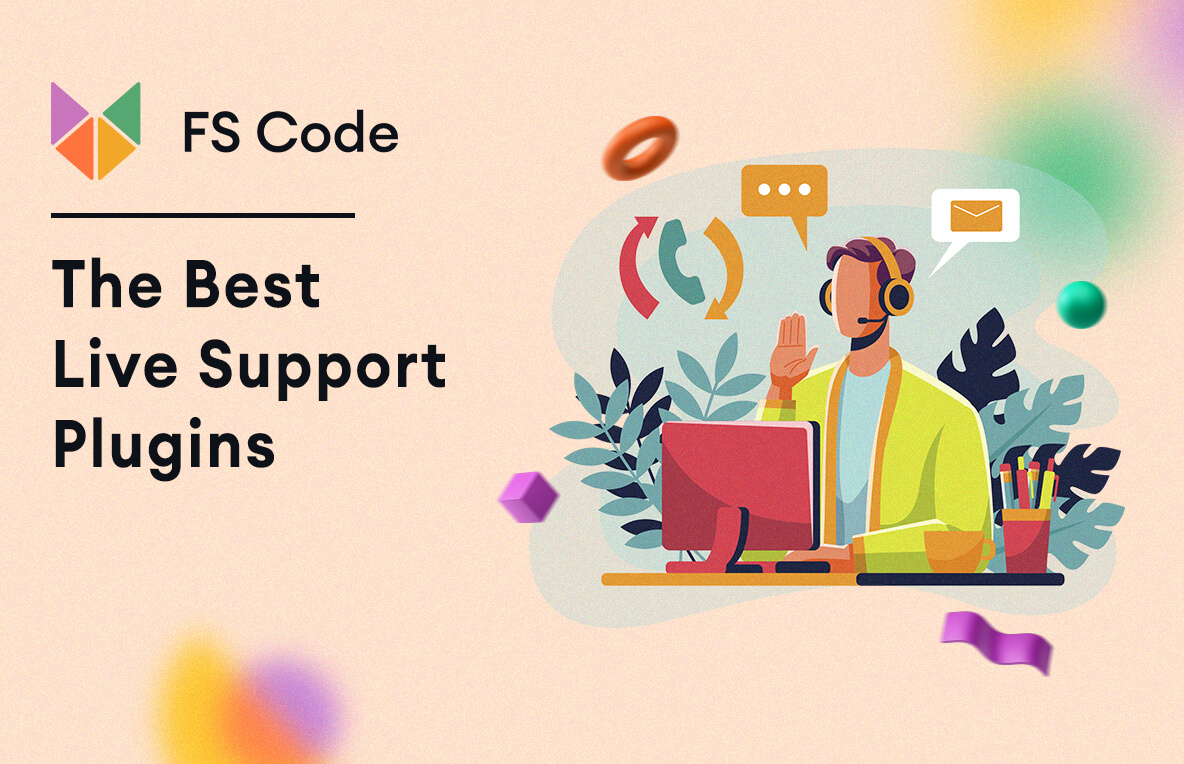 Plugins are modifiers that turn a regular blog into a website of any form and functionality. In a few simple steps, plugins will turn your website into an e-commerce site, magazine, portfolio, learning management system.
WordPress has a specific set of features, but not always these features may be enough for us. In order to expand this set of features, functions of WordPress, plugins were created.
WordPress currently offers thousands of plugins that extend its capabilities. The terms for developing extensions for the WordPress platform allow developers from different parts of the world.
Live support plugins can be utilized for many purposes, such as product marketing, promotion, and after-sales communication, complaints, or requests.
The live support is mainly used to attract customers and ensure customer satisfaction. Such live support plugins will be efficient for both the consumer and the site owner.
In this blog post, I will show you the best live support plugins for WordPress
1. LiveChat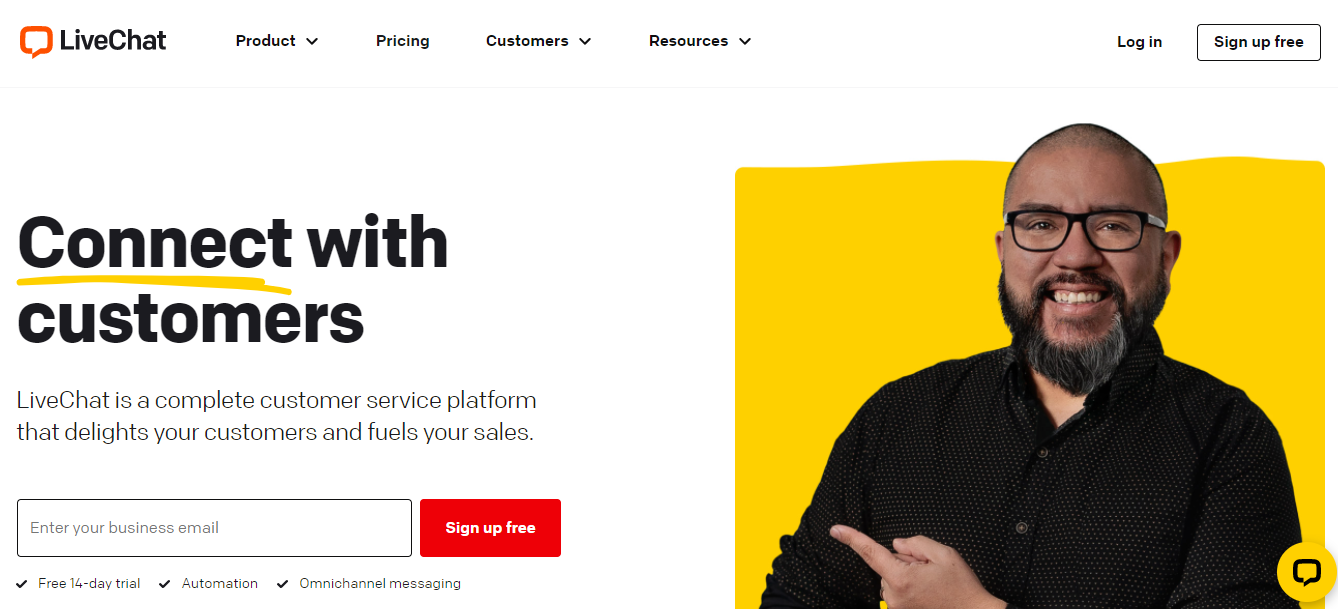 With the Live Chat Plugin, you can add a live chat to your WordPress website quickly and easily. This plugin will help you easily communicate with customers, help them answer their questions, and immediately solve complaints and concerns.
The main goal of this plugin is to boost communication about sales and to provide customer service. Live Chat Plugin is utilized by huge business numbers that PayPal and Ikea are also using this plugin. It is perfect for businesses of all sizes.
Live Chat Plugin enables your customer to use a considerable number of features. Active Chat function provide personalized messages that send automatically by an agent. The plugin allows you to communicate with multiple customers at the same time.
In order to ensure customer satisfaction, you can send ready answers for the regularly asked questions, and the chat widget gives the opportunity to send a file to consumers. This gives you the opportunity to save time.
Live Chat Plugin has a partnership with e-commerce platforms like Ecwid eCommerce, WooCommerce, and BigCommerce. This function enables you to conversate with traders who visit your WordPress website.
The multilingual option provides to translate chat into 45 languages.
Main Benefits and Features:
The ticket feature is a function that the customer starts a conversation when you are offline; then, it collects tickets from customers and can answer these questions or concerns when you are online.
Data exporting and reports - Store and export data and can examine customer's needs.
Customization of your chat in terms of theme, logo, color, and so on
Integration of other eCommerce platforms
Ready response for frequently asked questions.
The immediate solution of problems.
Promote sales.
File sharing.
24/7 support.
Visitor tracking.
Rating system.
Live Chat does not have a free plan; however, it does offer a 14-day free trial. As a result, you may evaluate the plugin during the trial time before deciding whether or not to purchase it.
2. Zendesk Chat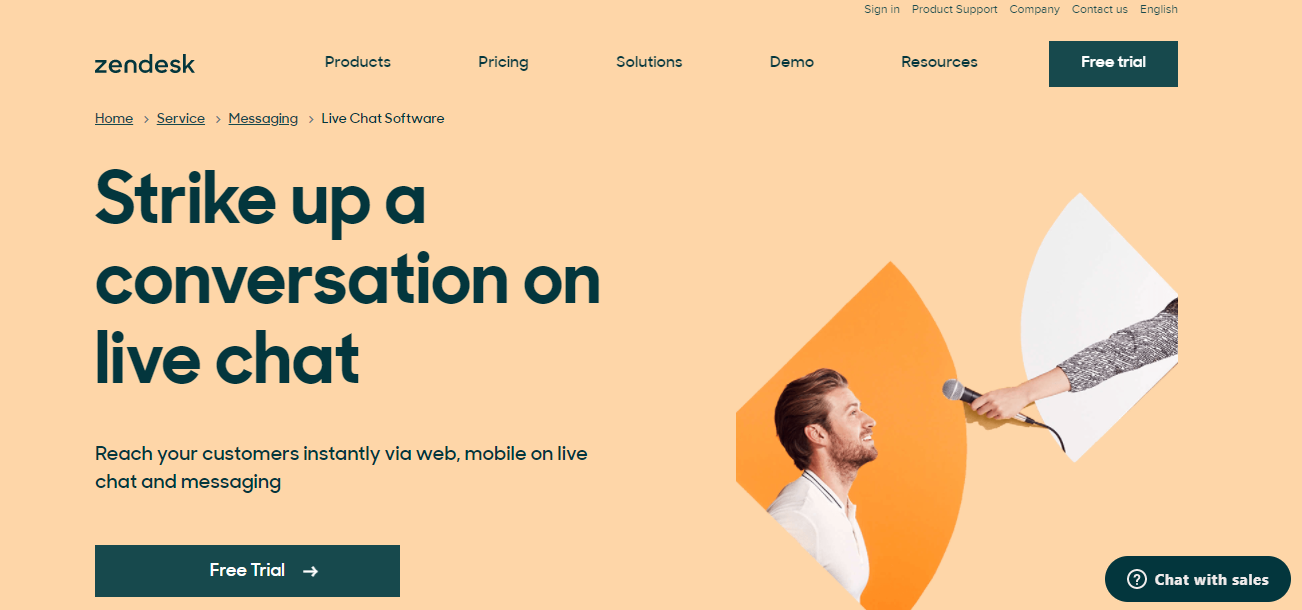 Zendesk Chat is one of the leading chat services. Zendesk Chat is an online chat plugin and an excellent tool for building effective relationships with customers.
It always has a conversation history that reflects information about customers. Provides easy communication with customers via website, mobile or social media and enhances this rich customer experience.
It's fast to scale for every customer's need and easy to automate. Today, 83% of consumers need customer support in online commerce. You can manage multiple conversations with the Online Control Panel.
It is possible to respond to your customers' problems in a very short time and instantly who shopping from your trading site.
Over 150 000 businesses utilize this plugin. Thus, it is user-friendly and easy to customize.
Main Benefits and Features:
Increase Sales: Customers are more willing to shop when you are online.
Integrates with UserVoice, Salesforce, Highrise, vTiger, and so on.
Automatic replies for questions and concerns of consumers.
Chat with every gadget - clients can chat from any device.
Save Time: Live chat agents help customers save time.
Real-time conversations and entire conversation history.
Analyzing and monitoring of client action.
Translate chat into 40 languages
Can be customized.
24 hours live chat service.
Zendesk Chat offers a free plan for one concurrent chat with 30 days of chat history. Its paid plans start at $ 14 per agent per month with limited features and go up to $ 59 per agent per month.
3. Tawk.to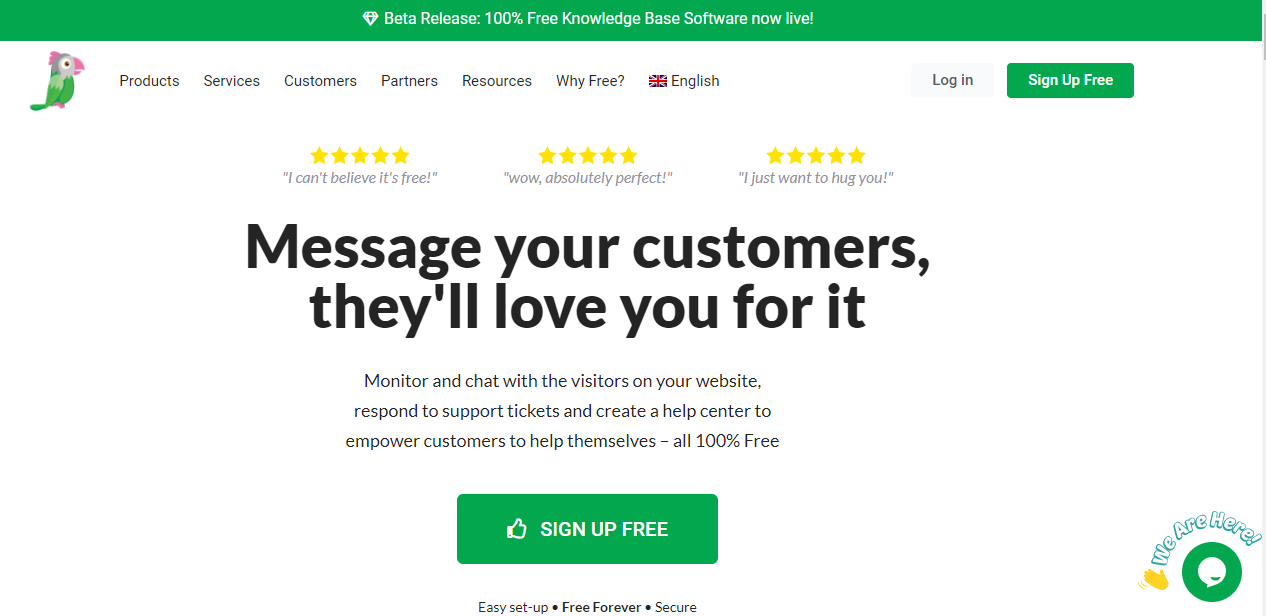 Tawk is an online live plugin designed to communicate effectively with customers and increase efficiency in managing communication.
This plugin allows a large number of agents to chat with visitors to your website. You can use this plugin for free through iOS, Android, Windows, and Mac applications.
This application can be conveniently integrated with WordPress. It was launched in October of 2013, and today, more than 250,000 companies use it and 1.7 billion users to communicate and serve customers efficiently.
Main Benefits and Features
Messaging – integrations with Social Media Platforms. Handling all chats from one dashboard.
Chat Agents Hiring– $1 per hour and answer on behalf of your organization.
View customer activity - monitoring conversation history.
CRM - Ability to manage all your contacts and events
Can translate chat into 27+ different languages.
24/7 live support service
Share knowledge easily
Built-in ticket support.
Detailed analysis.
File uploads.
Ability to customize.
All the functionality in Tawk is free. There are two situations for making a payment:
- you will pay $19 per month if you want to delete the small tawk.to icon at the bottom of the widget.
-If you hire a person to answer live chats for $1 per hour per agent.
4. Tidio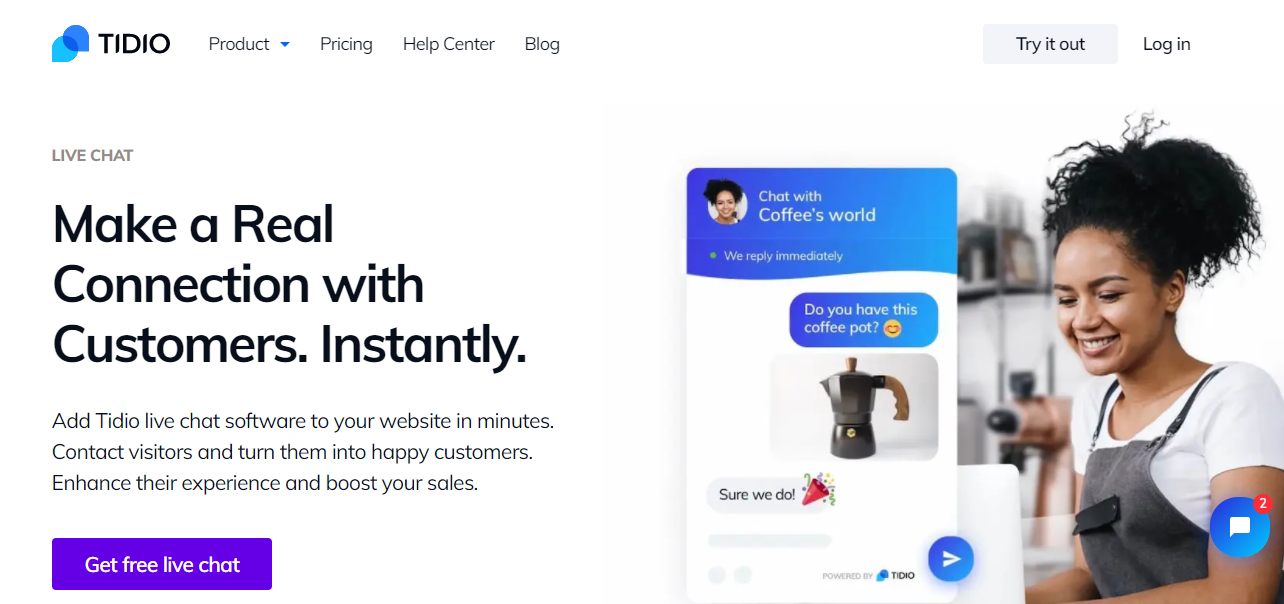 Tidio is one of the best free WordPress live chat plugins in the world. Currently, 300,000+ websites use Tidio.
You can also start an active conversation with your visitors by applying the tidio plugin to your website. You can communicate effectively with consumers through Tidio, attract them to your website, and turn them into satisfied customers.
You can configure the conversation widget according to your taste, without the need for any special IT skills. With the control panel, you can customize the widget to your taste.
The plugin can also be used on mobile devices. So, users can utilize it wherever you are and be aware when a visitor visits your site.
This application gives information about where your visitors are and what device and search engine they are using.
In addition, special chatbots will help you save time. You can use bots to collect email addresses, send automatic answers to frequently asked questions, and provide information about discount companies. There are several types of bots, some of which are as follows.
Lead Generation Bot - This helps to create more leads by gathering visitors emails or telephone numbers.
Welcome Bot - Send a greeting to every client on your website
Visitor Leaves Page Bot - reach your visitors before they leave your website.
Returning Visitor Bot - to welcome customers who return to the website.
Order Phone Call Bot - To provide a phone call for visitors who want to get more information about a product by talking on a phone call.
Main Benefits and Features:
Visitor data and send notifications about who has visited your site.
Multilingual and translation-ready.
You can send emails to users.
Custom application is available.
Widget configuration.
Unlimited chatbots.
Free Chatting.
The free version of Tidio allows you to have a single agent and one discussion, with no further restrictions. If you want to utilize a premium account, you must pay an extra $18 per month.
5. Olark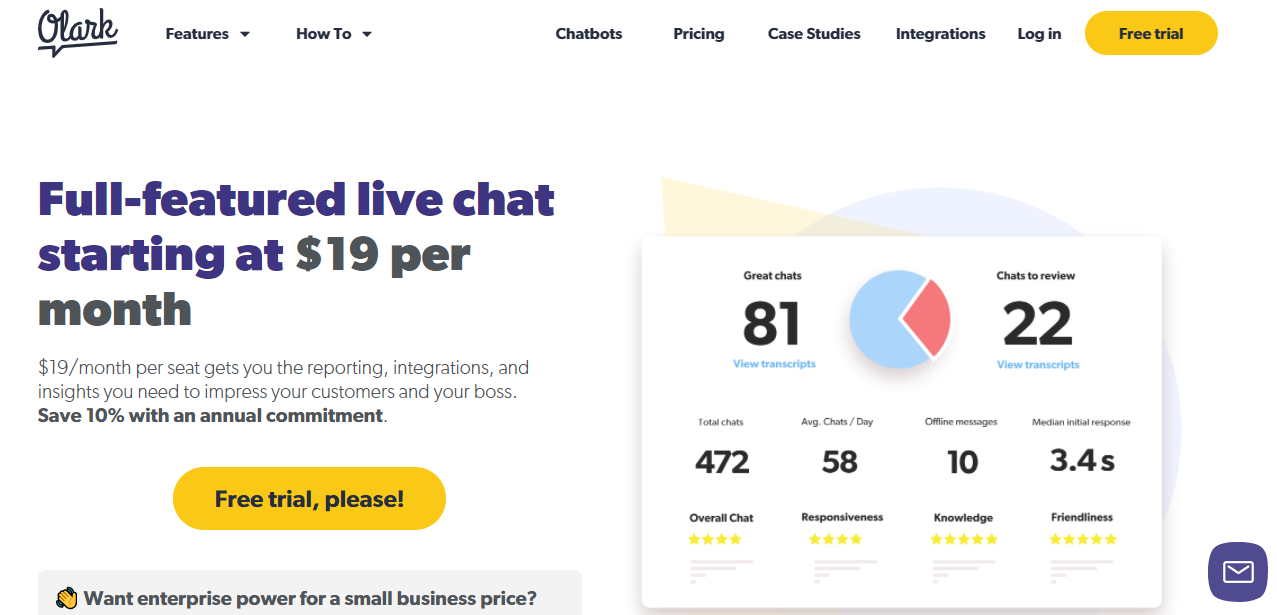 Another significant online chat platform with a WordPress plugin is Olark.
Adding Olark to your WordPress website is the simplest and most effective way to increase your sales and communicate well with your customers. Through Olark, it is possible to integrate directly into many popular tools such as CRM, email, e-commerce, analytics, etc.
It provides detailed and real-time information about users; therefore, you can adapt the conversation to the visitor's needs. The plugin allows customers to provide detailed information about the production process and product features while visiting the site.
This plugin allows you to improve the appearance of your chat widget, creating shortcuts for effective conversation.
Also, the Olark plugin has a rating system so that after the conversation, customers can rate the live chat. You can send automatic messages to all visitors, so you always invite a customer to chat for they are thinking of making a purchase.
Google Analytics integration help to get more info about a customer on your website. Integration with Google Analytics allows you to see how many messages your team makes and how many are automated.
Main Benefits and Features:
Automatically send greetings, custom messages and redirect chat to the correct department.
Chat transcripts and filter them by keyword, tags, and date.
Agent notifications when customers take specific activities.
Translation chat into different languages.
Monitor team performance
Customizable chat window.
Integration with other platforms.
Ready replies.
Rating system.
Olark has a free subscription, but it is only for 20 conversations per month and has restricted functionality. Olark's monthly premium plans begin at $19 per active agent.
Conclusion
In this post, we have demonstrated to you the best live support plugins for your WordPress website.
These plugins will make it easier for you to manage your website and provide effective communication with customers. It will help you to monitor your customer activities and keep in touch with them.
Today, more than 200,000 companies and 1 billion users use these live support plugins. It provides them with relevant data gathered from customers. Thus, they are using this information to improve sales and customer satisfaction.
Many benefits, such as welcoming visitors to your website, 24/7 service, providing ready-made answers to frequently asked questions, monitoring customer activities, translation function, widget configuration, and so on, make them invaluable to your website.