9 Best Email & Newsletter WordPress Plugins 2022
Oct 7, 2022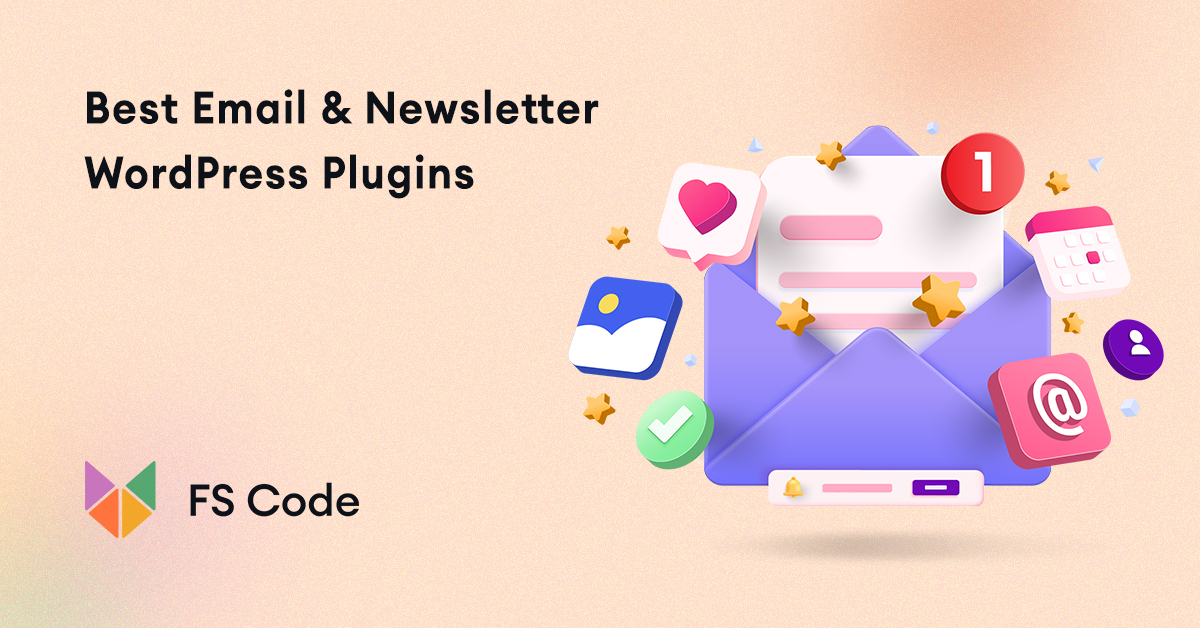 To put a newsletter service to work, you must have an email marketing plugin and a form creator. We'll walk you through this list and help you choose the best WordPress newsletter plugin.

Type: Email marketing
Featured Pro: Advanced targeting by specific pages
Price : Free (7 days), Basic ($57), Plus ($112), Pro ($265), Premium ($435), Enterprise ($647) *per month
Sleeknote has development tools for your email marketing. With its advanced per-page targeting, you can display personalized on-page messages to particular visitors on your site.
Go one step further and easily target users based on where they are in your marketing funnel. Use Sleeknote, too, to hide from subscribers. Avoid annoying your visitors by hiding campaigns from your existing subscribers.
Stay on top of everything by reviewing your analytics and insights. Easily track your performance and calculate how much your emails are worth. The interface makes it easy to track each campaign by views, leads, and conversion rates.
Take advantage of Featured Use Case features and make offers and discounts, contests and giveaways, or simply update your content.

Type: Email marketing
Featured pro: Fairly priced plans (offers powerful free plan)
Price : Free, Blogger ($65), Agency ($249) *one-time payment
The name says it all! This WordPress newsletter plugin offers everything you need for a newsletter campaign. With its drag-and-drop editor, you can create content, send unlimited newsletters and track results very easily.
You can also send push notifications about new content. However, you must be careful not to repeat the content of the RSS feed.
The Newsletter plugin is free unless you need premium features: 1-year support, multi-site integration, and 18+ pro plugins.
Please note that this plugin is itself an email marketing service. That means you will have to install another plugin to create a call-to-action form. By default, it is integrated with Contact Form 7. And you can also easily switch to other form platforms if you need to.
The plugin is continually evolving, with new features always on the horizon. In the meantime, create your subscription form, put it as a widget, and watch the number of subscribers increase!

Type: Email marketing
Featured Pro: All in one; excellent community support
Price: Free, Pro ($10), Grow ($199) *per month
MailChimp is famous for its email builder that allows you to create amazing templates easily. But what you may not suspect is that this plugin is more than just a pretty face. Without leaving the panel, you can create various marketing tools: templates for social media ads, landing pages, postcards, and subscription forms.
The WordPress newsletter plugin integrates well with other form builder platforms like Ninja Forms , BuddyPress , and Event Manager. It can also be customized by modifying code snippets, some of which are available on the Github repository page. And if you need more help, the community is always ready to help.
MailChimp is free for lists of up to 2,000 subscribers, which is perfect if you're just starting out. The free plan offers technical features like A/B testing and basic targeting. If you go premium, you will be rewarded with more support channels and advanced targeting.

Type: Email marketing
Feature Pro: Built-in Simple Mail Transfer Protocol (SMTP)
Price : Free (3,000 emails/month), Premium ($39-$389/year), Business ($429-$779/ year)
The Jackmail Newsletters WordPress newsletter plugin allows you to access all its features directly from your WordPress Dashboard. You also don't need to use an email service provider, as the plugin has its own SMTP service. Managing newsletters with this plugin will be quick and easy.
You will get 48 free newsletter templates that can be modified through its editor. Campaign management is also well organized and you can replicate any previous successful campaign.
You won't be overwhelmed with statistics either, as the analytics feature generates easy-to-understand reports.
You can send up to 3,000 emails per month with the free plan. And the more you pay, the more emails you can send, up to 600,000 emails per month.
Other free features that stand out are contact management, automated workflow, and an intuitive form builder. However, you must have a premium plan to access the detailed analysis and priority support options. A/B testing is not available on any plan.

Type: Form Builder
Feature pro: Beautiful templates, advanced features, strong track record
Price : Basic ($9), Plus ($19), Pro ($29), Growth ($49) *per month
OptinMonster is a WordPress newsletter plugin that offers both form and functionality.
It helps create various types of visually stunning forms: popups, slide-ins, sidebar widgets, and more. Also, no coding is required as it uses an intuitive visual drag-and-drop editor.
The plugin uses technology that identifies exit intent by tracking the user's mouse behavior and displays the form before they leave the page. Not sure which form to use? Do an A/B test. You can also set targeting parameters for your audience.
Unlike the previous three, this plugin is a form builder. You will have to integrate it with an email marketing plugin if you want to launch a newsletter campaign. Luckily, it works well with almost everything.
The plugin claims that it can increase conversion rates by up to 785%. And with over 780,000 users and a portfolio of Fortune 500 companies, it's hard not to believe them!
Type: Form Builder
Feature Highlight: Easy to use, non-branding, flexible customization
Price : Free, Pro ($97), Max ($147) *annual
Icegram specializes in creating beautiful call-to-action forms and buttons. The default options available are popup forms, header/footer bars, toast notifications, and slide-in messages. Everything can be done without coding, but if you are an advanced user, the sky is the limit.
Remember that the Icegram plugin is a form builder, so you will need an email marketing plugin to send the newsletters. The developer offers you 2 recommended plugins for that task: Email Subscriber (newsletter service) and Rainmaker (template creator).
Many people choose Icegram's free plan for its ease of use. Also, the plugin does not display the usual "powered by…" phrase anywhere on the form. While targeting options are also available for free, A/B testing and exit intent detection are only available with the Pro and Max plans.

Type: Form Builder
Feature: Integrated newsletter admin panel
Price : Starter ($49.95), Business ($99.95), Agency ($199.95) *annual
If you use popup forms frequently, consider this WordPress newsletter plugin among your options. Despite not having a free plan, Popup Builder rewards you with extensive options and premium extensions like video popups, iframe popups, and contact popups.
It not only allows you to create amazing designs but also adds animated effects. You can set your popups to appear after a predetermined amount of time or upon reaching a specific point on the page. More importantly, it has a built-in newsletter feature, so you won't have to use any other email marketing plugins.
Each pricing plan differs in the number of sites you can install the plugin on. You'll get all features and extensions on all plans, including Advanced Closing, Advanced Targeting, and Analytics features.

Type: Form Builder
Feature: Powerful built-in features (Thrive Architect, SmartLinks)
Price : 1 license ($67), 5 licenses ($97), 15 licenses ($147) *one-time payment
Thrive Leads was designed based on conversion and growth hacking best practices. By using its segmentation or targeting features, you can expect to get significant growth in a short time.
The special builder of this WordPress newsletter plugin, called Thrive Architect, focuses on both aesthetics and user experience. Designing professional-looking forms will be easy: you can choose one of the 10 available templates, all customizable. The A/B testing feature is equally easy to use, and with it, you can test your design, content, triggers, and form types.
Additionally, the SmartLinks feature can differentiate between visitors who have already subscribed and those who have not; the form shown to each group will be different. When it comes to campaign management, Thrive Leads seamlessly integrates with 30+ newsletter services, including MailChimp and Google.

Type: Form Builder
Feature Highlight: Lightweight, has popup activation control and popup animations, unlimited colors, and high customization
Price: US$19.00 *one-time payment
WP Subscribe Pro should be your choice if the most important thing for you is the cost-benefit ratio.
This WordPress newsletter plugin is cheaper than most of its competitors, yet it's still a strong contender. It is designed for optimal speed, and the fact that it is compatible with many caching plugins will make it even faster. So, it is one of the few builders that encourage the use of SEO. As a result, an increase in traffic should be expected, especially if you combine it with some SEO plugins.
The plugin doesn't disappoint when it comes to design either, offering beautiful layouts and animated effects. You can also set the trigger and time for your form so that it is not intrusive to users. And while it doesn't include A/B testing, you can still preview your form before you publish it.
The best thing is that they are currently distributing the plugin for free for WordPress users.
Summary
WordPress can be an excellent platform for creating and sending newsletters.
You can get everything from subscription forms to email services in one package or choose different plugins to achieve the perfect mix. The key is to be clear about what you need.