Best affiliate plugins for WordPress in 2022
Aug 23, 2021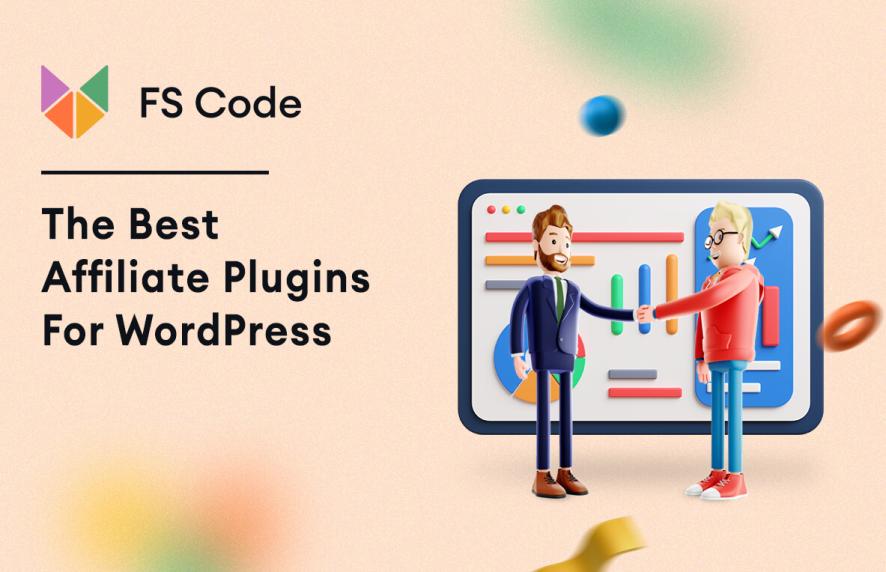 Many businesses are busy promoting their products and services. Affiliate marketing helps this kind of business in terms of promotion and increasing brand awareness. Affiliate marketing is an effective method to gain income on the digital platform.
The global affiliate marketing platform is getting crowded every minute. The majority of promoters prefer affiliate marketing, and it is an excellent way to encourage people to promote your products or services.
Affiliate partners promote your products or services using unique affiliate URLs and earn a commission from every sale by recommending your products or services. If they don't sell any goods, you aren't compulsory to give any commissions.
The specific plugins and tools are available that can help you build a successful affiliate marketing business. You can use affiliate marketing plugins easily by adding them to your WordPress website.
What is the best WordPress Affiliate Plugin?
You can extend the functionality of your WordPress site by using plugins. It can be time-consuming for some people to find the most suitable plugin for their site because today, there are so many plugins.
This blog collects the best WordPress affiliate plugins to help you run your business more effectively. We will show you the best that assist you in expanding your business and gaining more profit.
These plugins help you to do almost the whole thing related to affiliate marketing. Plugins enable you to easily add affiliate links to your content or articles, grow your audience, increase awareness, track performance, and other significant features that facilitate your work.
1. Easy Affiliate

If you have an online store but do not use affiliate marketing, you will lose almost 30% of your income. It is an effective way to promote your online store to a broader audience and increase your sales. Easy Affiliate is generally designed for small businesses.
This plugin allows you to reliably and accurately track sales commissions. With the email marketing integration function, you can create an email list and also send automatic emails. Cooperation with PayPal will help you to make payments easily.
The integration with MemberPress, WooCommerce, and Easy Digital Download makes it easy to track initial and recurring fees.
Easy Affiliate is one of the powerful affiliate plugins due to its convenience, user experience, security, and other features. It offers a budget-friendly service, and you can increase your sales with low risk and cost and measure your effectiveness with ROI.
Security function protects you from fraudsters who want to get a fake commission. You will be able to control it easily by adding a Fraud Protection extension to your website.
You will be able to personalize your dashboard according to your needs. Users can also control all reports, clicks, and deals through the powerful control panel. SEO function will help you stay at the forefront of search with relevant keywords and content.
2. Thirsty Affiliates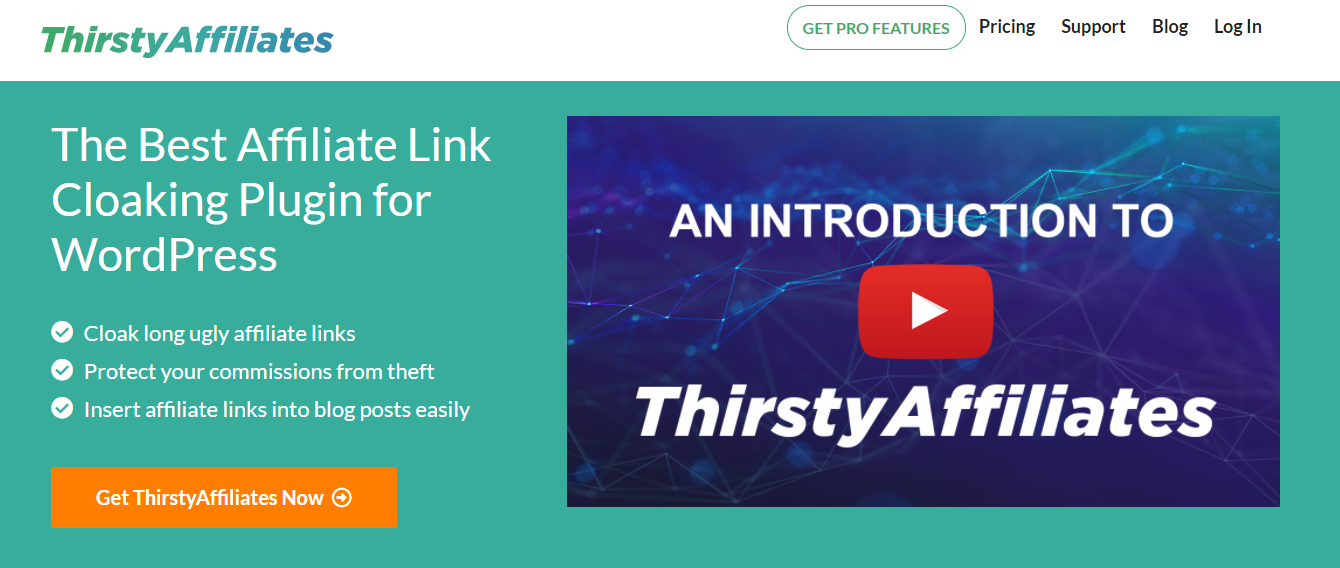 This plugin provides bloggers with the tools they need to make money from WordPress sites using affiliate marketing. You can add images to affiliate links. This allows you to add a banner and picture to your link and easily recall when writing content. You can also track each click and generate a report by adding a click tracking function.
The safe redirect function provides 301 default and 307 redirect options for you, and all of them are safe redirect links. At the same time, redirecting prevents your connection from being deleted from visitors' browsers and replaced with other malware.
By using Handy quick add extension, you can quickly establish new links on the post edit screen. The plugin automatically examines 404 errors, and you update your affiliate links continuously with the link fixer function.
Google Analytics integration is another advantage that enables you to analyze your website traffic correctly. You can learn the demographic indicators of the users who visit your website, which page they spend the most time on, the speed of your site, etc., and you can build your strategy according to these data.
3. Affiliate WP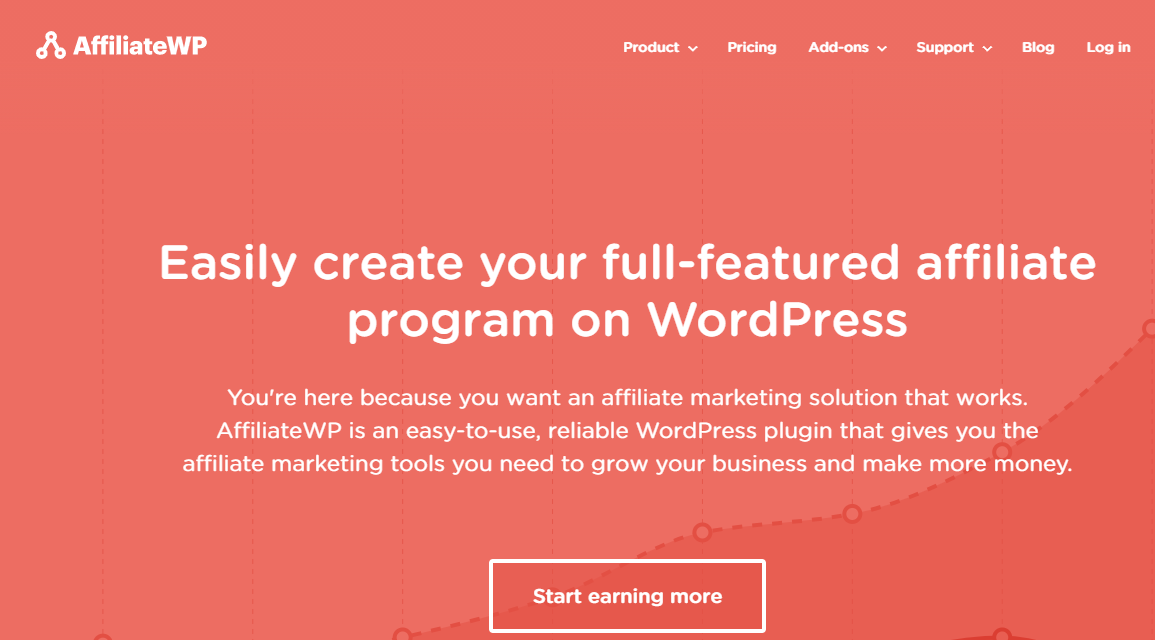 Affiliate WP provides a shared management system for a WordPress site that integrates with all major e-commerce and membership platforms by using this function. You can easily download and activate this affiliate plugin.
The main goal is to provide a simple and easy-to-use system that you can easily manage everything you want from a single dashboard. The plugin also has integration with Easy Digital Downloads and WooCommerce.
Affiliates can earn different commissions based on which products are purchased. The plugin will enable you to deactivate the commission for products. However, if you have hundreds of products, it can be challenging to eliminate the commission on each product.
There is not any limitation on the number of affiliates. You can pay commission quickly to Affiliate's bank accounts or cards with payout service.
Affiliate Wp translates into many languages and has a world-class support system for customers. You can also easily track who is your best Affiliate.
4. YITH Woocommerce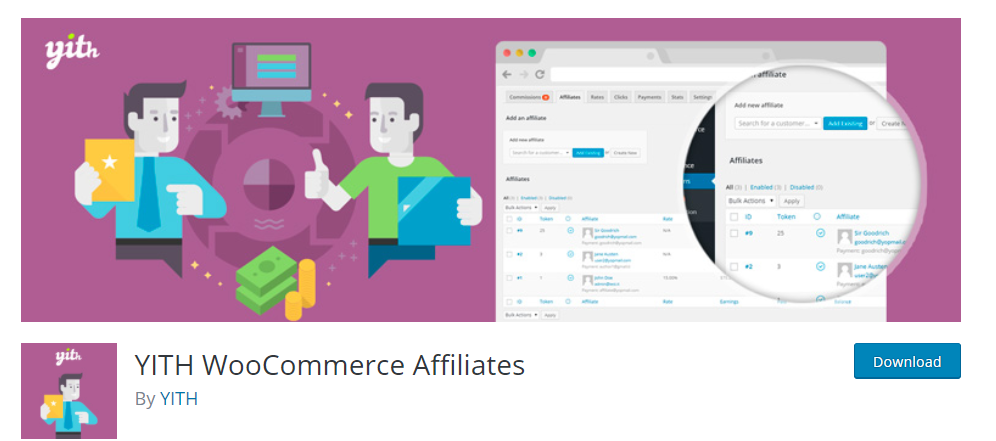 If you have a website and want to drive more traffic, YITH Woocommerce is an effective tool. It is a very convenient plugin to increase visibility and keep new customers loyal to your website. In addition, it will aid you in earning more and view more on your site.
Cookie expiration can be configured in this plugin so that you can observe referrals for several days. To allow affiliate registration, you may utilize its shortcodes.
In addition, there are individual dashboards for affiliates that allow them to see sales and trend information.
When a visitor comes to your site through an affiliate link, the tracking system records the link and credits for the affiliate ID. The affiliate partners earn a commission when your consumer clicks on an affiliate link and buy something. The refer ID will also identify where the affiliate link came from.
YITH WooCommerce will allow you to determine how much commission you will receive from customers earned through affiliate links.
Furthermore, the system will enable you to set a different commission for product sales or user traffics. Payments can be made manually or automatically with PayPal.
5. Affiliates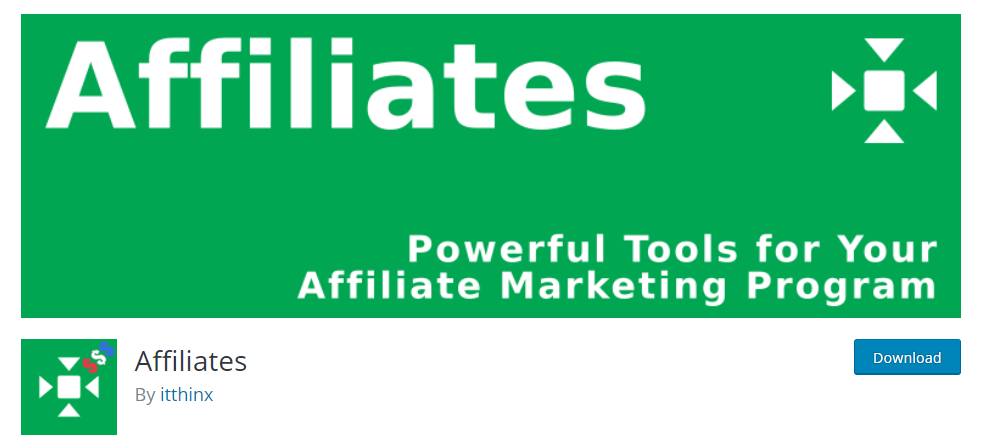 As another essential affiliate extension, Affiliates is an excellent tool for managing a successful Affiliate Marketing campaign on WordPress. Affiliates can share links to every page on the site. In addition, this plugin integrates on almost any platform like e-commerce, lead tracking, generation, memberships, etc.
Whether you're a seller, a retailer, or a distributor, you can use this affiliate marketing plugin. A partner's profits and performance can track from the beginning. For affiliate marketing programs, you'll find all you'll need in one place!
The Affiliates Events Manager tool keeps track of important booking information for recommended bookings and facilitates coupon-based referrals.
Ninja Forms is another tool that may offer commissions and track referrals. Affiliate commissions are calculated depending on the number of clicks or visits to affiliate links.
Integration on WooCommerce and Affiliates PayPal gives a significant opportunity; thus, WooCommerce synchronizes status and product rates automatically. Furthermore, PayPal allows granting commissions when purchases are made with Payment Buttons.
Real-time reporting and traffic statistics function help to analyze your overall performance on the affiliate marketing process. There is no limitation for affiliates, and it gives an unlimited Affiliates opportunity. They can quickly sign up and become your partner.
Summary
These plugins are the best affiliate plugins on the market and significantly increase your income. Affiliate marketing is essential for every business and online store since it is cost-effective and efficient to increase traffic for your website and profit.
Small businesses prefer this tool because of the limited advertising budget. They can easily be recognized by a significant number of potential customers and increase awareness of their brand or product using these plugins.
Affiliate marketing is a great strategy to increase sales and is an excellent way for people who want to make money on the internet. You can take advantage of the features they provide for you by adding them to your WordPress website. Compared to other advertising tools, affiliate marketing is affordable because it is performance-based. Thus, you only pay commission when the sale is made.
You can identify your commission rate for sales and traffic. For example, you increase visibility on the search by using SEO features. Moreover, you can make write decisions about customers by using statistical data of them.
We hope that this blog would be helpful for you and gained valuable knowledge about affiliate marketing plugins.