Top 5 WordPress theme marketplaces
Jun 16, 2021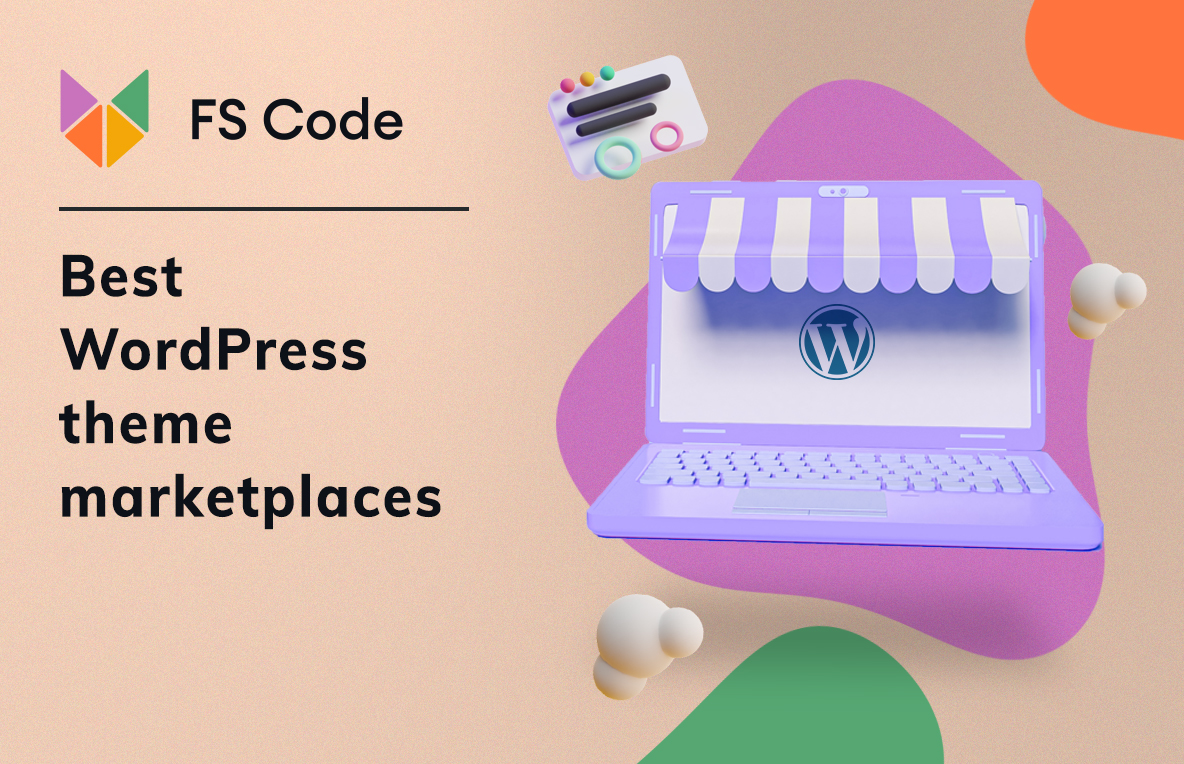 Every WordPress website needs a theme to work correctly. A good theme can boost your website's visitors' number, impress your readers, and put you on the front page of Google search.
So, a good theme is absolute. But where to get the best themes for WordPress and what you should pay attention to when visiting a WordPress theme marketplace?
Here we collected the best 5 WordPress theme marketplaces to find unique themes and purchase one confidently.
1. ThemeForest
The biggest WordPress theme marketplace is ThemeForest. They are offering more than 11,000 WordPress themes.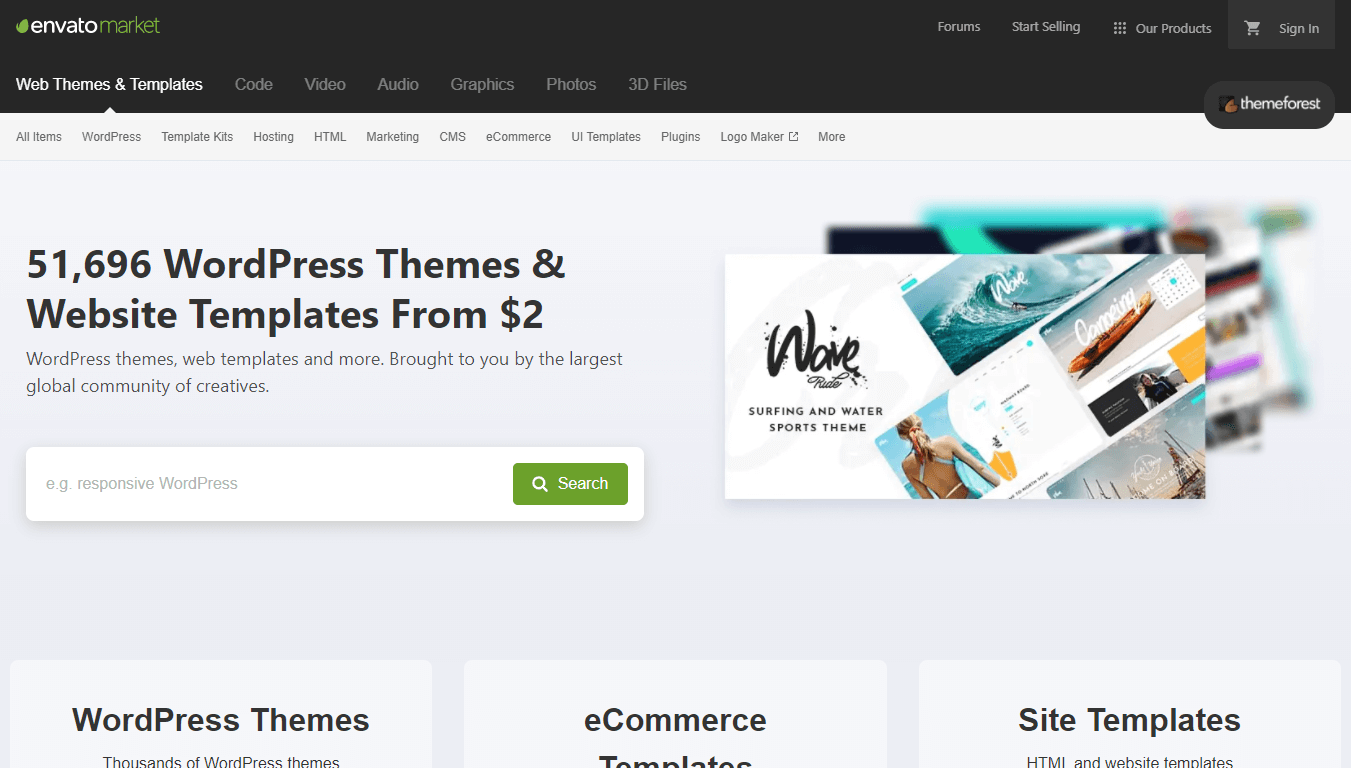 It is almost impossible not to find a theme from here. The only problem is there are tons of themes for every purpose. This situation can make the selection process hard. Thank God they have a good filter system.
First, select your website's type: blog, eCommerce, education, real estate, technology, creative, entertainment, or wedding. ThemeForest will bring hundreds of themes and may offer sub-categories.
You can filter themes according to release date, price, and rating.
By clicking on a particular theme, you can visit its dedicated page. Here you can find all information about this theme.
The best part of ThemeForest is an online community. Here, you can find comments about themes from previous users who have installed these themes on their websites and have a clear understanding of integration with different plugins and widgets. Read these comments to get a better vision about this theme which you want to buy.
Customers can give five stars and write their opinion about themes in the reviews section.
These tools will help you choose a theme for your needs.
Providing support for themes is also essential, and vendors provide support on ThemeForest.
As a developer, you can sell your product on this platform, but keep in mind that your theme has to meet some quality requirements.
2. Elegant Themes
There are many Divi themes, layout marketplaces on the internet, but Divi Marketplace is the official marketplace. Here you can find themes, extensions, and layouts for Divi.
3rd party developers develop all products on this marketplace from the Divi community. New products go through extensive QA from Divi's developer team, so each product comes from an experienced developer.
In addition, products must meet the requirements like developer guidelines, design guidelines, and license commitments.
Divi encourages developers and creators to create and sell their products on the Elegant Themes marketplace. Creators can put their products on the Divi marketplace and get 70% for every sale.
Here you can find many themes for every need. Choose top sellers, trending, new arrivals, categorizes, and filter results according to price or rating.
When you enter the theme's page, you can read details about the theme and open screenshots or live demo.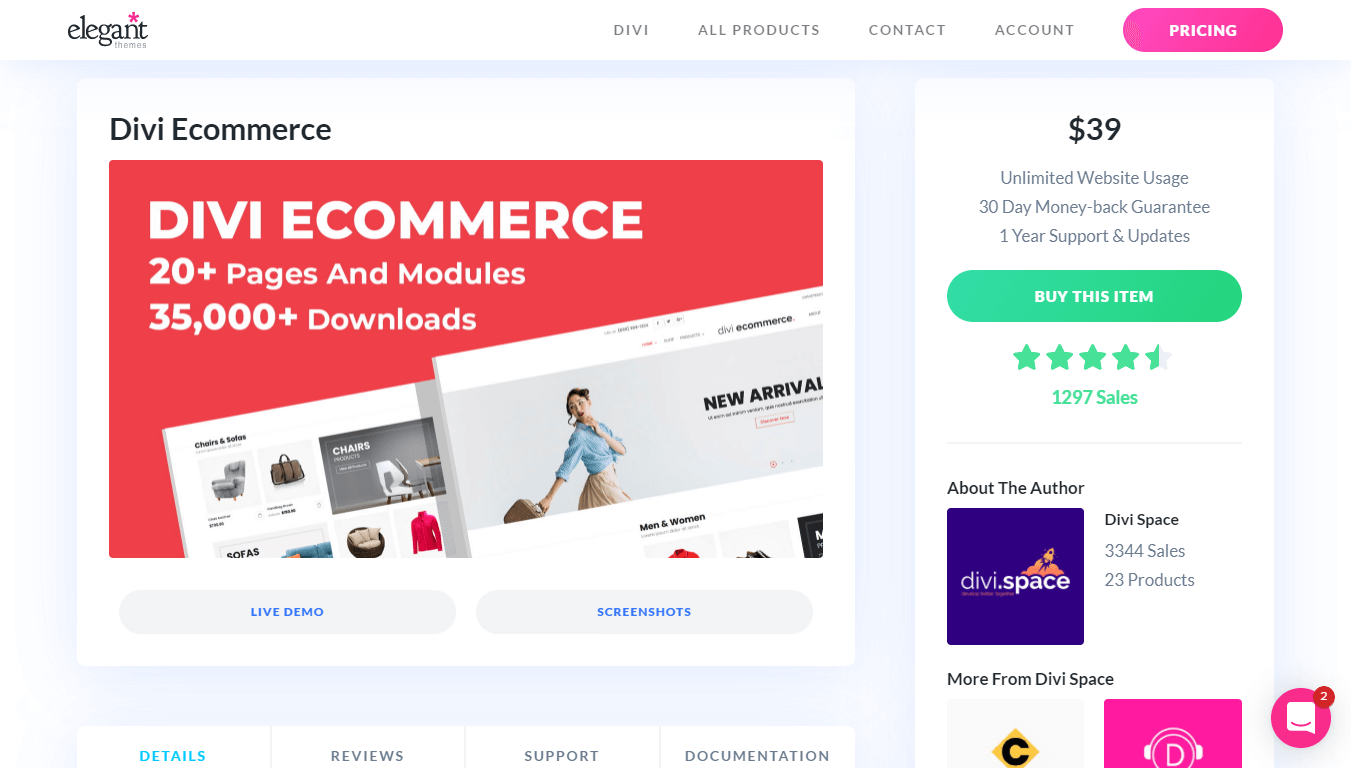 There is a reviews section where users can leave their reviews and give five stars if they liked this product.
In the support section, you can read previously answered questions or click to 'open a ticket' button, place your issue and get help quickly.
The documentation section will give technical details about how to install and use this theme. Read these instructions carefully so you can decide if this theme suits your needs.
Customers are supported by vendors using the marketplace's support system.
Divi also offers no-questions-asked refunds to all customers within 30 days of purchase.
Elegant Themes marketplace is quite new, and theme numbers aren't big, but we are sure that this marketplace will be among the biggest in a short time.
3. TemplateMonster
TemplateMonster is selling templates, plugins, and graphics. It is one of the most prominent places to buy and sell digital products, and you can find more than 2600 WordPress themes on TemplateMonster.
Choose business, real estate, education, marketing, medical, travel, news and magazine, food and restaurant theme categories and filter results according to WordPress builder, color, features, WordPress compatibility, Woocommerce compatibility, and styles.
On the theme's dedicated page, you can find detailed information about the theme and its features, compatibility, language support, how to make customization, which businesses and purposes can be implemented this theme.
On changelog, you can see the update history of the theme and which things updated over time. This is very important that a theme gets updates regularly.
Support is provided by developers, and every theme developer has a different approach to these cases. Please read reviews, comments, and theme details before you buy anything.
Almost every theme comes with additional services like extending the support period, adding must-have plugins, creating a ready-to-use website, and so on.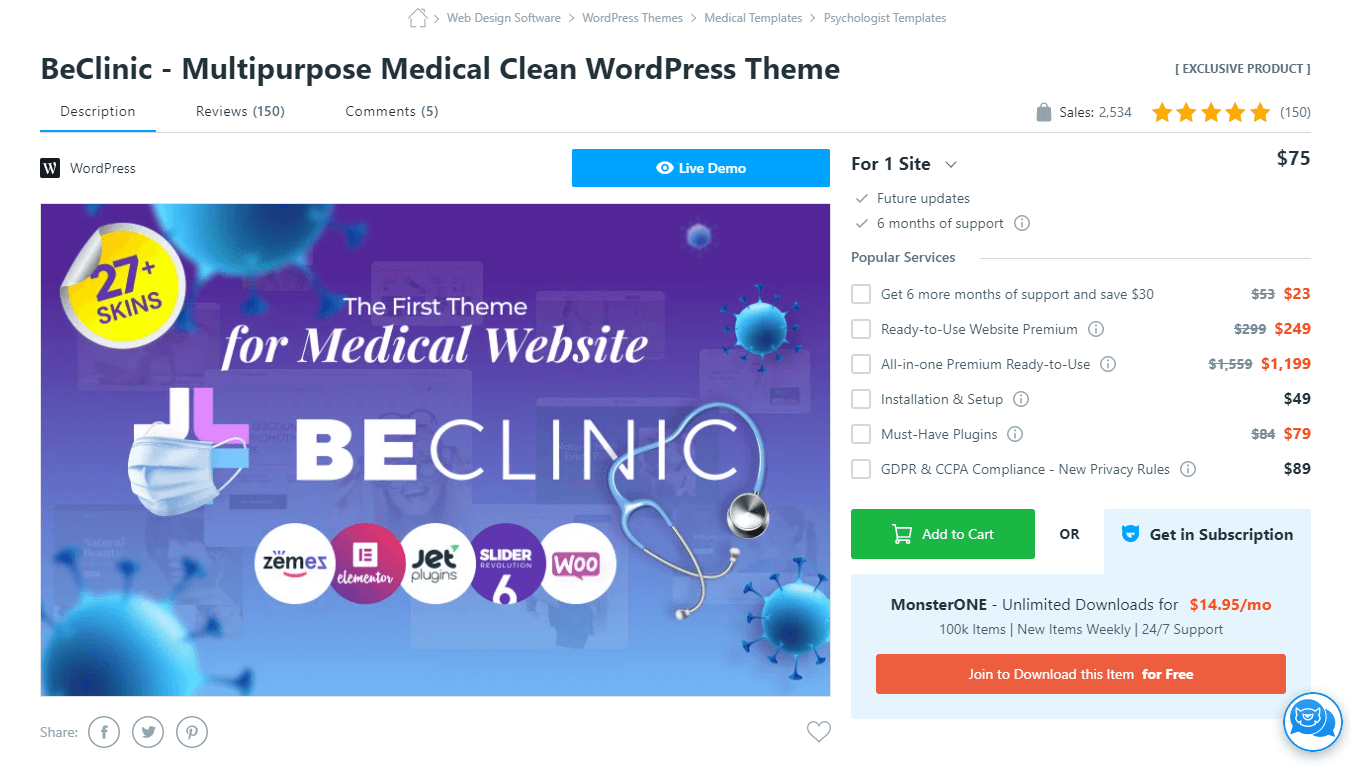 Only popular themes have many reviews others have fewer reviews, so you have to write support team if you have any questions or doubts.
For general issues and questions about the TemplateMonster marketplace, you can apply for TemplateMonster support. But if you need help according to the certain item, you have to contact the author of that item and different support types, so check the items description page and see what kind of support they are offering. Also, you can write to the template monster and ask them for your request to be forwarded to the relevant author.
TemplateMonster doesn't refund if the order is accomplished and the product is sent.
Every theme has a live demonstration, and you can choose PC, tablet, and mobile view instantly and see how it looks on different device types.
TemplateMonster offers MonsterONE service. This is a subscription service for reaching everything they own for $14.95 monthly. You can access all the WordPress themes, templates, graphics, and images on TemplateMonster. One-year support and general assistance are included too.
This is a very good price if you plan to create many websites or if you are a graphic designer or working in web design.
4. Creative Market
Creative Market is a big marketplace for digital products. Here you can find graphics, fonts, website templates, photos, and of course, WordPress themes.
On the WordPress themes section, there are more than 3400 themes. You can choose blog, business, commerce, landing page, magazine, and minimalist categories. The cheapest theme is $2, and the average price is around $50.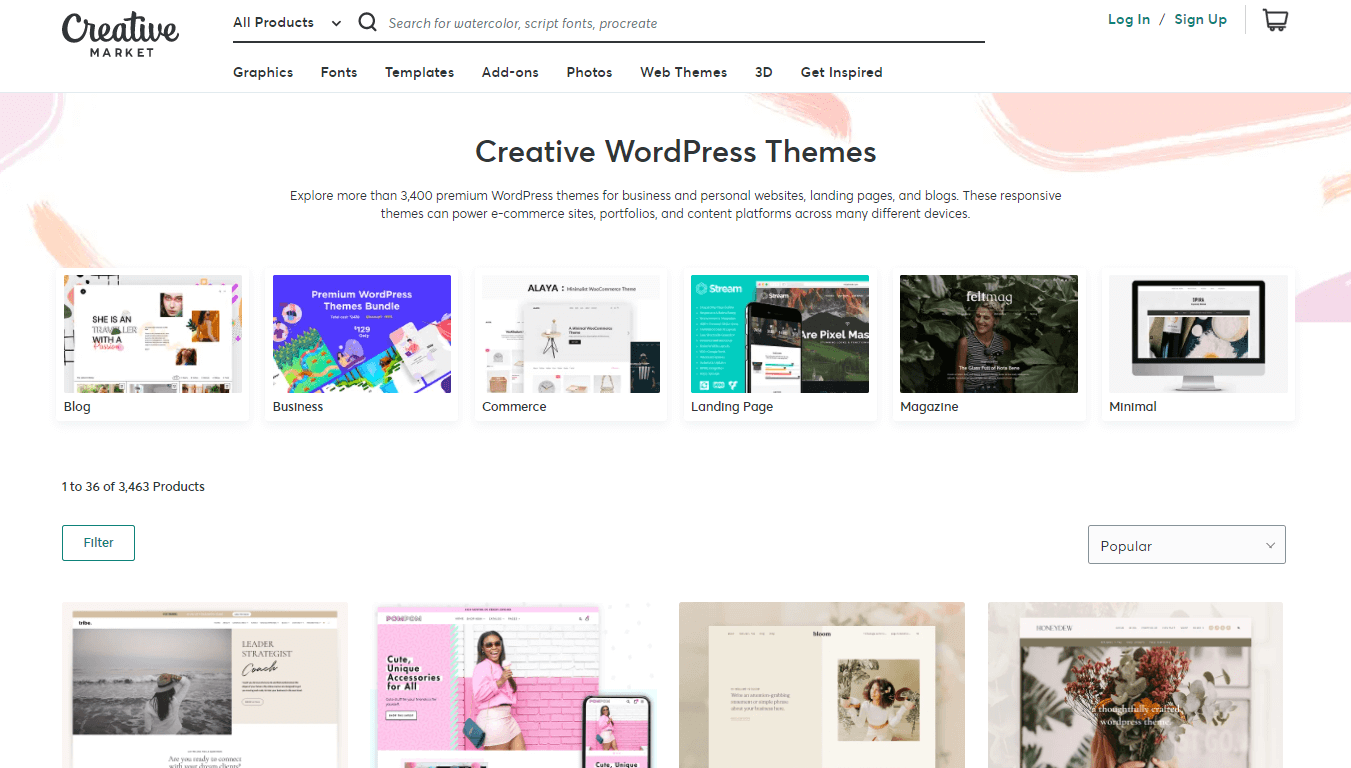 On the theme's page, you can read detailed information about the theme, reviews, comments, frequently asked questions, and of course, visit the live preview.
Support is offering by vendors. Every vendor can specify its refund policy and support policy. You have to read the requirements, watch the demonstration beforehand. We highly recommend that you get in touch with the theme developer and ask your questions if you have any. Some developers are offering direct support, so you can email them or use other platforms to reach them and get help.
Every creator has its own page on Creative Market. You can visit their pages to get more information about these creators, follow them for new updates, contact them, see all the products they are offering, and read reviews about their products.
Refund is up to 3rd party developers, and most of them do not provide refunds. So please check every detail carefully before you purchase themes from Creative Market.
5. Theme Palace
Theme Palace is an online marketplace specialized in WordPress themes where you can find amazing themes created by Theme Palace developers and independent creators.
Most of the themes are developed by the Theme Palace team.
Here you can find free and premium business-oriented themes.
Every theme has its own page, and there you can find version information, developer, last update time, and instructions. Instructions will give you a clear understanding of installing and activating your theme, making custom changes, and managing the menu and homepage.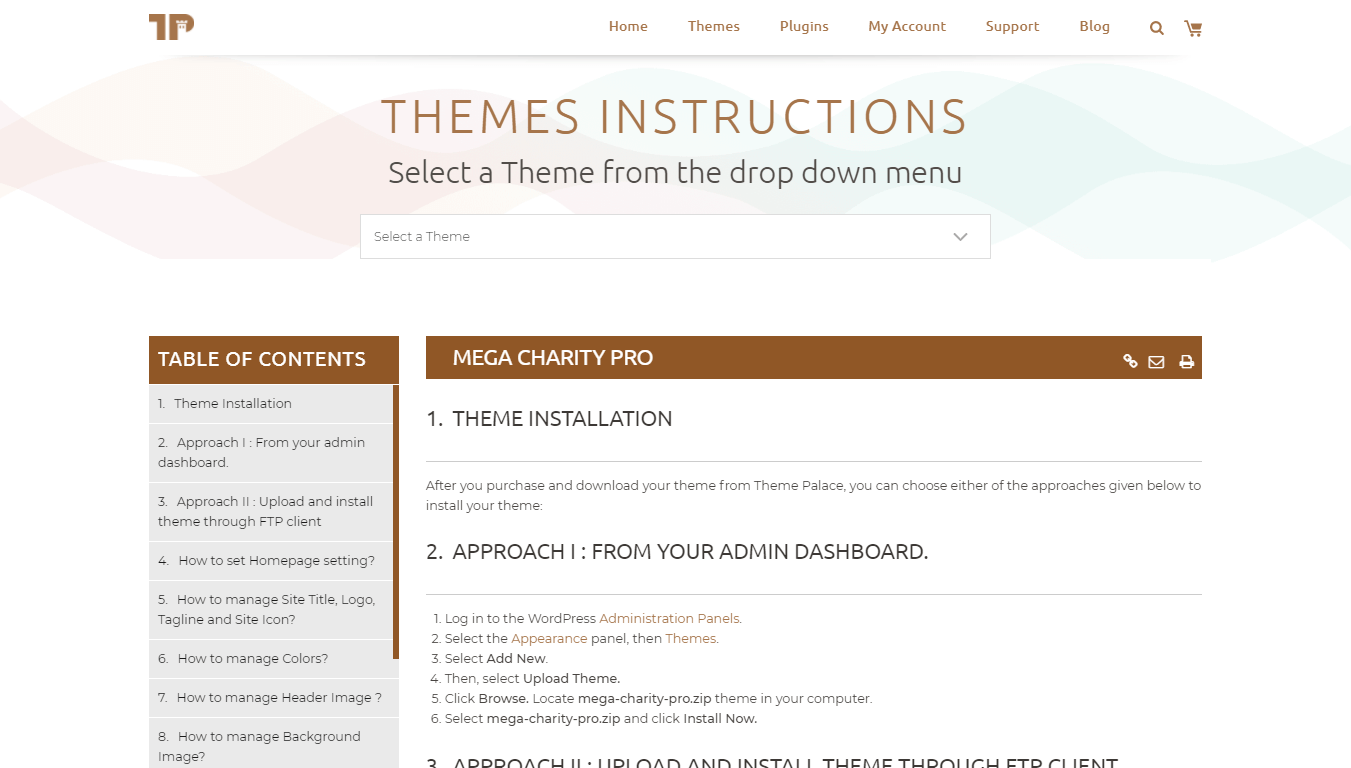 Each theme has a free version which you can choose and use on your website, but free themes don't get updates and support. On Compare Table, you can compare free and pro versions of the theme and decide if you want a free version or not. Maybe the free version will satisfy your needs.
There is only one price on Theme Palace. The themes cost $59 without exception.
The license for every theme is one year. After one year, you will not be eligible to access updates and premium support.
Theme Palace will give you an API key that will allow you to get automatic updates.
You can still use your theme on your website after one year. It will work properly, but you can face compatibility problems with WordPress's latest version over time.
If the support team couldn't solve your problem or are not satisfied, Theme Palace will refund your money.
Conclusion
During your visit to the WordPress Theme marketplace, always check the demo and update history to understand a theme better. Cause a really nice-looking theme can be an abandoned theme. Abandoned themes don't get updates and support.
When you check the theme on live mode, pay attention if the theme is responsive or not; go to every menu item and check as much function as possible; maybe they forgot something very important detail.
If you have a question, contact with theme developer and find answers to all your questions. For example, maybe that theme isn't compatible with the plugin you use on your website.