Top 10 Free Security Plugins To Protect Your WordPress Website (Compared)
May 9, 2021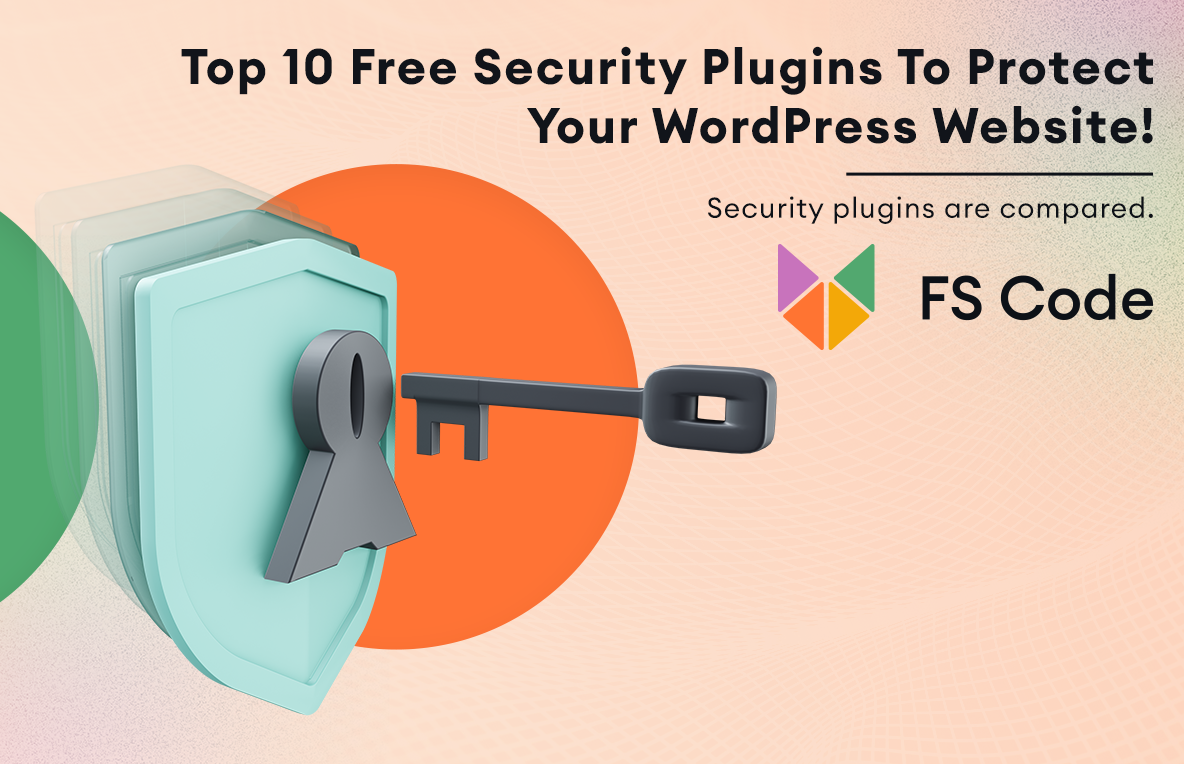 Do we really need a security plugin on our WordPress website?
The answer to the question is yes, yes, and yes.
When it comes to security, WordPress website owners should take it as the top priority.
There are over 200 million active websites, and WordPress is the most popular website building platform.
That means WordPress sites are the most targeted websites by hackers. To avoid being hacked, you need to protect your website with a security plugin.
Here are free the most ten trusted and used WordPress security plugins that you would like to use to secure your WordPress website.
Jetpack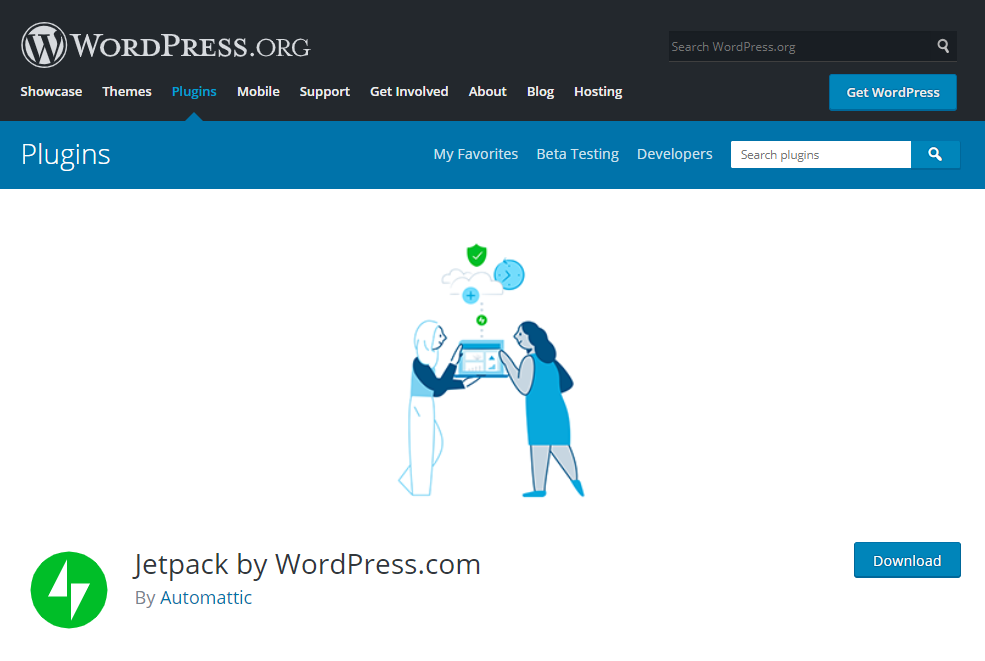 Active installations: 5+ mln
Jetpack is your site's security detail, guarding you against brute-force attacks and unauthorized logins.
Basic protection is always free, while premium plans add expanded backup and automated fixes.
Jetpack's full suite of site security tools include:
Brute-force attack protection, spam filtering, and downtime monitoring.
Backups of your entire site, either once daily or in real-time.
Secure login, with optional two-factor authentication.
Malware scanning, code scanning, and automated threat resolution.
A record of every change on your site to simplify troubleshooting.
Fast, priority support from WordPress experts.
Wordfence Security – Firewall & Malware Scan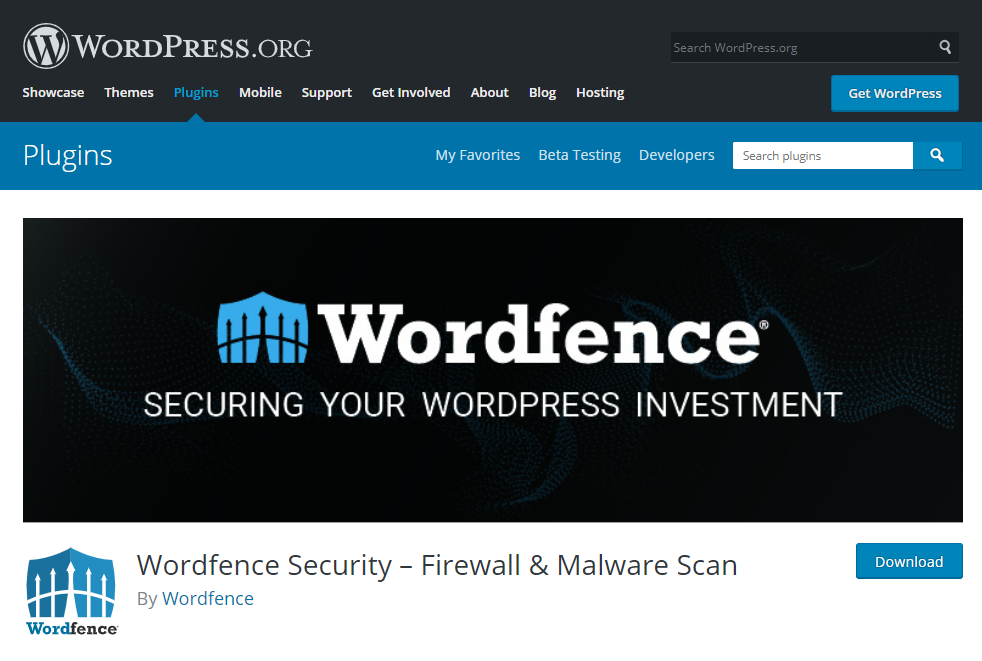 Active installations: 3+ mln
Wordfence is the most popular WordPress firewall & security scanner.
Wordfence includes an endpoint firewall and malware scanner that was built from the ground up to protect WordPress.
The Threat Defense Feed arms Wordfence with the newest firewall rules, malware signatures, and malicious IP addresses it needs to keep your website safe.
Rounded out by 2FA and a suite of additional features, Wordfence is the most comprehensive WordPress security solution available. Features are:
WordPress firewall
WordPress security scanner
Login security
Wordfence central
Security tools
iThemes Security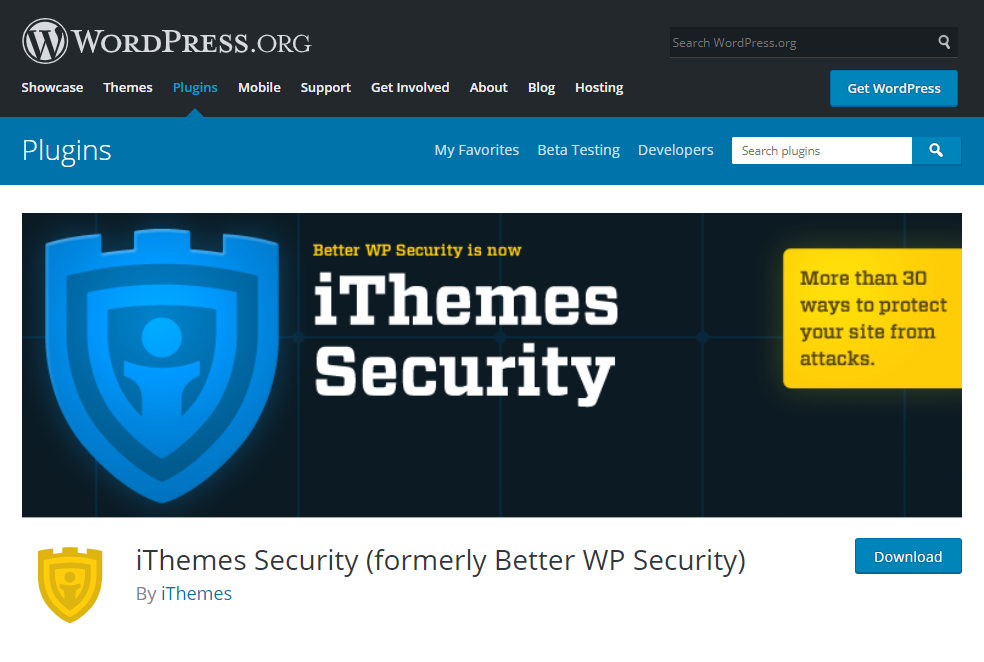 Active installations: 900,000+
iThemes Security gives you over 30+ ways to secure and protect your WordPress site. On average, 30,000 new websites are hacked each day.
WordPress sites can be an easy target for attacks because of plugin vulnerabilities, weak passwords, and obsolete software.
Most WordPress admins don't know they're vulnerable, but iThemes Security works to lock down WordPress, fix common holes, stop automated attacks, and strengthen user credentials.
With advanced features for experienced users, the WordPress security plugin can help harden WordPress.
iThemes has been building and supporting WordPress tools since 2008.
With the full range of WordPress plugins, themes, and training, WordPress security is the next step in providing you with everything you need to build the WordPress web.
All In One WP Security & Firewall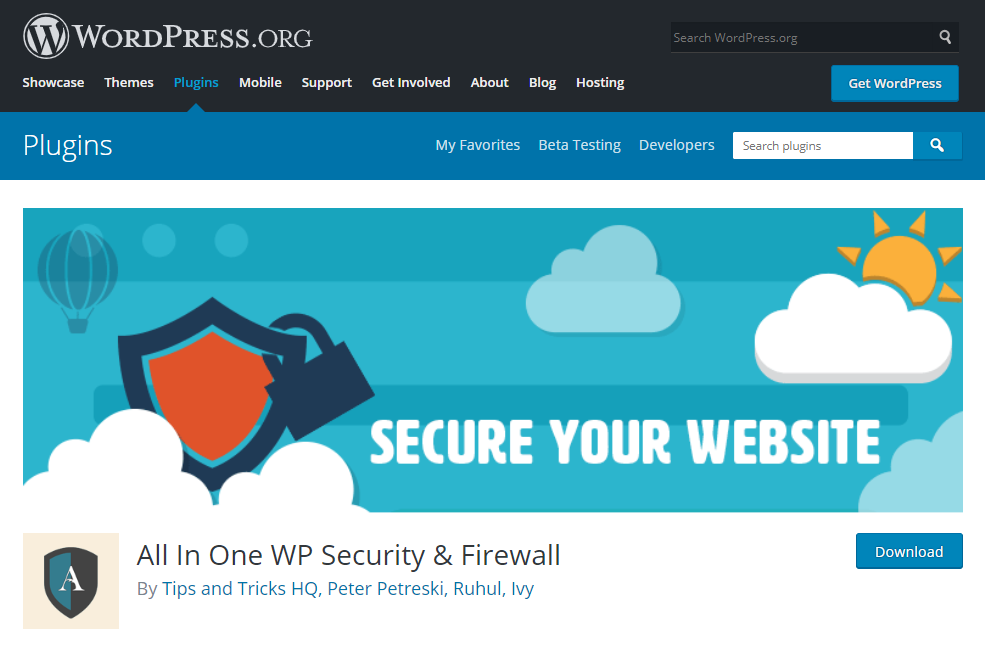 Active installations: 800,000+
The All In One WordPress Security plugin will take your website security to a whole new level.
This plugin is designed and written by experts and is easy to use and understand.
It reduces security risk by checking for vulnerabilities and by implementing and enforcing the latest recommended WordPress security practices and techniques.
All In One WP Security also uses an unprecedented security points grading system to measure how well you are protecting your site based on the security features you have activated.
The security and firewall rules are categorized into "basic," "intermediate," and "advanced." This way, you can apply the firewall rules progressively without breaking your site's functionality.
The All In One WordPress Security plugin doesn't slow down your site, and it is 100% free.
Visit the WordPress Security Plugin page for more details.
Below is a list of the security and firewall features offered in this plugin:
User accounts security
User login security
User registration security
Database security
File system security
Htaccess and wp-config.php file backup and restore
Blacklist functionality
Firewall functionality
Brute force login attack prevention
Security scanner
Comment spam security
Front-end text copy protection
Sucuri Security – Auditing, Malware Scanner and Security Hardening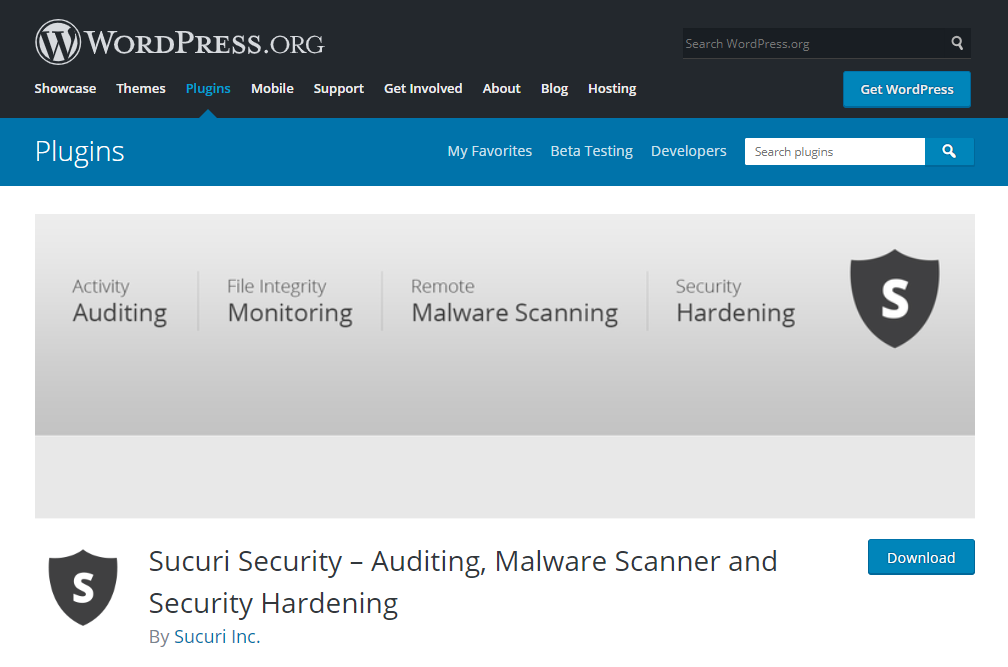 Active installations: 700,000+
Sucuri is a globally recognized authority in all matters related to website security, with a specialization in WordPress Security.
The Sucuri Security WordPress plugin is free to all WordPress users. It is a security suite meant to complement your existing security posture.
It offers its users a set of security features for their website, each designed to have a positive effect on their security posture:
Security Activity Auditing
File Integrity Monitoring
Remote Malware Scanning
Blacklist Monitoring
Effective Security Hardening
Post-Hack Security Actions
Security Notifications
Website Firewall (premium)
Anti-Malware Security and Brute-Force Firewall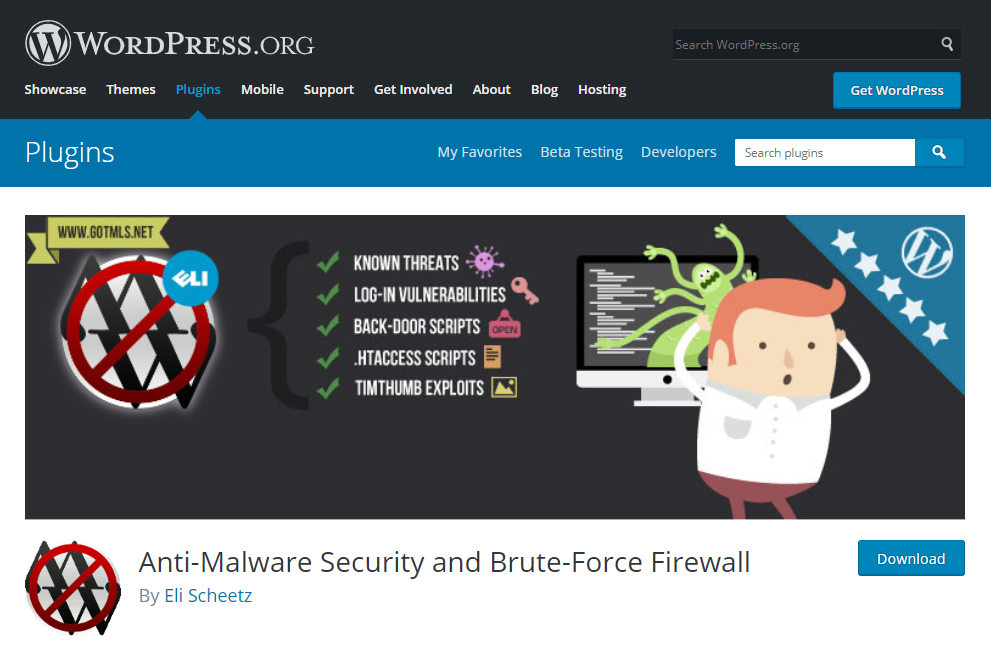 Active installations: 200,000+
Anti-Malware Security and Brute-Force Firewall Features:
Download Definition Updates to protect against new threats.
Run a Complete Scan to automatically remove known security threats, backdoor scripts, and database injections.
Firewall blocks SoakSoak and other malware from exploiting Revolution Slider and other plugins with known vulnerabilities.
Upgrade vulnerable versions of timthumb scripts.
WP Security Audit Log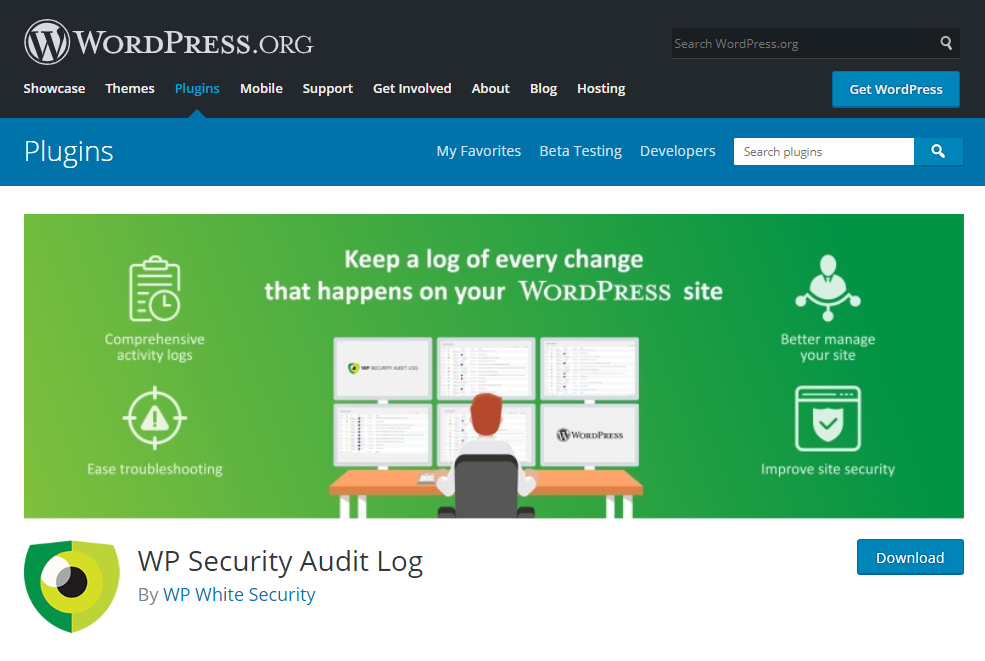 Active installations: 100,000+
The most comprehensive & easy to use WordPress activity log plugin
Keep an activity log of everything that happens on your WordPress and WordPress multisite with the WP Security Audit Log plugin to:
Ensure user productivity
Ease troubleshooting
Know exactly what all your users are doing
Better manage & organize your WordPress site
Easily spot suspicious behavior before there are security problems.
WP Security Audit Log is the most comprehensive real-time user activity and monitoring log plugin.
It helps thousands of WordPress administrators and security professionals keep an eye on what is happening on their websites.
It is also the most highly rated WordPress activity log plugin and has been featured on popular sites such as GoDaddy, ManageWP, Pagely, Shout Me Loud, and WPKube.
VaultPress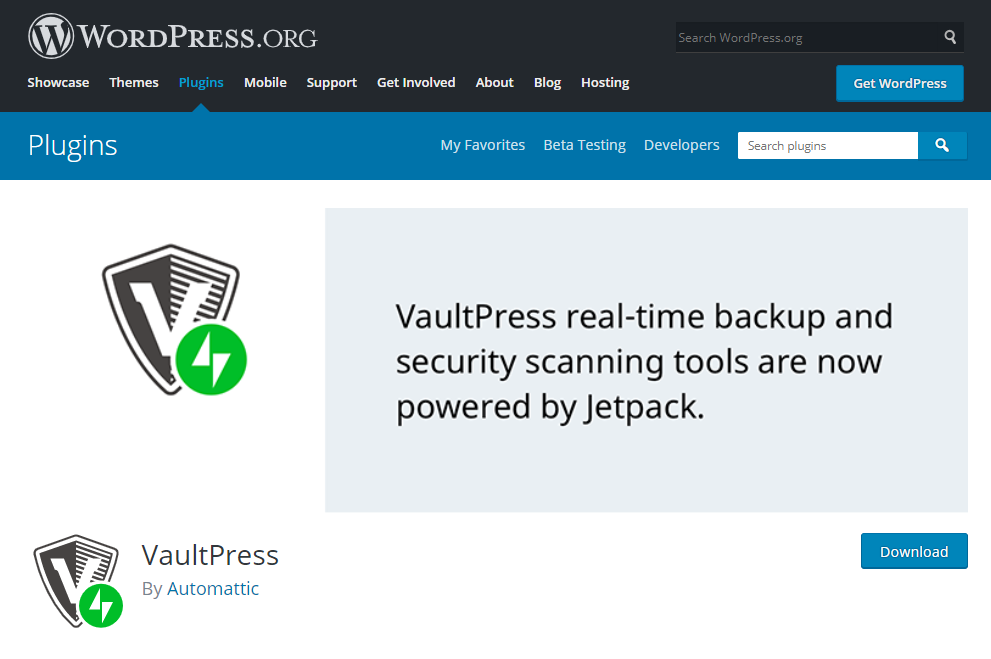 Active installations: 80,000+
VaultPress is a real-time backup and security scanning service designed and built by Automattic, the same company that operates (and backs up!) millions of sites on WordPress.com.
VaultPress is now powered by Jetpack and effortlessly backs up every post, comment, media file, revision, and dashboard setting on your site to their servers.
With VaultPress, you're protected against hackers, malware, accidental damage, and host outages.
Some security tools are included with Jetpack as well, making it an appealing plugin for those who want to save money and rely on a reputable solution.
For instance, the Protect module is free, and it blocks suspicious activity from happening.
Brute force attack protection and whitelisting are also supported by the basic security functionality from Jetpack.
Defender WordPress Security, Malware Detection, and Firewall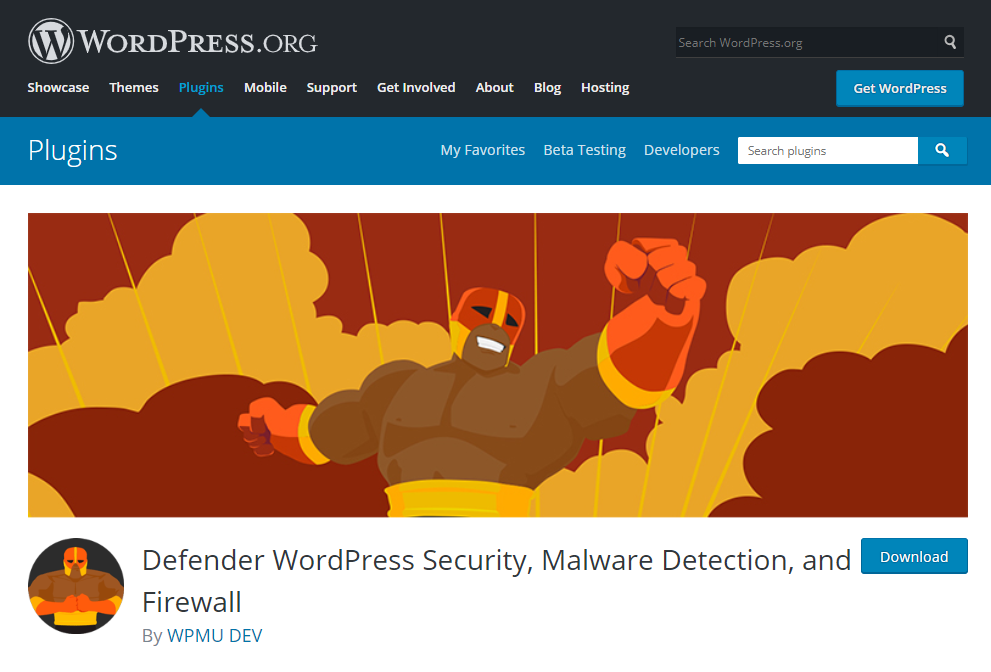 Active installations: 20,000+
Defender adds the best in WordPress security to your website with just a few clicks.
Stop brute force attacks, SQL injections, cross-site scripting XSS, and other WordPress vulnerabilities with Defender malware scans, firewall, and two-factor authentication login security.
No longer do you have to go through hideously complex settings and get a virtual PhD in security.
Defender adds all the hardening and security tweaks you need.
Block hackers at every level:
Two-factor authentication – passwords and mobile app verification codes
Login masking – change the location of WordPress's default login area
Login lockout – failed login attempts lockout
404 Detection – automated block of bot IPs
Geolocation IP lockout – block users, based on location
WordPress Security Firewall – block or whitelist IPs
Disable trackbacks and pingbacks – spam prevention
Core and server update recommendations – stay on top of your system
Change default database prefix – they won't find this
Disable file editor – if they get in, they won't get far
Hide error reporting – don't reveal your issues
Update security keys – reset on-demand
Prevent information disclosure – why tell them what you have
Prevent PHP execution – because it's dangerous
MalCare Security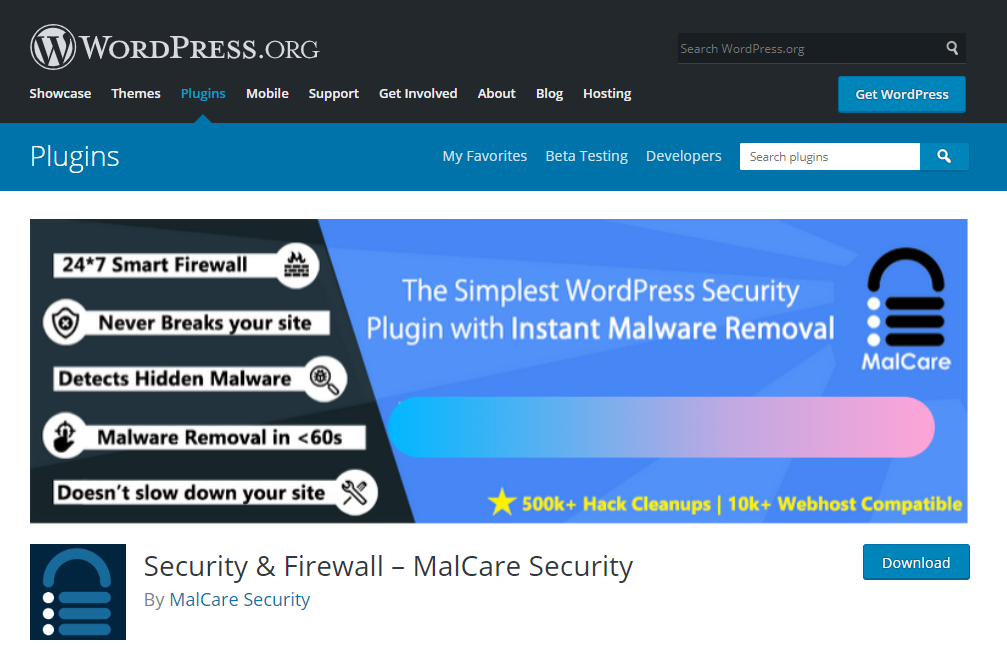 Active installations: 10,000+
With its smart "Cloud Scan," MalCare's malware scanner will never impact your website performance nor overload your server. Ever.
Clean your malware in less than 60 seconds. The safe malware removal technology ensures that your website never breaks.
MalCare comes with an inbuilt smart and powerful Firewall for real-time protection from Hackers and bots.
It is the simplest WordPress Security plugin that doesn't need any technical knowledge. You can get set and ready in just 50 seconds.
The brands you trust, trust MalCare to keep them safe. MalCare is trusted by Intel, Dolby True HD, CodeinWP, Site Care, WP Curve, Valet, among others.
It is a perfect security solution for developers and agencies as it comes with all the tools you need to manage multiple websites from Website Management, White Label Solution, and Custom & Scheduled Reporting.
Benefits of using MalCare as your go-to security solution:
The scanner that never slows down your website
Fix a hacked website in less than 60 seconds
Real-time protection from the smart firewall
Inbuilt WordPress website hardening
Single, site management dashboard
MalCare is a "service," not just a security plugin
Conclusion
It undeniable that there is a wide variety of WordPress security plugins that are available.
It makes the situation difficult to choose one; however, you need to select the one that is more appropriate for your website and your business.
Keep in mind that having too many plugins on your website might cause conflicts. So, choose the most proper one and keep your website secure.