9 Best WordPress Slider Plugins
Oct 21, 2022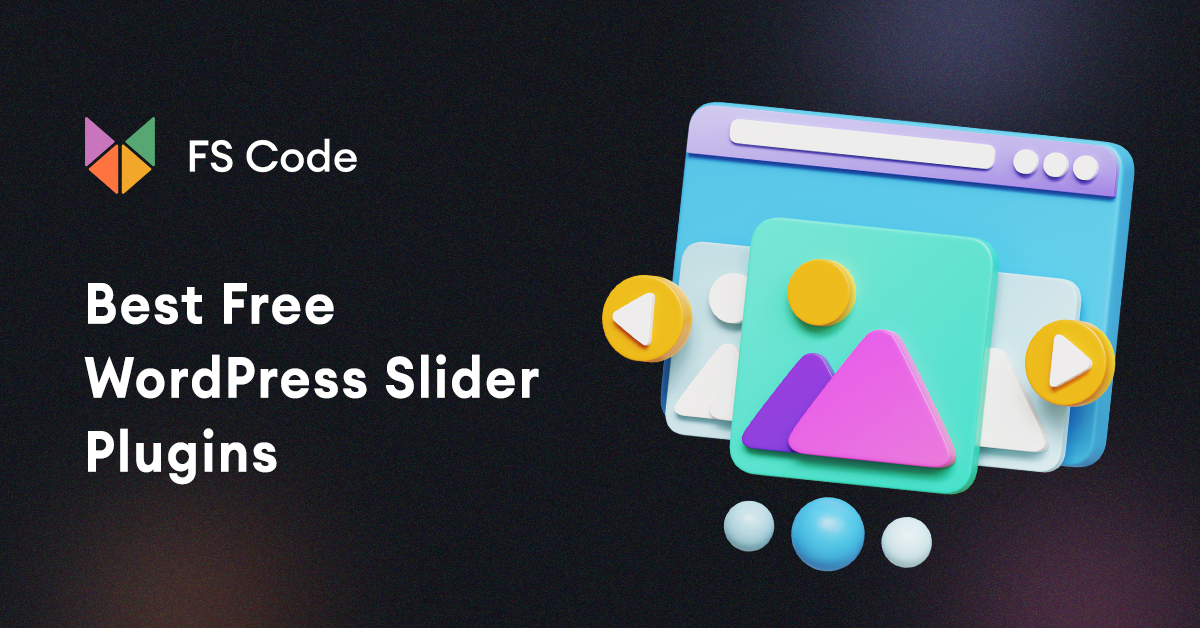 We've all seen a quality slider when shopping online, but what makes sliders attractive? To begin with, the excellent slider is responsive and works well on almost any tablet or smartphone. Other required features:
Smooth animated effects
Parallax layers
Fast image loading
Stylish fonts and buttons
Some of these features help site owners while others create an engaging visual experience for visitors. Not all of these features are essential on every site, but they are all worth considering.
Are you currently using a slider on your site? If not, then you're in luck because we've compiled a list of the best free slider plugins for WordPress. Some of them are paid and some are free, but each of them has everything you need to make your site visitors say wow. Let's see.
1. Slider Revolution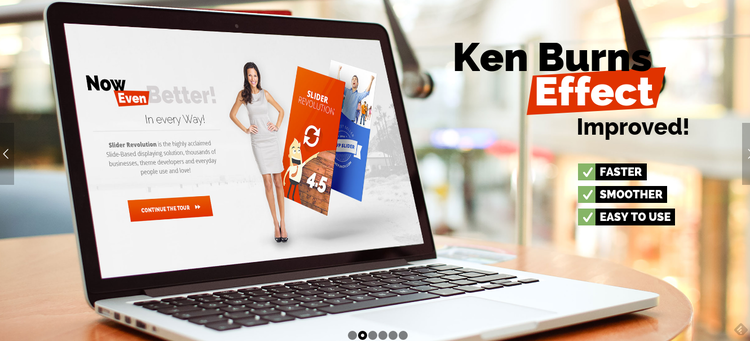 The Slider Revolution plugin is one of the most popular WordPress slider plugins on the market - and rightfully so (it's even one of two premium plugins included with Total ). It provides stylish full-width sliders that are very responsive. You can implement a slider on any site, it looks great on any device. The plugin also comes prepackaged with animation loops, ensuring your customers won't be left with a frozen slider if they linger briefly on your homepage.
Slider Revolution's parallax layers are fantastic, and the timeline slide editor displays an intuitive diagram of how your images will appear on the slider. On top of all this, the plugin provides a drag-and-drop editor that allows novice webmasters to create professional media sliders. It's a slider plugin that comes with a lot of goodies, from multilingual support to fullscreen support for YouTube and Vimeo videos.
2. Royal Slider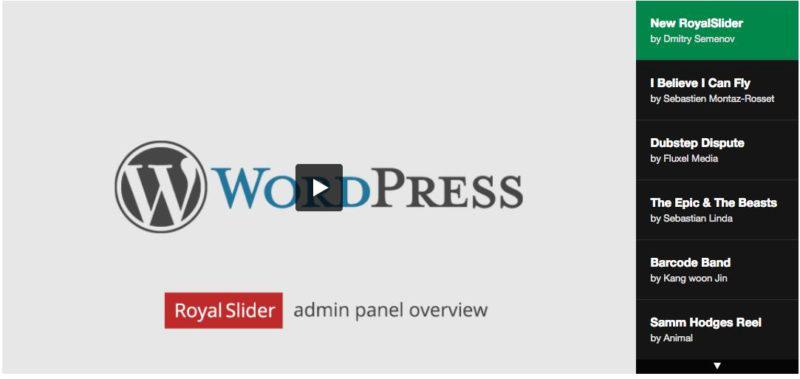 RoyalSlider is a premium image gallery and slider tool that is available in multiple formats. The WordPress Plugin is a fast, responsive, and touch-sensitive plugin for mobile devices. You can use it to quickly create high-quality galleries from your Instagram, Flickr, or 500px accounts.
This slider adds a great dimension to any WordPress theme. There are so many types of sliders to choose from that you are sure to be able to use them in a wide variety of projects. And since all sliders are automatically cached in your browser, Royal Slider won't slow down any of your WordPress websites (hooray!).
In addition, Royal Slider is very convenient and easy to use. There are many backend features that make the admin job easier. First of all, it works great with the latest version of WordPress and has its own admin area. Also, it takes advantage of WP 3.5 bulk upload via media manager, or you can link your Flickr or 500px account directly. This allows you to create beautiful sliders full of images very quickly. You can then add titles, dates, and more. Use the slide layout editor and add custom transition effects (all of which you can see in real-time in the slider preview area in the admin panel). To insert sliders, all you need to do is use a shortcode, a widget, or a PHP function (depending on what suits you best).
3. Theia Post Slider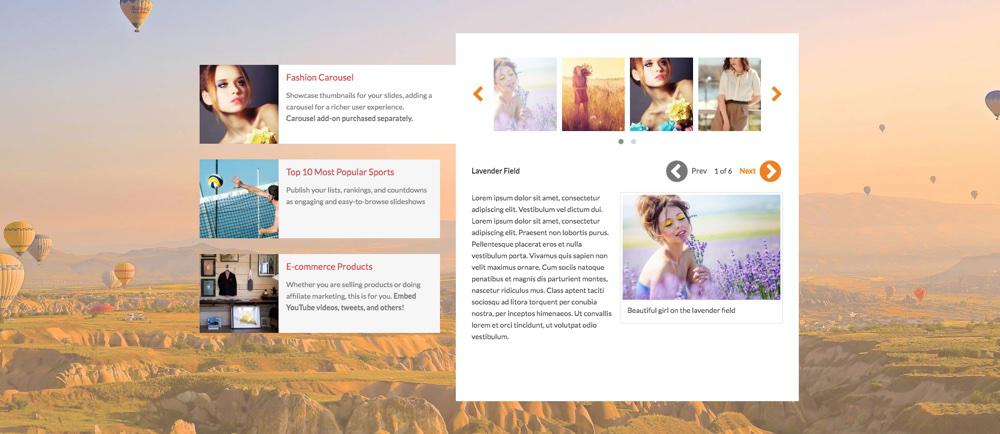 Add slideshows to multi-page posts with Theia Post Slider. This premium slider makes it easy to create sliders from your multipage posts, pages, and WooCommerce products. Choose from 200+ slider themes, and 4 transition effects, add titles and titles to your slides and even enable refresh ads as you navigate. You can even use the admin live preview to preview your sliders before posting.
Worried about your SEO? Theia is optimized with unique slide URLs as well as speed, AJAX usage, and preloading considerations to keep your sliders fast.
Want to create carousels? Check out the Carousel add-on, which builds on Theia functionality and allows you to add carousels with thumbnails, over 35 vector arrows, touch navigation, and per-post settings.
4. Soliloquy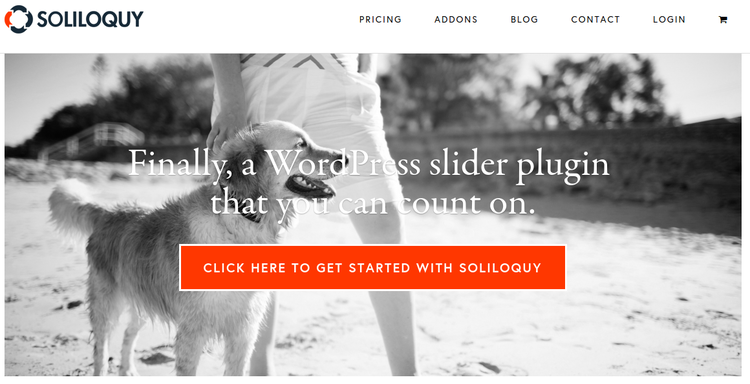 It's definitely premium. The Soliloquy slider plugin starts at $19 but can go up to $249 depending on how many sites you plan to use it on. If you are unable to work with some free WordPress slider plugins due to their confusing interfaces, this option provides a reprieve. It's responsive and gives you the ability to quickly import and export your previously created sliders, reducing the time it takes to migrate to other sites.
The build interface is also extremely easy to use and never seems to lag or lag on the front end. One of the more unique features is the independent slider, allowing you to place individual sliders anywhere on your site.
5. SliderPro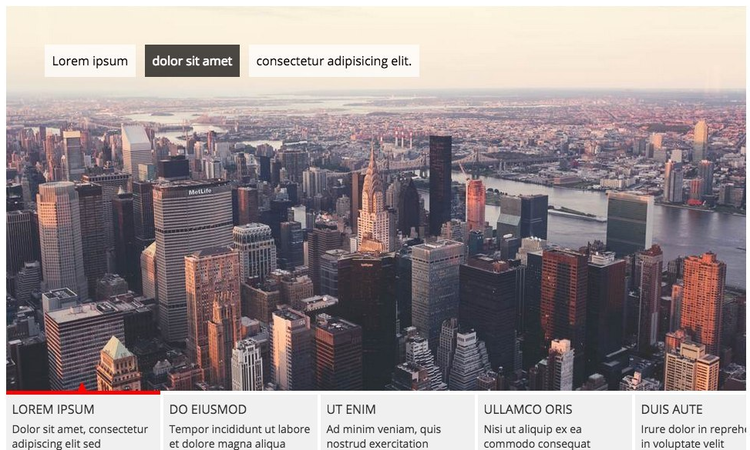 Slider Pro is a fully responsive premium WordPress plugin with touch controls. With support for images, video, audio, and more, this slider is a great addition to any theme.
Want a flexible slider plugin that has tons of great features and is easy to use right out of the box? Then you need Slider Pro. This amazing plugin makes it easy to add custom sliders to any WordPress theme. This fully responsive touchscreen slider looks perfect on any device, including phones and tablets. Plus, with support for galleries, content, Flickr, direct links, and more, you can create any type of slider you need.
Slider Pro also has many layout and design options. The plugin includes support for smooth slide transitions, animated layers, carousels, infinite scroll sliders, full-screen sliders, auto-height, blended portrait and landscape images, lazy loading, and more. There are just so many great options!
Other plugin features include Retina support, a lightbox, keyboard navigation, breakpoints, and thumbnails. But that's not all, you can see more features below. Slider Pro is a great WordPress plugin that you won't want to give up.
6. Layer slider

What is the first impression of your site? A good first impression encourages visitors to stay, but a bad one means you could lose visitors, potentially forever. This is why many websites prefer to use a visual image slider at the top of their home page, which is also great for directing visitors to your best or latest content – ​​they add color and images and make your site easier to navigate. The premium LayerSlider plugin (which is the other premium slider that comes with Total ) doesn't just offer sliders. You can also add image galleries and slideshows to create the perfect multimedia experience.
LayerSlider provides over 200 2D and 3D transitions and you can create your own custom transitions using the slide editor. The powerful drag-and-drop editor comes with a plug-in for viewing live previews, as well as importing, exporting, and moving components in a timeline. LayerSlider lets you create beautiful, responsive image galleries and content sliders - you can also embed audio or video from YouTube or Vimeo. This is nothing new, but the main benefit of LayerSlider is the sheer number of transition effects and skins available, giving you a lot of flexibility in creating the type of slider you want.
You can even create dynamic sliders that connect to your WordPress posts and pages. This allows you to send people your most interesting content without much effort on your part. With over 13 skins to choose from, the possibilities for branding your website and making it different from other people who have bought this plugin are endless.
LayerSlider also supports lazy loading; later slides are loaded only as needed, instead of having to load them all beforehand. Oh, and did I mention that the slider is SEO friendly? This puts you ahead of the competition as not many people know how to optimize their sliders.
7. Smooth slider

The developers of Smooth Slider claim that you can implement a stunning slider with links to recent or featured posts in just 50 seconds. This is a difficult task, but it seems to be completely true. The interface is pretty easy to use, and there aren't really many buttons or settings to get carried away with. This is another one of the free WordPress slider plugins and it is fully responsive.
The slideshows you create are optimized for search engines to bring new people to your site, and the settings panel gives you complete control over how your sliders look in the user interface. I especially like that the free plugin has six transition effects, which is more than some of the less attractive premium WordPress slider plugins (we didn't include any of them in this list).
The key to this plugin is that you don't need programming knowledge to make something look professional. Slides can be placed or removed with one click - just go to the sliders admin panel. This is a great option worth trying.
8. Smart Slider 3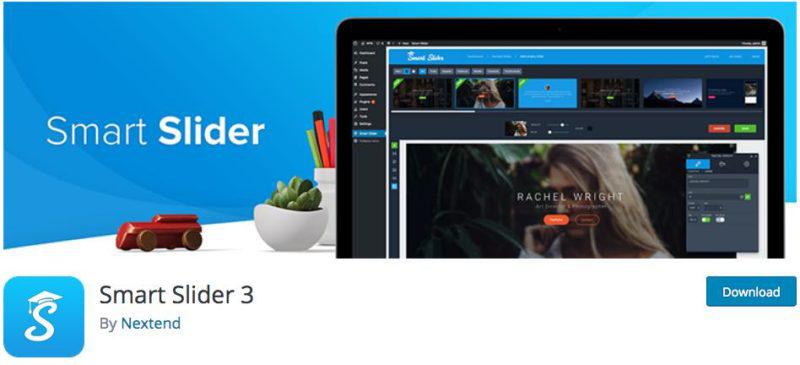 Smart Slider 3 is an intuitive plugin that allows you to quickly create responsive slideshows and include videos from YouTube and Vimeo. Its easy-to-use editor lets you work with multiple layers, create slides with a drag-and-drop interface, and preview content in real time before publishing it.
Easily change all the details that are really important for decoration and style. You can choose fonts and styles for your layers, navigations, and other elements and change them across multiple slides and layers. Start with a blank WordPress slider or choose from a variety of beautiful designs. 100+ ready-made slides with very easy one-click installation. An easy way to create sliders of any type. Smart Slider 3 uses a powerful layer animation system to give layers movement and transitions. The possibilities of what you can build are endless. It comes with over 40 built-in layer animations in 3 animation types: entry, exit, and loop.
This plugin also includes a touch-friendly design, autoplay configurations, and several sliders for changing styles and positions. You can even create sliders from external sources. Add dynamic content to each slide, such as posts and articles from WordPress, Flickr, Instagram, YouTube, Vimeo, WooCommerce, and 32 more. We definitely recommend that you check out the developer documentation to learn more about what this plugin is capable of.
Get Smart Slider 3 Free version
9. Transition slider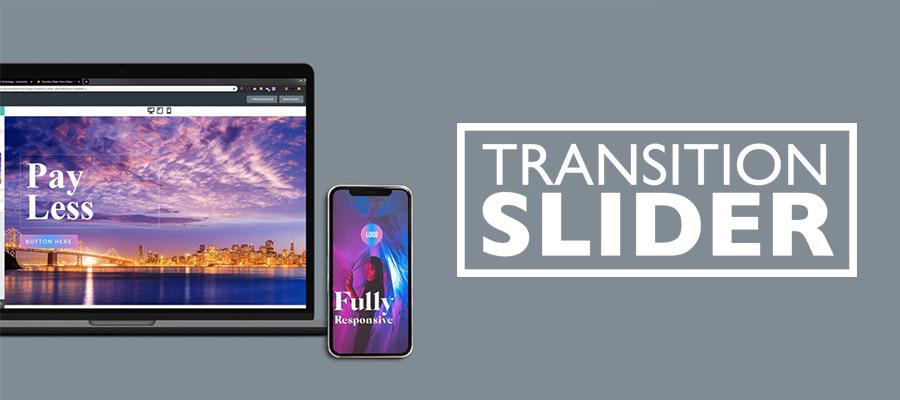 Creating unique sliders for your site doesn't have to be difficult. In fact, it doesn't even require coding. The Transition Slider plugin is a powerful plugin that adds a lot of features and options so you can create your own amazing sliders. It's also worth noting that Transition Slider is a first-of-its-kind slider plugin - using WebGL for advanced effects is not possible with CSS.
Transition Slider makes it easy to create advanced and fully responsive sliders for your website with a real-time slider layout editor, HTML5 animations (24 including scroll, wrap, stretch, rotate and zoom), layer autoplay and loop, slide and drag and drop slides, layer buttons and more. There are also 26 beautifully designed pre-made templates that you can use for your sliders (or just use them as a starting point for further customization). Also, the transition slider is optimized for your local SEO, only appears when the slider is visible, and uses lazy loading for a faster page.
Get Transition slider Free version
Conclusion
The perfect slider displays what your company is doing and captures the attention of users, pushing them to the most important content. You can link to your popular blog posts or even send people seasonal deals on your online store.
Whatever you use your slider for, take a look at the best WordPress slider plugins we've mentioned here and consider implementing them on your own site.